Gold Gives Up One-Half Percent Of Recent Gains
Published

: Apr 22, 2021, 23:17 UTC
•
3
min read
Gold futures gave up 1% in trading today, with the most active June 2021 Comex contract currently down $9.10 (-0.51%) and fixed at $1784.00.
Gold began the last leg of this rally exactly a week ago when on Thursday, April 15, gold futures opened at $1736 and gained $28 on the day. This was followed by last Friday's acceptable $10 gain. This week gold hit a high of $1798 before succumbing to mild selling pressure. Today's nine-dollar price decline is the first decline since Monday of this week.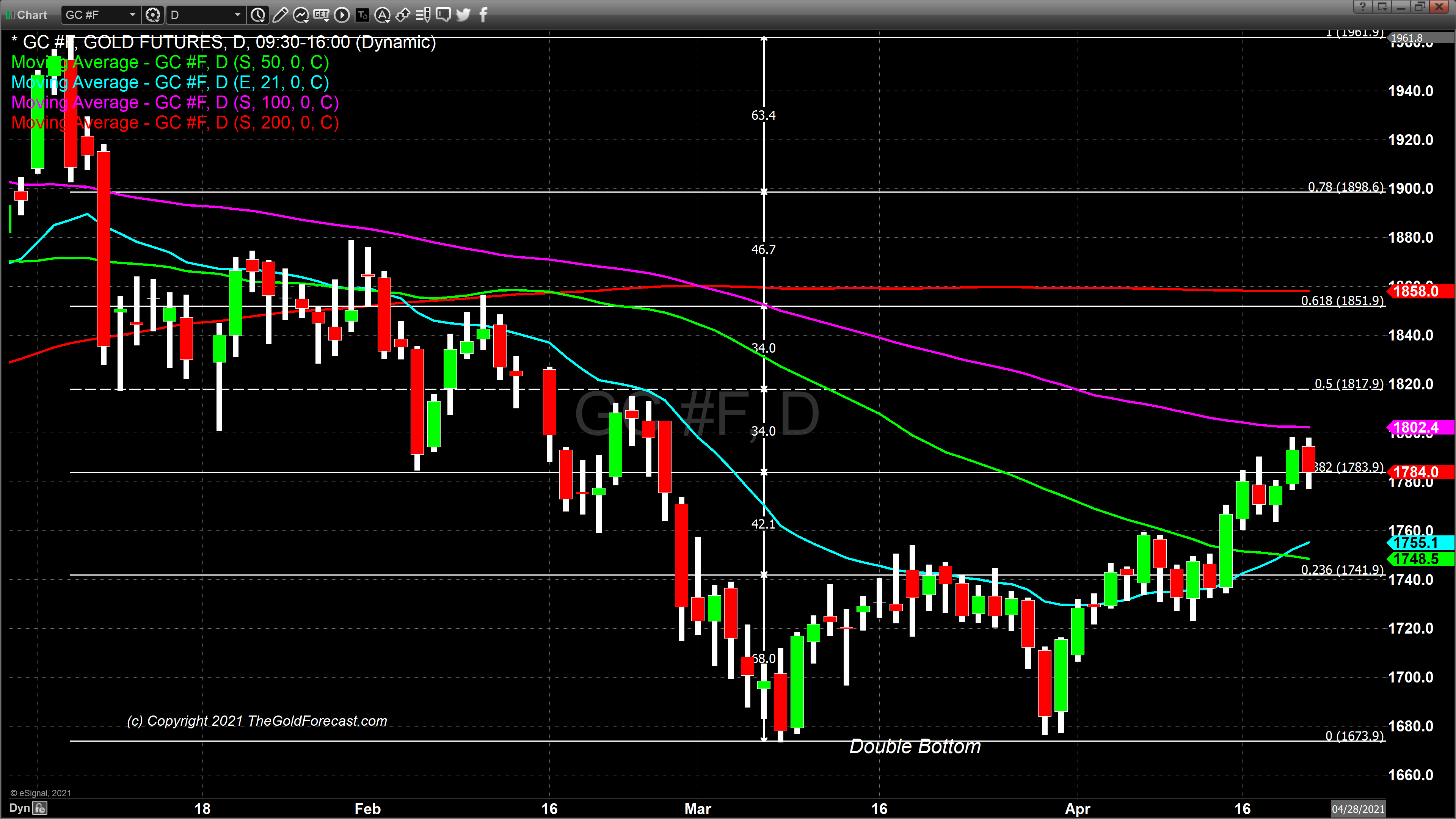 This most recent rally in gold began at the end of March when market participants took pricing to approximately $1670, creating a double bottom from the lows seen on March 8. Gains since those lows are in excess of $100 per troy ounce, making this price decline mild considering the recent gains in April.
More significantly, the underlying fundamental events that have been at the root of gold's price changes continue to be solidly bullish influences on the safe-haven asset class.
The root of many issues stems from an economic contraction in certain countries worldwide, as well as a major uptick in Covid-19 infections in certain global hotspots. While economic data out of the United States is indicating continued economic growth, globally, there are indications that the European Union and other countries are not rebounding as quickly as the U.S.
The U.S. Labor Department reported that benefit claims fell to 574,000 last week from a revised number of 586,000 a week earlier. This is the second consecutive week resulting in a sizable drop in unemployment claims.
It was reported recently that the economy in the European Union resulted in a decline of 0.7% in the last quarter of 2020. More alarming is that Lagarde said that "the incoming economic data suggest that activity may have contracted again in Q1. The ECB president did note that there is a chance for growth to resume in the second quarter." This according to Anna Golubova of Kitco News.
The build-up by Russian troops on the border of Ukraine continues to grow.
In India, the crisis of new Covid-19 infections is astronomical. Today the Associated Press reported that India recorded more than 314,000 new Covid infections on Thursday alone. Considering that India is the second most populated country in the world, this number takes India's collective Covid cases to 15.9 million. The Associated Press also stated that their healthcare infrastructure is currently overwhelmed due to a shortage of hospital beds and oxygen.
U.S. equities also tumbled today as market sentiment focused upon Biden's new tax proposal to raise the federal income tax for those individuals making over $1 million per year to almost 50%. The Dow Jones industrial average gave up 321 points, or-0.94%, to close at 33,815.
The concerns that have fueled this most recent leg of the rally continue to mount. As such, we would expect any shallow dip in gold prices to be short-lived at best. While we could see a consolidation at these new price levels, the probability of gold entering another corrective period based on the current fundamental events which have fueled the recent rally are low.
For more information on our service, simply use this link.
Wishing you, as always, good trading and good health,
Gary Wagner
Don't miss a thing!
Sign up for a daily update delivered to your inbox
Sponsored Financial Content