How Does The US Government HODL More Bitcoin Than Tesla?
Updated

: Feb 9, 2022, 21:08 UTC
•
2
min read
The US government now holds $4 billion in Bitcoin which is almost double Tesla's wallet. Grayscale and MicroStrategy are still at the top.
It could be said that there's hardly anyone who doesn't like to have a big fat Bitcoin wallet and this holds true even for the US Government which has had mixed views about digital assets in the past.
US Govt's Filled Bitcoin Pockets
Data shared by co-founders Negentropic of on-chain analytics platform Glassnode shows that despite offloading a good amount of the Bitcoin which the US government had obtained through seizures, it still owns $4.08 billion in BTC holdings as of February 2022.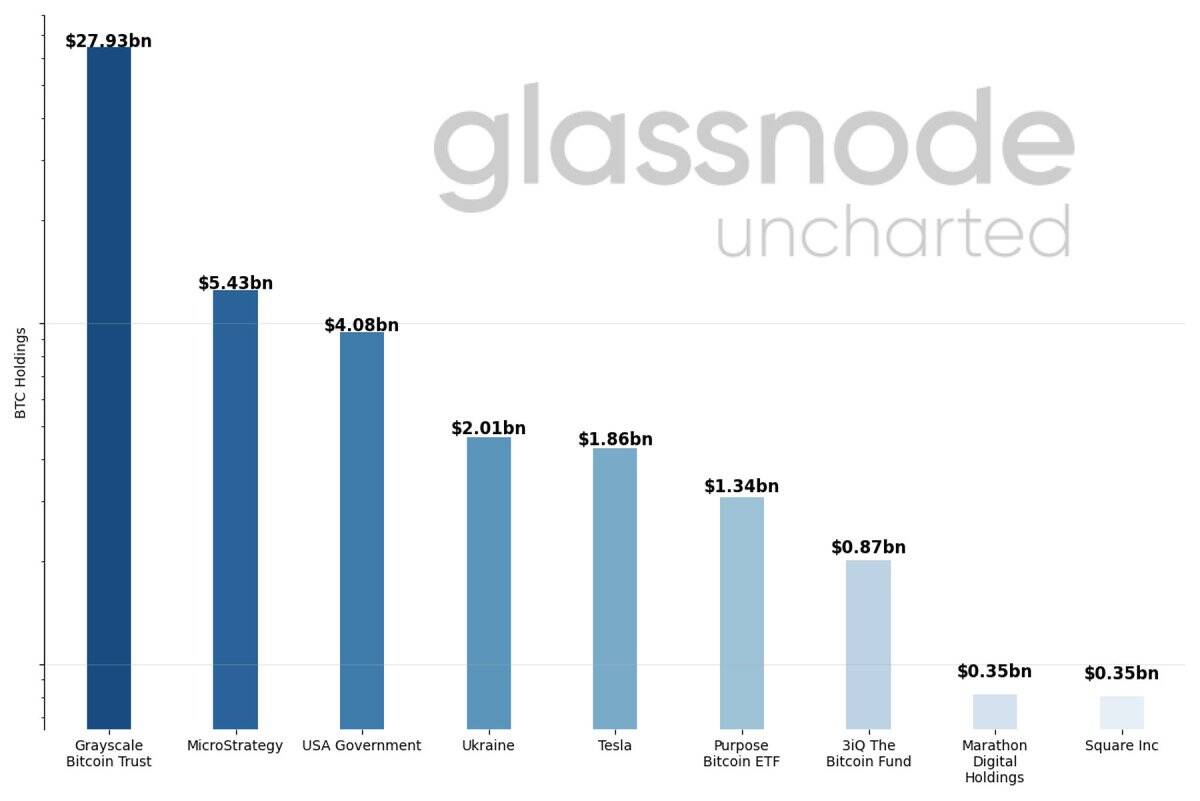 Source: Negentropic Twitter
Interestingly, the amount of cryptocurrency seized by the US government in 2021 alone surpassed $1 billion (stood at $1.2 billion), which marked an eightfold increase from 2020.
The primary agency responsible for auctioning off the government's cryptocurrency assets, the US Marshals Service, had seized and auctioned off more than 185,000 Bitcoins amounting to $8.6 billion at the time, as of December last year.
It is worth noting that the US government's holdings are more than twice that of both Ukraine, with $2.01 billion, and Tesla with $1.86 billion. The government's funds come next to the Grayscale Bitcoin Trust, which has $27.93 billion, and MicroStrategy, which holds $5.43 billion worth of BTC.
The New Big Seizure
In a February 8 announcement by the Department of Justice (DoJ), Ilya Lichtenstein, and his wife Heather Morgan, were both arrested for 'alleged conspiracy to launder $4.5 billion in stolen cryptocurrency.' It also stated that the law enforcement agency had seized over $3.6 billion in cryptocurrency linked to that hack so far.
Over the last few years, the rise in cryptocurrency-related crimes has led the government to seize and thereby HODL extraordinary amounts of crypto. Analysts are of the opinion that as long as such crimes continue to grow, the US government's crypto pockets will get bigger too.
The recent Bitfinex seizure of the hacked BTC, which is now worth $3.6 billion, is also the largest finance bust ever in the department's history which led to their heavy crypto wallets.
While the US government's big fat crypto wallets add to the positive narrative for cryptocurrencies in general, there is skepticism and worry about the government liquidating their position triggering bearishness in the market.
That said, US bankers still remained skeptical about cryptos, in fact, Alkesh Shah of Bank of America in a recent note said that Bitcoin has traded as a risk asset since June of 2021. He further said that although its (BTC) price volatility has fallen since 2013, it is still very volatile compared to S&P 500, Nasdaq 100, and Gold.
Don't miss a thing!
Sign up for a daily update delivered to your inbox
Sponsored Financial Content