Bank of America Says Bitcoin Trades as a Risk Asset
Updated

: Feb 9, 2022, 16:57 UTC
•
2
min read
Alkesh Shah, head of Bank of America's Global Cryptocurrency and Digital Asset Strategy, commented on a research note yesterday.
Since the crypto market has become more popular, Bitcoin is one of the principal topics to discuss when it comes to this market.
Alkesh Shah of Bank of America said that Bitcoin has traded as a risk asset since June of 2021. Although its price volatility has fallen since 2013, it is still very volatile compared to S&P 500, Nasdaq 100, and Gold, commented Shah on the research note.
With the bitcoin price being highly volatile, Shah said that Bitcoin would be less traded as an inflation hedge in developed countries, except in countries with "inflationary environments," which some investors may view it as an inflation hedge.
Alkesh Shah is the head of the Global Cryptocurrency and Digital Asset Strategy research in Bank of America that was launched in October 2021. Simultaneously with the launch, a report called "Digital Assets Primer: Only the first inning" was published.
What Are the Other Banks Saying?
JPMorgan recently estimated that Bitcoin's "fair value" is about $38,000, when it is trading at the time of writing at $44,008.38. The estimation is based on Bitcoin price volatility being almost four times as gold. The news also said that Bitcoin could reach $150k as a long-term target.
Wells Fargo published a report earlier this week called "Cryptocurrencies – too early or too late?". The report commented that Bitcoin is perhaps one of the least volatile cryptocurrencies, but "it is still roughly four times more volatile than gold".
Last month, Goldman Sachs said that Bitcoin will compete with gold as a store of value. As crypto adoption continues, parts of Gold market capitalization will shift into Bitcoin.
BTC Is Up 14.5% in the Last Seven Days
BTC is the biggest cryptocurrency by market capitalization with $835 billion, according to CoinMarketCap. It is trading at $44,008.38 and is up 1.30% in the last 24 hours.
The cryptocurrency is still down 36.12% from its all-time high of $68,900 in November 2021. Since hitting its all-time high it has been in a descending channel until it found support around $35,000 in mid-late January. Then it started an ascending channel, as you can see below: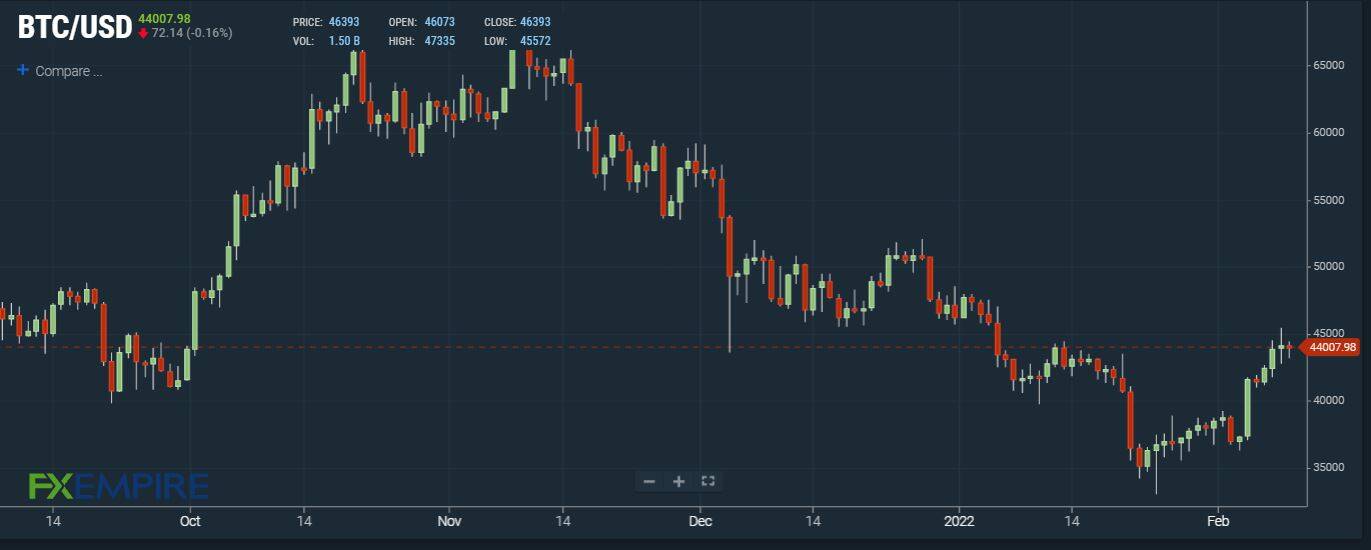 BTC/USD Chart – Source: FXEmpire.
One sure thing is that banks think of Bitcoin as a highly volatile asset when it compares to traditional financial markets.
If Bitcoin adoption continues and the overall crypto market matures, volatility might decrease.
Don't miss a thing!
Sign up for a daily update delivered to your inbox
Sponsored Financial Content