Investor Anxiety Persists as NASDAQ Composite Sees Significant Declines Amid Banking Sector Concerns
Updated

: Mar 24, 2023, 15:01 UTC
•
3
min read
Investor Anxiety Persists as NASDAQ Composite Sees Significant Declines Amid Banking Sector Concerns.
Key Takeaways
Wall Street's major indices dropped as investors abandoned risky assets amid concerns over a banking sector contagion.
Despite reassurances from key officials, investor anxiety about a liquidity crisis in the banking sector remained high.
U.S. two-year Treasury yields hit their lowest levels since September, with traders betting on a pause in U.S. rate hikes in May.
Major U.S. and European banks saw their shares decline, with financials among the leading decliners.
Overview
Investors abandoned risky assets on Friday, causing a drop in Wall Street's main indices amid growing concerns that a banking sector contagion may not have been fully resolved, despite reassurances from key officials.
As of 14:00 GMT, the Dow Jones Industrial Average was at 31,881.46, down 223.79 points or 0.70%, while the S&P 500 was at 3,917.96, down 30.76 points or 0.78%, and the Nasdaq Composite was at 11,699.18, down 88.22 points or 0.75%.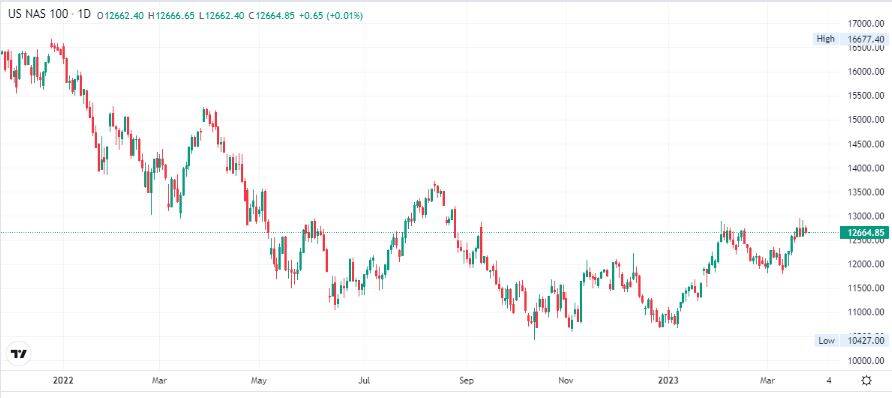 Daily NASDAQ Composite Index
Investor Anxiety Persists Despite Treasury Secretary's Assurances on Liquidity Crisis in Banking Sector
Despite Treasury Secretary Janet Yellen's assurance late on Thursday that measures would be taken to safeguard Americans' deposits, investor anxiety about a liquidity crisis in the banking sector remained high.
Concerns about limited lending and the potential for a severe recession persisted, despite Yellen's comments helping to stem a late-night slide in stocks during the previous session.
However, investor sentiment soured once more. While global regulators and central banks are attempting to address concerns, doubts remain about the stability of the situation.
U.S. Two-Year Treasury Yields Hit Lowest Since September as Traders Bet on Fed's Pause Amid Global Banking Crisis
On Friday, the U.S. two-year Treasury yields dropped considerably, reaching their lowest levels since September.
Traders are now betting on a pause in U.S. rate hikes in May, following the Federal Reserve's signal of caution about its next move amidst the global banking crisis, which was sparked by the failure of two regional banks.
Federal Reserve Bank of Atlanta President Raphael Bostic and St. Louis Fed President James Bullard emphasized that reducing inflation was the central bank's priority, despite the stress in the banking sector.
In other news, data from Friday revealed that durable goods orders declined by 1% last month, contradicting expectations of a 0.6% increase. However, a survey by S&P Global showed that business activity accelerated in March.
Major U.S. and European Banks See Shares Decline as Banking Sector Concerns Mount
In early trading, major U.S. banks such as JPMorgan Chase & Co, Wells Fargo, and Bank of America saw their shares drop by 1% to 2%.
Meanwhile, regional lenders, including First Republic Bank, PacWest Bancorp, Western Alliance Bancorp, and Truist Financial Corp, experienced declines ranging from 1% to 5%.
In the previous session, the S&P 500 banking index and the KBW regional banking index hit their lowest levels since late 2020, declining by 1.6% and 1.2%, respectively.
European banks were also under pressure after a report on a U.S. probe into Credit Suisse and UBS soured investor sentiment, causing their U.S.-listed shares to fall by approximately 5.4% and 4.1%, respectively.
Additionally, U.S. shares of Deutsche Bank dropped nearly 10% after the bank's credit default swaps rose to a four-year high.
S&P 500 Financials Among Decliners as Defensive Sectors Trade Higher; Activision Blizzard Soars on UK Regulator News
Financials were among the leading decliners as nine of the 11 major S&P 500 sectors traded in the red, while defensive sectors such as utilities and consumer staples were the only ones trading higher.
On the NYSE, declining issues outnumbered advancers by a ratio of 3.18-to-1, while on the NASDAQ, the ratio was 2.86-to-1. The S&P index saw 34 new lows and two new 52-week highs, while the NASDAQ recorded 190 new lows and 11 new highs.
Activision Blizzard soared 7.0% after the UK competition regulator dropped some concerns about competition in the Microsoft-Activision deal.
Don't miss a thing!
Sign up for a daily update delivered to your inbox
Sponsored Financial Content