NASDAQ 100, Dow Jones, S&P 500 News: Wall Street Navigates Rate Hikes, Energy Surges, Earnings Twists
Published

: Sep 28, 2023, 09:42 UTC
•
3
min read
As September concludes, the Nasdaq Composite, Dow Jones 30, and S&P 500 hint at a turbulent month-end, reflecting market uncertainties.
The Energy Select Sector SPDR Fund
Highlights
US stock index futures hint at a tepid end to a tumultuous September, painting a lackluster quarterly picture.
Third quarter hails energy sector as victor with a notable 13.5% leap, thanks majorly to oil price jumps.
Micron Technology grapples with a bearish outlook, despite outperforming fiscal Q4 predictions.
A Turbulent Finish for Major US Indexes
As September draws to a close, the major US stock index futures are presenting a nearly flat, but weak performance during the pre-market session on Thursday, hinting at the end of a turbulent month and quarter. Yesterday, Wall Street's experienced a mixed session which saw the S&P 500 and Nasdaq Composite register minute gains, whereas the Dow ended slightly lower. The 10-year U.S. Treasury yield ascended to a height unseen in over a decade and a half, capping equities.
At 09:11 GMT, the blue chip Dow futures are trading 33758.00, down 33.00 or -0.10%. The benchmark S&P 500 Index futures are at 4311.25, down 2.25 or -0.05% and the tech-weighted Nasdaq futures contract is trading 14716.00, down 23.00 or -0.16%.
Performance Snapshots
The forthcoming close of the trading week, month, and quarter paints a dreary picture for the key indexes. Precisely, the Dow is set to decrease 3.4% monthly and 2.5% quarterly, the S&P 500 is projected to decline 5.2% monthly and 4% quarterly, and the Nasdaq's pace suggests monthly and quarterly drops of 6.7% and 5%, respectively. Nevertheless, an annual overview remains positive, emphasizing the robust rally observed earlier in the year.
Energy Sector Steals the Limelight
The energy sector emerges as the third quarter's star, boasting a 13.5% increase, largely due to surging oil prices. Key players include Marathon Petroleum with a quarterly rise of 30.7%, followed closely by Halliburton and Phillips 66. However, it's not a universal celebration within the sector, with certain natural gas entities like Kinder Morgan and EQT experiencing declines.
Spotlight on Corporate Earnings
In corporate news, Micron Technology's stock faltered following its below-par earnings projection for the upcoming quarter, though it also reported narrower losses and superior revenue for the fiscal fourth quarter than anticipated. Concurrently, Peloton Interactive enjoyed a significant surge on the back of its new collaboration with Lululemon.
What's Next on the Economic Horizon?
Investors brace themselves for forthcoming economic revelations, including data on unemployment, housing, and GDP. The much-anticipated PCE reading, the Federal Reserve's favored inflation measure, is due on Friday. The importance of this report and other inflation-related data cannot be over-emphasized with the market at odds over a November Fed rate hike, suggesting its crucial role in shaping future market movements.
Technical Analysis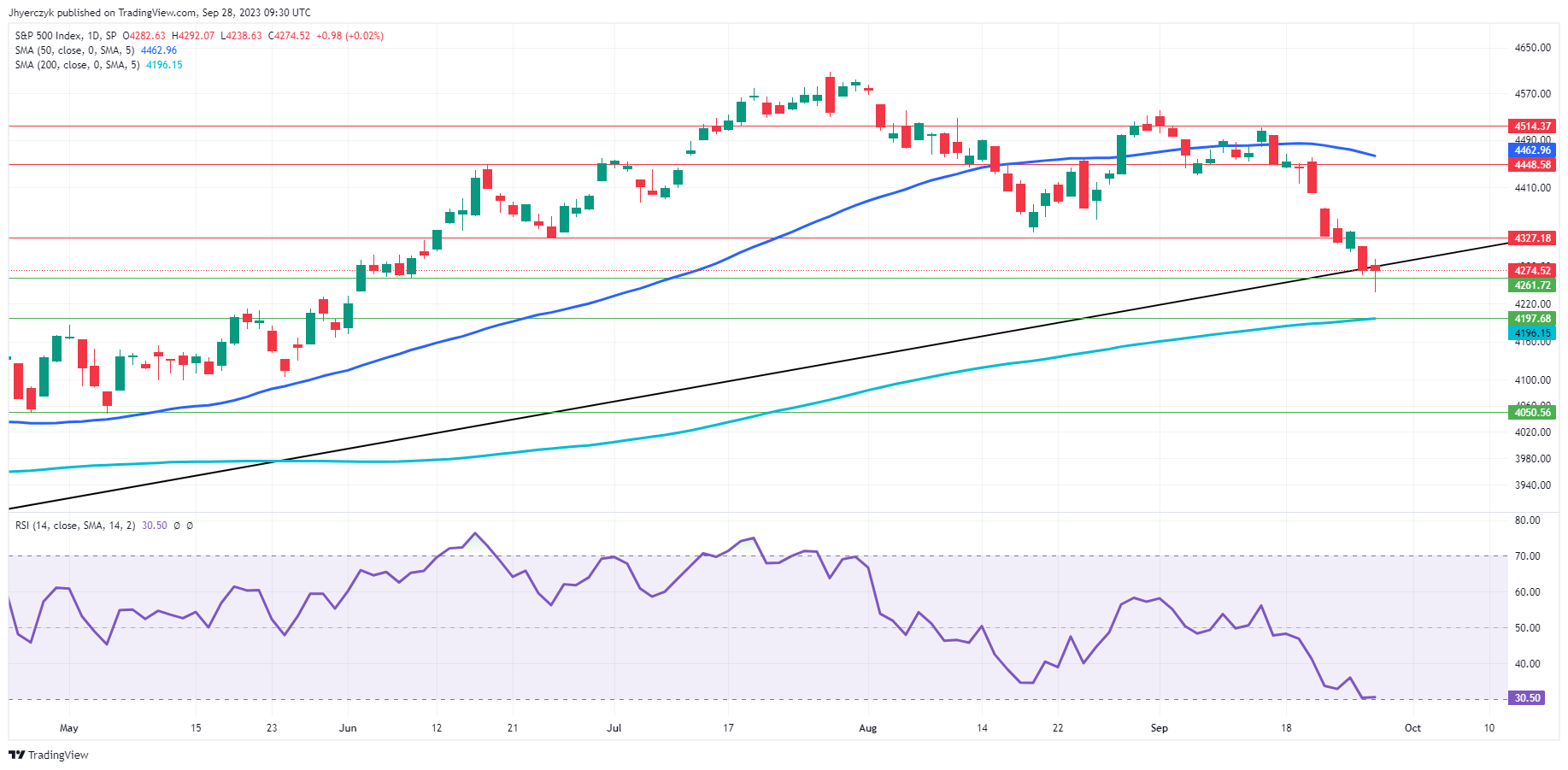 Daily SPX
Navigating uncertain waters, the S&P 500 Index's current stance at 4274.52 finds itself precariously positioned above the pivotal 200-Day moving average of 4196.15. This proximity suggests a potential trend inflection point.
The index also has foundational trend line support at 4285.16, serving as an immediate buffer that begs buyers to try to overcome it.
Meanwhile, the 14-Day RSI at 30.50 signals oversold territory, hinting at a possible rebound.
Yet, with a clear path upwards lacking any immediate trend line resistance, and the minor resistance at 4327.19, followed by the main resistance at 4448.58, the chart pattern suggests ample room for upward movement.
Nonetheless, considering the critical supports nearby, the short-term sentiment remains bearish.
Don't miss a thing!
Sign up for a daily update delivered to your inbox
Sponsored Financial Content