Nasdaq Index, Dow Jones, S&P 500 News: Stocks Steady but Bullish Market Sentiment Persists
Published

: Nov 20, 2023, 14:59 UTC
•
3
min read
S&P 500 Index up slightly; Microsoft grows with Altman's AI leadership, fueling bullish U.S. market sentiment amid Thanksgiving week.
Highlights
U.S. stocks steady as Thanksgiving week begins.
Microsoft's stock rises 1% on Sam Altman's AI team lead.
Nvidia set for strong Q3 earnings amid positive dynamics.
Bullish market sentiment persists with cool inflation data.
US Stocks Open Thanksgiving Week Steady
U.S. equities showed little change on the cash market opening on Monday as Wall Street embarked on the Thanksgiving holiday week, with the Dow Jones Industrial Average and S&P 500 experiencing marginal gains. The Nasdaq Composite saw a slight rise of 0.3%, continuing its strong performance from the previous week.
Microsoft and Nvidia in Focus
Shares in Microsoft rose by 1% following the announcement that former OpenAI chief Sam Altman would join the company to lead a new AI research team. This move underscores Microsoft's commitment to advancing in the AI sector. Meanwhile, Nvidia, known for its significant gains this year, is set to report its third-quarter earnings. Analysts anticipate strong results, driven by positive supply-demand dynamics and new product launches.
Noteworthy Stock Movements
Boeing shares gained following an upgrade from Deutsche Bank, highlighting an acceleration in aircraft deliveries. Microsoft's shares also saw an increase due to the significant news about Sam Altman. Additionally, PENN Entertainment's stock rose after an upgrade from Bank of America, linked to its new sportsbook launch.
Market Outlook Amidst Holiday Trading
The Thanksgiving holiday is expected to bring a shortened trading week. Historically, November has been a strong month for the S&P 500. With recent cooler-than-expected U.S. inflation data, market sentiment remains bullish, with expectations of a continued, albeit modest, economic expansion in the U.S.
Bullish Sentiment Persists
Market bulls maintain their enthusiasm towards year-end, bolstered by recent data suggesting a potential pause in the Federal Reserve's rate hikes. This optimism is underpinned by a belief in the broadening of market rallies and sustained economic growth.
Technical Analysis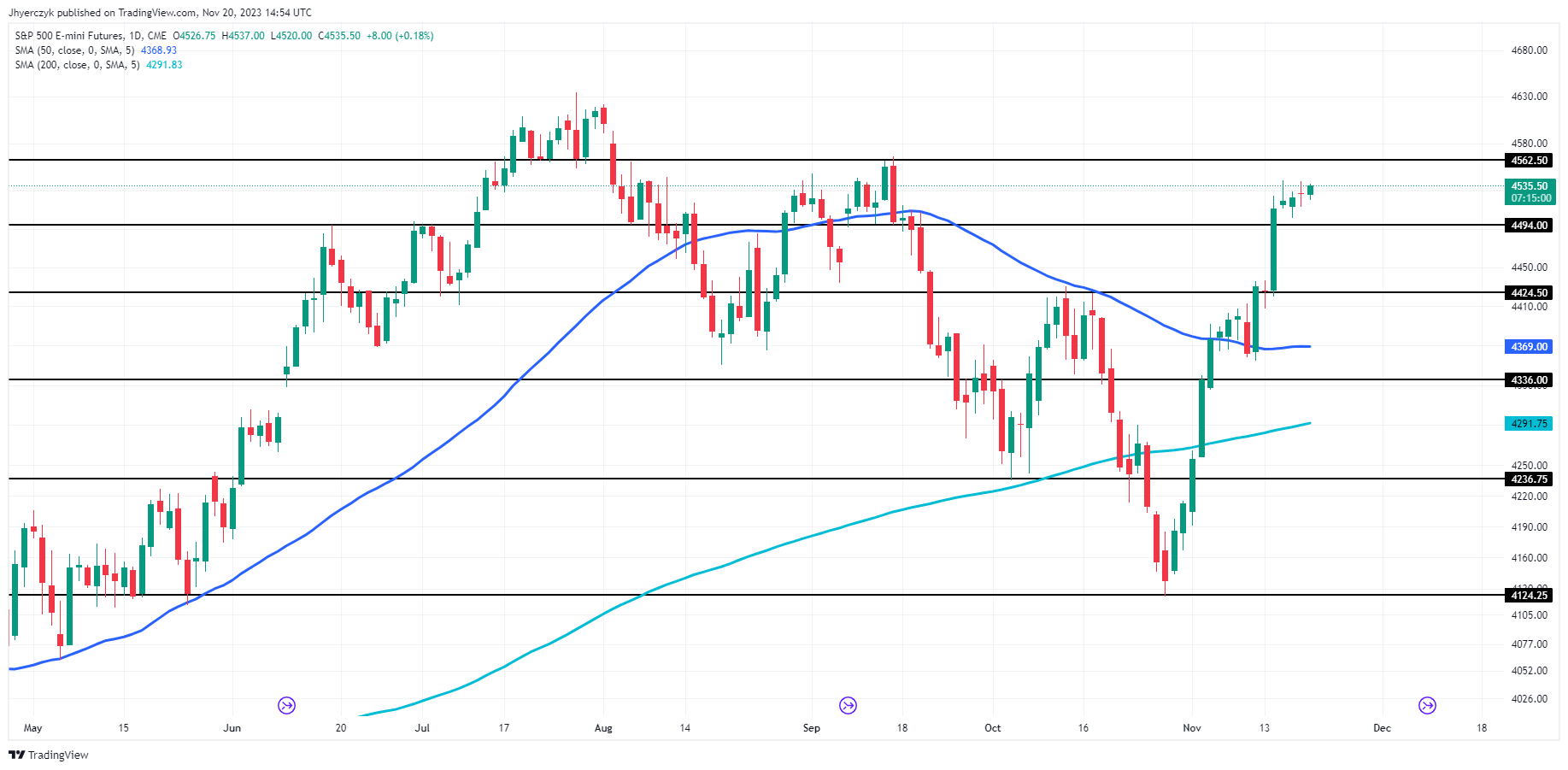 Daily E-mini S&P 500 Index
The E-mini S&P 500 Index, currently at 4533.75, is trading above both its 200-day and 50-day moving averages, set at 4291.83 and 4368.90, respectively. This positioning suggests a bullish trend, as the index is maintaining levels above these key averages.
The index is also navigating close to the minor resistance level of 4562.50, indicating potential for an upward breakout. Should it surpass this resistance, there could be further bullish momentum.
However, the index is not far from the minor support level of 4494.00. If it drops below this point, it might test the main support at 4424.50.
Overall, the E-mini S&P 500's current stance above significant moving averages and proximity to minor resistance points to a bullish market sentiment in the short term.
Don't miss a thing!
Sign up for a daily update delivered to your inbox
Sponsored Financial Content