Silver May Be on the March Upward
It is certainly an interesting time for silver. The metal has been underperforming gold for a long time – by 7% during the last year alone.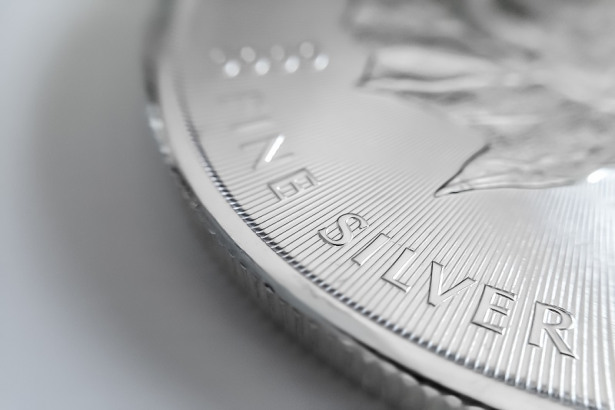 Back in 2009 to 2011, when silver shot up in price by 400%, the gold ratio was similar to the 80 level that it is at the moment.
What has happened in the past is that this 80 level has coincided with the lows of silver – and signaled the beginning of a strong bull run for the precious metal. It doesn't happen often – and when it does it is worth keeping a close eye on any developments that result.
In concert with this gold/silver ratio inflation is rising. The CPI figure of 2.36% is higher than the Fed wanted and set to climb higher still – the "true" figure is likely to be even greater. As precious metals are highly correlated with inflation rates, if inflation picks up, the smart money will start to buy more gold and silver. Silver, being cheaper, has more potential for gain over the short or medium turn, so is likely to start to catch up with, then outperform, gold.
Couple these factors with the weakness of the dollar, and you have the perfect conditions for silver to fly. $50 an ounce was reached as recently as 2011 – there is no reason to think this cannot happen again.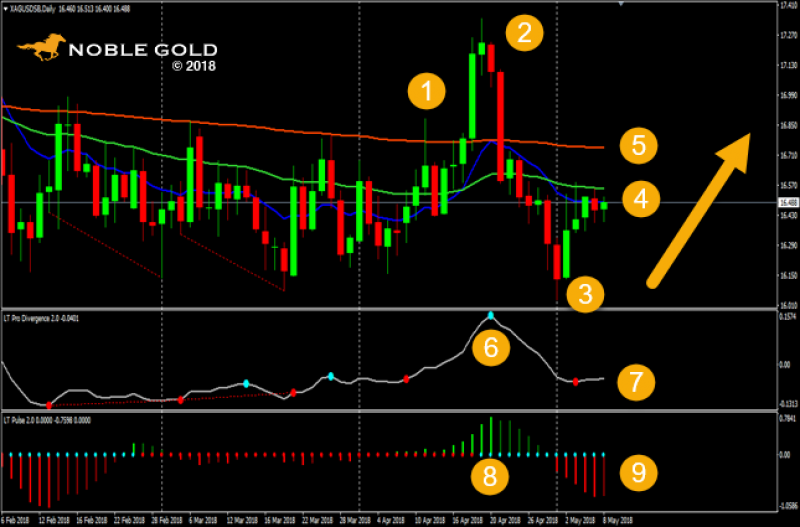 Anyone who has been following the silver market recently will be aware that since the fall from late January and early February, silver has been stuck in a channel between its 200 moving average and a series of lows just above the $16 level.
As you can see from the chart, the price has just been moving up and down in this channel until the rise of 18 April when it reached a high of $17.345.
You can see that it first attempted to break through the 200-day SMA (simple moving average – orange line) resistance on 11 April, at 1) but was repelled back down to the 21-day EMA (exponential moving average – blue line) where it bounced back up to 2).
From here it fell through all the support levels back down to 3) it's the lowest low of the year at $16.038. Since then it has started climbing again to the resistance levels at 4) and 5).
If it can clear the 21-day EMA, 55-day EMA, and 100-day EMA it will stand a good chance of pushing through the 200-day SMA – the big difference this time is that it is likely to retest the high at 2).
It can be seen that this 200-day SMA is a very powerful resistance level for silver – on the four previous occasions, this year, where it has tried to push through – it has bounced back. The last attempt has been the first time that it has been successful – but it again fell back from the high at 2) – we feel that it may well have more success this time around.
This is because of the bounce effects of it falling so far down to 3). The divergence indicator at 6) fired at a relatively high peak, only to fall sharply down to the positive diversion signal at 7 (the red dot).
---
Suggested Articles
---
The other reason for thinking that silver will strike higher is the strength of the pulse signals at 8) and 9). You can see that the height of the bars from late February through to the middle of April were very weak. They now have more power behind them – and this would suggest a higher push upwards once the lows are out of the way.
The only oddity with this setup is the arrangement of the moving averages which run from high to low. This would normally indicate a downtrend – but silver has been "horizontal" for so long now that it is difficult to discern a direction from the moving averages.
We will be watching closely for signs of a sustained recovery – and closely monitoring the key support and resistance levels for signs of a breakout above the previous high of January ($17.685) or even that of last September ($17.815).
A journey of a thousand miles starts with a single step – a climb to $50 for silver may start with a simple change of trend…
Noble Gold specializes in IRAs and 401(k) rollovers through precious metals and cryptocurrencies investments.