US Dollar Index News: DXY Fortified by 17-Year High in 10-Year Treasury Yields
Published

: Oct 2, 2023, 13:01 UTC
•
2
min read
A hawkish Fed and surging U.S. Treasury yields propel DXY to near 10-month highs, cementing the dollar's robust position in the forex market.
Highlights
U.S. Dollar nears 10-month high, buoyed by expectations of elevated U.S. interest rates.
Hawkish Federal Reserve rhetoric fortifies the greenback's position.
U.S. 10-year Treasury yields reach near 17-year highs at 4.629%.
Dollar marks best quarterly performance in a year, supported by Fed's stance.
Overview
The U.S. Dollar is holding its ground against a basket of major currencies on Monday, near a 10-month high, as expectations of U.S. interest rates remaining elevated continue to bolster its position. Hawkish remarks from the Federal Reserve and surging U.S. Treasury yields have fortified the greenback's standing.
U.S. Treasury Yields and Federal Reserve
U.S. 10-year Treasury yields reached near 17-year highs, registering at 4.629%, a 6-basis point rise. The Federal Reserve's consistent hawkish stance has been a significant factor in the dollar's recent strength, contributing to its best quarterly performance in a year.
Yen Slides Towards 150 Per Dollar
The yen is weakening against the dollar, hovering close to an 11-month low. Its depreciation is edging towards the critical 150 mark, a level that traders speculate could trigger intervention from Japanese authorities. Last year, similar circumstances led to policy action to support the yen.
European Currencies Struggle
Sterling and the euro have had a dismal quarter, with the former losing almost 4% against the dollar and the latter declining by 3%. European Central Bank's vice-president Luis de Guindos cautioned that discussing interest rate cuts was "premature," further weakening the euro's position.
Short-Term Forecast: Bullish on Dollar
Investor sentiment leans towards the dollar as it continues to gain support from high U.S. Treasury yields and a hawkish Federal Reserve. Despite the U.S. Congress passing a temporary funding bill to avert a government shutdown, the market focus remains on the robust performance of the dollar.
Technical Analysis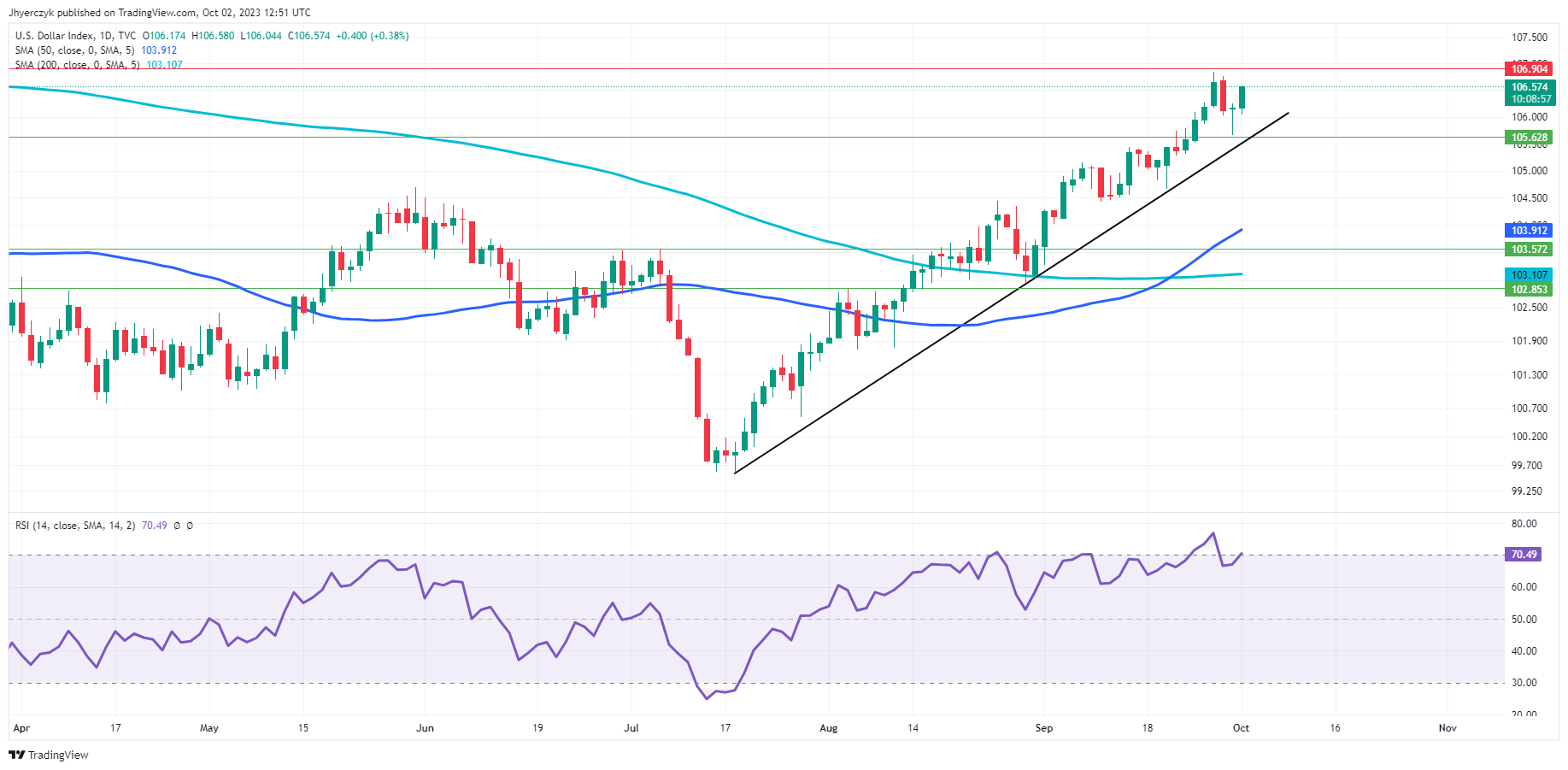 Daily US Dollar Index (DXY)
The US Dollar Index (DXY) currently sits at 106.606, above both the 200-day and 50-day moving averages at 103.107 and 103.913 respectively, signaling bullish momentum.
The 14-Day RSI reads 70.68, indicating overbought conditions but also pointing to strong upward momentum.
In terms of support and resistance, the current price is snug between the minor support at 105.628 and minor resistance at 106.904, suggesting room for upward movement.
While the market has clearly been riding an uptrend line for over two-months, currently at 105.549, there's no defined trend line resistance, hinting at uncharted territory ahead and the potential for an acceleration to the upside.
However, the steepness of the trend line and its duration means that it is also a potential trigger point for an acceleration to the downside.
Overall, market sentiment appears to be bullish.
Don't miss a thing!
Sign up for a daily update delivered to your inbox
Sponsored Financial Content