XRP News: Ripple on Edge as SEC Faces Capitol Hill Heat
Updated

: Sep 28, 2023, 07:09 UTC
•
3
min read
XRP's precarious position is emphasized by McHenry's stringent rebuke of the SEC, reflecting a landscape riddled with regulatory ambiguities and impending rulings.
Key Insights:
XRP faced a 0.56% drop, settling at $0.4993 by Wednesday's end.
Potential Congressional Subpoena looms over the SEC.
US government shutdown might delay crypto rulings.
The Wednesday Overview
On Wednesday, XRP fell by 0.56%. Following a 0.63% loss on Tuesday, XRP ended the day at $0.4993.
An SEC Grilling on Capitol Hill Offered XRP no Price Support
SEC Chair Gary Gensler was in the hot seat on Wednesday. The crypto community expected the Financial Services Committee to ask tough questions after recent court verdicts.
Chairman of the Financial Services Committee Patrick McHenry targeted the SEC Chair, saying,
"You said the law is clear, but your actions have created more confusion and lasting damage. Mr. Gensler, you have also said your goal is consumer protection, yet your actions have pushed legitimate digital asset activity outside of regulated financial institutions where consumers are best protected."
Chairman McHenry went on to say,
"We've seen your ad-hoc regulation-by-enforcement approach to digital assets on a losing streak in the courts. You refuse to be transparent with Congress regarding your interactions with FTX and Sam Bankman-Fried."
In a lengthy address, McHenry highlighted the lack of SEC responsiveness, threatening the SEC with a warrant. Mc Henry concluded,
"As I said, our patience is running thin. The SEC is not above the law nor is it unique. […] Let me be clear, I do not want to be the first chairman of this Committee to issue a subpoena to the Securities and Exchange Commission. And you should not want to be the first SEC Chair to receive a Congressional Subpoena"
However, there were no updates on the SEC motion for interlocutory appeal. The increasing chance of a US government shutdown may impede the progress in delivering crypto-related rulings.
Coinbase CEO Brian Armstrong Fights for the Digital Asset Space
On Wednesday, Coinbase COIN) CEO Brian Armstrong updated the crypto community with posts from Washington. Armstrong shared video footage of 40 crypto founders on Capitol Hill, saying,
"Here at our nation's capital for #StandWithCrypto day with 40 crypto founders from across the country. It's time for America to join the rest of the G20 and get some clear rules."
Armstrong is conducting a crypto awareness campaign. Coinbase launched the StandWithCrypto campaign to support a reported 52 million Americans who own crypto.
While the Coinbase CEO and crypto founders promoted the digital asset space, investors await the pivotal court ruling on the Coinbase (motion to dismiss.
In June 2023, the SEC charged Coinbase for allegedly operating as an unregistered securities exchange, broker, and clearing agency. Additional charges included offering and selling unregistered securities via its staking-as-a-service program.
XRP Price Action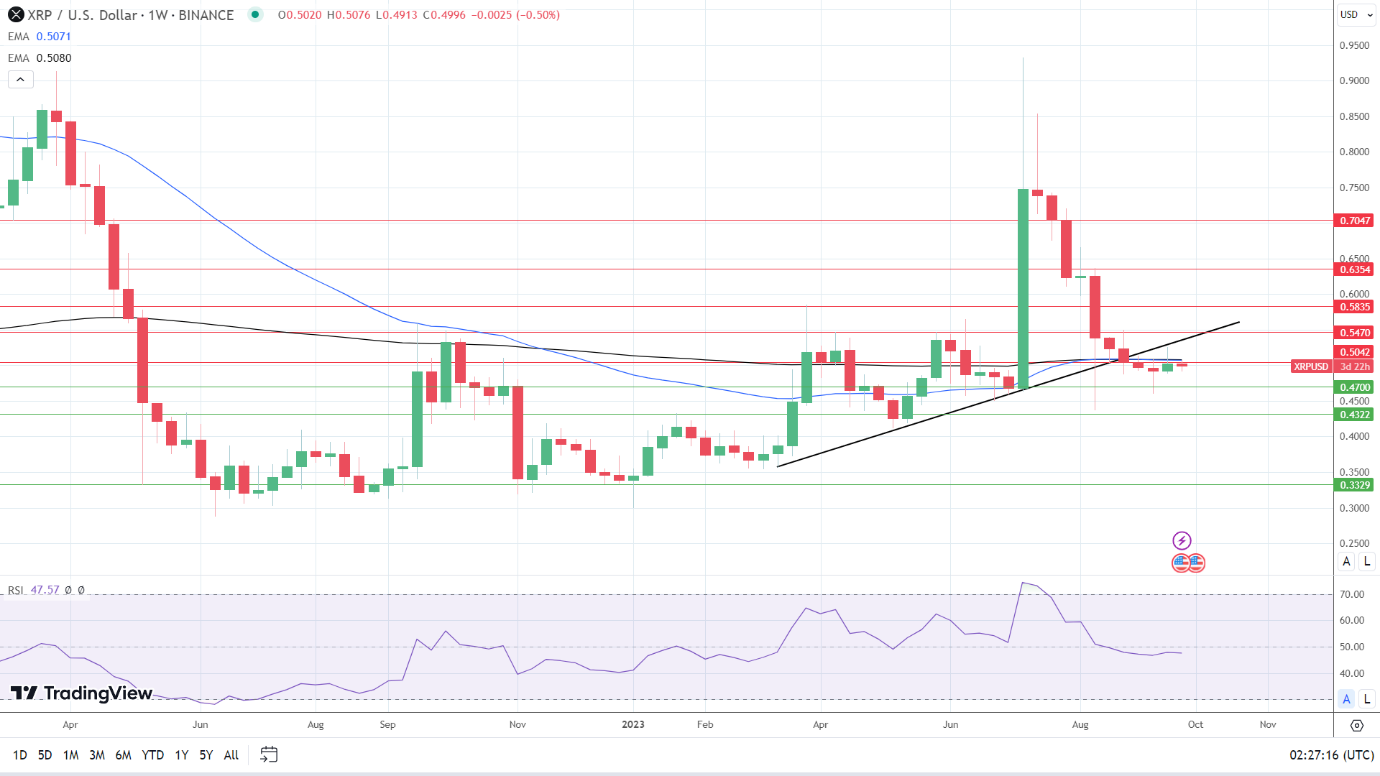 XRPUSD 280923 Weekly Chart
Daily Chart
XRP remained below the 50-day and 200-day EMAs, sending bearish price signals. A fall to sub-$0.4950 would give the XRP bears a run at the $0.4700 support level. Lingering uncertainty about the ongoing SEC cases continues to test buyer appetite.
A break above the $0.5042 resistance level would support an XRP move to the 200-day and 50-day EMAs.
The 44.18 14-Daily RSI reading indicates an XRP fall to the $0.4700 support level before entering oversold territory.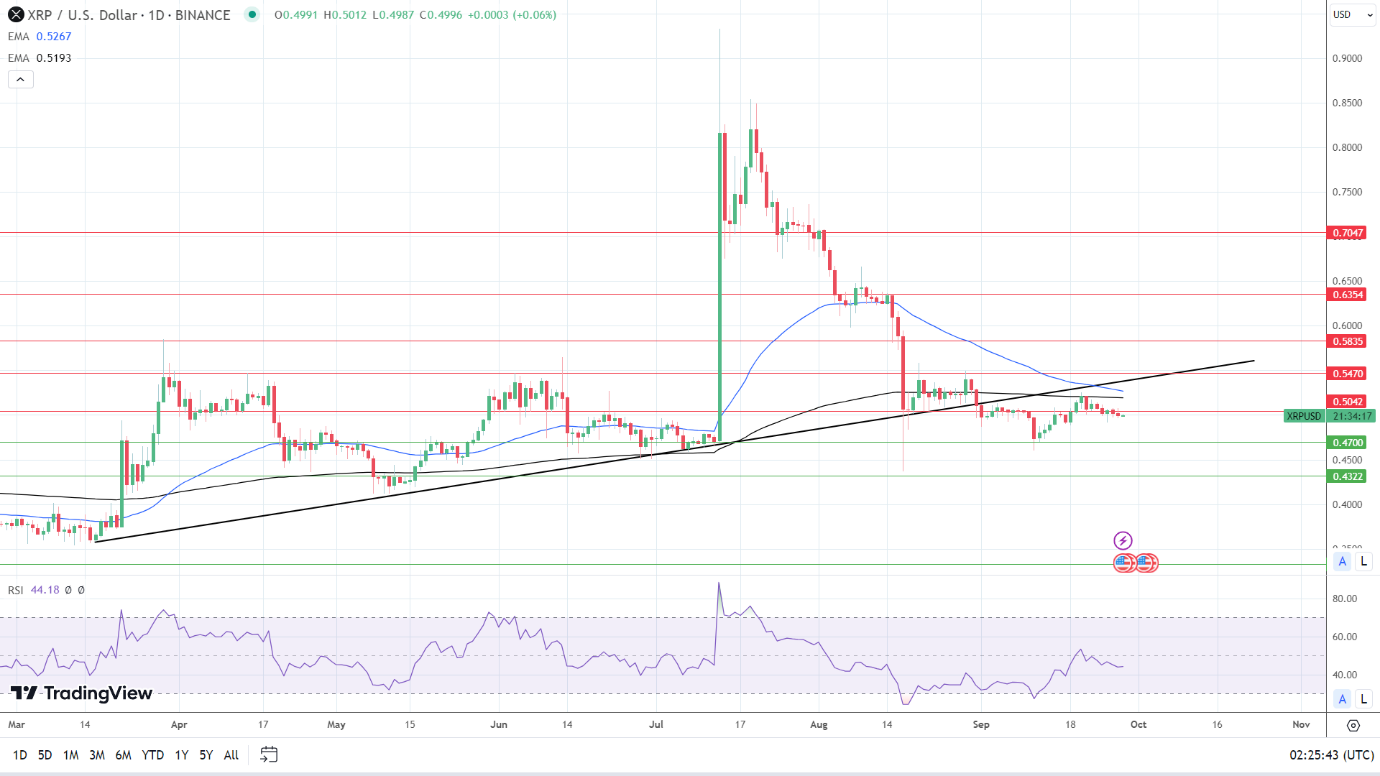 XRPUSD 280923 Daily Chart
4-Hourly Chart
XRP remains below the 50-day and 200-day EMA, reaffirming bearish price signals. An XRP fall to sub-$0.4950 would support a move toward the $0.4700 support level.
However, a break above the $0.5042 resistance level and 50-day EMA would give the bulls a run at the 200-day EMA. Selling pressure may intensify at $0.5040. The 50-day EMA is confluent with the $0.5042 resistance level.
The 14-4 Hourly RSI 44.64 reading supports an XRP move to the $0.47 support level before entering oversold territory.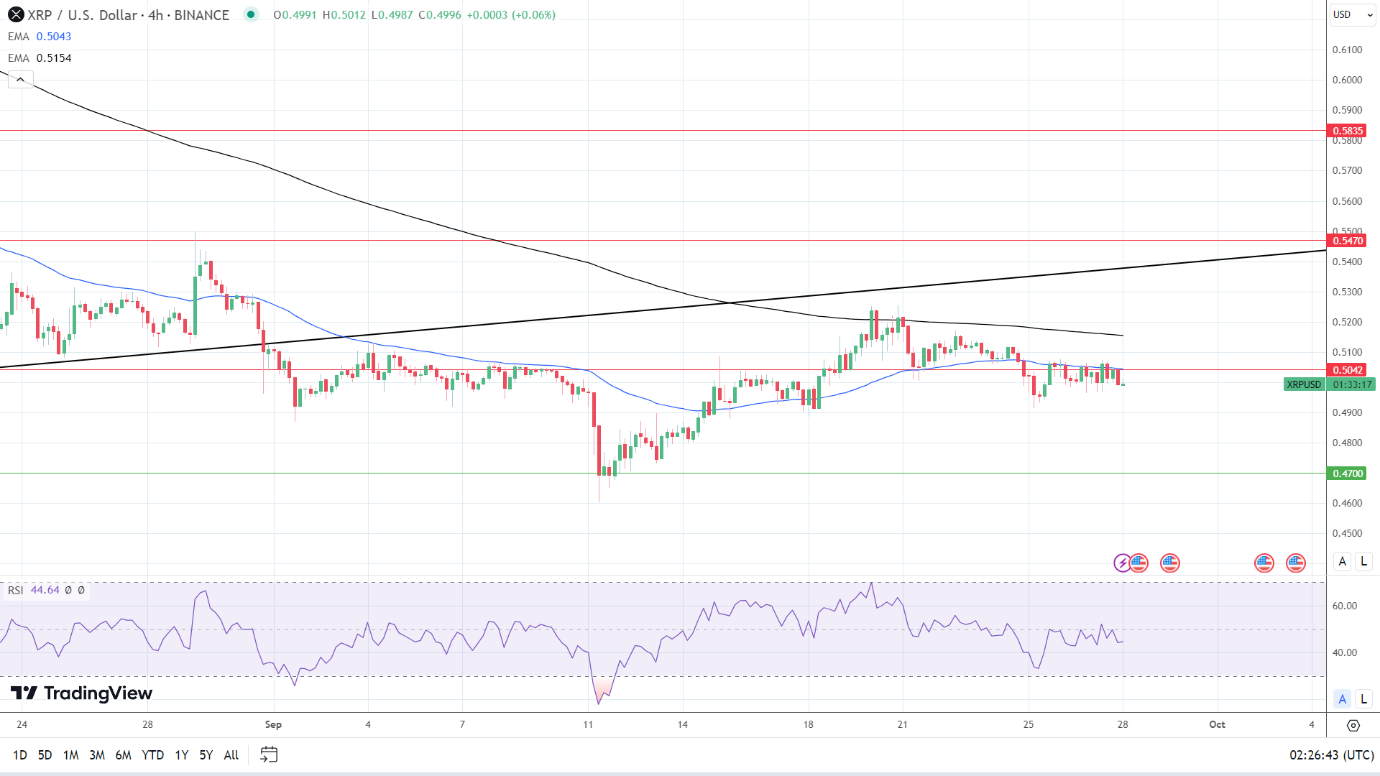 XRPUSD 280923 4-Hourly Chart
Don't miss a thing!
Sign up for a daily update delivered to your inbox
Sponsored Financial Content