China Industrial Production and Retail Sales Fall Short of Forecasts
Updated

: May 16, 2023, 09:36 UTC
•
2
min read
The Chinese economy was in the spotlight. While industrial production was on the rise, economists expected more from the post-COVID recovery.
It was a busy morning on the Asian economic calendar, with the Chinese economy in the spotlight. China's industrial production, retail sales, fixed asset investments, and unemployment figures drew interest. However, the numbers failed to mirror the optimistic forecasts.
According to the National Bureau of Statistics, industrial production increased by 5.6% year-over-year in April versus a forecasted 10.9%. Industrial production rose by 3.9% in March. While falling short of forecasts, industrial production increased at the most marked pace since September 2022, when production increased by 6.3%.
Retail sales surged by 18.4% year-over-year versus 10.6% in March. Economists forecast a 21% increase. Fixed asset investments also fell short of expectations, rising by 4.7% year-over-year versus a forecasted 5.5%. However, unemployment numbers provided some comfort, with the unemployment rate falling from 5.3% to 5.2%.
Following the latest manufacturing PMI and Producer Price Index numbers, there was increased market sensitivity to the stats.
Investors brushed aside the unemployment numbers this morning, with retail sales, industrial production, and fixed asset investment numbers falling short of expectations
AUD/USD Reaction to China Industrial Production Miss
Before today's stats, the AUD/USD fell to a pre-stat low of $0.66941 before rising to a morning high of $0.67097.
However, in response to the economic indicators from China, the AUD/USD fell from a post-stat high of $0.67027 to a session low of $0.66800.
This morning, the AUD/USD was 0.22% to $0.66850. Today's economic indicators from China sent the Aussie into the red, with a 0.26% fall within twenty minutes of the data release.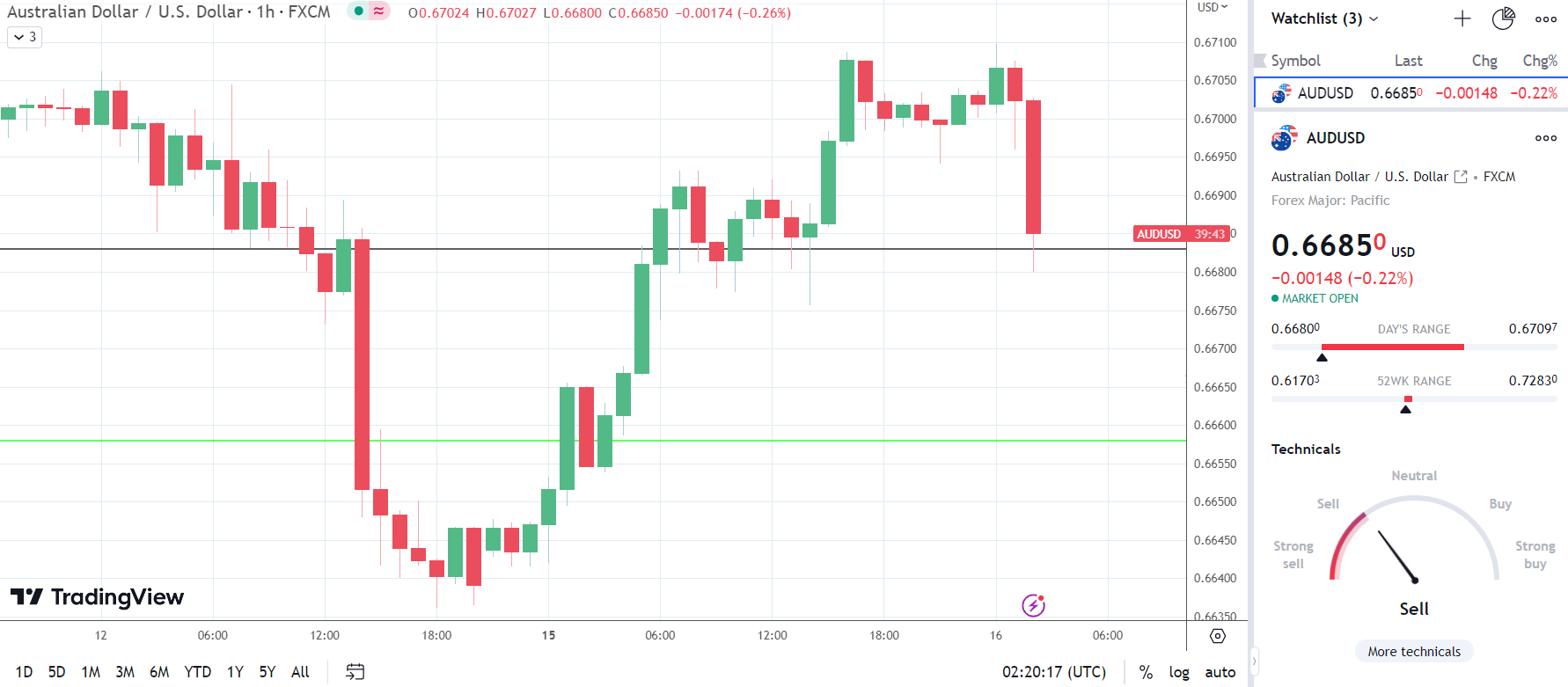 160523 AUDUSD Hourly Chart
Next Up
Looking ahead to the US session, it is a busy day on the US economic calendar. US retail sales and industrial production numbers will draw interest. We expect the retail sales figures to have more impact, with consumption a focal point for inflation and the US economy.
Economists forecast retail sales to increase by 0.7% in April versus a 0.6% fall in March. Retail sales have fallen in four of the last five months.
However, investors should consider US debt ceiling-related news and FOMC member commentary. FOMC members Bostic, Barr, and Williams deliver speeches today.
President Joe Biden and House Speaker Kevin McCarthy will meet today to discuss the ongoing US debt crisis. Progress toward raising the debt ceiling would support riskier assets and limit the impact of any weak US economic indicators.
However, this morning's numbers from China will likely resonate.
Don't miss a thing!
Sign up for a daily update delivered to your inbox
Sponsored Financial Content