Gold Recovers Three Days of Losses Amid Trade Woes and FOMC Minutes
Gold is recovering three days of losses as investors are digesting trade war declarations but a firm dollar.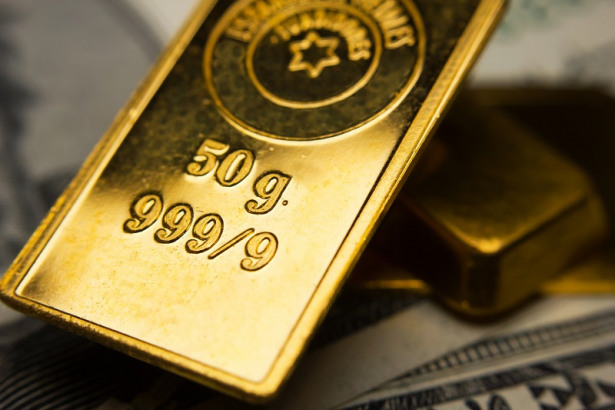 Gold is trading positive on Thursday as investors are watching trade war exchange of accusations between the United States and China. However, the move is not too big as FOMC minutes are supporting the dollar.
Dollar index is trading higher on Thursday as FOMC minutes underpinned the Greenback. DXY has advanced to 98.26, fresh máximum since April 26.
Silver is testing the 14.50 level after supporting the 14.40 area in the last days. Copper extends its decline to 2.650, a fresh low since January 25, as the pair accumulates five days of drops.
Platinum breaks below the 800.00 level to test 796.00, its lowest level since February 15. Palladium remains in a range between 1.305 and 1.335.
China says trade talks will not continue unless the US act right
Potential trade war resolution got another hit this morning as China's Commerce Ministry spokesperson Gao Feng said that the latest actions done by the White House are preventing negotiations with Beijing.
"If the U.S. would like to keep on negotiating it should, with sincerity, adjust its wrong actions. Only then can talks continue," Gao said.
The spokesperson also commented that the actions on Chinese companies don't just provoke severe damages to reasonable commercial cooperation between China and the US, "but it also forms a great threat to the security of the global industrial and supply chain."
"China is firmly opposed to this. We will closely monitor developments and make adequate preparations," Gao concluded.
On the other hand, US Secretary of State Pompeo said that China is lying about Huawei working with the Chinese government. "For them to say that they don't work with the Chinese government is false."
"The Huawei CEO on that, at least, isn't telling the American people the truth," Pompeo said to CNBC. "If you're a state-directed business and you take on subsidies direct from the Chinese government, there's no doubt you can make real hay."
Between trade war and FOMC minutes
So, latest developments in the trade war between China and the US spurred gold buyers amid its conditions of safe haven. But Wednesday's FOMC minutes release underpinned the dollar as the notes hinted that there are no plans for the FOMC to move rates in either way.
That comment fueled dollar that is trading at May's highs. Long story short, gold and other precious metals are trading between two forces, the trade war that is pushing metals up, but a firm dollar that is limiting any potential upside.
Gold trades positive and recovers three days of losses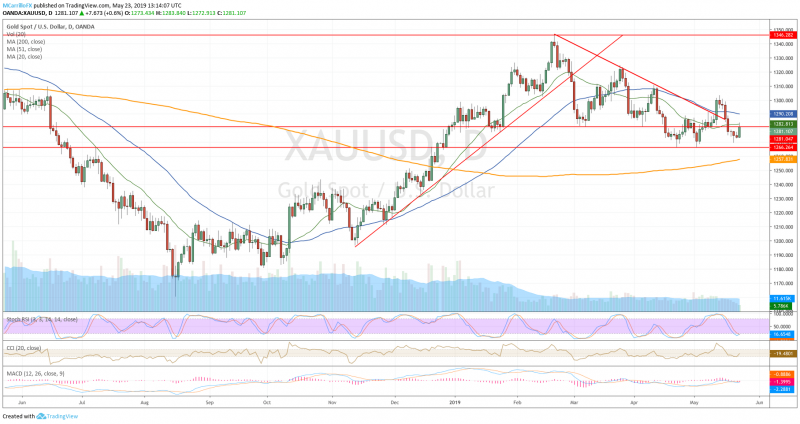 Gold is trading positive on Thursday as investors are digesting trade war news and a firm dollar. XAU/USD is recovering three days of losses, and it is now trading above the 1,280 resistance.
Currently, XAU/USD is trading 0.61% positive on the day at 1,281. The pair is confirming that 1,270 is acting as clear support, but it is now testing the 20-day moving average, a level that is working as a short term resistance.
Above that, the unit will find resistance at 1,290 and then a buying zone around 1,303, May 14 highs. However, according to David Becker in a recent article in FX Empire, gold is trading sideways, and momentum remains negative.
A break below 1,270 "would lead to a test of the May lows at 1,266. A close below the May low could lead to a downdraft and a test of the December 2018 lows at 1,233."