PwC Hong Kong Goes Metaverse
Published

: Dec 24, 2021, 01:14 UTC
•
2
min read
PwC Hong Kong joins a growing list of mainstream players entering the metaverse by buying LAND in The Sandbox.
Metaverse was back in the news, with PwC Hong Kong announcing its move into the metaverse. PwC Hong Kong is a subsidiary of Pricewaterhouse Coopers, which has a network of firms in 156 countries, delivering assurance advisory, and tax services. Industries that PwC Hong Kong supports include but are not limited to asset and wealth management, automotive, banking and capital markets, consumer markets, and financial services.
PwC Hong Kong and Sandbox
On Thursday, PwC Hong Kong announced that it had purchased LAND in The Sandbox. The LAND purchase is to allow the construction of a Web 3.0 advisory hub. PwC plans to use the hub to build a new generation of professional services that includes accounting and taxation.
Earlier this year, PwC had raised concerns that venture capital and similar well-funded organizations are hindering opportunities for smaller firms to invest and benefit from the growth of crypto start-ups. PwC is not alone, with a number of other prominent names also seeing VCs as a threat to Web 3.0 development.
PwC Hong Kong is not the only mainstream firm exploring the metaverse. Earlier this month, Bank of America gave its view on the metaverse. According to the BoA, the metaverse presents a massive opportunity for crypto as "we start using cryptocurrencies as currencies". Another U.S banking giant, Morgan Stanley, also reportedly noted that the metaverse could fundamentally transform human behavior. In particular, metaverse could alter the way people socialize, watch performances, engage with brands, learn, and trade/speculate on digital assts.
Bank of America reportedly announced that the metaverse economy could grow to $800bn by 2024.
PwC Hong Kong did not state the purchase amount. Earlier in the month, however, Tokens.com had announced a $2.4m LAND purchase.
SAND Price Action
On Thursday, SAND rallied by 23.7% to end the day at $6.32. In late November, SAND had struck an ATH $8.49 before easing back. In spite of the pullback, positive metaverse news has supported an eyewatering 17,600% SAND return year-to-date. When considering Bank of America's estimates for metaverse economic growth, there's more to come.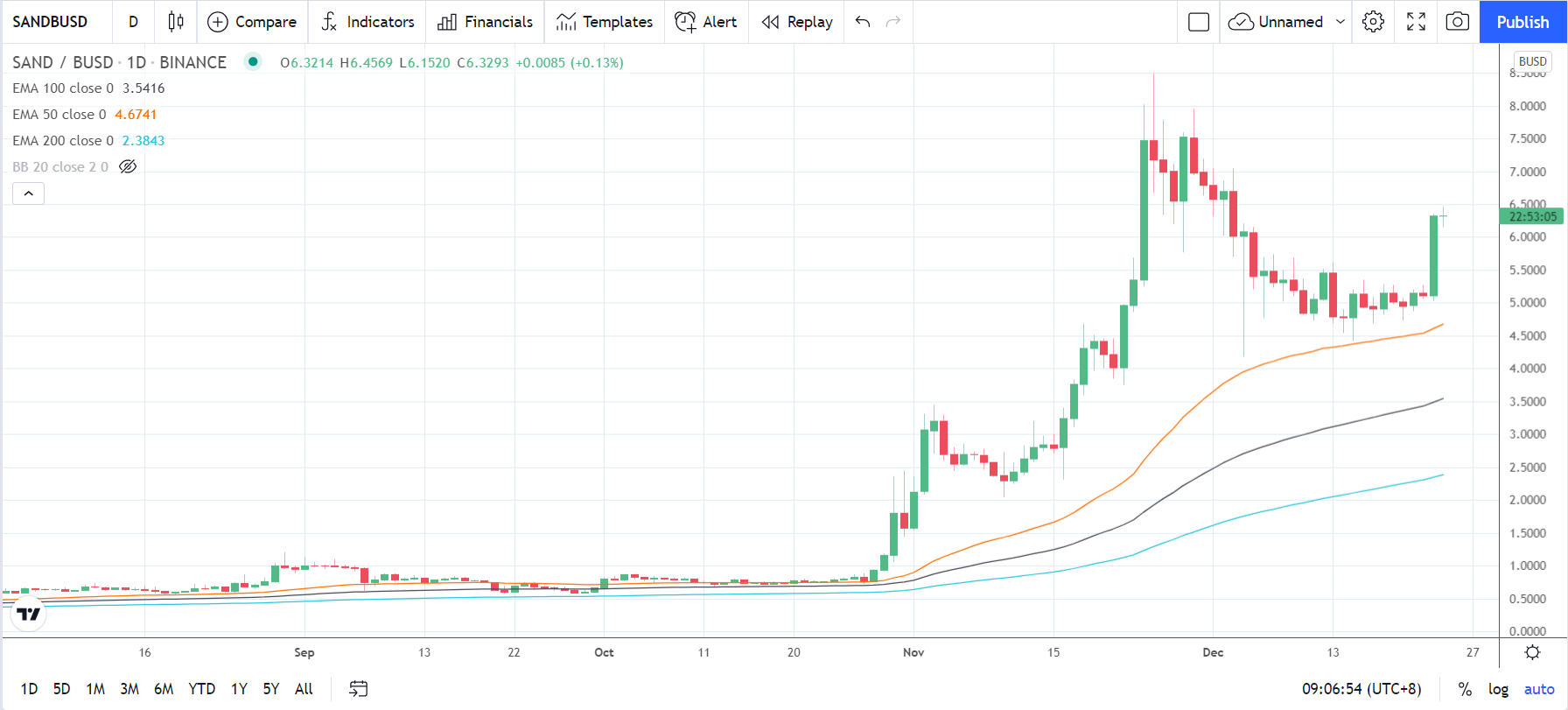 Don't miss a thing!
Sign up for a daily update delivered to your inbox
Sponsored Financial Content