Qatar Central Bank's Development of CBDC in "Foundation Stage"
Published

: Jun 23, 2022, 05:53 UTC
•
2
min read
The Governer of the central bank also believes that the crypto assets not underlined by monetary authority might be less credible.
Key Insights:
Qatar Central Bank is currently evaluating the pros and cons of a CBDC.
The country has been at the center of the media's focus ahead of the FIFA World Cup 2022.
On the other hand, the Crypto market is still recovering from the recent loss.
As Central Bank Digital Currencies (CBDC) have become the next major step in the financial and technological innovation, every country is finding a way to bring these digital currencies into play. Qatar, too is now looking to participate in the same.
Qatar Preparing for CBDC
Speaking at the Qatar Economic Forum, Qatar Central Bank (QCB) Governor H E Sheikh Bandar bin Mohammed bin Saoud Al Thani stated that the bank is currently in the process of evaluating the possibility of a CBDC.
In order to facilitate the same, the right technology and platform are being found.
The motivation to do so came from the announcement of the development of CBDCs in other countries. Apart from this discussing cryptocurrency and the prospect of its use in Qatar, the QCB governor was noted saying,
"Currently, crypto are a technology innovation. It might take us to new era of fast, cheap, and more accessible financial services. However, those crypto assets which are not underlined by monetary authority might be less credible."
Qatar is currently the focus of international media as the country will be hosting the FIFA World Cup this year, which too has been linked with crypto for months now.
Back in March, cryptocurrency exchange Crypto.com was announced as an Official Sponsor of the FIFA World Cup. The platform was set to be the exclusive cryptocurrency trading platform of the event.
Additionally, last month, blockchain Algorand was also announced as an official partner of the World Cup.
Crypto Market Takes a Minute
While partnerships may make it sound like the crypto space is thriving, it is only doing so in terms of development, as from an investor's point of view, things are a bit bleak.
After weeks of bearishness, the overall market seems to be taking a break as the valuation of all cryptocurrencies combined fell to $882 billion at the time of writing.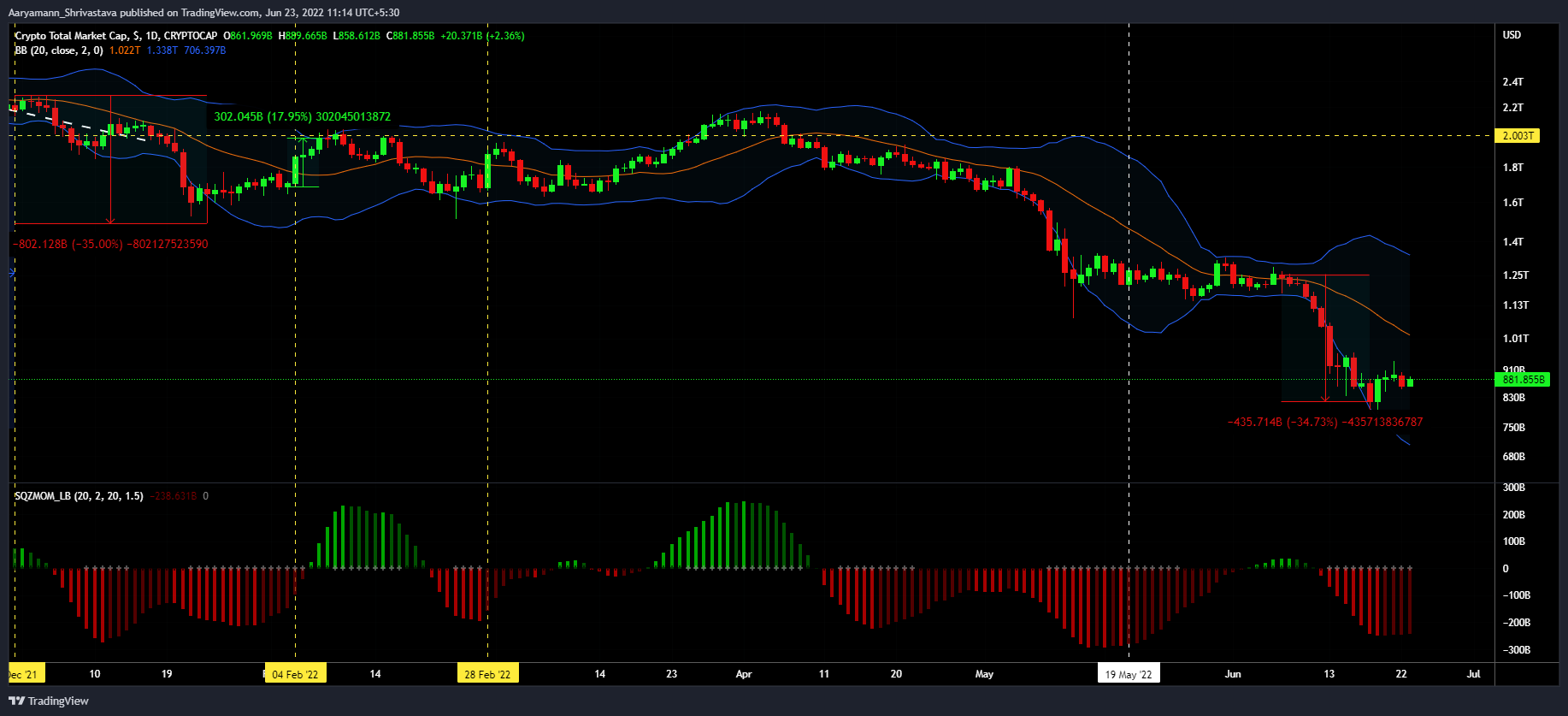 Although the slump is expected to reduce by the beginning of the third quarter next month, clearer indications concerning the same are yet to be visible.
Don't miss a thing!
Sign up for a daily update delivered to your inbox
Sponsored Financial Content