AEX is a new cryptocurrency exchange that was launched in October of 2017. The exchange offers their services in both English and Chinese as AEX is a Chinese cryptocurrency exchange. However, the exchange is registered and based out of London, United Kingdom, but even so, they primarily service Chinese clients. AEX also accepts traders from all over the world including the United States. This is largely due to the exchange allowing traders to stay anonymous and not requiring them to submit any KYC (know your customer) information or banking information. The exchange does not follow any regulatory compliance, but this is understandable because the exchange is so new and there are very few cryptocurrency exchanges in the industry that become regulated.
Contents
The AEX exchange is said to be associated with btc38.com as their CEO is the same for both. This association is not a good thing, however, as btc38.com has many known issues and red flags associated with them. Never the less, AEX has gained substantial popularity from Chinese traders and has an average daily trading volume of $25 million according to coinmarketcap.com. The cryptocurrency exchange hosts a wide variety of cryptocurrency assets and ICOs available for trade.
With all the cryptocurrency exchanges to choose from, how do you know which one is right for you and which one can be trusted? In the following review, we delve deep into the aspects that make up this cryptocurrency exchange and see what sets AEX apart from the competition and whether or not they can be trusted.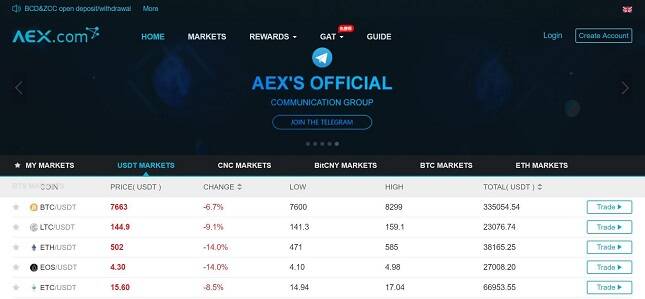 Exchange Platform
The AEX cryptocurrency exchange features not one but two proprietary web-based trading platforms. First, there's the standard exchange platform which is the most basic and geared towards beginner traders. This platform incorporates a simple chart with basic features for viewing the price and a simple order book and trading history below the chart. The interface is simple and straightforward which is exactly what this platform was going for.
The second exchange platform is much more advanced than the first and is obviously meant for experienced cryptocurrency traders. The platform takes up the whole screen, so the traders are fully immersed in the platform. It features an advanced chart in the middle stretching to the left of the screen. Traders have access to more than 50 technical indicators and a variety of drawing tools and more for the analyzation of price. The order book and trade history are positioned in more logical places and are more suited for advanced traders and what they're used too.
All in all, we were quite satisfied with both exchange platforms and the demographic they serve. AEX does a good job at providing services to both experienced and beginner traders.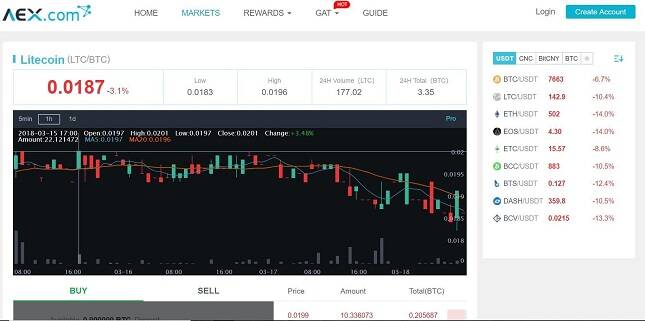 Exchange Markets
AEX is what you would call an altcoin exchange due to their extensive list of cryptocurrency trading pairs. Unfortunately, AEX does not support any fiat currencies but do support many other markets to exchange cryptos. The cryptocurrencies they feature can be traded in six different markets; Bitcoin (BTC), Ethereum (ETH), Bitshares (BTS), (CNC), Tether (USDT), and (BitCNY) which is like Tether but pegged to the Chinese Yuan opposed to the US Dollar. The cryptocurrencies offered by AEX includes all of the most popular coins that are in the top 20-50 in terms of market capitalization. As well, they feature some newer and more exotic altcoins including ICO coins. As well, the exchange features new coins all the time in which users can vote on to get them listed.
Fees
The AEX cryptocurrency exchange has some of the lowest fees in the entire industry with trading fees as low as 0.05% per trade. Most other cryptocurrency exchanges charge fees around 0.25%, so trading fees of 0.05% are significantly cheaper. AEX also charges withdrawal fees, as do all cryptocurrency exchanges. The withdrawal fees vary from crypto to crypto, but for Bitcoin withdrawals, traders are charged 0.001 BTC, Ethereum withdrawals are 0.01 ETH and Ripple withdrawals are charged 0.5% of the total amount withdrawn. These withdrawal fees are significantly higher than most other exchanges and are how AEX is able to charge such miniscule trading fees.

Security and Fairness
Users of the AEX exchange are all treated fairly and are not required to provide the exchange with any personal or banking information. All a user needs to create an account is a valid email address and a strong password. Users can make their account more secure by enabling two-factor authentication techniques, but other than that, there are no other security measures mentioned. We are a bit hesitant on the security of this exchange because of their association with btc38.com which was hacked in 2016 with $1.5 million worth of cryptocurrencies stolen. However, this doesn't necessarily mean that AEX implements the same security measures and the exchange has so far produced a good track record with no reported hacks.
Support
The AEX exchange primarily services Chinese clients and this is evident through their support. Support offered in languages other than mandarin are limited, which should not be the case if they accept traders from all over the world and offer their site and services in English. Support representatives can only be contacted via email and are very slow to respond to any messages. Traders can sometimes get support via the FAQ page, but even this page is very limited in English, the Chinese FAQ page is much more in depth. All in all, the support offered by AEX is very poor.
Pros and Cons
Pros
A wide variety of cryptocurrency assets and markets
Very low trading fees
Two trading platforms available
Cons
Slow customer service and limited options
No fiat currencies supported
Not a regulated exchange
Negative reputation
FAQ
Here are some of the most common questions that are asked about AEX crypto trading service.
No. AEX is not a regulated cryptocurrency exchange.
AEX is based out of London, United Kingdom, but is a Chinese exchange.
AEX charges a very low trading fee for each trade transaction. As well, they charge withdrawal fees which are higher.
How do I deposit in AEX account?
AEX only accepts cryptocurrency deposits.
How do I withdraw money from AEX?
You can withdraw from AEX through sending your cryptocurrency to your personal wallet address.
Can I trade on AEX with my mobile device?
Yes, you can use your mobile device to trade on AEX through their downloadable mobile application.
AEX has proven to be a reliable and trusted exchange that has yet to be hacked. However, they do not have the best reputation and traders should proceed with extreme caution.
No. AEX has not been proven to be a scam.
Conclusion
The AEX cryptocurrency exchange is fairly new and has yet to prove themselves as a reputable exchange. However, they achieve a great deal of trading volume primarily by Chinese investors. The exchange features a wide variety of cryptocurrency assets but no fiat currency pairs. The customer support and security of the exchange are areas of uncertainty and need to be improved upon. However, the exchange does offer favorable trading fees and features two great trading platforms for both beginner and advanced traders.
AEX
Features
Coins Available
Bitcoin

Litecoin

Ethereum

Ethereum Classic

bitconnect

bitshares
Accepted Countries
Australia

Cameroon

Chad

Dominica

Canada

Denmark

France

Greece

Haiti

Iceland

Libya

Mexico

Nepal

Belize

Romania

Cape Verde

Senegal

Sri Lanka

United Kingdom

Eritrea

Gambia

Indonesia

Lebanon

Angola

Malta

Bahamas

Benin

Chile

Ghana

Gibraltar

Grenada

Serbia

Guinea-Bissau

Tonga

Kenya

Namibia

Finland

Oman

Jamaica

Palau

Solomon Islands

Kyrgyzstan

Tunisia

Montenegro

Peru

Sweden

Trinidad and Tobago

Yemen

Bahrain

Belarus

Bulgaria

Colombia

Cuba

Cyprus

Algeria

Burkina Faso

Cambodia

Kuwait

Russian Federation

Saint Lucia

South Sudan

Tanzania

Turkey

Virgin Islands, British

Japan

South Korea

Malawi

Maldives

Netherlands

Botswana

Qatar

Saint Kitts and Nevis

Saint Vincent and the Grenadines

Slovenia

Sudan

Taiwan

Tuvalu

Vatican City

Uruguay

Malaysia

Moldova

Nauru

Papua New Guinea

Zambia

Andorra

Bolivia

Afghanistan

Congo

Cote d'Ivoire

Laos

Dominican Republic

Mauritania

Egypt

Gabon

Morocco

Uganda

Nigeria

Swaziland

Vietnam

Austria

Barbados

Bosnia and Herzegovina

Djibouti

Equatorial Guinea

Estonia

Comoros

Fiji

Ethiopia

Mali

Hong Kong

Ireland

Italy

Philippines

Macedonia

Poland

Madagascar

Sierra Leone

Vanuatu

Panama

Portugal

Samoa

Saudi Arabia

Timor-Leste

Albania

Burundi

Guinea

Iran

Armenia

Bangladesh

Belgium

Kiribati

Lithuania

Bhutan

Mongolia

Cayman Islands

Myanmar

Niger

Rwanda

Sao Tome and Principe

Slovakia

Czech Republic

Thailand

United Arab Emirates

Ecuador

Germany

Liberia

Liechtenstein

Luxembourg

Marshall Islands

Monaco

Mozambique

New Zealand

Pakistan

Togo

Uzbekistan

Venezuela

Zimbabwe

Antigua and Barbuda

Croatia

Argentina

Guyana

Kazakhstan

Lesotho

Central African Republic

Norway

Paraguay

San Marino

Spain

Suriname

Switzerland

Tajikistan

Guatemala

Honduras

Iraq

Mauritius

Nicaragua

Singapore

Somalia

Azerbaijan

Brazil

Brunei

China

Costa Rica

El Salvador

Georgia

Hungary

Israel

Jordan

Latvia

Micronesia

Seychelles

South Africa

Turkmenistan

Ukraine

Isle of Man

Kosovo

India
Payment Method
Deposit Options
Cash, Credit Card
Withdrawal Options
Cash, Credit Card
Company Information
| Exchange Details | Info |
| --- | --- |
| Headquarters Country | Seychelles |
| Foundation Year | 2017 |
| Type | exchange |
| Trading Allowed | Yes |
Trade With A Regulated Broker