Founded in 2014 by Star XU, Belize-based OKex is a cryptocurrency and digital assets exchange that splits opinion. The company, whose operations are based out of Hong Kong, has some significant backing. Originally based in China, the exchange, and sister OKCoin, moved to Hong Kong after the Chinese government banned the trading of ICO tokens and is now internationally focused. The exchange's impressive roster of investors includes VenturesLab, co-founded by Tim Draper, a well-known American Venture Capitalist and cryptocurrencies proponent who has made a string of successful early-stage investments in companies such as Hotmail, Tesla, and Baidu.
Contents
Other investors include notable Chinese VCs including Ceyuan Ventures, Longling Capital, and the Giant Network Group.
The OKex exchange was born out of OKCoin as a brand targeted at more advanced cryptocurrency traders. OKCoin is the simpler exchange and focuses on pure buying and selling of cryptocurrencies and ICO tokens, while OKex offers a more sophisticated offering that has more in common with traditional financial securities exchanges.
OKex is listed on CoinMarketCap.com as one of the largest international cryptocurrencies exchanges in the world and it claims daily turnover of $1.5 billion only from its Bitcoin futures trading product. However, along with other prominent Chinese-owned cryptocurrency exchanges, doubt has recently been raised as to whether real turnover figures are as high as reported amid claims of exaggeration and manipulation.
In a move that mirrors that of other major Chinese exchanges such as Binance and Huobi Pro, OKex also launched their own 'utility token' cryptocurrency in early 2018. The token can be used to settle trading fees on the exchange platform or to pay for "exclusive services including dedicated customer support and enhanced API rate limits". Proprietary utility tokens appear to be the latest trend for cryptocurrency exchanges, a pattern sparked by Binance's ICO rocketing the exchange into the biggest internationally within a month of its launch.
OKex is rumored to have ambitions to launch its own Ethereum-esque public Blockchain platform though no official announcement.
Exchange Platform
The OKex exchange platform is available both in-browser and in the form of desktop client software which is downloaded. Because trading platforms are relatively heavy, downloadable software that takes most of the strain means avoiding the risk of a browser running into memory and processing difficulties and potentially freezing. The more professional nature of OKex's exchange platform also means that it places more demand on hardware than the average cryptocurrency exchange.
The exchange platform itself is well designed and resembles high quality traditional financial markets trading platforms. A charting package, developed by parent company and sister exchange OKCoin, is also a major feature and will be appreciated by anyone with trading experience.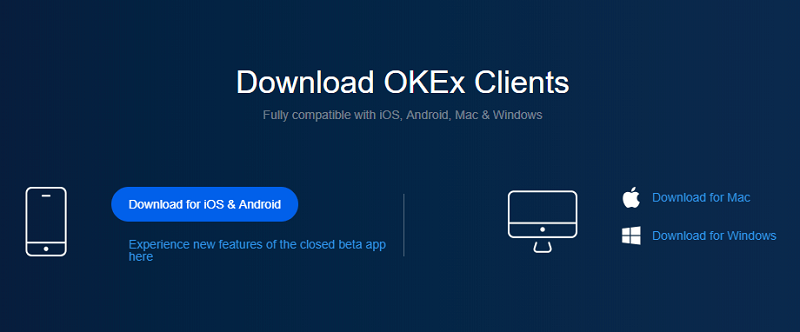 Exchange Markets
The OKex exchange offers the standard crypto-to-crypto trading most common for cryptocurrency exchanges as well as fiat to cryptocurrency trading. For now, unfortunately, Chinese Yuan is the only fiat currency supported. The exchange supports well over a hundred cryptocurrencies and tokens with the regular addition of new options.
Margin trading is also provided on the platform and the maximum 20:1 leverage available is the highest of any cryptocurrencies exchanged, or CFDs broker. Due to their price volatility, margin trading is generally limited to 20:1 in cryptocurrencies markets.
OKex also offers futures trading for Bitcoin, Ethereum and EOS with weekly, bi-weekly and monthly contracts available. Leveraged margin trading is also available for futures contracts.
A recent addition to the exchange's suite of additional functionalities has been the addition of algorithmic trading tools.
Fees
Rock bottom trading fees is a major strength of OKex and the exchange boasts among the lowest in the cryptocurrencies market. Fees are tiered based on average 30-day trading volumes but are low even at their upper end. The highest trading fees payable for low volume accounts are a 0.15% maker fee and 0.2% taker fee. This drops as low as 0.02% and 0.05% for makers and takers fees respectively.

Security and Fairness
As one of the world's major cryptocurrency exchanges, backed by some major capital, it would be assumed that the cybersecurity architecture in place at OKex is in line with the best standards in the industry. The exchange itself lists GSLB, distributed server clusters and cold storage multi-signature wallets among the security measures in place.
In October 2017, a number of OKex account holders complained that their accounts had been hacked and cryptocurrency holdings were stolen. The exchange attributed this to the failure of the account holders themselves to secure their accounts and having made passwords and logins accessible. Suggestions that security levels of the exchange itself were insufficient were refuted and new guidelines on account and wallet security issued to clients.
Support
OKex offers customer support through a phone line as well as an email-based ticketing system and several messaging apps and social media channels. Feedback on support levels is mixed with some complaints online around slow response rates or failure to resolve problems. Generally, it would appear that the exchange is quite inflexible in its systems and approach but users who understand this and act accordingly report few problems.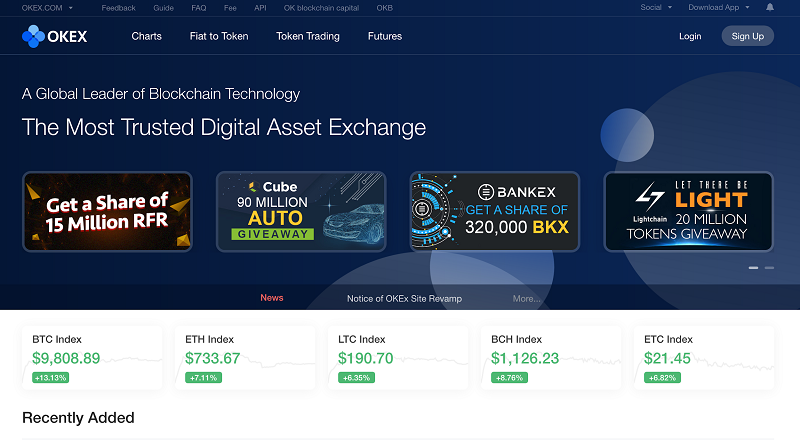 Pros and Cons
Pros
Extensive range of pro trading options such as futures
Fiat to cryptocurrency support
High-level trading platform
Leverage trading
Extensive range of over 100 cryptocurrencies supported
Low Fees
Cons
CNY only fiat supported for now
Mixed reviews on customer service
Chinese market focus though should change with international expansion ambitions
Conclusion
OKex is a well-backed exchange with significant global ambitions. For more experienced traders there aren't many cryptocurrency exchanges that offer the kind of professional trading platform with the functionalities and trading formats usual for big, financial exchanges in traditional markets that OKex does. Low trading fees are another big plus that will appeal particularly to more experienced traders.
While that can be expected to change in the relatively near future, the fact CNY is the only fiat currency supported on the platform means OKex is still very oriented towards the Chinese market.
Accepted Countries
Australia

Cameroon

Chad

Canada

Denmark

France

Greece

Haiti

Iceland

Libya

Mexico

Nepal

Romania

Cape Verde

Belize

Senegal

Sri Lanka

United Kingdom

Eritrea

Gambia

Indonesia

Lebanon

Angola

Malta

Bahamas

Benin

Chile

Ghana

Gibraltar

Grenada

Serbia

Guinea-Bissau

Tonga

Kenya

Finland

Namibia

Oman

Jamaica

Palau

Solomon Islands

Kyrgyzstan

Tunisia

Montenegro

Peru

Sweden

Trinidad and Tobago

Yemen

Bahrain

Belarus

Bulgaria

Colombia

Cuba

Cyprus

Algeria

Burkina Faso

Cambodia

Kuwait

Russian Federation

Saint Lucia

South Sudan

Tanzania

Turkey

Virgin Islands, British

Japan

South Korea

Malawi

Maldives

Netherlands

Botswana

Qatar

Saint Kitts and Nevis

Saint Vincent and the Grenadines

Slovenia

Sudan

Taiwan

Tuvalu

Vatican City

Uruguay

Malaysia

Moldova

Nauru

Papua New Guinea

Zambia

Andorra

Bolivia

Afghanistan

Congo

Cote d'Ivoire

Laos

Dominican Republic

Mauritania

Egypt

Gabon

Morocco

Uganda

Swaziland

Vietnam

Nigeria

Austria

Barbados

Bosnia and Herzegovina

Djibouti

Equatorial Guinea

Comoros

Estonia

Fiji

Ethiopia

Mali

Hong Kong

Ireland

Italy

Philippines

Macedonia

Poland

Madagascar

Sierra Leone

Vanuatu

Panama

Portugal

Samoa

Saudi Arabia

Timor-Leste

Albania

Burundi

Guinea

Iran

Armenia

Bangladesh

Belgium

Kiribati

Lithuania

Bhutan

Mongolia

Cayman Islands

Rwanda

Myanmar

Niger

Sao Tome and Principe

Slovakia

Czech Republic

Thailand

United Arab Emirates

Ecuador

Germany

India

Liberia

Liechtenstein

Luxembourg

Marshall Islands

Mozambique

New Zealand

Pakistan

Togo

Uzbekistan

Venezuela

Zimbabwe

Antigua and Barbuda

Croatia

Argentina

Guyana

Kazakhstan

Lesotho

Central African Republic

Norway

Paraguay

San Marino

Spain

Suriname

Switzerland

Tajikistan

Guatemala

Honduras

Iraq

Mauritius

Nicaragua

Singapore

Somalia

Azerbaijan

Brazil

Brunei

China

Costa Rica

El Salvador

Georgia

Israel

Hungary

Jordan

Latvia

Micronesia

Seychelles

South Africa

Turkmenistan

Ukraine

Isle of Man

Kosovo
Payment Method
Deposit Options
Cryptocurrency
Withdrawal Options
Cryptocurrency
Company Information
| Exchange Details | Info |
| --- | --- |
| Headquarters Country | Hong Kong |
| Foundation Year | 2017 |
| Type | exchange |
| Trading Allowed | Yes |
Trade With A Regulated Broker