The Jaxx wallet is a multi-feature cryptocurrency wallet that's loved and used by many involved in the cryptocurrency space. It is known as being one of the most versatile crypto wallets on the market and is constantly innovating to provide their users with the latest and greatest features. See a list of Jaxx's most notable features below.
Contents

Jaxx gives their users full ownership and control over their private keys. The keys are generated using a unique entropy algorithm that creates a unique and unpredictable private key for your cryptocurrencies on your local device. These keys are never shared with anyone or sent to any servers. The user and only the user knows and has access to their private keys as they are stored on their respective blockchains and only accessible and manageable by using a 12-word "Masterseed".
Jaxx has a simple and intuitively designed user interface. The wallet does an excellent job at providing an easy to comprehend wallet service, even to those new to Bitcoin and cryptocurrency. One of the main pillars of the Jaxx wallet stated by them is. "Jaxx is built to onboard the masses and satisfy the needs of power-users." Which means they strive to provide easy to use wallet services for beginners but are advanced enough for experienced users.
The Jaxx wallet code is open for review by anyone and is available on the Jaxx website. This provides a certain level of transparency and trust that the wallet is secure.
Jaxx is one of the most versatile cryptocurrency wallets on the market with support across 8 different platforms.
One of the most impressive features of Jaxx in which most other crypto wallets do not have is the ability to exchange cryptocurrencies from within the wallet. This integration is a simple and easy way to diversify and manage your crypto portfolio.
The Jaxx wallet comes from a highly reputable background. The company behind Jaxx is Decentral, Canada's leading blockchain company. As well, the founder of Jaxx is Anthony Diiorio, which is the co-founder of Ethereum. The Jaxx wallet is known in the cryptocurrency space as one of the most reputable and trustworthy software wallets.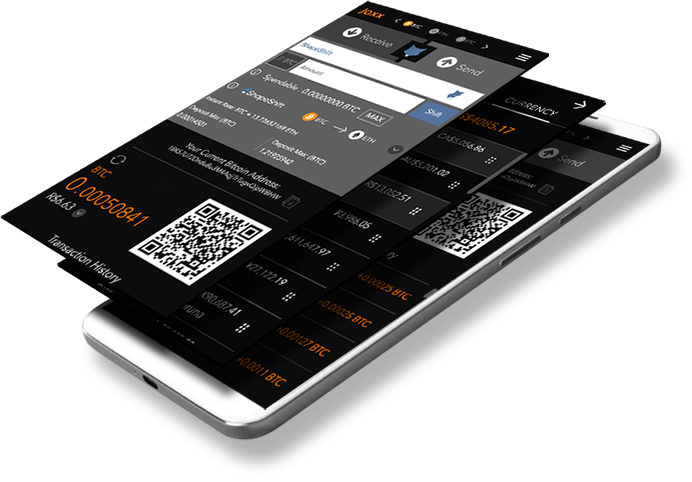 OS Compatibility
Jaxx is one of the most versatile cryptocurrency wallets as it is compatible across numerous platforms and interfaces. For instance, the Jaxx wallet available for desktop platforms, mobile devices, and web browsers. The operating systems Jaxx is compatible with include Windows, Mac, Linux, Android, and iOS. Each operating system has a downloadable application that's been fine tuned to operate smoothly across each type of software. As well, the Jaxx wallet can be accessed via both Chrome and Firefox web extensions on these platforms. Also, the Jaxx wallet has announced that they will be supporting hardware wallet integration in the near future. All in all, the Jaxx wallet is one of the most accessible and compatible cryptocurrency wallets to date.
Who should use it?
The Jaxx wallet is an excellent option for everyone. However, it is a software wallet and not as secure as a hardware wallet and therefore should not be used to store large amounts of cryptocurrency. Although, even people who use hardware wallets should have a highly accessible and versatile crypto wallet such as Jaxx. The Jaxx wallet is perfect for people who want to confidently store some cryptocurrency in a secure wallet they can take everywhere. It's a good option for serious cryptocurrency holders because it provides them with a secure, easy and fast method for storing and managing their coins. Users can access their coins in an instant and make a transaction from anywhere in the world using their mobile device or the web wallet extension. This type of feature just can't be done with hardware wallets and is therefore a necessary wallet to have in addition to a hardware wallet. As for beginner users, the Jaxx wallet is very easy and straightforward to use. As well, it allows them to securely acquire new coins from the in wallet exchange feature.
Security
The Jaxx wallet is one of the most secure software wallets available and has an excellent reputation among the cryptocurrency community. The wallet is open source for peer review and was developed by a highly capable and reputable company and founder. The most important security aspect of Jaxx is that users fully own and control their private keys as they are created on their device using an unpredictable entropy algorithm. This makes it impossible for a centralized or third party to have access and control your funds. As well, the Jaxx wallet is protected by a 4 digit PIN. This PIN is needed to open the wallet and can be enabled to confirm transactions.
While Jaxx is a trusted and secure crypto wallet, there are some things we find unsettling. For instance, we as well as many others believe that a simple 4 digit PIN is not secure enough as the only measure to gain access to the wallet. Jaxx does not offer any two-factor authentication methods or multi-signature support. These are two simple and easy security measures could greatly increase the wallets security, and yet Jaxx does not support them. As well, while the Jaxx wallet software may be very trustworthy and secure, the wallet is only as safe as your security practices. For instance, if your computer or device is compromised by downloading malware onto your computer, malicious users may be able to access your wallet. Therefore, the Jaxx wallet can only be used with clean computers and devices, it can not be used with a compromised computer like a hardware wallet can.
Privacy
The Jaxx wallet utilizes a permission less access system to their wallet. Upon logging in to your Jaxx wallet, there are no verification requirements, this can be viewed as a good or bad thing. As well, users are not required to provide any identifying information to open a wallet. This includes your email, name, phone number, ID, or any other personal information. A user's private keys are also kept private. Nothing tied to the user and their cryptocurrency is held on Jaxx's or any third party's servers. Users can stay completely anonymous. While Jaxx maintains the user's privacy, it doesn't provide advanced blockchain privacy features. For instance, for Bitcoin transactions, your public address can be tracked, and users can not send private transactions. The Jaxx wallet is standard when it comes to blockchain privacy, while wallets like the Samourai wallet are highly private for Bitcoin transactions.

Backup Features
The biggest concern and question among many new cryptocurrency users is, "what if the device my Jaxx wallet is on is lost, stolen, or destroyed?" "Is it gone forever, or can I recover my coins?" The answer to this is, no your wallet is not lost forever and yes you can recover your coins. The backup process for the Jaxx wallet is very simple and easy and is the backup process used by most cryptocurrency wallets. Upon initializing and setting up your Jaxx wallet, you will be shown a 12-word mnemonic "masterseed" that is unique to only your wallet. The user must write this seed down in sequential order on a piece of paper and store it offline in a safe and secure place. If you ever need to restore or recover your Jaxx wallet, all you need to do is download the Jaxx wallet on your mobile device or computer and instead of creating a new wallet, you restore your wallet from entering in this mastered. By doing this, your Jaxx wallet will be recovered just as it was with all of your coins and their private keys. Users can use their mastered to easily pair their Jaxx wallets across all 8 platforms Jaxx supports.
Supported Coins
The Jaxx wallet supports an impressive number of cryptocurrencies and is continuously adding support for more. Currently, Jaxx supports a total of 69 cryptocurrencies which include many of the most popular, high market cap cryptos as well as numerous altcoins. The number of coins supported by Jaxx far outweighs many competing software wallets, especially mobile software wallets. Therefore, if you're looking for a reputable software crypto wallet with lots of supported coins, Jaxx may be the wallet for you.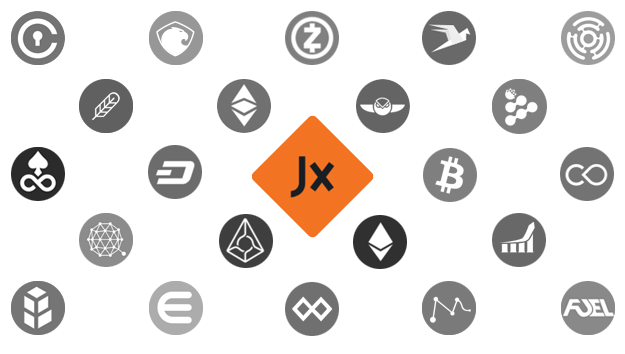 Can you trade cryptocurrencies from inside the wallet?
One of the most innovative features of the Jaxx wallet is the ability to trade cryptocurrencies from inside the wallet. This is a feature in which most wallets do not support, putting Jaxx ahead of the competition. The in-app trading is facilitated by ShapeShift, a sophisticated exchange service for converting cryptocurrencies with one another. The best part about this feature is that users do not have to send their coins out of their Jaxx wallet as ShapeShift is embedded into the wallet, so users can securely exchange their coins within the wallet. For instance, say the Jaxx user has Bitcoin (BTC) but no Ethereum (ETH). Using the Jaxx app, the user can click the little fox icon which brings up a screen within the app and prompts the user to choose a coin they would like to exchange, choose the coin they would like to receive, and enter in the amount they want to be exchanged. The whole process is very fast, seamless and secure, making this in-wallet trading feature a premium quality of the Jaxx wallet.
Price
The Jaxx wallet app is absolutely free to download across all of their 8 compatible platforms. The only charges users incur are a small transaction fee when sending cryptocurrency out of the wallet, and a small transaction fee when exchanging coins within the wallet. These fees are to be expected and are standard fees in which all wallets charge. As well, the fees are comparable with other wallets.
Setup Guide & How to Use it
The Jaxx wallet is extremely easy to use and setup across all of your electronic devices. The entire installation and setup process can be done by following a few simple steps. For the sake of this review, we'll outline the steps to set up the Jaxx wallet on your mobile device, (whether it's iOS or Android).
Step 1: Download the Jaxx Wallet
Using your smart mobile device, navigate to the App store and download and install the Jaxx wallet.
Step 2: Choose your Coins
Select which cryptocurrencies you will be using your Jaxx wallet for. You can always edit this and add later.
Step 3: Create New Wallet
Simply click CREATE NEW WALLET and tap continue. Now your Jaxx wallet is created, but there are still more steps to complete the setup.
Step 4: Back up Wallet
Click the menu in the top right corner and select TOOLS. Then select BACKUP WALLET. You will then be shown your 12-word mnemonic masterseed which you must write down in consecutive order and store it offline in a safe and secure place. Make sure to verify that you've correctly written down your masterseed.
Step 5: Set your PIN
Again, tap the menu in the top right corner and select SETTINGS and then SETUP SECURITY PIN. Type in a 4 digit PIN and confirm.
Step 6: Complete
The Jaxx wallet is fully set up and ready to use. You can transact your cryptocurrency by tapping the receiver, or send buttons, and you can exchange your crypto by clicking the fox icon at the top of the screen.
Pros and Cons
Pros
Multi-currency support
Multi-platform accessibility
Excellent user interface
Reputable and secure
Cons
Not as secure as hardware wallets
Missing some key security features
No hardware wallet integration yet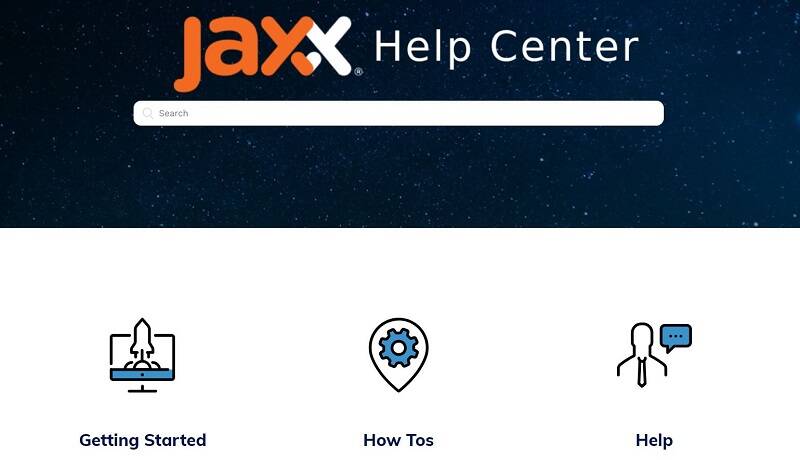 Support
Jaxx features a comprehensive support page on their website that's complete with numerous helpful articles, tutorials, FAQs and more. Users can also contact support via a support ticket system and view previous support tickets.
Summary
As far as software wallets go, the Jaxx wallet is definitely one to consider. The wallet is highly compatible and is supported on numerous platforms. Jaxx also supports a wide variety of cryptocurrencies and is continuously adding more. The wallet facilitates in-app trading as well and has an excellent user interface. The Jaxx wallet comes from a reputable background and is highly secure. However, the wallet is lacking some security features such as two-factor authentication and multi-signature support. However, if the user is careful, the Jaxx wallet is an excellent choice for a software wallet.
Coins Available
Bitcoin

Dash

Ethereum

Litecoin

Zcash

Augur

SALT

Qtum

Civic

Aragon

Aion

Maecenas

Bancor

BitClave

Edgeless

enjincoin

Ethereum Classic

Gnosis

Golem

Helbiz

Iconomi

Monaco

Melon

Polymath

PayPie

Presearch

status

storm

Wings

Bitcoin Cash
Wallet Features
| Features | INFO |
| --- | --- |
| Wallet Type | Hot |
| Web Interface: | Yes |
| Mobile App: | Yes |
| Desktop Client: | Yes |
| Independent Wallet: | Yes |
Trade With A Regulated Broker