Crypto News: Mt. Gox Rumors Continue to Fuel Crypto Demand
Published

: Sep 20, 2023, 00:28 UTC
•
3
min read
Amidst a backdrop of legal battles and market speculations, the crypto realm remains vibrant, with BTC at the heart of significant shifts and forecasts.
Key Insights:
JPEX fraud allegations led HK Chief Executive John Lee to stress SEC-regulated platforms for virtual assets.
FTX's legal battle intensifies, accusing parents of Sam Bankman-Fried of unlawfully receiving millions.
Mt. Gox repayment delay rumors could spell more relief from an impending BTC oversupply.
The Tuesday Session Overview
JPEX Case Draws Comment from HK Chief Executive John Lee La-Chiu: The JPEX case continued to grab the headlines on Tuesday. With more arrests in connection to the allegations of fraud, Hong Kong Chief Executive John Lee issued a warning, reportedly saying,
"This incident highlights the important point that when investors want to invest in virtual assets, then they must invest in platforms that are licensed, that are regulated by the SEC… This is the only way to ensure their investments are protected."
UK Crypto Bill to Assist Stolen Crypto Recovery: The digital asset space remains a target for cybercriminals and fraudsters. A proactive UK government is pushing through the Economic Crime and Corporate Transparency Bill to protect crypto investors from illicit activity.
The House of Lords has passed the bill with amendments. The House of Commons will vote on these changes on October 18.
Significantly, the bill references the Proceeds of Crime Act 2002, which is in place to expedite the confiscation of criminal assets.
FTX – It is a Family Affair: On Tuesday, news hit the wires of FTX suing the parents of Sam Bankman-Fried, Barbara Fried, and Joseph Bankman. The lawsuit alleges Barbara and Joseph received a $16.4 million Bahamian property and a $10 million cash gift. The attorneys of Bankman and Fried responded to the claim, saying,
"This is a dangerous attempt to intimidate Joe and Barbara and undermine the jury process just days before their child's trial begins."
The trial begins on October 3, with the court denying pre-trial release.
Mt. Gox Delay Speculation Fuels BTC Rally: Rumors of Mt. Gox delaying the repayments by October 31 drove demand for BTC and the broader market. There is speculation in the crypto market about a potential 2024 repayment timeline. Delaying the repayment of 142,000 BTC and 143,000 BCH would ease concerns about a sudden oversupply of BTC. Short sellers may have cut their losses on the news of a possible delay, leading to a short squeeze.
Technical Analysis
Bitcoin Analysis
BTC broke above the 50-day and 200-day EMAs on Tuesday, sending bullish price signals. The Mt. Gox rumors drove demand and a return to $27,000. However, a denial of the rumors would affirm an imminent flood of BTC and BCH to exchanges. Oversupply could return BTC to sub-$26,500.
A hold above the 50-day EMA would support a BTC move toward the $28,187 resistance level. However, a break below the EMAs would give the bears a run at the $26,755 support level.
Beyond the Mt. Gox chatter, SEC v Ripple and (COIN) case-related news and BTC-spot ETF updates would also influence investor sentiment.
The 14-Daily RSI reading of 58.97 supports a BTC return to $28,000 before entering overbought territory.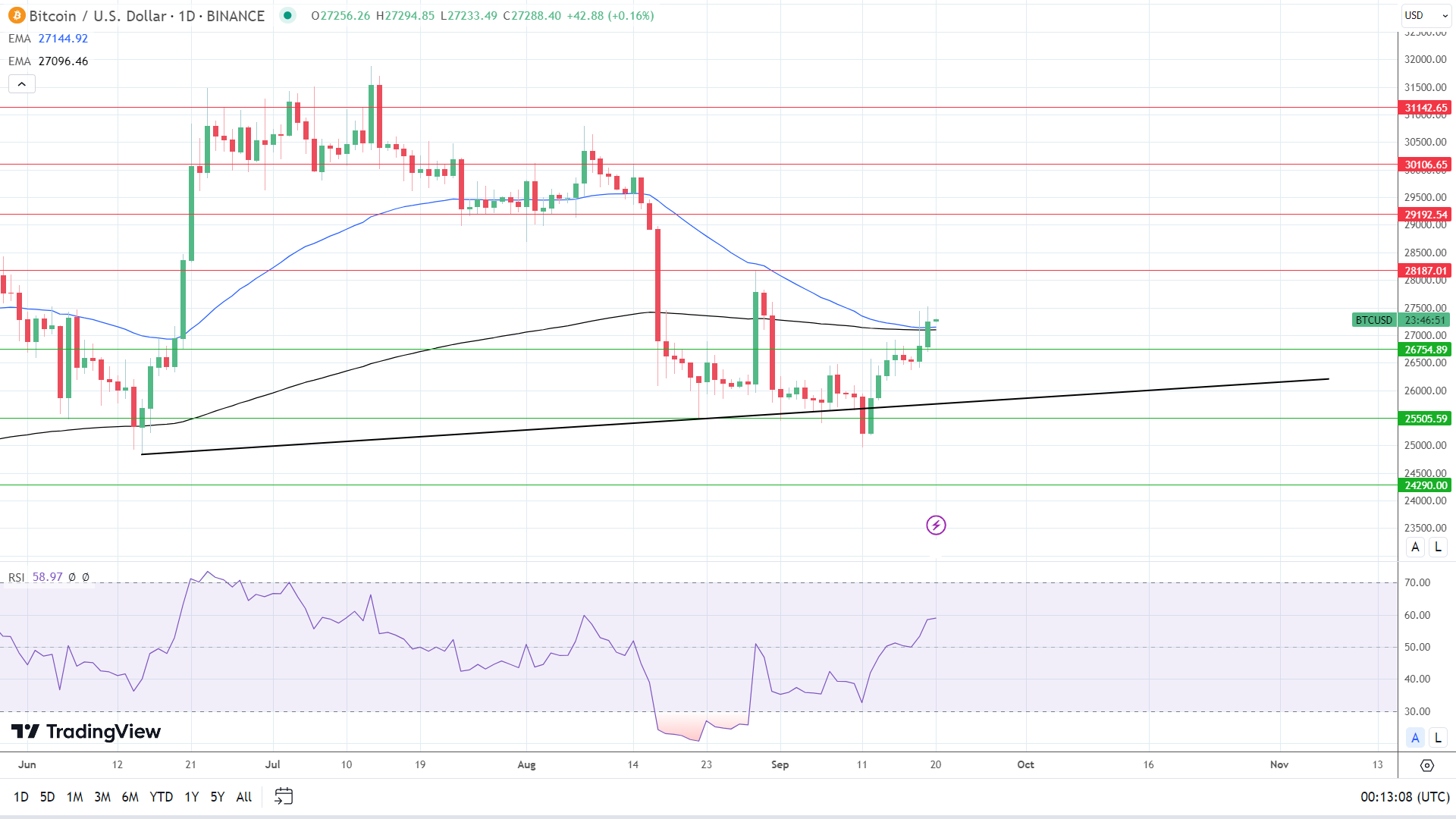 BTCUSD 200923 Daily Chart
Ethereum Analysis
ETH remained above the $1,626 support level. However, ETH sat below the 50-day and 200-day EMAs, sending bearish price signals. An ETH break below the $1,626 support level would give the bears a run at the $1,502 support level.
However, a return to $1,650 would give the bulls a run at the 50-day EMA and $1,700.
The 14-Daily RSI reading of 48.51 supports an ETH decline to $1,600 before entering oversold territory.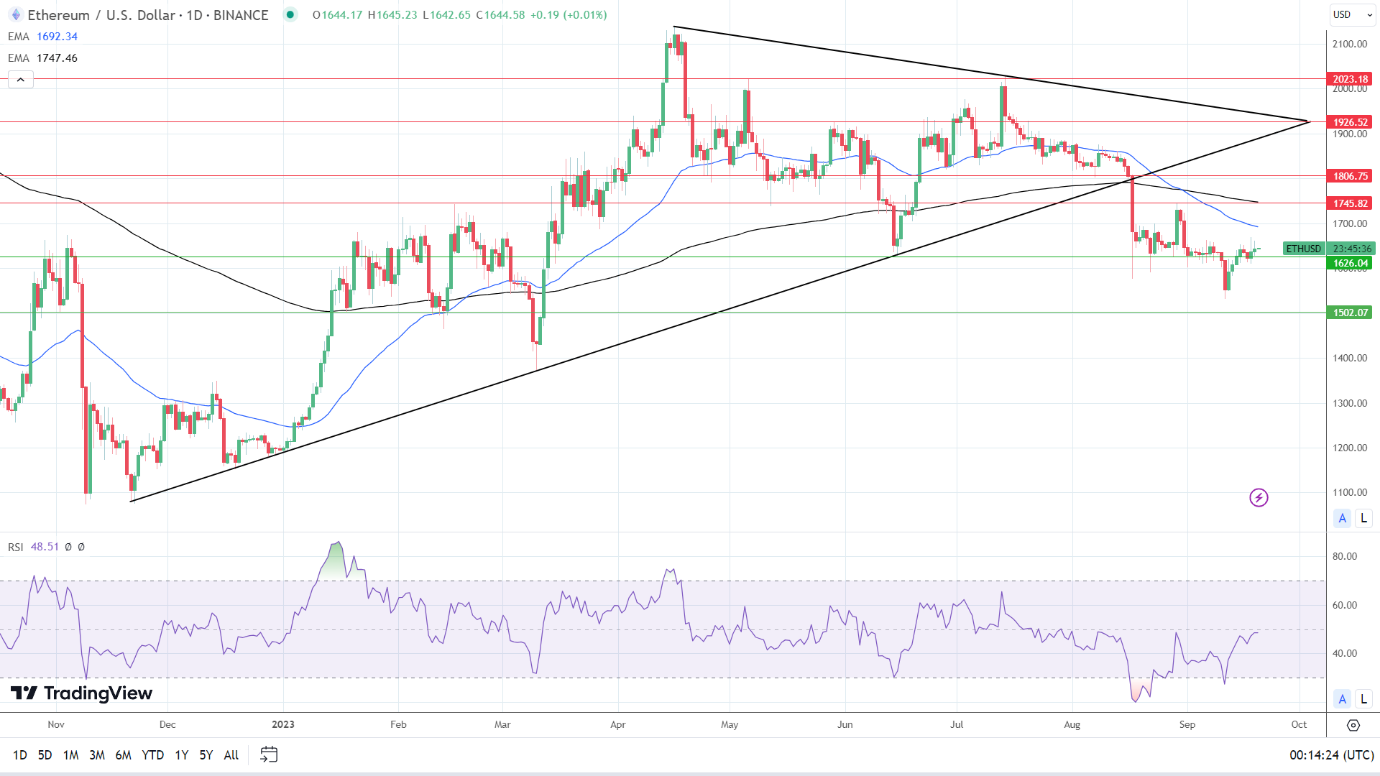 ETHUSD 200923 Daily Chart
Don't miss a thing!
Sign up for a daily update delivered to your inbox
Sponsored Financial Content