Cryptocurrency Forecast – Bitcoin Goes Ballistic, $10,000 Is In Sight
Updated

: May 13, 2019, 17:59 UTC
•
2
min read
The bitcoin price is going ballistic, the coin is up more than 13% today and heading toward $10,000 on a rocket.
Bitcoin Prices Are Going Ballistic, Up 13% Today Alone
The cryptocurrency market, led by Bitcoin, is going ballistic. The price of BTC/USD has risen more than 13% today alone and 60% in the last three weeks. With no visible catalyst driving the gains traders and investors are asking the questions, what's causing the rally and how high can it go.
The cause of the rally is two-fold. On the one hand, the bear market of 2018 finally ran its course. The price of BTC was driven down to its December 2018 low and there began to reverse. The second cause of the rally is the halving scheduled for next May. The halving is a regularly scheduled mining reward reduction and will greatly reduce the number of available tokens.
At current rates, miners are rewarded with 12.5 Bitcoins for every block produced, after the halving the reward will be only 6.25 Bitcoins. The combination, no bears and an expected supply reduction, have caused a rush on BTC that will likely take it to $20,000 before its all said and done.
Bitcoin Price Forecast, The Near-Term Is Bullish
Bitcoin's near-term price forecast is bullish. The world's leading cryptocurrency s moving up strongly in a vacuum of sellers. With BTC's rapid advance to and through the $7,400 resistance target, the next logical stops are $8,500 and then $10,000. The indicators are quite bullish too, both stochastic and MACD are consistent with rising prices, and MACD is at an extreme. Extreme peaks in MACD are one of the more reliable signals in technical analysis. They indicate a strongly trending market and one likely to set new highs.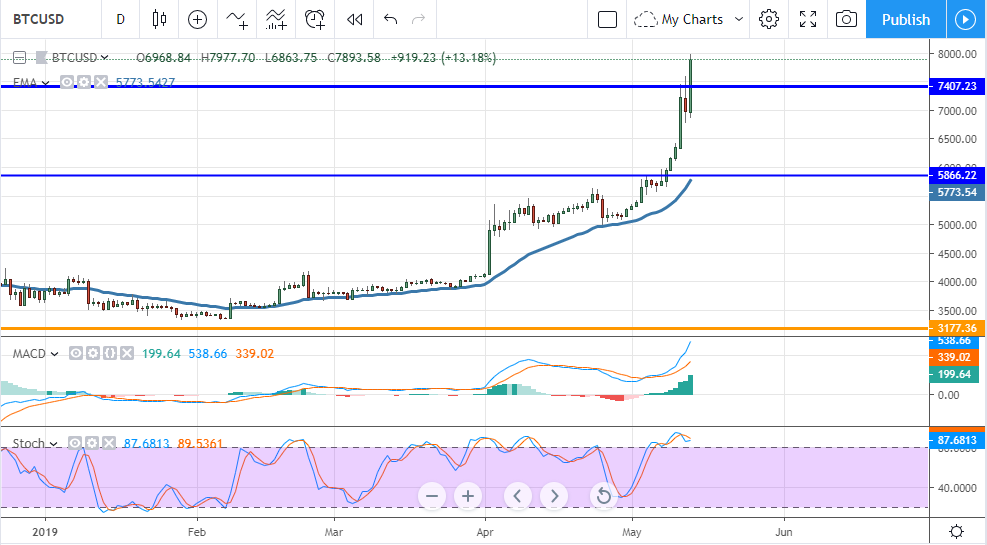 Bitcoin Long-Term Price Prediction, $20,000 Is Only A Matter Of Time
Bitcoin's long-term price forecast is equally bullish. The token is moving up strongly on the weekly charts, confirming support at key levels, and supported by the indicators. Support is solid at the $5,100 level just above the 150-days EMA and moving higher with each subsequent push to new highs. Since bouncing from the EMA the price of BTC/USD has broken and moved up from resistance at $5,800 and $7,400 which are now our new support targets.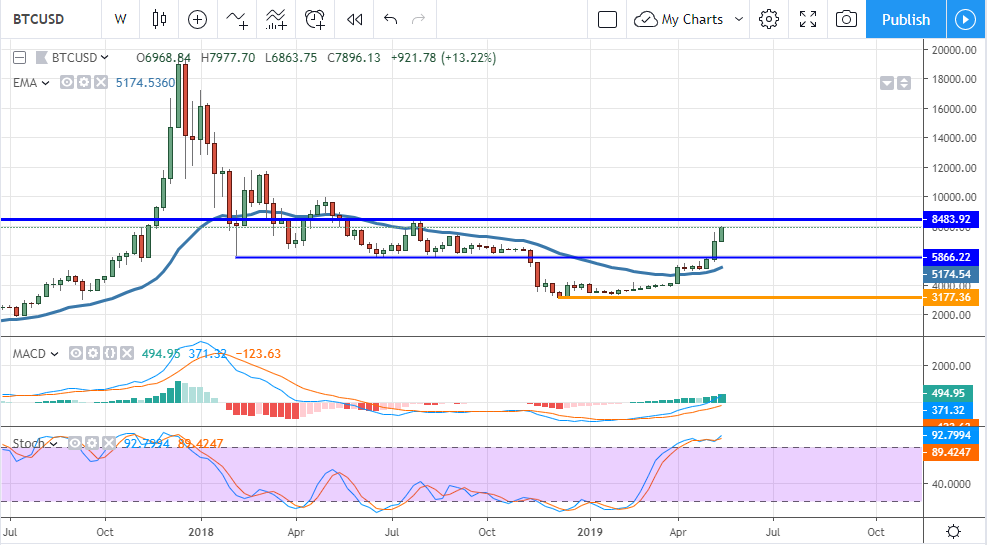 The indicators are also very bullish. Stochastic is trending high in its range and showing signs of strength with a fresh bullish crossover, MACD is steadily gaining strength after forming its first bullish crossover since the 2017 market top. This combination shows buyers are clearly in control of the market and suggest $8,500 will be easily surpassed. The $10,000 may provide stronger resistance as it is a likely point for profit-taking. Once it is surpassed, though, the path to $20,000 will be cleared.
Don't miss a thing!
Sign up for a daily update delivered to your inbox
Sponsored Financial Content