DAX Index, FTSE 100, STOXX 600: European Markets Juggle Earnings Amid Geopolitical Strains
Published

: Oct 17, 2023, 10:09 UTC
•
3
min read
European markets cautious amid Q3 earnings; DAX ticks up, Stoxx 600 healthcare rises led by Novo Nordisk; FTSE 100 investors guardedly optimistic.
Highlights
Third-quarter earnings influence Stoxx 600 and DAX
Geopolitical tensions loom over European markets
FTSE 100 buoyed by weak British Pound
Mixed Earnings and Geopolitical Tensions Drive European Markets
European markets are treading cautiously as third-quarter earnings roll in and geopolitical concerns linger. The healthcare sector is leading the Stoxx 600, gaining 0.45%, while basic resources suffered, plummeting by 1.7%. Meanwhile, the DAX Index is hovering around 15242.21, showing a nominal uptick of +0.03%, while the FTSE 100 rises to 7658.91, up by +0.37%.
Earnings on the Horizon
Major European firms like Ericsson, Rio Tinto, and Publicis are slated to disclose their quarterly numbers today, ahead of Wall Street giants like Bank of America and Goldman Sachs. Investors, while optimistic about the earnings, are keeping an eye on President Biden's impending visit to Israel amidst escalating tensions in the Middle East.
DAX and STOXX 600 Sectors Performance
Healthcare shares are offering a reprieve, spearheaded by Danish drugmaker Novo Nordisk, which climbed 1.6%. However, the telecoms sector is being pulled down by Nokia's 4.1% dip, and the fourth-quarter revenue miss from Nordic Semiconductor sent it tumbling by 14.9%. The Middle East conflict is weighing heavily on copper prices, leading miners to decline by 1.5%.
FTSE's Mixed Bag
The FTSE 100 is being buoyed by a weakened British Pound, as slowing wage growth in Britain fueled hopes of a pause in the Bank of England's tightening cycle. However, Ericsson's stock plummeted by 7.8% on disappointing fourth-quarter guidance, clouding the recovery outlook for its mobile networks.
Short-Term Outlook
Considering the conflicting indicators, including mixed corporate earnings and persistent geopolitical uncertainties, market sentiment leans cautiously optimistic.
Investors in both the DAX and FTSE 100 would do well to keep a vigilant eye on unfolding events. Traders are also eyeing the performance in the U.S. markets as earnings season kicks off ahead of a key speech by Fed Chairman Jerome Powell on Thursday.
DAX Index Technical Analysis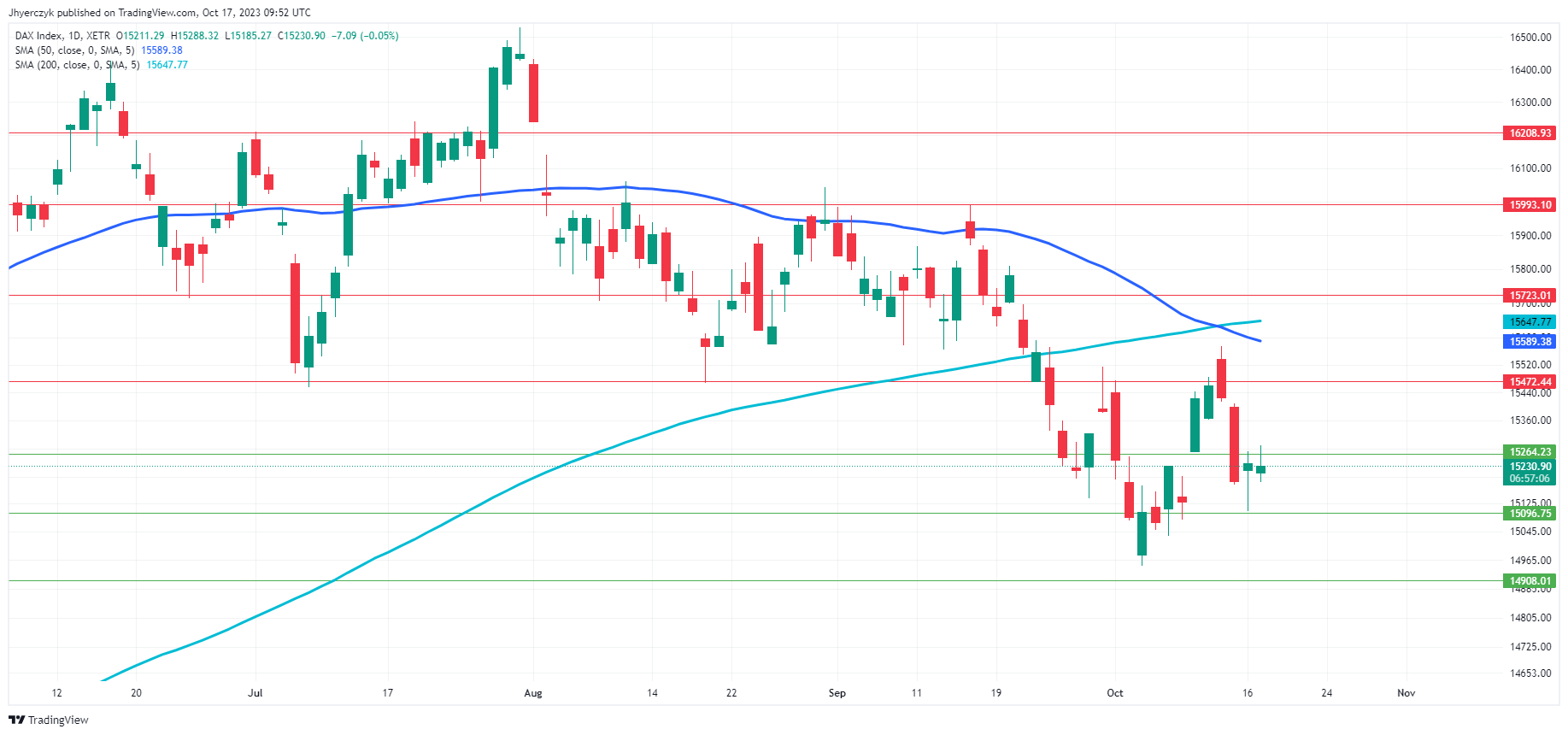 Daily DAX Index
The current daily price of the DAX Index is 15221.41, which is below both the 50-day and 200-day moving averages, signaling a bearish trend. It also stands lower than the previous day's close of 15237.99, reinforcing the bearish outlook.
The index is trading above its main and minor support levels at 14908.01 and 15096.75, but below the minor and main resistance levels of 15472.44 and 15723.01.
These data points suggest that the DAX is in a bearish trend but has yet to break crucial support levels. Thus, market sentiment leans bearish, warranting close monitoring of support levels.
FTSE 100 Index Technical Analysis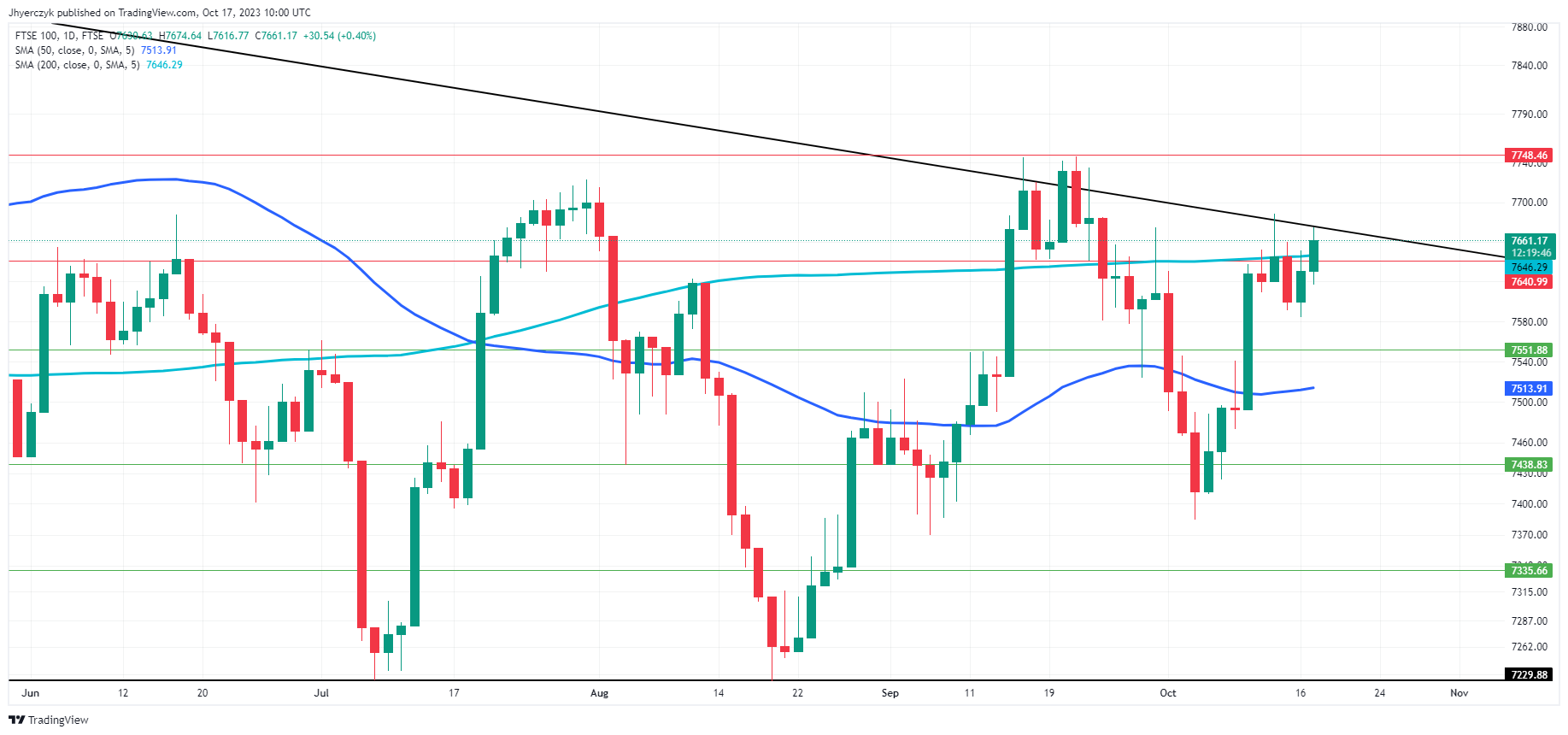 Daily FTSE 100 Index
The current daily price of the FTSE 100 Index is 7657.65, trading above both the 200-day and 50-day moving averages, situated at 7646.27 and 7513.84, respectively. This suggests a bullish momentum.
The index is also above its minor and main support levels of 7551.88 and 7438.83 but has only slightly breached the minor resistance level at 7640.99. It is yet to challenge the main resistance level of 7748.46.
Overall, the market sentiment for the FTSE 100 appears bullish, with room for upward movement before encountering major resistance.
The key level to watch is the downtrend line at 7674.50. Trader reaction to this price will set the tone on Tuesday. Currently, it is acting like resistance, but it is also a potential trigger point for an acceleration to the upside.
Don't miss a thing!
Sign up for a daily update delivered to your inbox
Sponsored Financial Content