DAX Index, FTSE 100, STOXX 600: German Inflation Speculations Fuel Market Jitters
Updated

: Sep 28, 2023, 10:49 UTC
•
3
min read
Amid impending German CPI data, DAX Index speculators scrutinize Eurozone inflation; while the FTSE 100 sees energy stocks shine amidst uncertainty.
Highlights
Sixth-day decline for European stock markets; STOXX 600 and DAX Index dip 0.2%.
London's FTSE indices face turbulence, influenced by 888 Holdings' profit forecast setback.
Germany's CPI data release anticipated; ramifications for Eurozone inflation expected.
European Central Bank's upcoming review could pivot on Germany's inflation stats.
Market Turbulence Across Europe and London
Europe's stock markets wobbled for the sixth day, with the pan-European STOXX 600 and Germany's DAX Index both declining by 0.2%. In London, the narrative was similar as the FTSE indices registered a dip, exacerbated by a dramatic fall in 888 Holdings amidst profit forecast adjustments.
Inflation Speculations and Banking Shifts
As Germany prepares to release its CPI data, speculations mount on its implications for the broader Eurozone inflation figures. With the European Central Bank's interest rates stance and their upcoming monetary review, these figures could be pivotal. Meanwhile, in the UK, HSBC's potential acquisition of Citigroup's China operations signals significant banking shifts, and regulatory adjustments post-Brexit aim to rejuvenate the financial sector.
Energy: The Beacon Amidst The Storm
Amidst the prevailing stock market uncertainty, the energy sector emerges as a beacon of optimism. European energy stocks, buoyed by OPEC+ influenced crude prices, recorded gains, providing a semblance of balance. In London, the energy stock surge, closely tied to US oil futures and global supply concerns, hints at a bullish trend for the sector amidst broader market volatility.
Short-term Outlook: DAX, STOXX, and FTSE 100
DAX Index and STOXX 600: European indices have exhibited volatility, with consecutive days of declines hinting at a cautious sentiment among investors. However, the imminent release of key economic data, especially Germany's CPI figures, could influence directional movement. In the short-term, these indices might continue to experience headwinds, but energy sector performance and critical economic indicators will be crucial determinants.
FTSE 100: The FTSE 100's recent dip, influenced by sectoral declines, suggests a cautious near-term outlook. However, the resilience of the energy sector, coupled with regulatory adjustments in the UK's financial sector post-Brexit, could provide some stability. Watch for potential rebounds, especially from energy companies, but anticipate some continued choppiness.
DAX Index Technical Analysis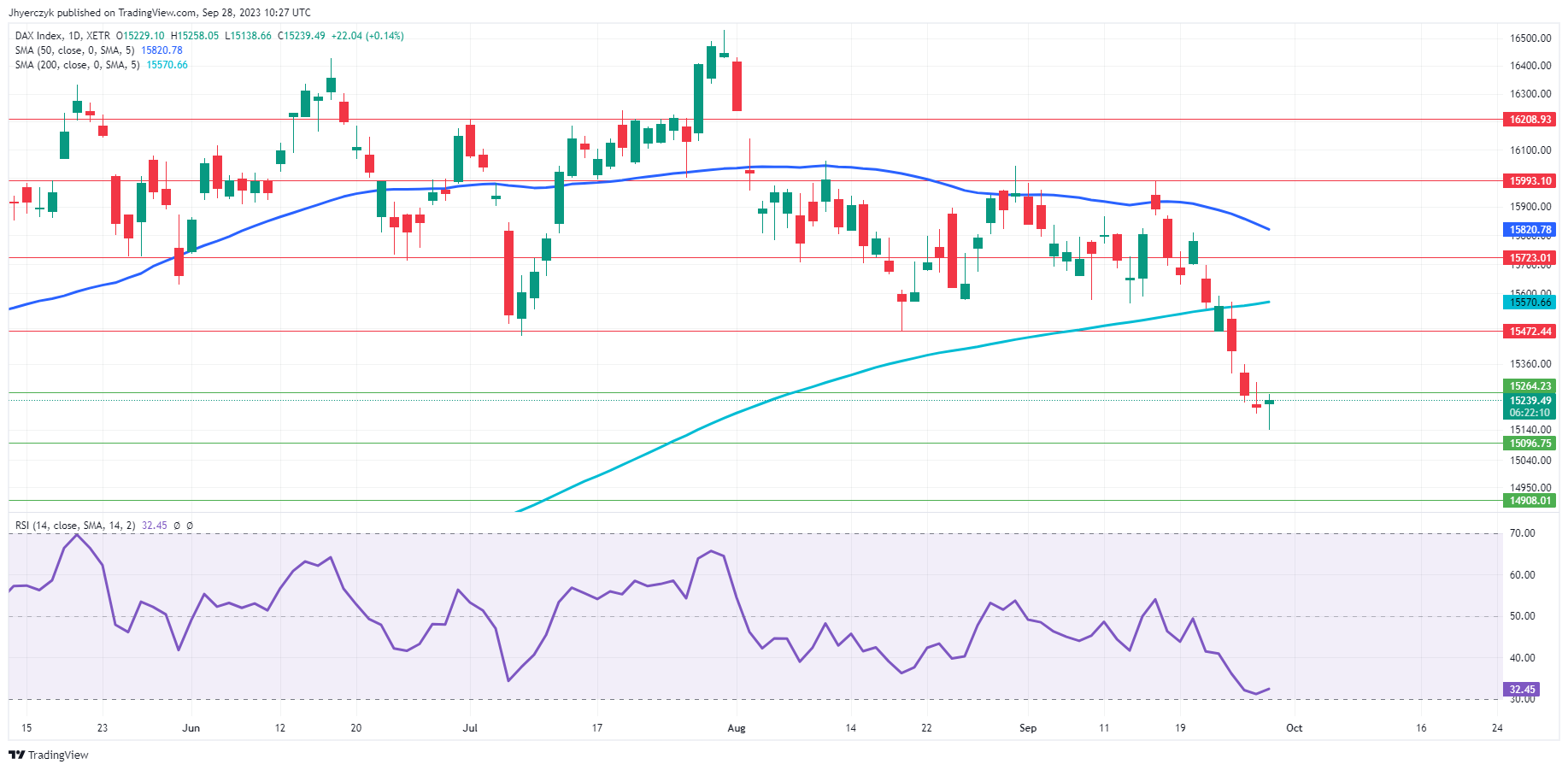 Daily Dax Index
The DAX Index is currently trading at 15236.61, positioning it below both its 200-Day moving average (15570.62) and 50-Day moving average (15820.61). This suggests a prevailing bearish momentum. The 14-Day RSI, standing at 31.95, is edging into the oversold territory, indicating weakened momentum and potential undervaluation.
While there are no trend line supports or resistances to consider, the index is hovering just above the minor support level of 15264.23, which could offer some temporary relief. However, if this level breaks, the main support at 15096.75 might be tested. In the short-term, based on the indicators, the market sentiment for DAX Index leans bearish.
FTSE 100 Technical Analysis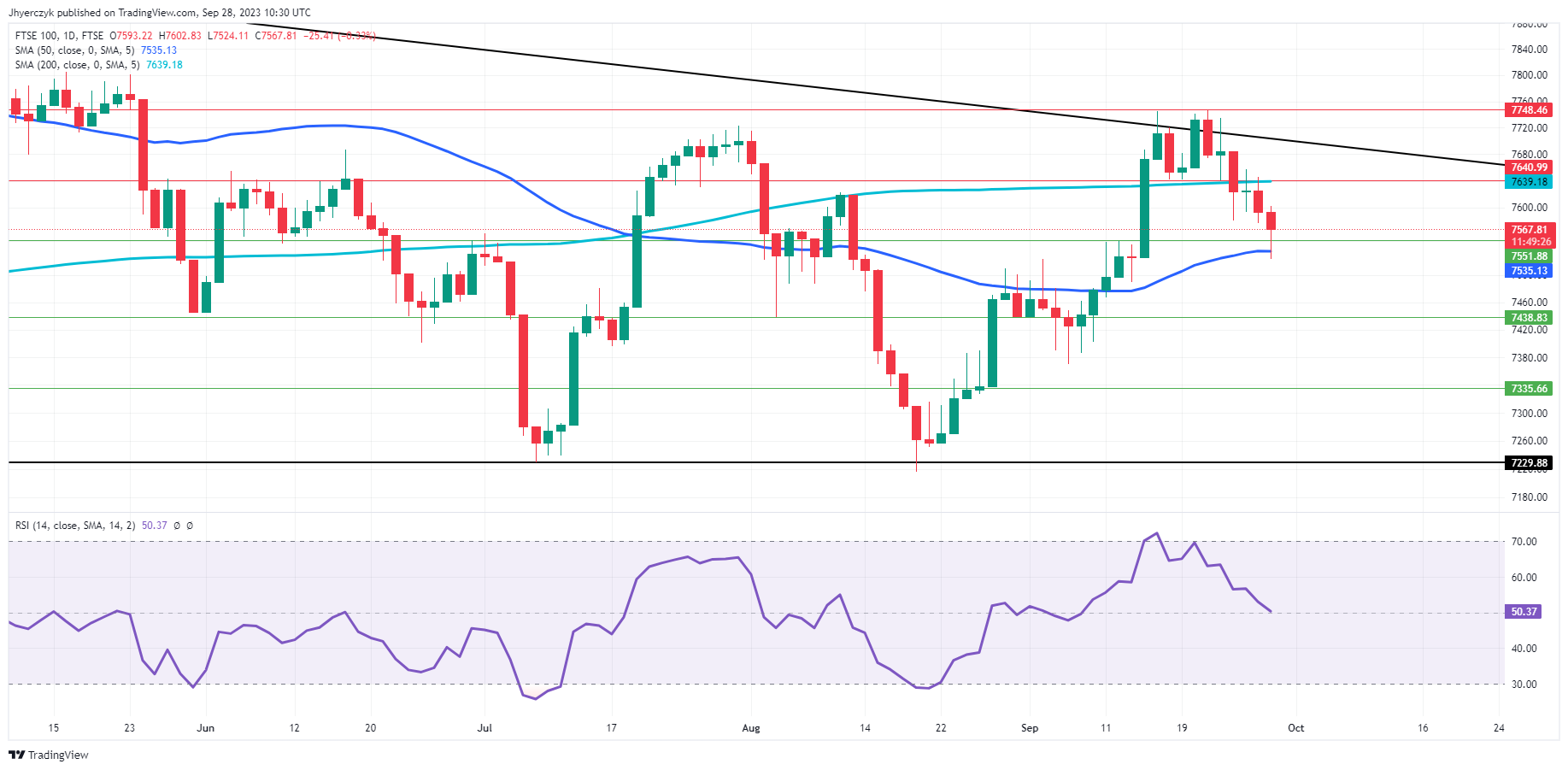 Daily FTSE 100
The FTSE 100 currently trades at 7567.08, positioned between its 200-Day moving average (7639.17) and its 50-Day moving average (7535.10), reflecting a potential consolidation phase. The 14-Day RSI stands slightly above the neutral 50 mark at 50.23, hinting at modest bullish momentum.
In terms of support and resistance levels, the index is in proximity to its minor support of 7551.88, which could play a crucial role in the short term. Additionally, the looming trend line resistance at 7705.06 presents an upside barrier. Given these indicators, the current market sentiment for FTSE 100 appears cautiously bullish, albeit within a tight range.
While the minor support at 7551.88 and the 50-Day moving average at 7535.10 form a loose support cluster, keep in mind that a confirmed move through this area could trigger an acceleration to the downside with 7438.83 the next likely target.
Don't miss a thing!
Sign up for a daily update delivered to your inbox
Sponsored Financial Content