DOGE and SHIB Sink on Removal from Crypto.com Earn Program
Published

: Jun 29, 2022, 01:27 UTC
•
3
min read
Dogecoin and Shiba Ina saw deep red on Tuesday. While market forces weighed, the weekend news from Crypto.com added to the selling pressure.
Key Insights:
Dogecoin (DOGE) and Shiba Inu (SHIB) saw heavy losses on Tuesday, with the bearish sentiment from across the broader market weighing.
However, adding downside pressure was news of leading exchange Crypto.com removing DOGE and SHIB from its Earn program.
Technical indicators are bearish, with DOGE sitting below the 50-day EMA.
Dogecoin (DOGE) and Shiba Inu (SHIB) have enjoyed plenty of Elon Musk support. SpaceX and Tesla's Elon Musk recently delivered the meme coins a boost following a Bloomberg interview at the Qatar Economic Forum.
Musk's unwavering support for Dogecoin continued despite a $258 billion lawsuit filed earlier in the month.
While Musk demonstrates his ability to drive demand for DOGE and SHIB, crypto exchanges remain key to broad-based demand for cryptos.
Investor access and earning programs have been pivotal in drawing sidelined money into the crypto market.
The inclusion and removal of cryptos from exchanges, therefore, materially influence investor sentiment and price action.
Crypto.com Announces Removal of DOGE and SHIB from the Earn Program
Over the weekend, Crypto.com announced the removal of DOGE and SHIB from its Earn Program.
According to the announcement, Crypto.com also removed XTZ, MKR, EOS, OMG, FLOW, KNC, ICX, COMP, BIFI, ONG, GAS, STRAX, and BNT.
The announcement went on to say,
"Existing fixed-term allocations for these tokens will remain unchanged and continue until the term ends. Funds from any active flexible-term allocations for the tokens listed above will be automatically returned to users' Crypto wallet by 28 June 2022, 10:00 UTC."
Crypto.com did not provide any reasons for removing the cryptos from the Earn program.
In place of the removed cryptos, Crypto.com announced the inclusion of ZIL, NEAR, and FTM, with reward rates of 6% per annum for ZIL and NEAR and 5% for FTM.
DOGE and SHIB investors, including SpaceX and Tesla warehouse workers, will be hoping for a Musk boost to reverse recent losses. For the current month, DOGE was down 23.1% to Tuesday, with SHIB down 15.0%.
DOGE Price Action
At the time of writing, DOGE was up by 0.76% to $0.0665.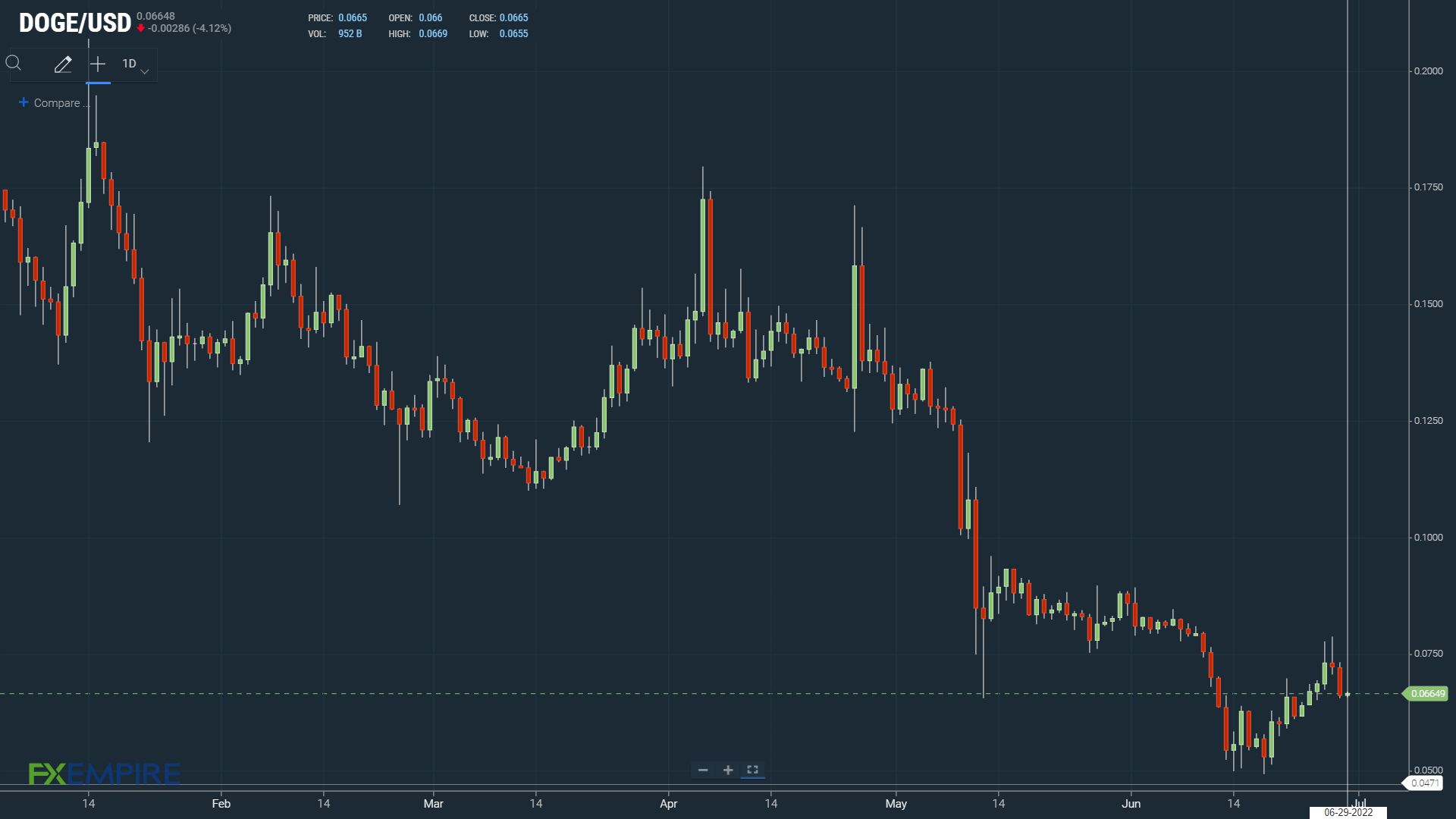 DOGEUSD 290622 Daily Chart
Technical Indicators
A move through the $0.0682 pivot would target the First Major Resistance Level at $0.0710 and the Tuesday high of $0.0732.
DOGE would need the broader crypto market to support a return to $0.070.
An extended rally would test the Second Major Resistance Level at $0.0761 and resistance at $0.080. The Third Major Resistance Level sits at $0.0840.
Failure to move through the pivot would test the First Major Support Level at $0.0631. Barring another extended sell-off, DOGE should steer clear of the Second Major Support Level at $0.0603.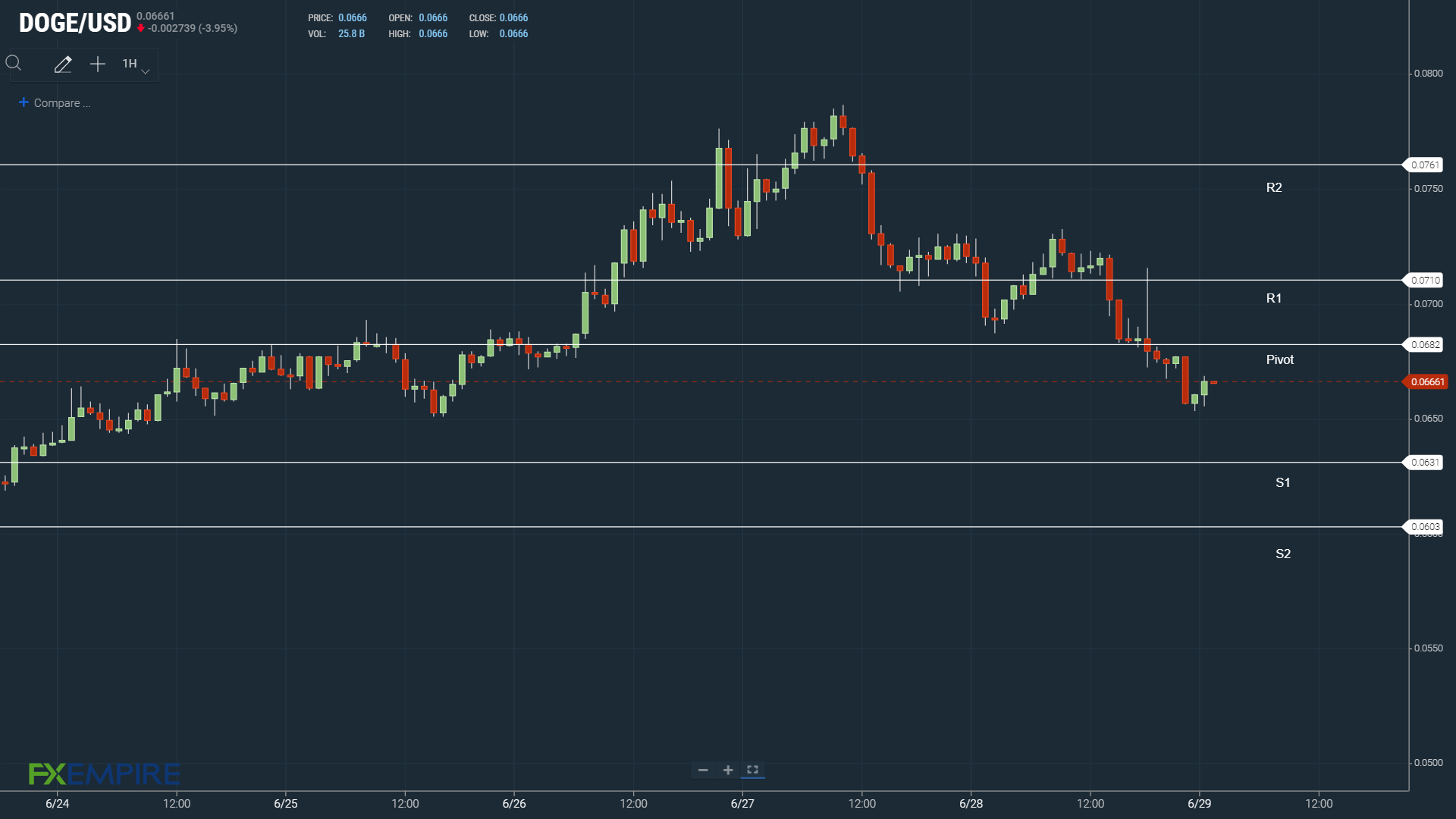 DOGEUSD 290622 Hourly Chart
Looking at the EMAs and the 4-hourly candlestick chart (below), it is a bearish signal.
This morning, DOGE sat below the 100-day EMA at $0.0672. The 50-day narrowed to the 100-day EMA, while the 100-day EMA fell back from the 200-day EMA: price negative.
A bearish cross of the 50-day EMA through the 100-day EMA would bring the support levels into play.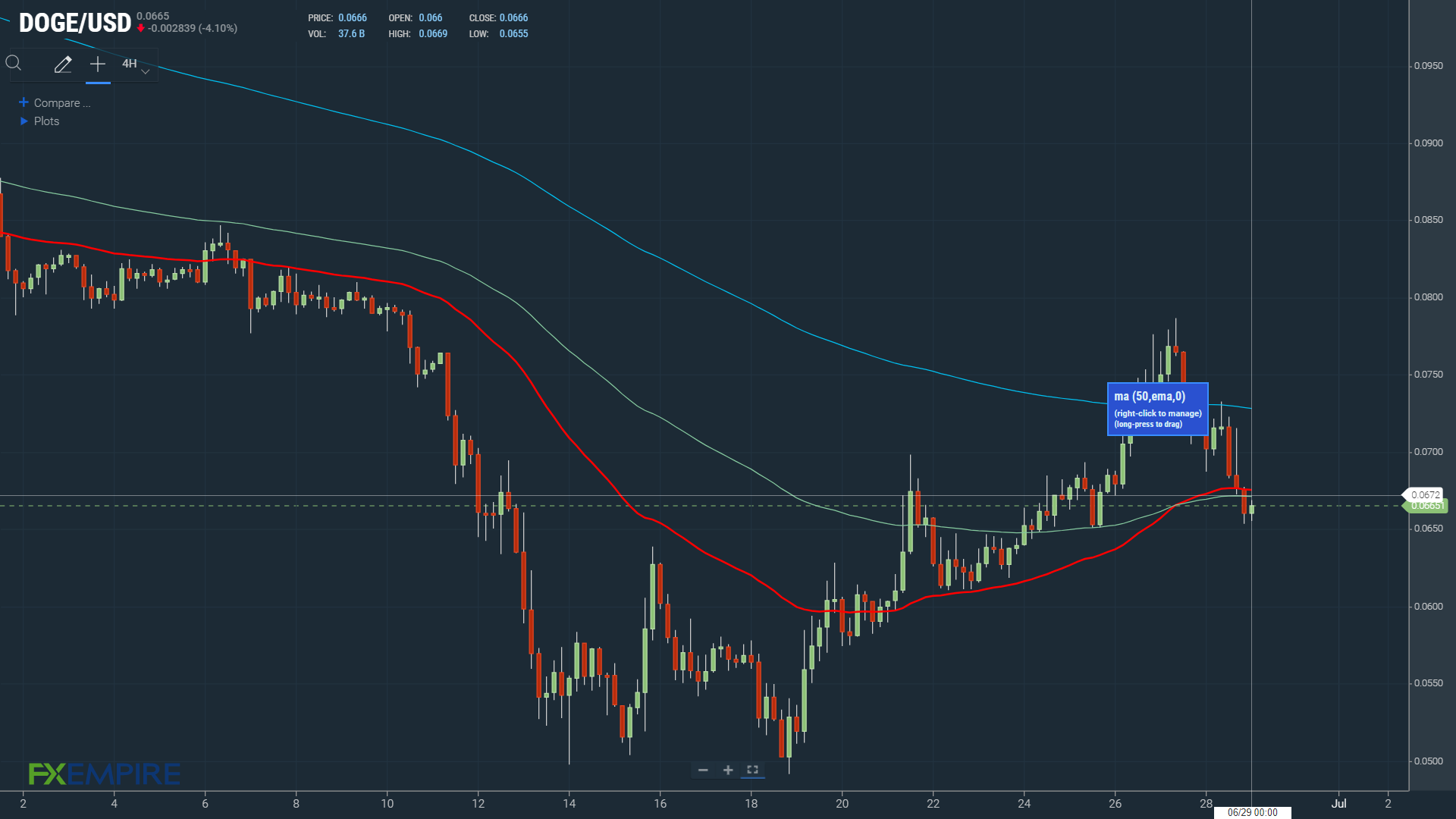 DOGEUSD 290622 4-Hourly Chart
Don't miss a thing!
Sign up for a daily update delivered to your inbox
Sponsored Financial Content