Elon Musk Faces $258bn Lawsuit for Dogecoin (DOGE) Promoting
Published

: Jun 17, 2022, 00:11 UTC
•
3
min read
Investors target Elon Musk for promoting Dogecoin. On Thursday, an investor filed a $258 billion lawsuit against Elon Musk, Tesla Inc., and SpaceX.
Key Insights:
Elon Musk failed to deliver any crypto support this week, with news hitting the wires of a $258bn lawsuit against Musk, Tesla., and SpaceX.
On Thursday, Dogecoin (DOGE) slid by 12% as investors reacted further to the Fed monetary policy decision.
Technical indicators are bearish, with DOGE sitting below the 50-day EMA.
Elon Musk has been a long-standing supporter of Dogecoin (DOGE), with the man behind Tesla Inc. and SpaceX frequently turning to Twitter in support of the meme coin.
The support has been so significant that Tesla Inc. and SpaceX accept DOGE for merchandise payments.
Elon Musk's tweets and commentary have delivered frequent DOGE price moves. Gains in response have been short-lived, however, with the crypto winter pegging DOGE back from any sustainable breakouts.
On Thursday, an investor decided it was time for the courts to end the alleged Musk influence.
New York DOGE Investor Sues Elon Musk, Tesla Inc., and SpaceX
Overnight, Bloomberg reported a lawsuit against Elon Musk, Tesla Inc., and SpaceX.
According to the report, Keith Johnson filed a claim alleging he was defrauded out of money by the defendants, calling the meme coin a "Dogecoin Crypto Pyramid Scheme."
The report went on to say that Johnson claimed,
"Defendants falsely and deceptively claim that Dogecoin is a legitimate investment when it has no value at all."
Johnson looks to represent DOGE investors "who have lost money trading in DOGE since April 2019."
The claim asks for a whopping $258 billion in damages in addition to an order preventing Musk, SpaceX, and Tesla Inc. from promoting Dogecoin.
Elon Musk is not the only supporter. Snoop Dogg, Kevin Jonas, Jake Paul, Gene Simmons, and Mark Cuban could also become investor targets.
Just last month, Musk announced SpaceX plans to accept DOGE as payment for merchandise. On May 27, the meme coin rallied by 4.63%, while the broader crypto market saw losses.
Since the May 27 tweet, DOGE was down 31% versus a bitcoin (BTC) fall of 28%.
The SpaceX announcement followed the news of Elon Musk planning to buy Twitter, which drove DOGE into the crypto top ten. The influence of Musk and Twitter chatter is evident, as shown below.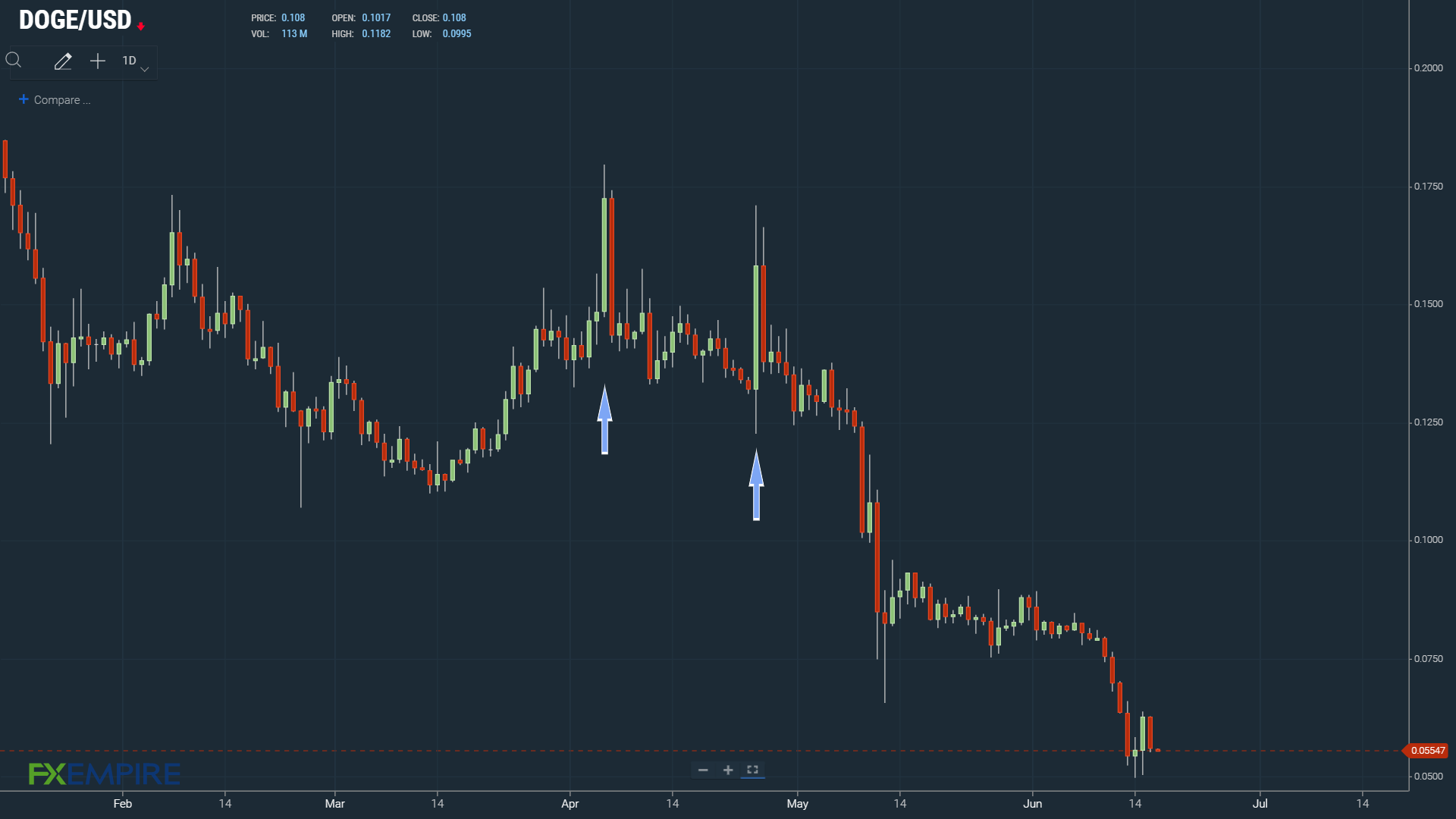 DOGE Elon Musk Daily Chart
DOGE Price Action
At the time of writing, DOGE was down by 0.54% to $0.0548.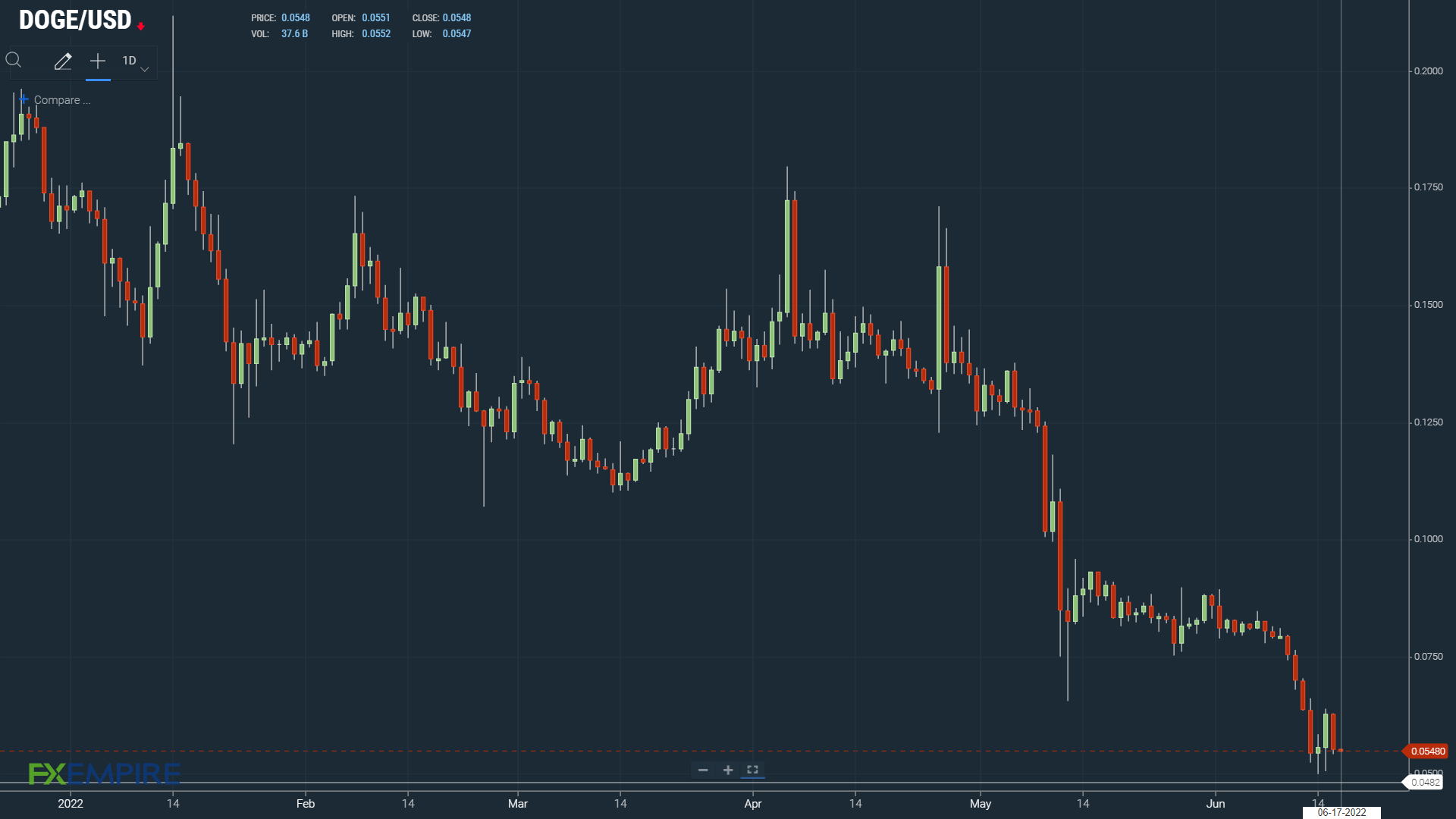 DOGEUSD 170622 Daily Chart
Technical Indicators
A move through the $0.0576 pivot would target the First Major Resistance Level at $0.0603.
DOGE would need the broader crypto market to support a return to $0.060.
An extended rally would test the Second Major Resistance Level at $0.0654 and resistance at $0.070. The Third Major Resistance Level sits at $0.0732.
Failure to move through the pivot would test the First Major Support Level at $0.0525. Barring another extended sell-off, DOGE should steer clear of the Second Major Support Level at $0.0498.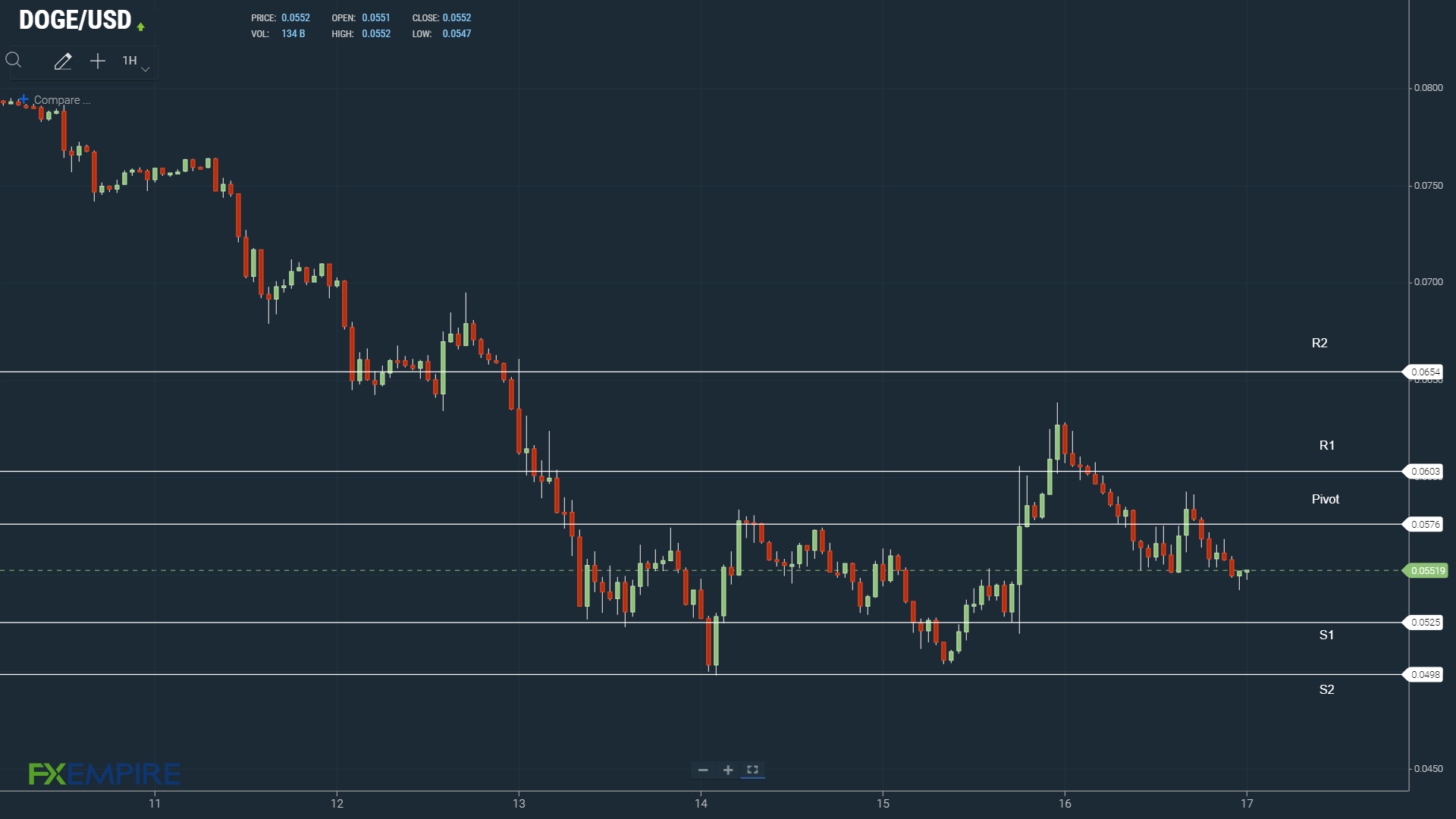 DOGEUSD 170622 Hourly Chart
Looking at the EMAs and the 4-hourly candlestick chart (below), it is a bearish signal.
This morning, DOGE sat below the 50-day EMA at $0.0635. The 50-day pulled back from the 100-day EMA, with the 100-day EMA falling back from the 200-day EMA: price negative.
A return to $0.060 would support a run at the 50-day EMA to then bring $0.070 levels into play. The 100-day EMA currently sits at $0.0704.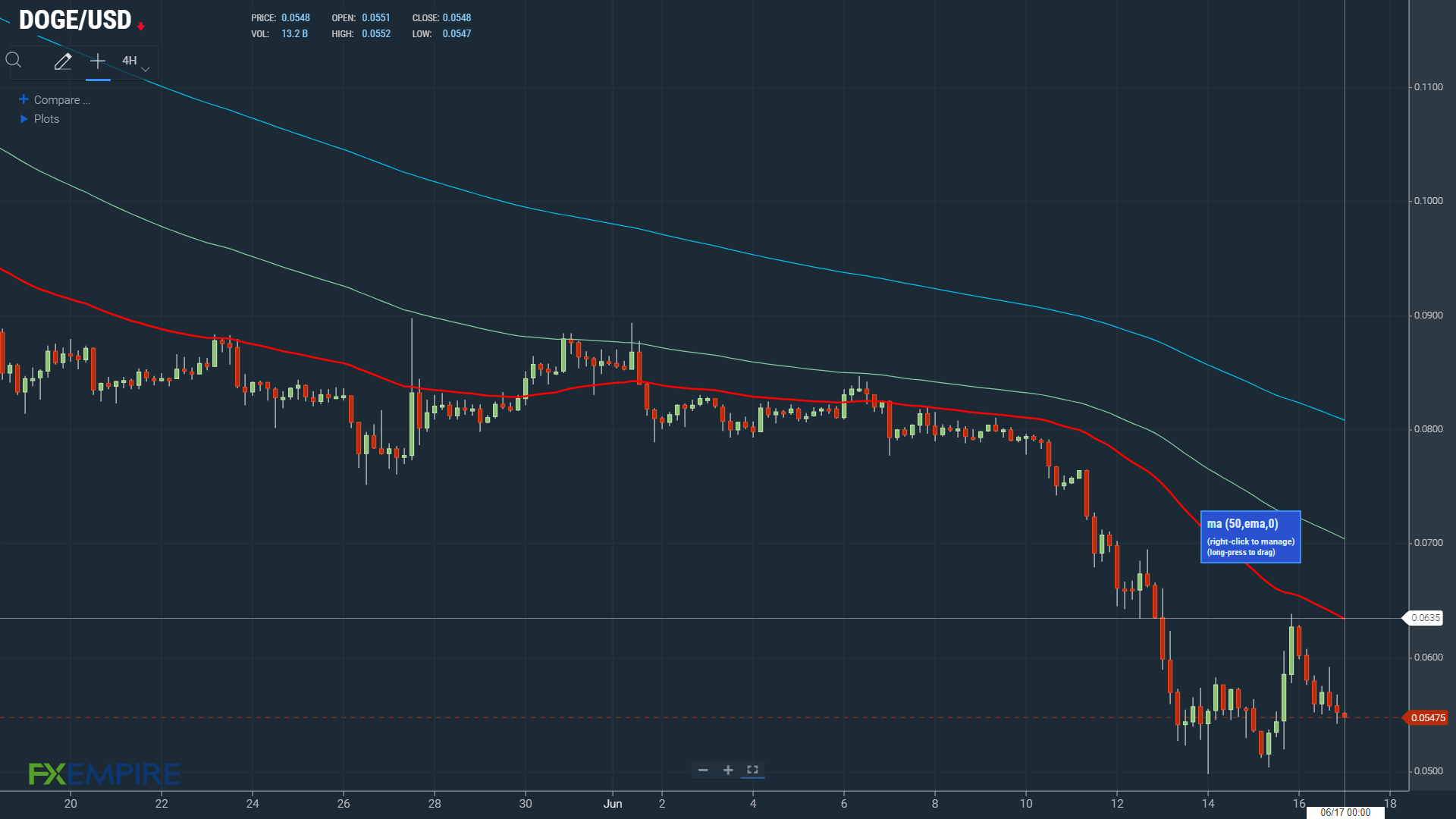 DOGEUSD 170622 4-Hourly Chart
Don't miss a thing!
Sign up for a daily update delivered to your inbox
Sponsored Financial Content