Doge, SHIB, PEPE, and FLOKI Forecast: Memecoins Poised for Movement
Updated

: Nov 20, 2023, 14:50 UTC
•
5
min read
In the meme token sphere, Doge, SHIB, PEPE, and FLOKI display bullish trends, with investors watching for resistance breakthroughs.
Key Insights
Altcoin market cap hints at consolidation with a potential uptrend for altcoins like Doge, SHIB, PEPE, and FLOKI.
Total3 index consolidation around key resistance could lead to a bullish wave across meme tokens.
RSI cooling off suggests room for growth in Doge, SHIB, PEPE, and FLOKI before reaching overbought status.
Immediate resistances and supports set the stage for Doge, SHIB, PEPE, and FLOKI's next moves.
Doge, SHIB, PEPE, and FLOKI's current trends indicate a bullish forecast, with eyes on upcoming resistance tests.
Crypto Total Market Cap Excluding BTC & ETH
The altcoin market cap, excluding Bitcoin and Ethereum, presents a consolidating pattern, suggesting a poised stance before its next directional move.
Currently, the Total3 index hovers around $415 billion, engaging with a historically significant resistance level. This zone, once a barrier, now serves as a pivot area for potential bullish momentum.
Total 3: Crypto Total Market Cap Excluding BTC & ETH
The market's hesitance at this junction reflects traders' anticipation and the gravitational pull of past price interactions. A decisive breakout above this consolidation could catalyze a robust uptrend for altcoins, inviting increased trading volumes and heightened investor interest.
The Relative Strength Index (RSI) has retreated to a cooler 69 from overbought regions, offering room for growth before hitting exhaustion. The index's ability to sustain above the 378 B support level may reinforce the uptrend narrative, whereas a drop below could signal a deeper correction.
The altcoin market's resilience in maintaining its upward trajectory, despite corrections, hints at underlying bullish sentiment. Investors and traders alike are advised to monitor this pivotal phase closely, as the outcome will likely define the alt market's direction in the short to medium term.
Dogecoin (DOGE) Prices Forecast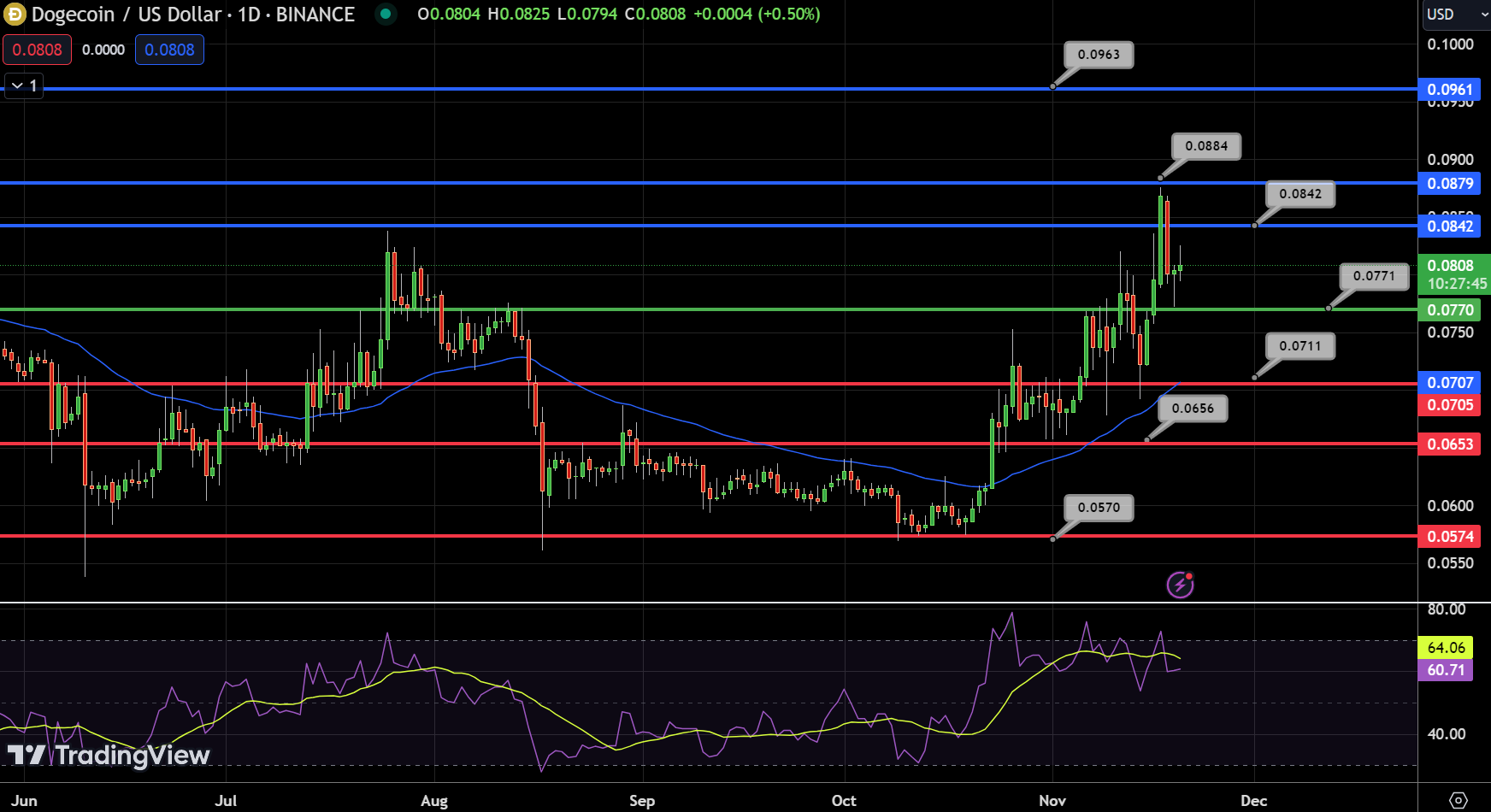 DOGE – Chart
Dogecoin's market presence is reaffirmed as it trades at $0.0808, marking a 0.50% rise within the current trading day. The meme coin, often spurred by social media and influencer sentiment, is witnessing a steady climb in value.
In this session, the pivot point stands at $0.0771, serving as a baseline for potential price movement. Dogecoin faces immediate resistance at $0.0842, with further challenges at $0.0884 and the psychological threshold of $0.0963. Should momentum wane, immediate support is found at $0.0711, with additional lower supports at $0.0656 and $0.0570.
The Relative Strength Index (RSI) reads at a healthy 64, suggesting increased buying pressure without veering into overbought territory. This is bolstered by the MACD line's crossover above the signal line, hinting at sustained upward momentum. Additionally, the price comfortably sits above the 50-day EMA of $0.0653, reinforcing a bullish outlook.
The observed chart pattern, characterized by consecutive higher highs, points towards continued bullish sentiment. The price action has convincingly broken past previous resistance levels, indicating a robust buying interest in the market.
Given these indicators, the overall trend for Dogecoin appears bullish, and the short-term forecast suggests an attempt to test and potentially break past the next resistance level at $0.0842 in the coming days.
However, investors should remain cognizant of the volatile nature of meme coins, which can be sensitive to market sentiment and social media influence.
Shiba Inu (SHIB) Prices Forecast
FLOKI Prices Forecast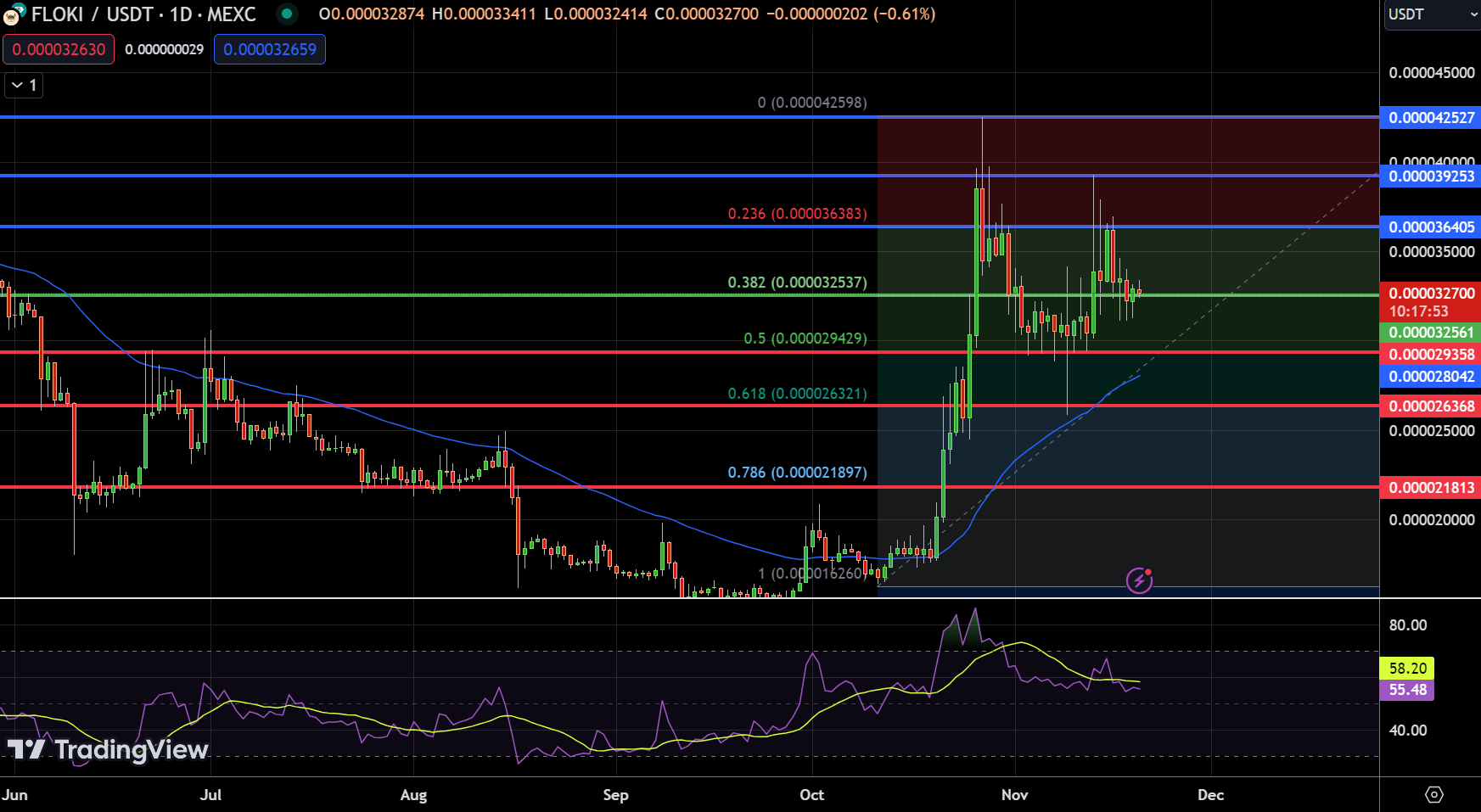 FLOKI INU – Chart
The Floki Inu (FLOKI) token exhibits a resilient trading pattern, presently valued at $0.00003270, though it has faced a minor setback of 0.61%.
The asset's immediate resistance is at $0.00003638, with potential challenges at $0.00003953 and $0.00004257. Support levels appear firm at $0.00002942 and further down at $0.00002632.
Technical indicators offer a nuanced perspective; the RSI stands at 58, suggesting a cautiously optimistic sentiment, while the MACD's position indicates a slight bullish trend. Additionally, FLOKI's price hovers above the 50 EMA at $0.00002842, reinforcing the current uptrend.
Chart patterns underscore a potential ascending channel formation, hinting at FLOKI's readiness to test higher resistances, particularly if it sustains above the $0.00003257 pivot point. In summary, FLOKI's market behavior aligns with a positive outlook, with traders eyeing the next resistance levels for signs of a continued upward trajectory.
PEPE Prices Forecast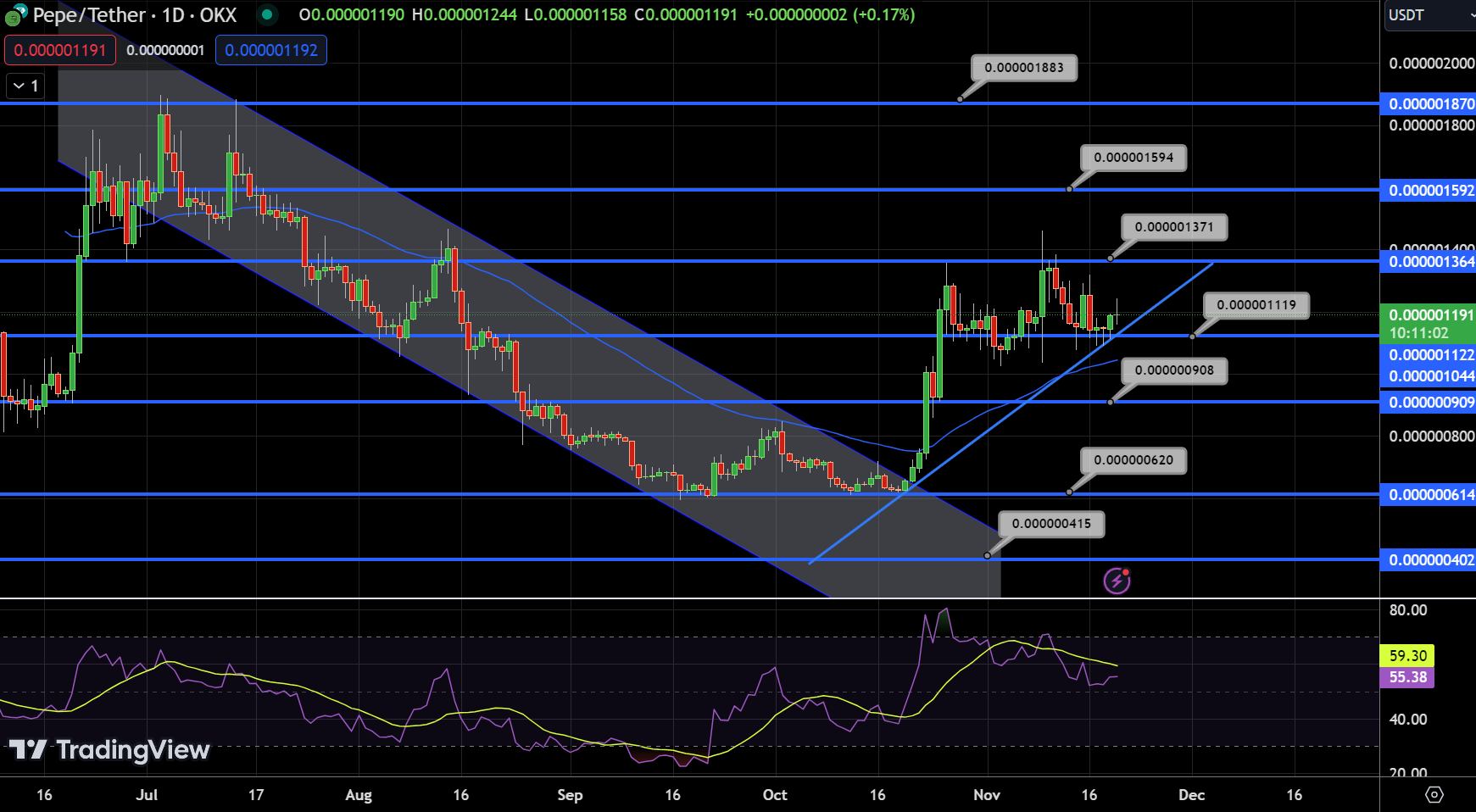 PEPE – Chart
The meme-inspired cryptocurrency PepeCoin (PEPE) shows a modest increase, currently trading at $0.00001191 with a 0.17% gain in the last 24 hours. It approaches key resistance at $0.00001371, and overcoming this could open the way to $0.00001594 and then $0.00001883.
Support levels are steady, with $0.00000908 providing immediate cushioning and further support at $0.00000620. Should these levels fail, the next critical support lies at $0.00000415.
The technical outlook is cautiously optimistic, with the Relative Strength Index (RSI) at 59 indicating momentum that is neither overbought nor oversold. The Moving Average Convergence Divergence (MACD) is trending above the signal line, further suggesting bullish potential.
PepeCoin's trajectory is buttressed by an upward trendline, hinting at sustained buyer interest. If PEPE maintains above the pivot point of $0.00001119, the bullish narrative may continue, especially if it breaks past current resistance levels.
For a look at all of today's economic events, check out our economic calendar.
Don't miss a thing!
Sign up for a daily update delivered to your inbox
Sponsored Financial Content