Dollar Strength Wanes, Gold Pops to $1954 but Quickly Retreats From High
Published

: Sep 8, 2023, 22:34 UTC
•
3
min read
Market participants are now waiting for the CPI index report which will be published on Wednesday.
Gold Futures Fluctuate, Testing Support Levels in Volatile Week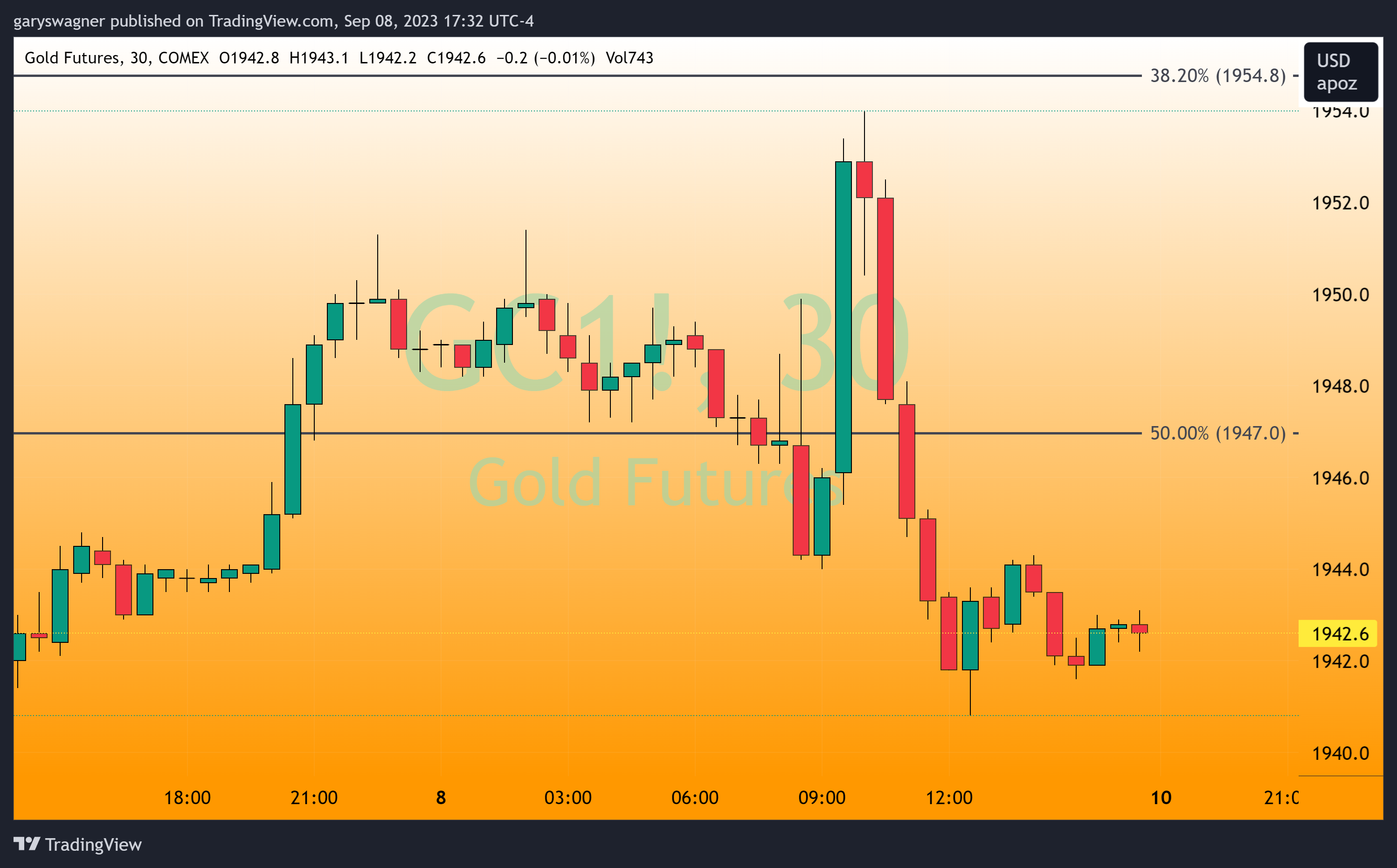 Gold futures opened at $1943.80 then rose to $1954 in one hour beginning at 9 o'clock EDT. This rise was not sustainable with gold giving back those gains and trading to a low of $1940 before slightly recovering. As of 5 PM EDT gold futures basis the most active December contract is currently fixed at $1942.60 which is a net gain of $0.10.
However, today's price range marks the first time that gold has gained on the day (although fractional) this week. Gold will finish fractionally higher on the day but lower on the week. There is however solid technical evidence that a support level was tested on Wednesday and Thursday and at least this week has held.
Gold Finds Possible Technical Support at the 61.8% Fibonacci Retracement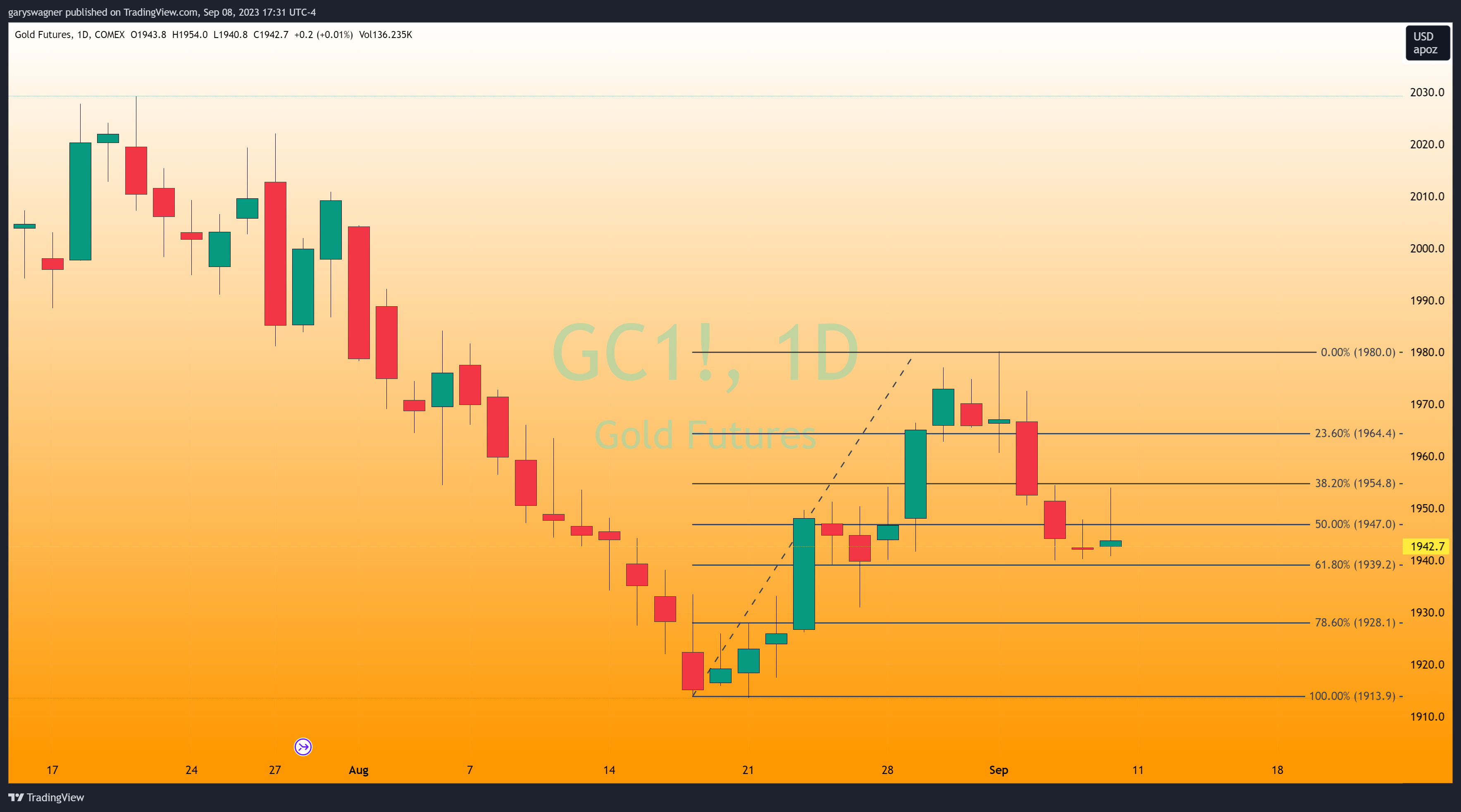 Gold's short-term corrective cycle began after a high of $1980 was reached on Friday of last week and then traded lower for three consecutive days on Tuesday, Wednesday, and Thursday. The weekly low at approximately $1940 occurred on Wednesday, September 6, and although gold has traded to a higher low yesterday and today it remains close to the weekly lows.
Yesterday we spoke about a potential technical level of support that occurs at $1939.20 which is based upon a Fibonacci retracement of 61.8%. The short-term data set used for this retracement begins at $1914 and concludes at last Friday's high of $1980.
A 61.8% price correction is an acceptable but deep retracement for a market in a bullish scenario. However, gold has been in a defined corrective period since the beginning of May. This means that on a technical basis, gold must challenge and take out the most recent high that occurs just above $2020 before we would get technical confirmation that this week's low marks the end of a correction and a bullish key reversal.
Federal Reserve's Rate Hike Unlikely This Month
According to the CME's Fedwatch tool, there is a 93% probability that the Federal Reserve will not implement another rate hike at the FOMC meeting later this month. Recent bearish market sentiment is the result of dollar strength and uncertainty as to how long the Federal Reserve will maintain the current elevated interest rates.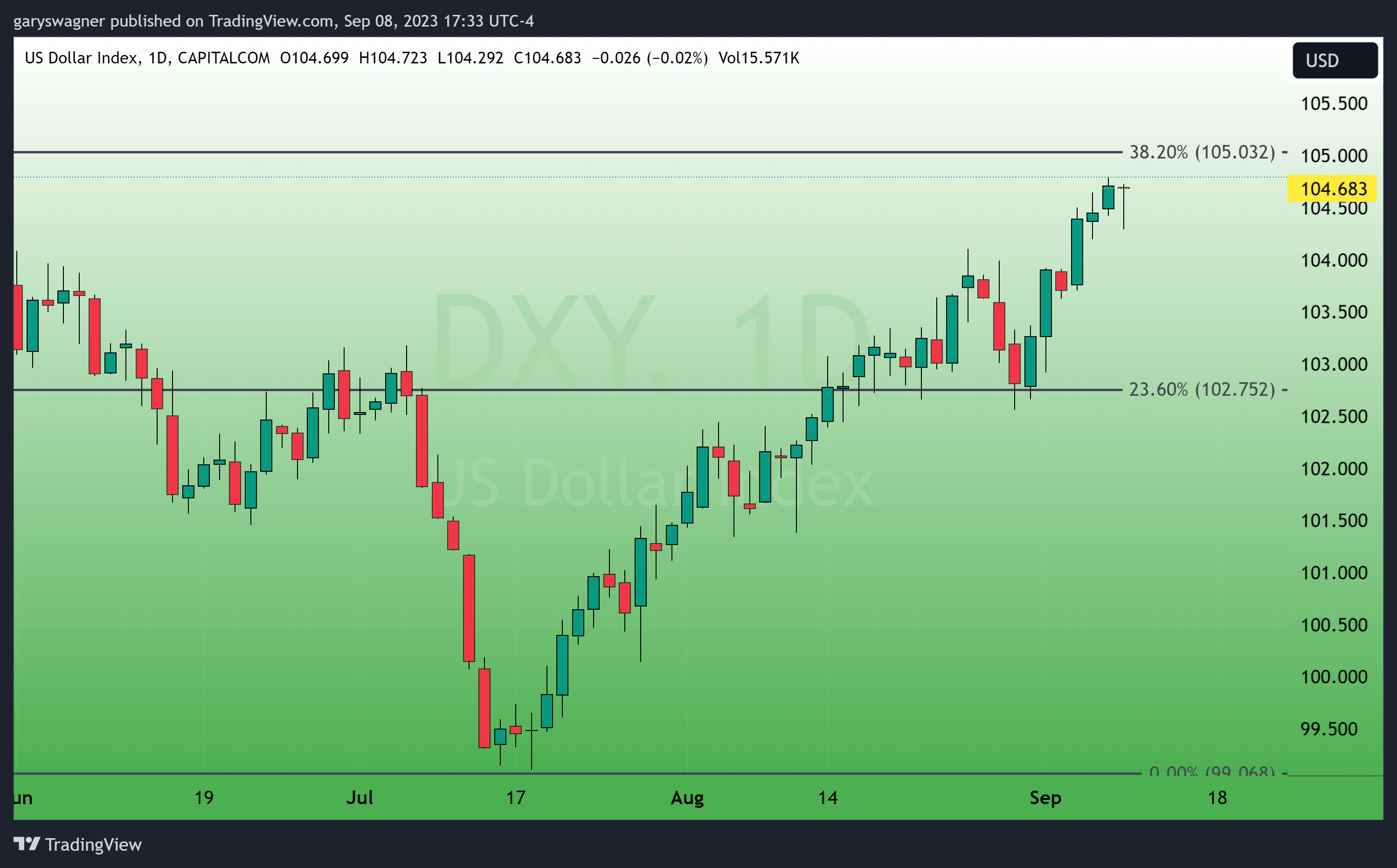 Earlier this week one of the more hawkish Federal Reserve officials Fed Governor Christopher Waller remarked about how recent data suggested that their monetary policy tightening has had a strong effect on inflation saying, "There is nothing that is saying we need to do anything imminent anytime soon… We can just sit there and wait for the data."
Market participants are now waiting for the CPI index report which will be published on Wednesday. They will look for information to see if the current level of inflation confirms that the U.S. economy can withstand interest rates at this elevated level. More importantly, they will look to see how inflation is responding to the Fed's restrictive monetary policy to determine whether recent steps have put inflation on a trajectory to reach its target of 2%.
For those who would like more information simply use this link.
Wishing you as always good trading,
Gary S. Wagner
Don't miss a thing!
Sign up for a daily update delivered to your inbox
Sponsored Financial Content