ETH Staking Stats Rebound Despite SEC Activity to Bring $1,950 into Play
Published

: Jun 7, 2023, 07:39 UTC
•
5
min read
After the Tuesday rebound, ETH struggled for direction this morning. However, staking statistics and US lawmaker chatter will draw interest.
Key Insights:
On Tuesday, ETH bounced back from the Monday sell-off, gaining 4.09% to end the day at $1,885.
News of the SEC filing a lawsuit against Coinbase failed to spook investors just one day after the filing against Binance.
The technical indicators turned bullish, signaling a fall to sub-$2,000.
Ethereum (ETH) rallied 4.09% on Tuesday. Reversing a 4.33% slide from Monday, ETH ended the day at $1,885. Despite the bullish session, ETH fell short of the $1,900 handle for the second consecutive session.
Tracking the broader market, ETH fell to a midday low of $1,797. Steering clear of the First Major Support Level (S1) at $1,762, ETH rallied to an early evening high of $1,898. ETH broke through the First Major Resistance Level (R1) at $1,876 to end the day at $1,885.
SEC-Related News Delivered Support Despite Dishing out New Lawsuits
On Tuesday, the SEC filed a lawsuit against Coinbase (COIN) just one day after filing against Binance, Binance US, and Binance CEO CZ.
According to the SEC press release, the SEC charged Coinbase for operating as an unregistered securities exchange, broker, and clearing agency. Additional charges included the unregistered offering and selling of securities in connection with its staking-as-a-service program.
Gary Gensler had this to say about the latest lawsuit,
"We allege that Coinbase, despite being subject to securities laws, commingled and unlawfully offered exchange, broker-dealer, and clearinghouse functions."
On a busy Tuesday session, a US Court ordered the SEC to respond to the Coinbase 2022 petition asking the SEC to use its formal rulemaking process to provide guidance for the crypto market.
However, the SEC press release makes no mention of the Coinbase petition. Coinbase CEO Brian Armstrong shared comments from Senator Bill Hagerty, who had this to say,
"The SEC is weaponizing their role to kill an industry. Allowing a company to list publicly and then stonewalling their attempts to register is indefensible."
Staking Statistics Turn Bullish After Binance-News-Related Dip
According to CryptoQuant, staking inflows increased from 79,424 ETH on Monday to 91,392 on Tuesday. While staking inflows recovered from the Sunday low, inflows remained below the 100,000 mark and recent highs.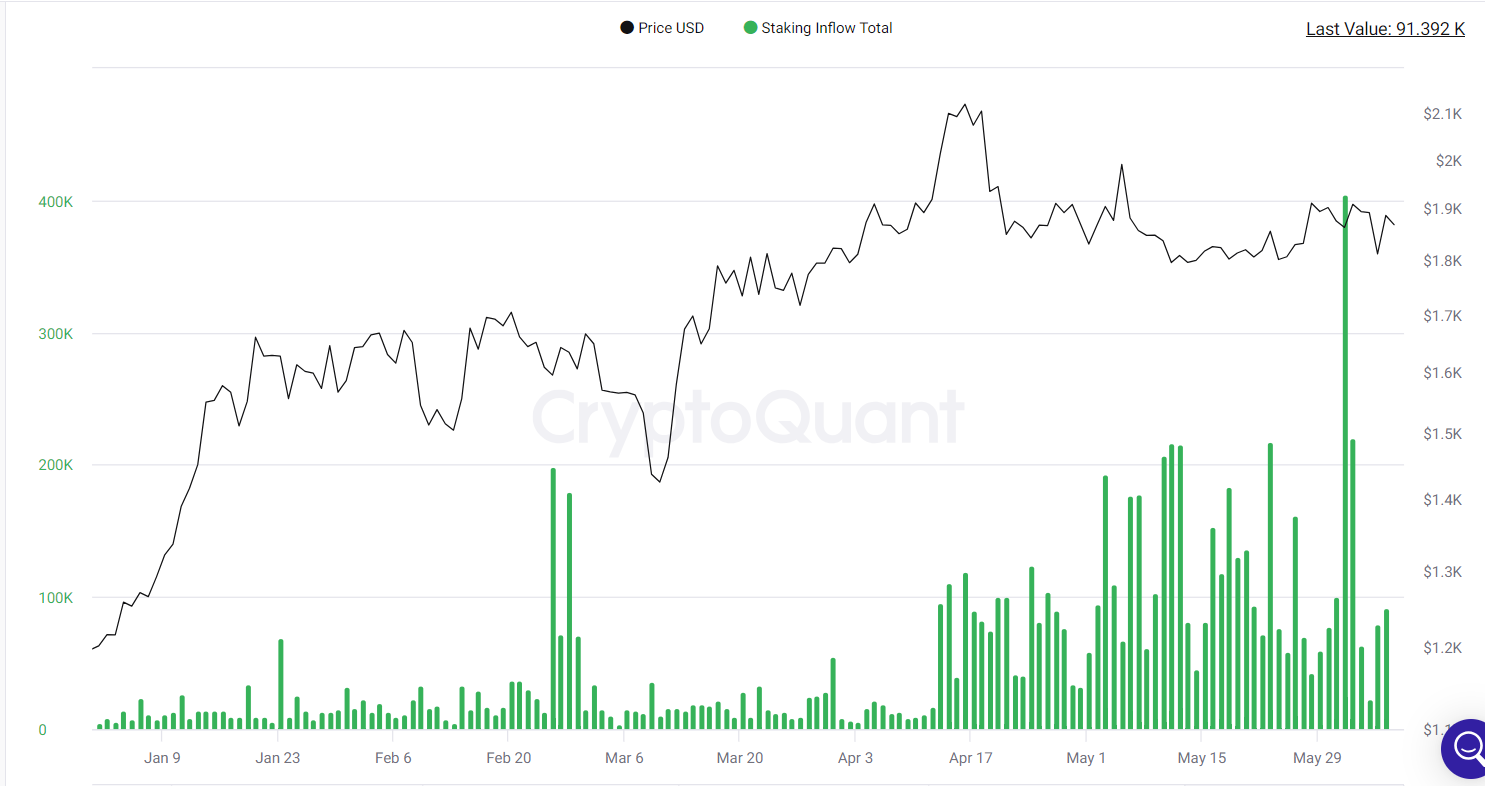 ETH Staking Inflows 070623
The total value staked continued to climb higher in response to the uptrend in staking inflows and the hawkish ETH session.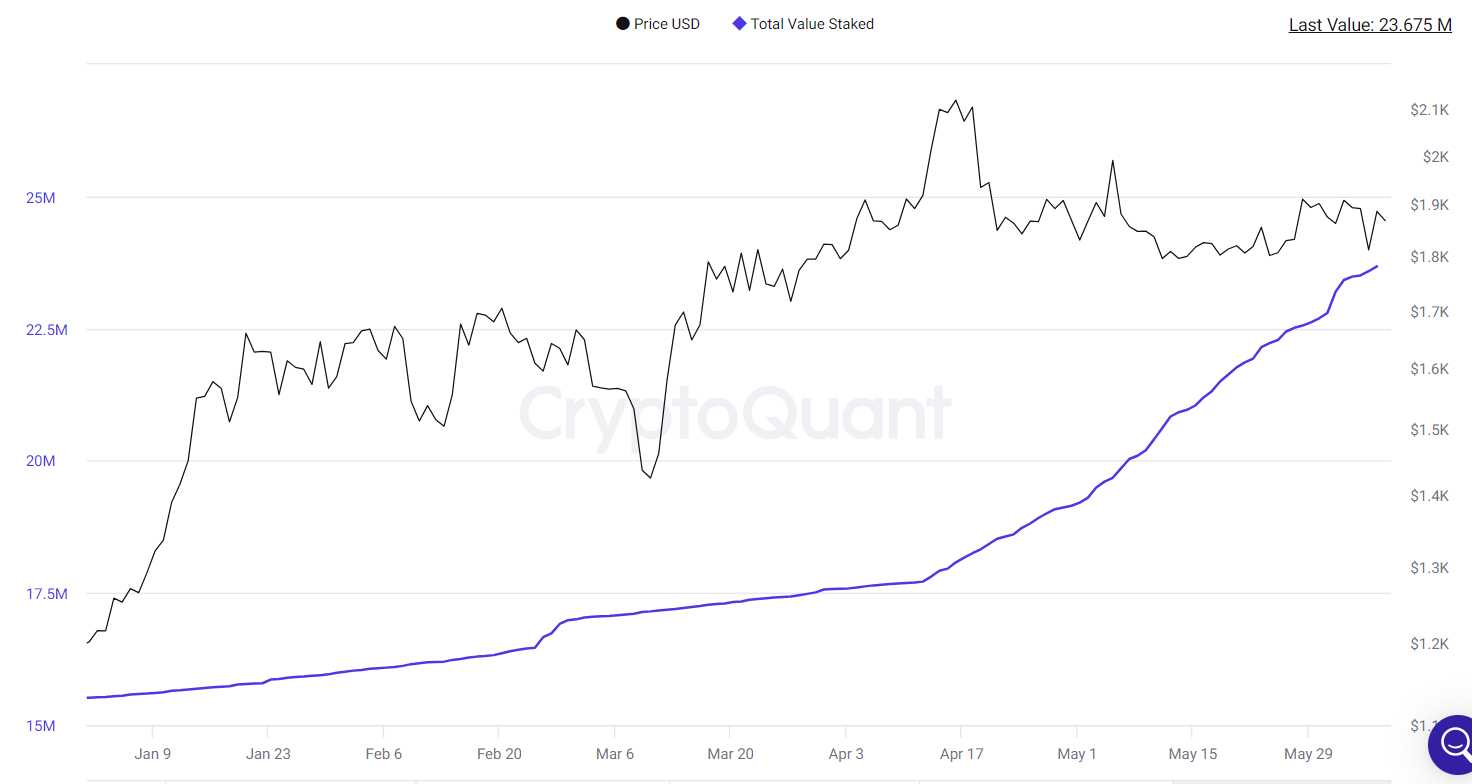 Total Value Staked 070623
The overnight withdrawal profile was bullish, with principal withdrawals falling below normal levels. However, withdrawal projections for the morning session were bearish, with principal ETH withdrawals projected to move above normal levels.
On Tuesday, the net ETH staking balance surged by 2,574% to a surplus of 73,630 ETH, equivalent to $136.21 million. Deposits totaled 90,000 ETH versus withdrawals of 16,370 ETH.
According to TokenUnlocks, total pending withdrawals stood at 62,350 ETH, equivalent to approximately $117.05 million. Notably, the staking APR stood at 7.09%, unchanged over 24 hours.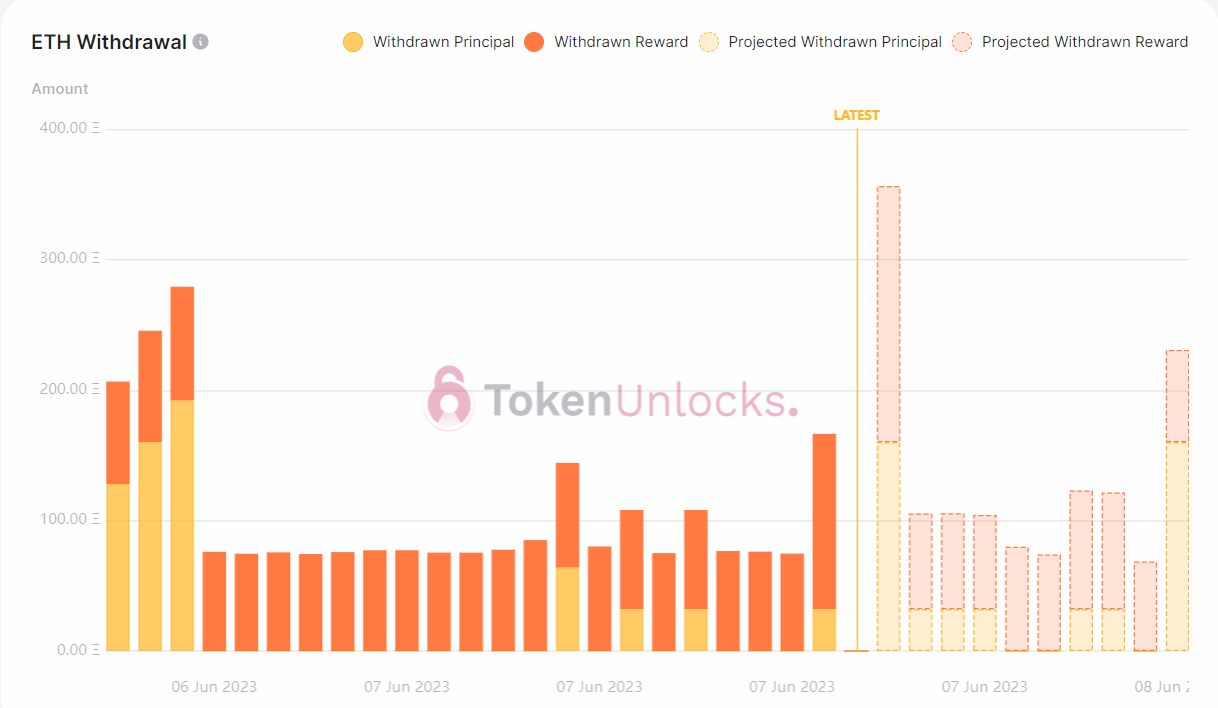 ETH Withdrawal Profile – 070623
The Day Ahead
It is a quiet Wednesday for ETH, with US trade data the only material stat for investors to consider. However, the numbers are unlikely to impact market risk sentiment and ETH. The lack of economic indicators leaves investors to track US lawmaker chatter and SEC activity.
SEC v Ripple, SEC v Binance, and SEC v Coinbase updates and related news will also move the dial.
However, staking statistics will continue to influence.
Ethereum Price Action
This morning, ETH was down 0.19% to $1,881. A mixed start to the day saw ETH rise to an early high of $1,898 before falling to a low of $1,872.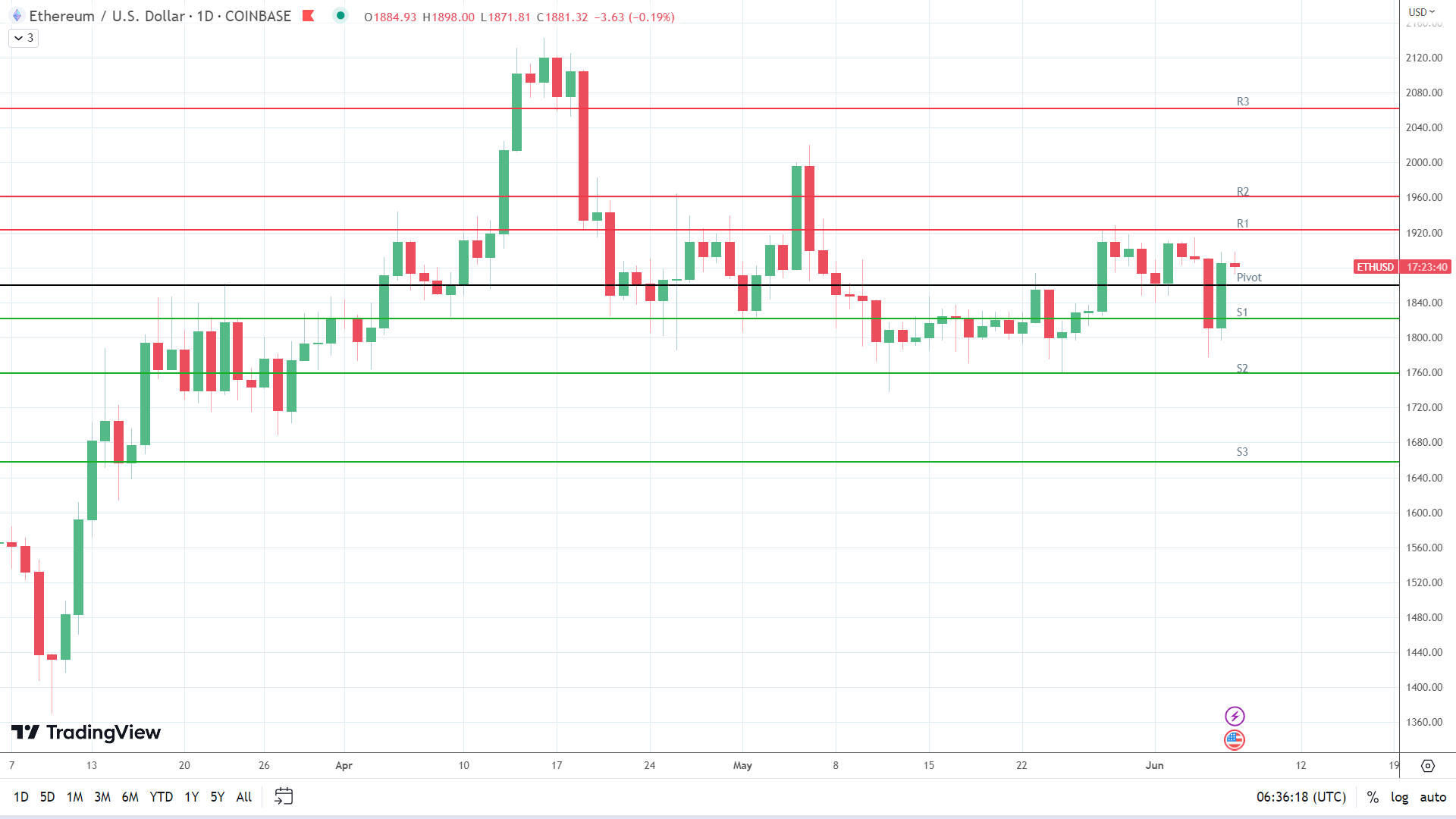 ETHUSD 070623 Daily Chart
ETH Technical Indicators
Resistance & Support Levels
| | | | |
| --- | --- | --- | --- |
| R1 – $ | 1,923 | S1 – $ | 1,822 |
| R2 – $ | 1,961 | S2 – $ | 1,759 |
| R3 – $ | 2,062 | S3 – $ | 1,839 |
ETH needs to avoid the $1,860 pivot to target the First Major Resistance Level (R1) at $1,923. A return to $1,900 would signal a breakout session. However, ETH staking statistics and the crypto news wires must support a bullish session.
In the event of an extended rally, the bulls would likely test resistance at $1,950 but fall short of the Second Major Resistance Level (R2) at $1,961. The Third Major Resistance Level (R3) sits at $2,062.
A fall through the pivot would bring the First Major Support Level (S1) at $1,822 into play. However, barring another risk-off-fueled sell-off, ETH should avoid sub-$1,750. The Second Major Support Level (S2) at $1,759 should limit the downside.
The Third Major Support Level (S3) sits at $1,658.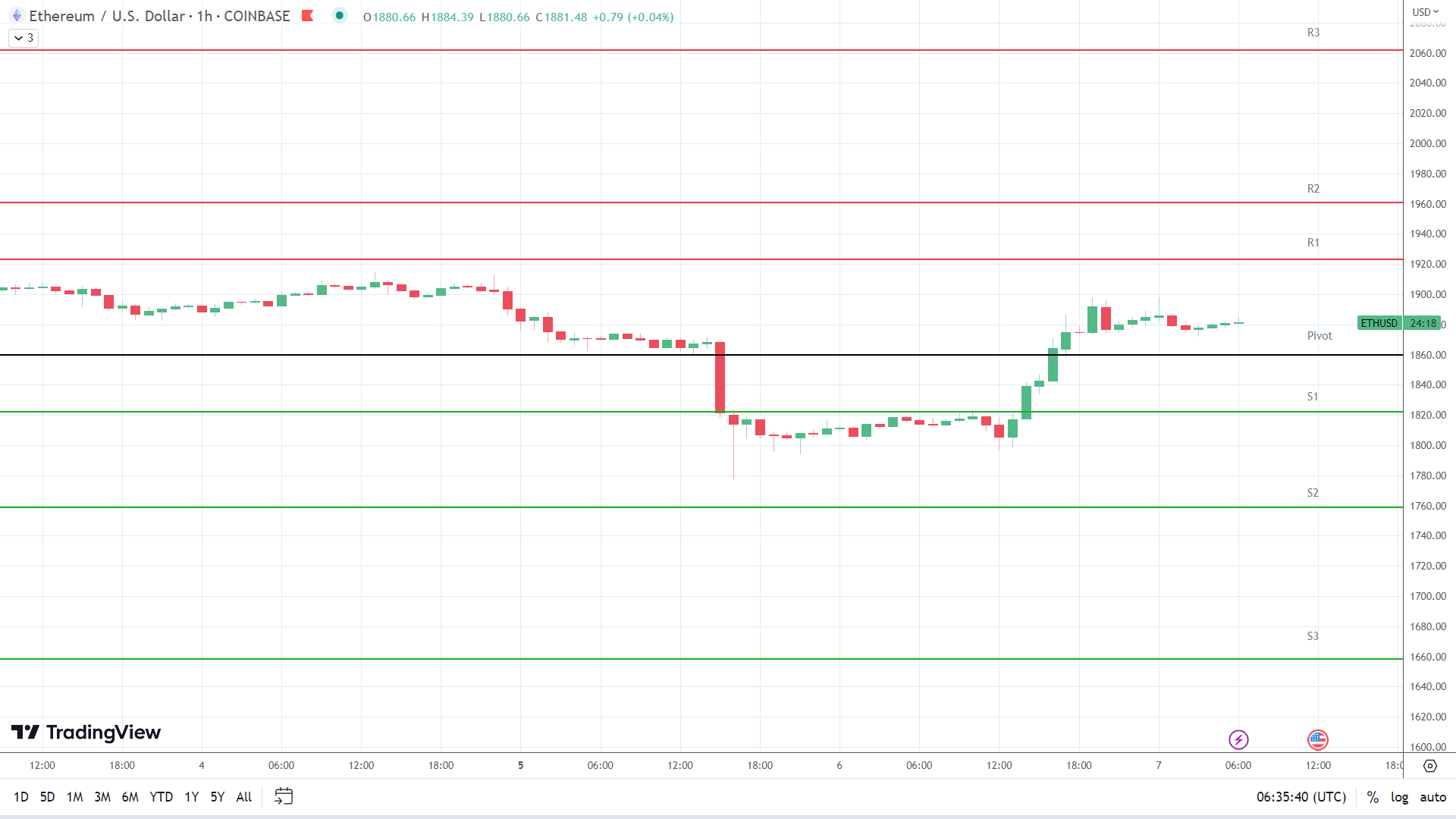 ETHUSD 070623 Hourly Chart
Looking at the EMAs and the 4-hourly candlestick chart (below), it was a bullish signal. Ethereum sat above the 50-day EMA, currently at $1,867. The 50-day EMA widened from the 100-day EMA, with the 100-day EMA pulling away from the 200-day EMA, delivering bullish signals.
A hold above the 50-day EMA ($1,867) would support a breakout from R1 ($1,923) to target $1,961 and $2,000. However, a fall through the 50-day EMA ($1,867) would bring the 100-day ($1,860) and 200-day ($1,856) EMAs and S1 ($1,822) into view.
A fall through the 50-day EMA would send a bearish signal.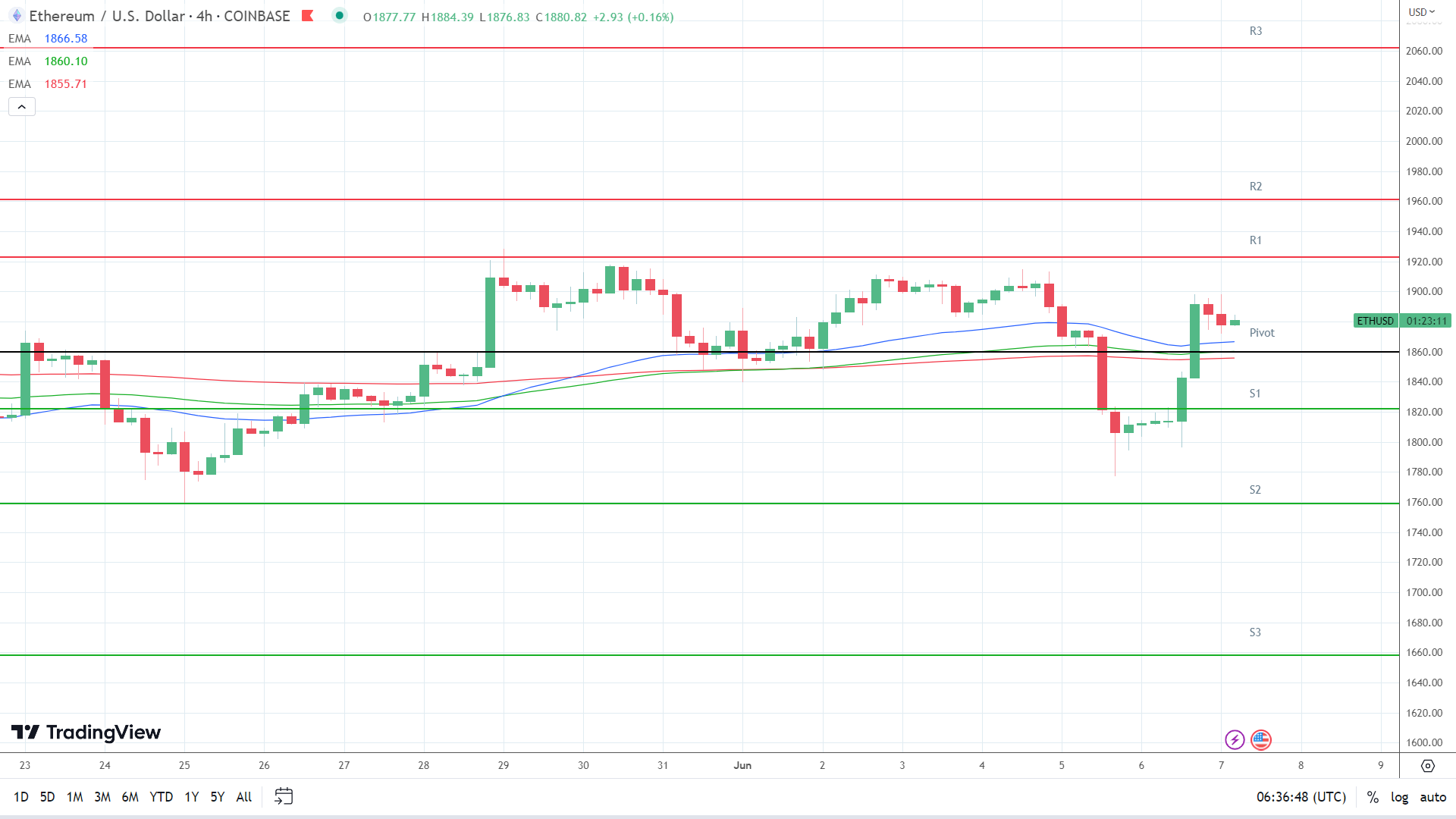 ETHUSD 070623 4 Hourly Chart
Don't miss a thing!
Sign up for a daily update delivered to your inbox
Sponsored Financial Content