Film Platform MovieBloc's Rallies Draws Investors' Interest
Updated

: Mar 21, 2022, 08:23 UTC
•
4
min read
MovieBloc (MBL) is on the move this morning, with a third consecutive daily gain consolidating the previous week's 155% surge.
Key Insights:
MovieBloc (MBL) consolidated Friday's 42% breakout with a 14.8% rally on Saturday.
Following the previous week's 155% surge, MBL is up just 6.2% in the current week.
Technical indicators are flashing green, suggesting a bullish week ahead.
It was a bullish day for MBL on Saturday, with MBL finding support from the broader crypto market on the day. The upside came as MBL became a top 10 trending token on CoinMarketCap.
Following a 42% surge on Friday, MBL rallied by 14.8% on Saturday to end the day at $0.0194.
What is MovieBloc, and Why is it Trending?
MovieBloc is a decentralized content platform delivering a 'participant-centric movie ecosystem.'
The platform enables creators to screen movies while providing transparent revenue share and audience data. Network users and audiences can watch the content and generate revenue streams by marketing films and making subtitles.
The creation of subtitles can be lucrative, with MBL rewarding, those who have their subtitles played, 5% of the creator's revenue stream.
South Korean video-sharing platform, Pandora TV, built MovieBloc to give film creators an ecosystem to collaborate and distribute films to a global audience.
Competing with the other streaming platforms, the platform supports 78 languages, has more than 600 subtitles, and has more than 300 featured and short films.
Creators can upload films and use the MovieBloc Pick service, which provides promotion marketing to increase audience numbers. The platform also offers creators a gateway into 106 countries expanding and allows creators to manage copyrights.
An added feature of the MovieBloc platform is its NFT marketplace. MovieBloc and KStarLive expanded on their early partnership to deliver NFTs in 2021. The platform would also allow artists to target a global audience and engage with more Hallyu (K-wave) fans.
While MovieBloc has been around since 2019, interest in decentralized movie platforms has seen a sharp increase due to the COVID-19 pandemic.
There have been other entrants into the space in recent months, aiming to prize control from the titans of the movie industry.
In December, news of BlockbusterDAO planning to acquire Blockbuster Video to revolutionize the film industry hit the crypto wires. The mission was to turn Blockbuster into the first-ever DeFilm streaming platform, with audiences able to influence casting, scripts, and other elements of filmmaking.
This year, a new platform, FF3, launched, offering filmmakers a platform to finance movies with NFTs. The platform would also reward investors with a share of film revenues and collectible NFTs.
FF3 follows the model of Niels Juul, the executive producer of The Irishman. He launched a production company called NFT Studios to support the funding of movies with NFTs.
With the film industry abuzz over NFTs and decentralization, MovieBloc is a well-established platform that could move into the top 100 by market cap. At the time of writing, MBL was ranked #182, with a total market cap of $263.56m.
MBL Price Action
At the time of writing, MBL was up 6.7% to $0.0207. A mixed start to the day saw MBL fall to an early morning low of $0.0191 before striking a morning high of $0.0218.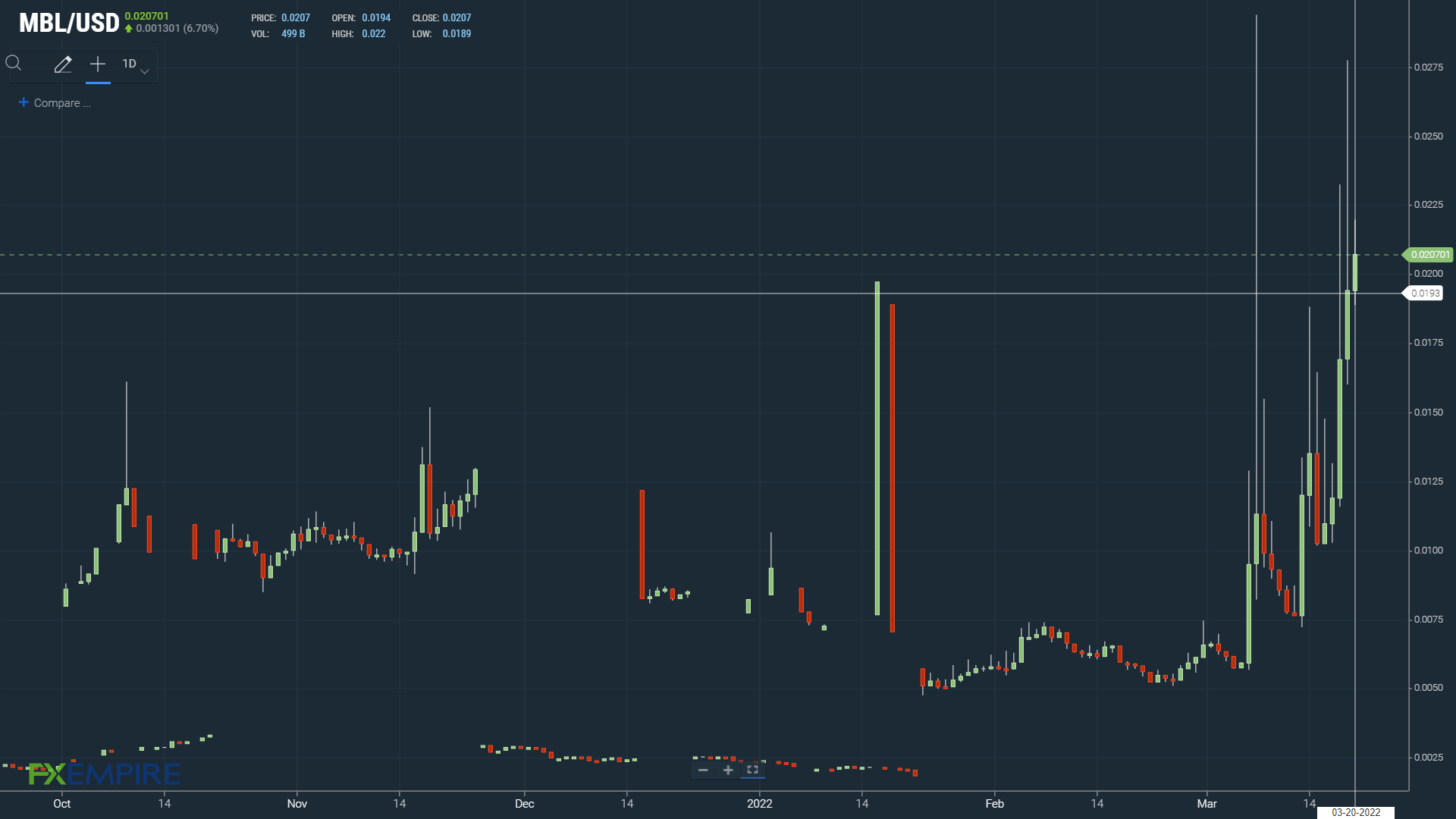 Bulls to target $0.03 levels.
Technical Indicators
MBL will need to move back through the day's $0.0210 pivot to make a run on the First Major Resistance Level at $0.0261. MBL would need the broader crypto market to support a breakout from $0.0250 levels.
Another extended rally would test resistance at $0.030 and the Second Major Resistance Level at $0.0327. The Third Major Resistance Level sits at $0.0444.
Failure to move back through the pivot would test the First Major Support Level at $0.0144. Barring an extended sell-off, MBL should avoid sub-$0.014. The Second Major Support Level sits at $0.0093.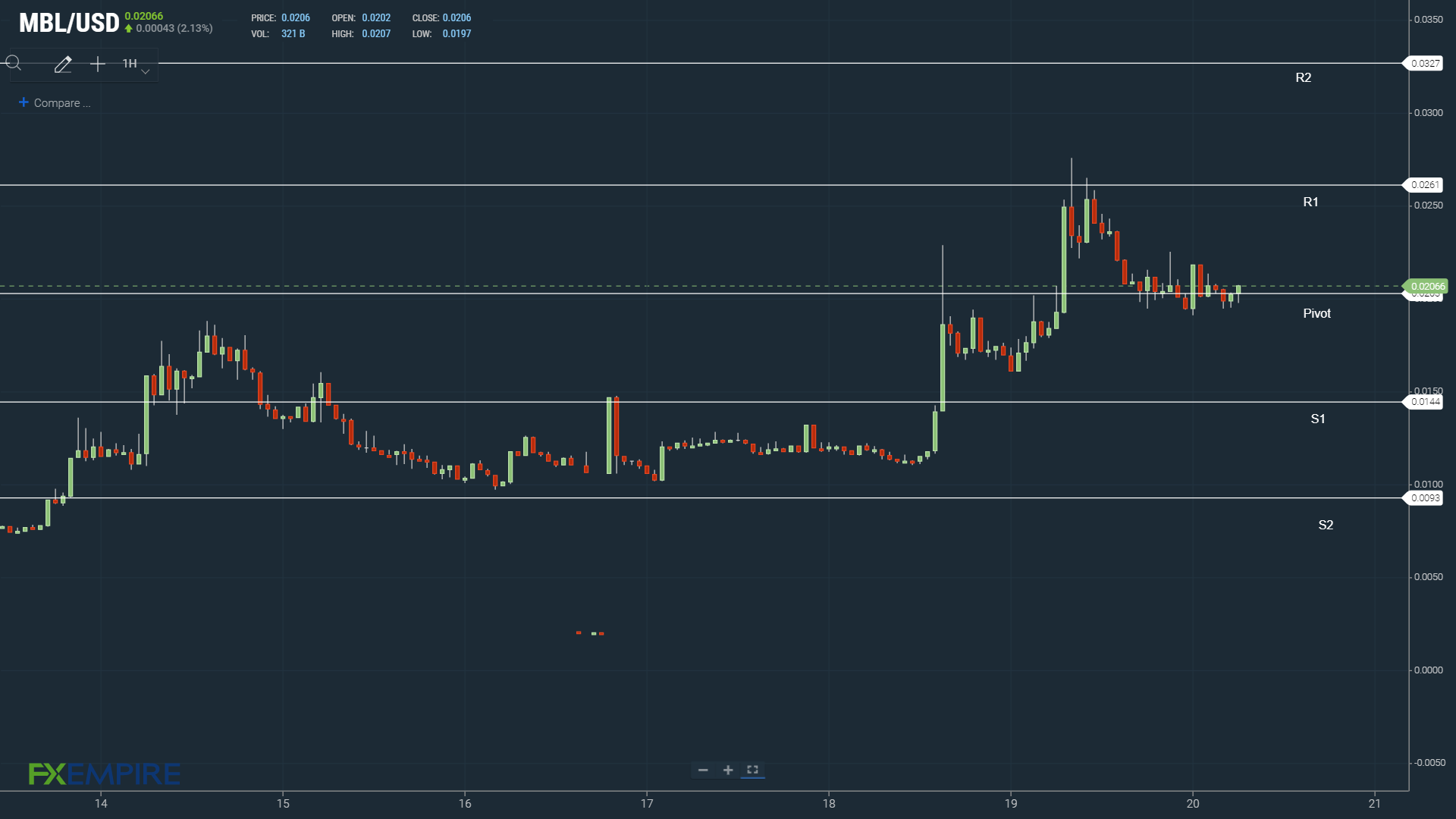 Failure to move back through the pivot would pressure MBL later in the day.
Looking at the EMAs and the 4-hourly candlestick chart (below), it is a bullish signal. MBL continues to hold above the 50-day EMA currently at $0.0142. The 50-day EMA pulled away from the 100-day EMA, delivering support this morning. The 100-day EMA also pulled away from the 200-day EMA, bringing the Major Resistance Levels into play.
Avoiding the 50-day EMA would support another run at $0.030 levels.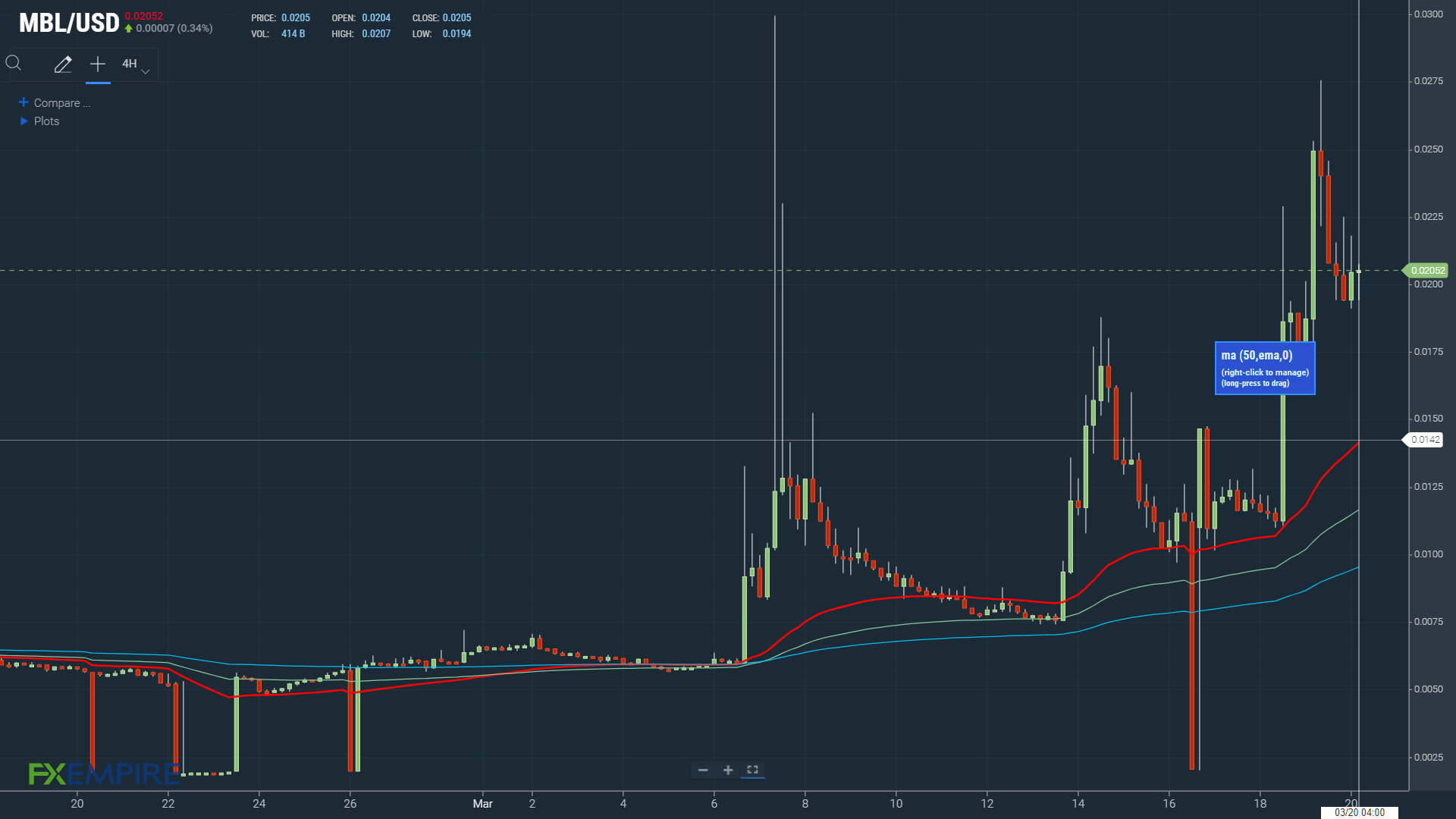 Near-term, avoiding the 50-day EMA would support the current bullish trend.
Don't miss a thing!
Sign up for a daily update delivered to your inbox
Sponsored Financial Content