FTSE 100 Price forecast for the week of February 19, 2018, Technical Analysis
The FTSE 100 has rallied a bit during the week, breaking above the 7250 handle, which I look at as a win. The market has been very noisy over the last couple of weeks, but by recovering the way we have, it confirms that we are still in an uptrend.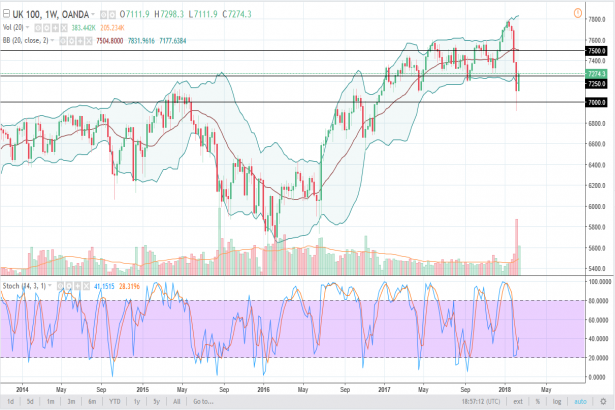 The FTSE 100 has been positive during the week, breaking above the 7250 handle. The market looks likely to continue to go to the upside at this point, but I also recognize that there is a lot of noise just above. If we can stay above the 7000 level, I believe that it's only a matter of time before we continue to find trouble above, but I also believe that the underlying drive to the upside is more than likely going to win. If we can break above the 7500 level, the market should continue to go to the 7800 level. That's an area that has been the most recent high, and I think it will offer a push back. I still believe we go above there, and by the end of the year I believe that we will reach towards the 8000 level.
Alternately, if we break down below the 7000 handle, then I think the market probably unwinds quite a bit. At that point, the market would probably go looking towards the 6500 level, and possibly even lower. We have seen a massive amount of volume jump into the market after we sold off, but I think that the market has proven itself to be somewhat stable now, so I think it's more of a grind higher than some type of explosion to the upside like we have seen so many other markets recently. A more sustainable grind is likely.
FTSE 100 Video 19.02.18