Is US Inflation In Its Final Throes of Topping Out?
Updated

: Jul 11, 2022, 08:19 UTC
•
3
min read
Wednesday sees the release of the latest US CPI figures, with traders watching anxiously to see if prices are rising again or perhaps that we are finally peaking.
All eyes on US Inflation data
Written on 11/07/2022 by Lukman Otunuga, Senior Research Analyst at FXTM
It is arguably the biggest risk event on the calendar, even more, market-moving than the monthly NFP data. Wednesday sees the release of the latest US CPI figures, with traders watching anxiously to see if prices are rising again or perhaps that we are finally peaking. Inflation was expected to top out in March after the widely watched index eased for the first time in eight months in April to 8.3%. But the rate of price increases is forecast to have pushed north again in June after another jump in May, propelled by soaring broad-based prices pressures.
Consensus estimates annual inflation of 8.8% last month, up two-tenths from May, while monthly consumer price growth is forecast to have risen one-tenth to 1.1%. Energy, food, shelter, and airline fares continue to rise at pace. Gasoline prices especially have moved higher again with estimates of a 9% m/m rise. The 4.5% weight in the basket may add around half a percentage point to the headline monthly figure.
The core number, which excludes volatile items like energy and food, is set to increase by 0.6%, unchanged from the print in May. The annual figure is expected to slow marginally to 5.7% from 6%. Economists say this slight slowdown is driven by the reduced impact from clothing and used cars. Indeed, they say that goods prices are under pressure, although these have a marginal weight in the CPI basket of around 10 to 15%.
Business surveys like the S&P Global PMI, which showed that companies raised their selling prices at the slowest pace in almost a year also point to a potential softening in price pressures. The rollover in commodity prices adds weight to this view.
The Fed raised interest rates last month by 0.75% in June, the most in almost three decades. Policymakers have made it clear that it is prepared to sacrifice growth by hiking rates in order to get a grip on 40-year high inflation. With another similar sized large rate move priced in for the July FOMC meeting, expectations are that consumer spending will begin to slow over the coming months.
Recent data, like the revision to the first quarter GDP numbers and the May personal consumption expenditure report have supported this narrative. A slowdown in the crucial housing market, which has a 35% weighting in the basket, would also translate into a sharply reduced contribution from shelter.
Impact on US Dollar
The dollar has recently made new multi-decade highs as risk sentiment and recession worries converge around other parts of the global economy. Any signs of easing in the inflation data will certainly slow the greenback's ascent. But sticky and elevated price pressures may still give an underlying bid to the world's reserve currency as the Fed continues to hike more than other central banks.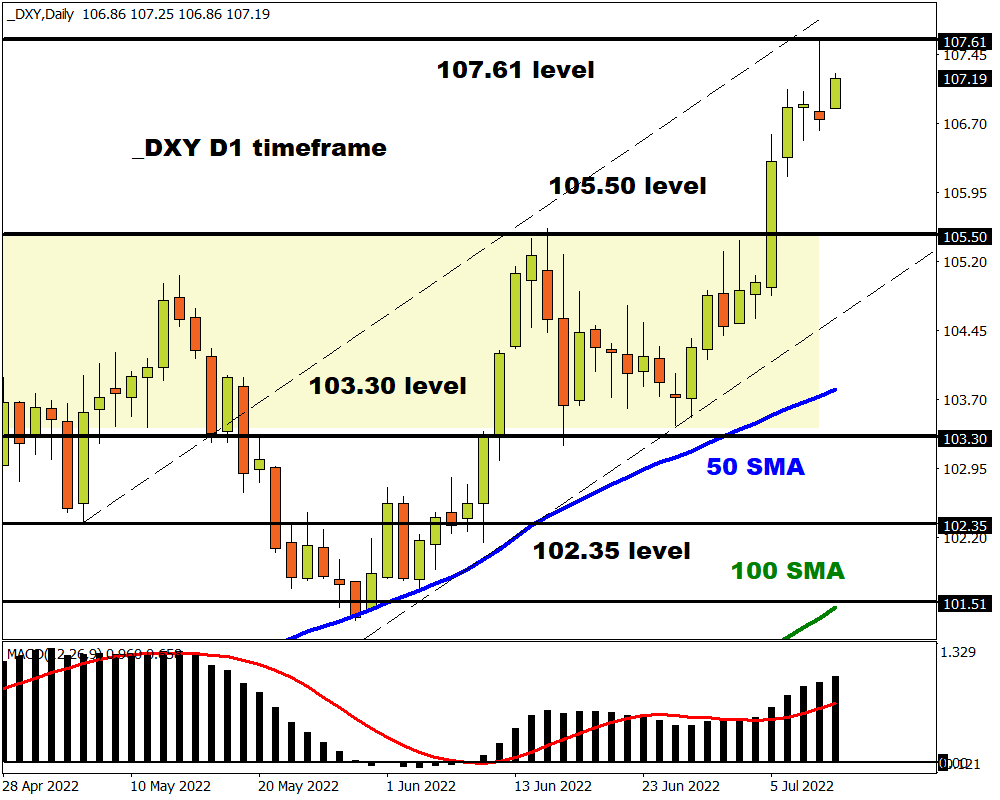 For more information, please visit: FXTM
Disclaimer: This written/visual material is comprised of personal opinions and ideas. The content should not be construed as containing any type of investment advice and/or a solicitation for any transactions. It does not imply an obligation to purchase investment services, nor does it guarantee or predict future performance. FXTM, its affiliates, agents, directors, officers or employees do not guarantee the accuracy, validity, timeliness or completeness of any information or data made available and assume no liability for any loss arising from any investment based on the same.
Don't miss a thing!
Sign up for a daily update delivered to your inbox
Sponsored Financial Content