NASDAQ 100, Dow Jones, S&P 500: Futures Rise as Debt Ceiling Agreement Boosts Market Confidence
Updated

: May 30, 2023, 02:21 UTC
•
2
min read
Debt ceiling agreement boosts U.S. stock futures, while investors monitor default concerns amid inflation and banking crisis.
Highlights
U.S. stock futures increase on debt ceiling agreement.
Nasdaq aims for a sixth consecutive gain with AI stock optimism.
Investors focus on upcoming jobs data and corporate earnings reports.
Overview
The major U.S. stock index futures contracts are edging higher on Monday night. On Saturday, the Biden administration and Republican lawmakers tentatively agreed to raise the U.S. debt ceiling. There was no trading on Monday due to Memorial Day.
At 01:00 GMT, futures linked to the Dow Jones Industrial Average are up by 57 points, or 0.17%, while S&P 500 futures rose by 0.27%. Nasdaq-100 futures are up 0.38%. Last week, both the Nasdaq Composite and S&P 500 posted gains of 2.5% and 0.3%, respectively, while the Dow Jones Industrial Average fell 1%.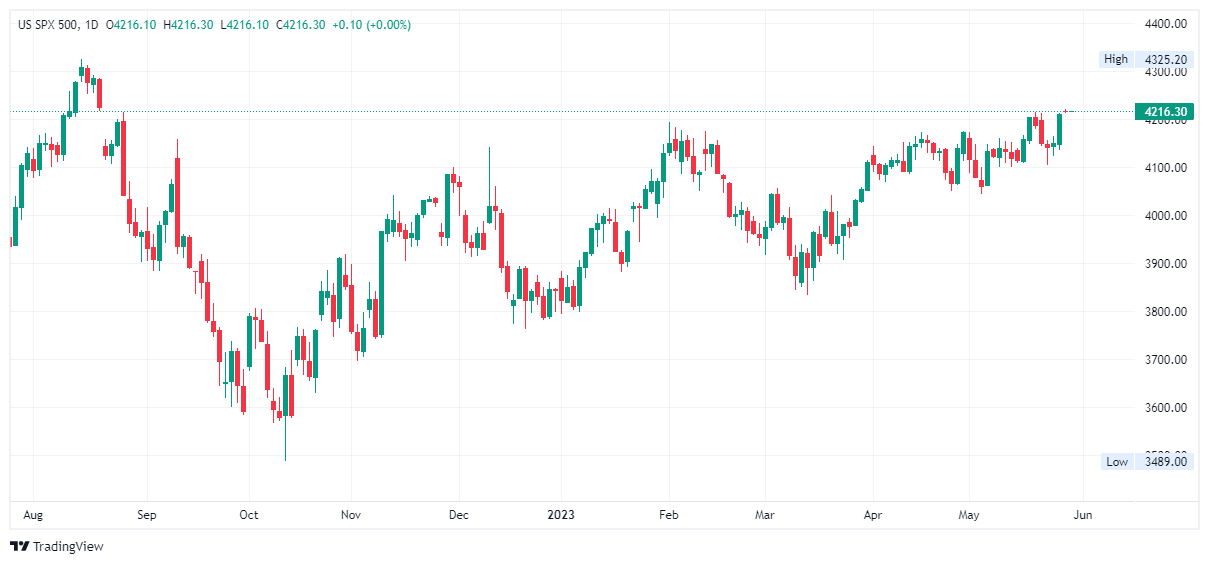 Daily S&P 500 Index
The technology-focused Nasdaq is entering the new trading week with the potential to continue its streak of five consecutive gains. The rapid surge in Nvidia's stock has added more excitement to investor confidence in artificial intelligence stocks.
Debt Ceiling Agreement Reached
President Joe Biden and House Majority Leader Kevin McCarthy reached an agreement over the weekend to raise the debt ceiling and prevent a default. Traders are expecting Congressional lawmakers to vote on the issue as early as Wednesday. At this time, there is no indication from lawmakers of any plans to return to Capitol Hill early to work on the deal.
To pass the agreement, support from both Republicans and Democrats is necessary. They reached the initial agreement over the weekend, and lawmakers have scheduled the bill for a vote this week.
Urgent Bipartisan Support Needed
House Majority Speaker Kevin McCarthy and President Biden have been engaging in an ongoing disagreement regarding the debt ceiling. However, they finally made progress last week. They made compromises on key provisions, including maintaining non-defense spending at the current level for the next two years and implementing stricter work requirements for food stamp benefits.
However, for the bill to reach President Biden's desk before the "X date" on June 5, when the Treasury Department has warned of a potential U.S. default, it will require support from both Republicans and Democrats. Just days before the "X date," they announced the agreement
Investor Concerns Rise Amid Debt Negotiations
The lengthy negotiations between the White House and congressional leaders have been raising concerns among investors about a possible U.S. debt default. In addition to dealing with persistent inflation and a banking crisis this year, Wall Street has been closely monitoring the situation.
Key Events, Earnings Reports Ahead
This week, investors will be focusing on several key events and reports. On Friday, they will be eagerly awaiting the release of the May jobs data. Additionally, on Wednesday, the Bureau of Labor Statistics will publish the April Job Openings and Labor Turnover Survey (JOLTS).
HP Inc will announce its earnings on Tuesday. This is followed by Salesforce on Wednesday. Investors are expected to closely watch these earnings reports.
Don't miss a thing!
Sign up for a daily update delivered to your inbox
Sponsored Financial Content