Oil Fundamental Forecast – December 12, 2016
Updated

: Dec 12, 2016, 01:26 UTC
•
2
min read
Crude oil futures are expected to open sharply higher on Monday after non-member oil producing countries agreed to cut production along with OPEC. If the deal works out as planned, it would represent an unprecedented level of collaboration among the major oil-producing nations. The major non-member nations agreed to a
Crude oil futures are expected to open sharply higher on Monday after non-member oil producing countries agreed to cut production along with OPEC. If the deal works out as planned, it would represent an unprecedented level of collaboration among the major oil-producing nations.
The major non-member nations agreed to a deal over the week-end to cut production along with OPEC in a pact aimed at reducing a global supply glut, increase prices and revitalize economies damaged by the two-year price slump.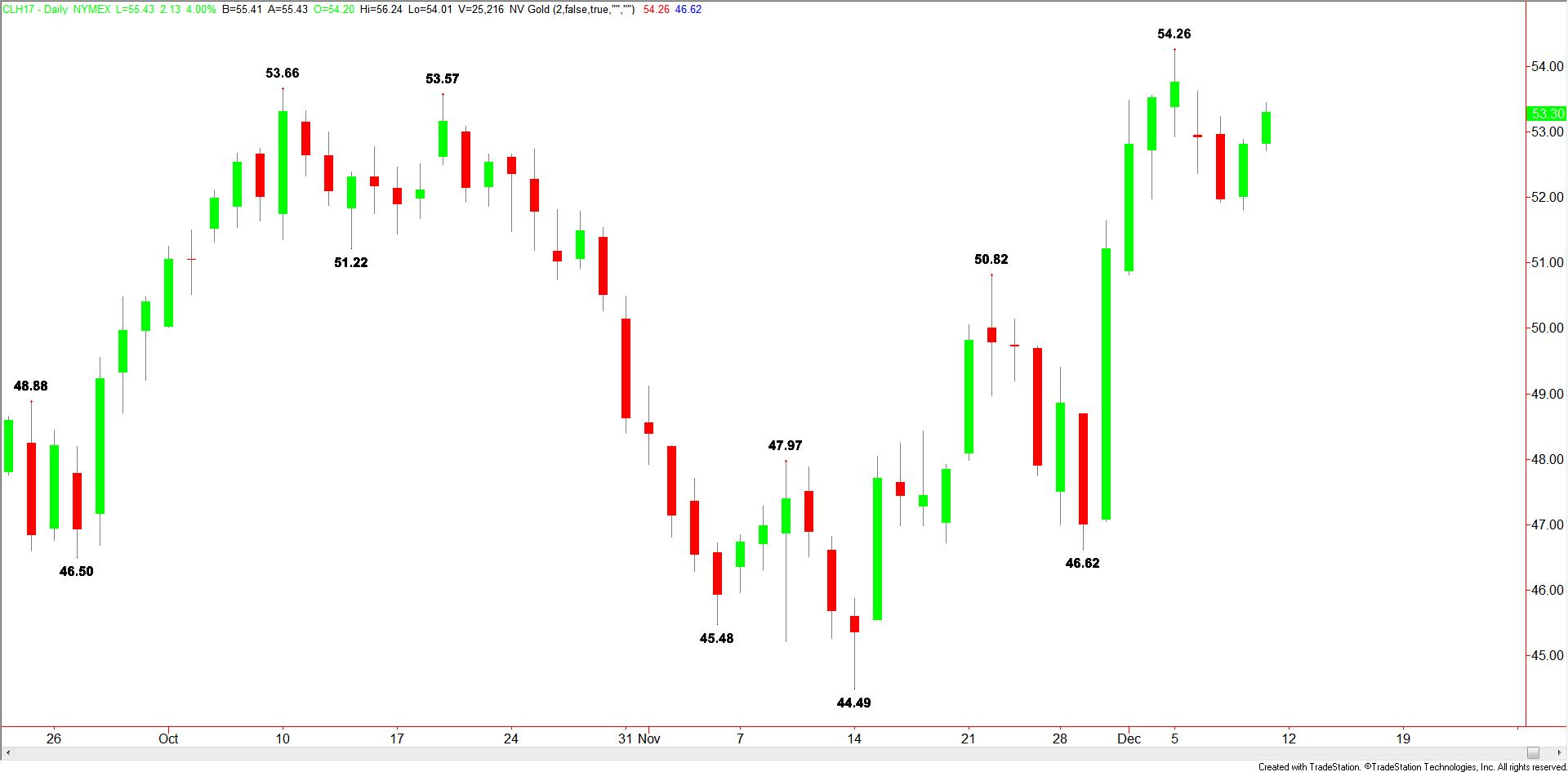 Daily March West Texas Intermediate Crude Oil
The details of the agreement are as follows: the initial plan is to remove 558,000 barrels a day of crude oil from the market. This would be in addition to the 1.2 million barrels a day in cuts already agreed to by OPEC. Adding up the numbers means OPEC is shooting for a reduction of about 2% of the global oil supply.
Russia has pledged to cut the most, about 300,000 barrels a day. Other output reductions are promised by 10 other countries, including Oman, Azerbaijan and Sudan.
The plan, if implemented properly, would be carried out over the first half of 2017.
The deal was well-received by all involved based on the comments.
"This is truly a historic event," Russian Energy Minister Alexander Novak said. "It is the first time that so many oil-producing countries from different parts of the world have gathered in one room to accomplish what we have done."
Saudi Energy Minister Khalid al-Falih said countries could count such natural declines toward the production cut. "This agreement leaves for countries to decide how to implement," he said.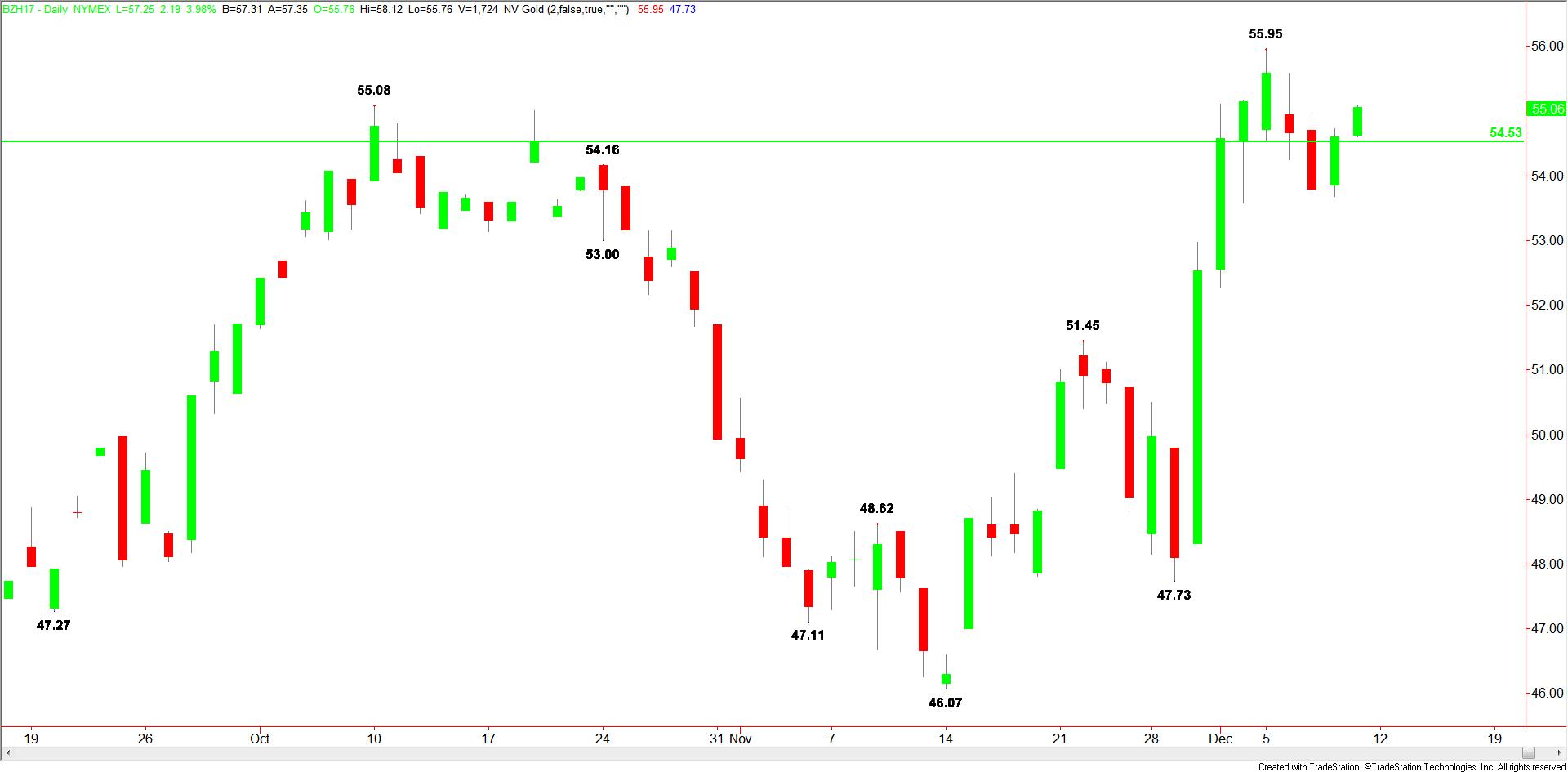 Daily March Brent Crude Oil
Forecast
Expect to see a knee-jerk reaction to the OPEC news because on paper it is bullish. It may have caught short-sellers by surprise as well as triggered speculative interest from the hedge funds. The combination of these two should create a way of buying so we expect to see a possible "gap and go" opening.
Whether the move lasts will be determined by the level of cooperation by the countries involved in the deal. OPEC members have a spotty record of enforcing their own deals, and there is no legally binding way to prevent cheating.
Skeptics are also saying there is no way to determine how much of the cuts promised in this phase of the overall agreement would have happened through natural decline rates that were expected. As of Sunday, the parties to the deal have not provided a detailed list of production cuts.
Even with the issues, we expect the bias to be to the upside with the market adhering to support and resistance levels like it normally does. There are going to be volatile swings, but overall there should be a generally bullish tone today.
Don't miss a thing!
Sign up for a daily update delivered to your inbox
Sponsored Financial Content