Regeneron Shares Rally on Heavy Demand and Strong Fundamentals
Updated

: Mar 29, 2023, 12:39 UTC
•
2
min read
Regeneron Pharmaceuticals (REGN) has been a bright spot in the market lately.
Shares have surged 10% in 2023. One big reason for the stock's rise is heavy demand for the shares.
Regeneron Shares Attract Big Money
So, what's Big Money? Said simply, that's when a stock goes up in price alongside chunky volumes. It's indicative of institutions betting on the shares.
Smart money managers are always looking for the next up-trending stock. And REGN has many fundamental qualities that are attractive.
But how the shares have been trading points to strong investor appetite. As I'll show you, the Big Money has been consistent in the shares for years.
Each blue bar signals big bullish inflows while the stock was top-ranked according to MAPsignals: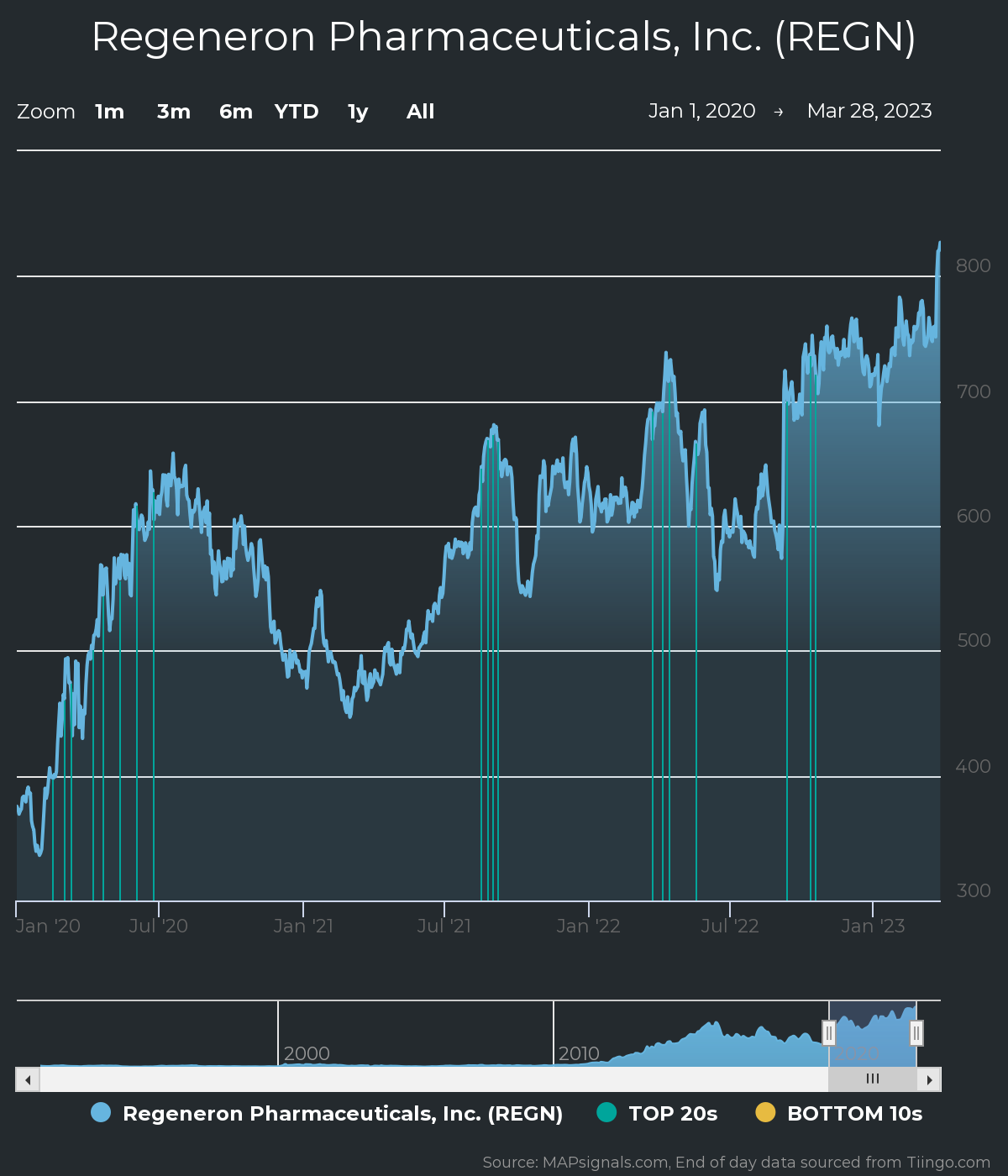 Source: www.mapsignals.com
Since 2020, the shares made our top 20 list a massive 20 times. Demand for the stock has been high. Those repeated blue bars could mean more upside is ahead.
Now, let's check out the fundamental action grabbing my attention:
Regeneron Fundamental Analysis
Next, it's a good idea to check under the hood. Meaning, I want to make sure the fundamental story is supportive too. As you can see, REGN grew sales and EPS on a 3-year basis. Take a look:
3-year sales growth rate (+24.3%)
3-year EPS growth rate (+51.8%)
Source: FactSet
Marrying strong fundamentals with technically superior stocks is a winning recipe over the long-term.
Regeneron has been a top-rated stock multiple times at my research firm, MAPsignals. That means the stock has buy pressure, strong technicals, and growing fundamentals. We have a ranking process that showcases stocks like this on a weekly basis.
Let's wrap up.
Regeneron Price Prediction
The Regeneron rally could have further to go. Healthy buying in the shares is signaling to take notice. Shares could be positioned for further upside.
Please note, shares could be extended at these levels given the large accumulation signals.
Disclosure: the author holds a long position in REGN in personal accounts at the time of publication.
Learn more about the MAPsignals process here.
Contact
Don't miss a thing!
Sign up for a daily update delivered to your inbox
Sponsored Financial Content