The Growing Importance of The Cybersecurity Sector In Light Of The Russian-Ukraine War
Updated

: Mar 20, 2022, 11:49 UTC
•
10
min read
Cybersecurity is essential for businesses, especially for critical infrastructure providers, and its importance is growing, with escalating the Russia-Ukraine conflict.
First Trust NASDAQ Cybersecurity ETF
ETFMG Prime Cyber Security ETF
Cyberattacks have long been a constant threat to the users of modern technology, and the likelihood of cyberattacks becoming modern warfare is high, as cyber weapons are viable tools that can easily disrupt a nation's power supply, electrical grid, and food supplies without any military interference. Russia's full-scale invasion of Ukraine presents the world with the most serious cyber threat it has ever faced.
The war between Russia and Ukraine stalled the global economy's recovery from the worst of two years of pandemic-related instability. Russia invaded Ukraine more than a week ago, shocking the world and putting financial systems, security alliances, and global trade under pressure.
Uncertainty and growing fear over Russia's invasion, as well as heightened market anxiety following the announcement from the United States, NATO nations, and allied countries of several economic sanctions on Russia, have impacted financial markets in the United States and other countries.
The Ukrainian crisis has escalated into a major conflict, and global companies, particularly those in sensitive and technology industries, may expect increased risks. Although the sanctions have a direct impact on Europe since it is a significant buyer of Russian energy exports, it would be naive to assume that Russia will not try to create a negative impact on other countries, particularly the United States.
The conflict with Russia and the introduction of broad sanctions will have a significant impact on the global technology industry, particularly smaller companies, which will almost surely be targeted as the war's "weak spot."
Despite the form of attack being unknown, cyber threats such as Advanced Persistent Threats (APTs), Malware, Ransomware, DDoS, Brute-force attacks, Zero-Day vulnerabilities, Code flaw vulnerabilities, Privilege escalation, Data anomalies, Network anomalies, and others have been warned about by cybersecurity agencies. Multiple Ukrainian governments and bank websites were claimed to have been damaged by a cyber-attack a week before the war began.
Over 48 hours following the invasion, suspected Russian-sourced cyber-attacks increased by over 800%. Last month, the U.S. Cybersecurity and Infrastructure Security Agency (CISA), the FBI, and the Department of Homeland Security issued a warning of the risk of Russian cyberattacks spilling over onto U.S. networks. The European Central Bank (ECB) also warned European financial institutions of the risk of Russian cyberattacks in the event of sanctions.
As cyber warfare has become an important instrument in the current global military arsenal, every enterprise, regardless of size, must move quickly to defend its information technology infrastructures. In his 2021 speech, President Biden warned that cyber-attacks might lead to a "real shooting war."
The comments highlight the intensity of cyberattacks in the past few years, which have been connected to sources in China, Russia, Iran, and ISIS-affiliated groups. Cyber threats to nations and infrastructure are on the rise, and businesses are finding themselves on the front lines of this international conflict to not only guard themselves but also the country.
The cybersecurity threat is real
In 2017, the devastating 'NotPetya' cyber-attack, which was blamed on Russia, damaged sectors of Ukraine's infrastructure and took down thousands of systems in many nations. The United States estimated total losses from the NotPetya hack to be north of $10 billion, with A.P. Moeller-Maersk, one of the world's largest shipping corporations, losing roughly $300 million.
76 ports throughout the world were affected by the attack, including those in the Netherlands, Spain, and Los Angeles, and more than 4,000 servers, 45,000 personal computers, and 2,500 applications had to be immediately reinstalled.
In February 2022, there were 83 data breaches and cyber-attacks, accounting for 5,127,241 breached records, according to IT Governance UK. The department noticed a wave of security incidents in the closing days of February that were either directly or indirectly related to the Ukraine crisis. The discovery of "wiper" malware last week in Ukraine, which permanently deletes data on infected systems, has intensified a rush by businesses to strengthen their defences in case it spreads to other countries.
Microsoft's Threat Intelligence Center (MSTIC) also discovered offensive and destructive cyberattacks directed against Ukraine's digital infrastructure several hours before the military attack began on February 24. In addition, the known criminal ransomware group, which was responsible for a major attack on Ireland's healthcare system last year, claimed that it was offering the Russian government "full assistance" and would use its resources to "strike back at an enemy's important infrastructures."
The growth of Russian-based companies or companies with any kind of Russian connection that has a significant market share within the U.S. or Russian software firms that generate a major share revenue from products and services in the U.S., EMEA, and Asia, can also result in an increase in cyber threats.
Evan Koronewski, a Canadian columnist and political journalist, said, "Russia has significant cyber capabilities and a demonstrated history of using them irresponsibly." As cyber warfare is intensifying, governments urged critical infrastructure groups such as financial institutions, pipelines, aviation, and electricity companies to prepare for the possibility of attacks from Russia.
With the motto "shields up," the U.S. Cybersecurity and Infrastructure Security Agency also warned of consequences for the nation's vital infrastructure, asking U.S. corporations to strengthen their infrastructure security. Companies must strengthen their cybersecurity resilience by updating systems, enabling multifactor authentication, and backing up data, according to the National Cyber Security Centre (NCSC) in the United Kingdom. The Canadian government is also providing cyber support to Ukraine including intelligence sharing, cyber security, and cyber operations.
The cybersecurity sector seems primed for growth
Organizations preparing for potential cyberattacks have recently expressed interest in the sector, and the increased geopolitical interest is expected to put upward pressure on cyber budgets. In 2021, France launched a cyber strategy with a total investment value of €1 billion, including €720 million in public funding, to triple the industry's turnover from €7.3 billion to €25 billion, double the number of jobs in the sector from 37,000 to 75,000, and create three French cybersecurity unicorns.
The proposed budget of U.S. President Joe Biden includes $9.8 billion for all civilian cybersecurity activities, nearly half of which is devoted to protecting and improving federal IT systems and networks. On March 02, Governor DeSantis of Florida announced $20 million in funding to create and expand cybersecurity and IT training opportunities while also emphasizing that the global shortage of cybersecurity professionals is anticipated to be over 2.7 million, with approximately 22,000 cybersecurity-related jobs vacant in Florida.
According to ReportLinker, the Global Cyber Security Services Market size is expected to reach $178 billion by 2027, rising at a compounded annual growth rate (CAGR) of 9. 8 percent.
Even if the Ukraine conflict subsides, the importance of cyber-security will not diminish. This sector's growth will be fuelled by the migration to hybrid or fully remote work options. The work shift that began in 2020 in response to public health emergencies is projected to continue in 2022 and coming years. Post-pandemic, many business owners have decided to either stay a remote-first company or transition to a hybrid model, with remote work as part of their corporate culture.
According to a study by Ladders Inc., by the end of 2022, one-fourth of professional roles, largely in the United States, will be remote, up 18% from the end of 2021, implying that more than 20 million jobs will not be returning to the office in the post-pandemic world. Because of the present hybrid work environment, employees will be connecting personal laptops to the corporate network, creating an opening for cybercriminals.
Home offices are less secure than corporate offices that are centralized with more secure firewalls and managed by IT professionals. As a result, focusing on the security problems of distributed workforces is a critical cyber security trend.
Furthermore, the growing Internet of Things (IoT) concept and the increasing number of businesses migrating to the cloud for the ease of scaling, adapting, managing, and automating activities will result in an increase in cybercrime risks. By 2026, there will be 64 billion IoT devices installed around the world, driven primarily by the shift to remote work.
Figure 1: Cyber-attack threat scenarios and potential worst-case impact on businesses worldwide in 2021, by category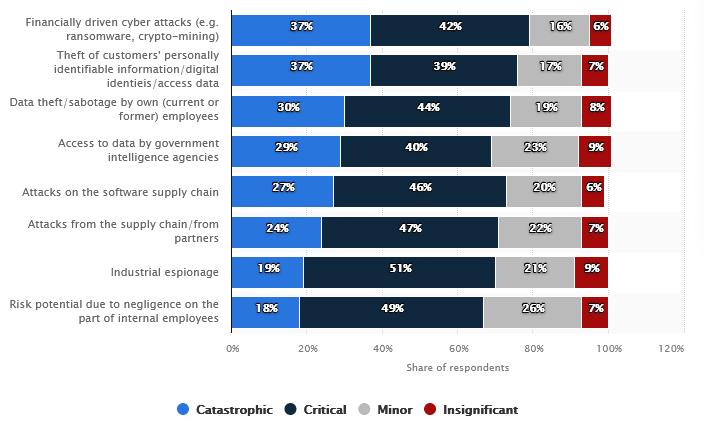 Source: Statista
The demand for cybersecurity will only grow as more devices and computers become connected to the Internet. The use of AI and machine learning is going to boost the market growth of cybersecurity providers while increasing the demand for intelligent security software solutions, data protection, and cost-effective data management services.
AI has played a critical role in the development of advanced, automated security systems and autonomous threat detection, as it allows for the analysis of large amounts of data at a much faster rate, which benefits both large companies dealing with massive amounts of data and small and mid-sized businesses with limited resources. The revenue in the Cybersecurity market is projected to reach $146.3 billion in 2022.
Figure 2: Cybersecurity market revenue by segment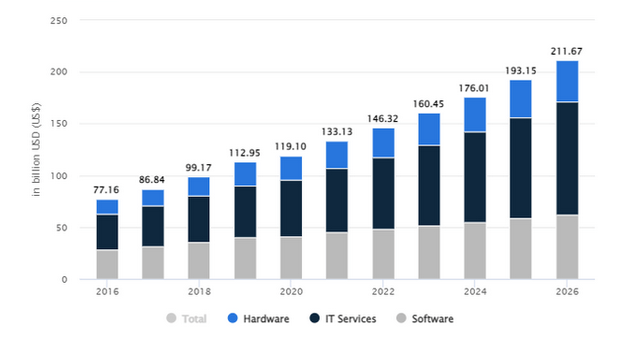 Source: Statista
This favourable outlook for the cybersecurity industry will help companies in this sector grow exponentially in the coming years, and it would be reasonable to expect a stellar stock market performance from this sector in the coming years.
Companies to look out for
Wall Street stocks have fallen following Russia's invasion of Ukraine, but this catastrophic event has boosted cybersecurity stocks as investors have become concerned that the conflict could lead to a significant number of cyber threats. So far in 2022, the cyber-security sector has outperformed the software industry, with analysts expecting increased spending on security-related services as businesses and companies prepare for cyber warfare amid a rush to build cyber defences.
Since February 23, a day before the Russian invasion, the First Trust NASDAQ Cybersecurity ETF has gained 10.6 percent, while the ETFMG Prime Cyber Security ETF has gained 9.5 percent. The demand for cybersecurity is growing as the adoption of digitization and technological advancements necessitate securing critical information, networks, and programmes from digital threats. The majority of cyber-attacks aim to gain access to or harm sensitive data.
Cybercrime has progressed in line with technological advancements, making cyber-security deployment more difficult. Russia's RT and Sputnik accounts were recently blocked by Alphabet Inc.'s Google (GOOG), Microsoft Corporation (MSFT), and other tech companies, preventing Russian official media from utilising and propagating falsehoods.
Companies like NortonLifeLock Inc. (NLOK) and CrowdStrike (CRWD) are anticipated to witness increased revenue as a result of the ongoing conflict. Hub Cyber Security Israel Ltd (HUB), a computing solutions provider based in Israel, is also reinventing cyber security with quantum-powered confidential computing.
The company aims to protect sensitive commercial and government information operating through three segments including Consulting Software, Training, and Software Testing and Outsourcing. Hub Security recently signed a strategic alliance with Getronics, a global ICT integrator, in December 2021 to provide secure compute protection to banks and organisations in the EU, Latin America, and the Asia Pacific.
Cybersecurity stocks are likely to continue to outperform other software stocks with investors betting the demand for these products will remain at elevated levels as a result of fears that cyber warfare will spread to computers around the world, as well as policymakers' efforts to strengthen IT systems and networks.
Conclusion
Cybersecurity has long-term benefits, and it's more important than ever to identify threats, secure resources over different networks, protect data when it's delivered to partners and customers, be ready to safely recover when things go wrong, and ensure operations remain unaffected in the face of adversity.
Cybersecurity is essential for businesses, especially for critical infrastructure providers, and its importance is growing, with escalating the Russia-Ukraine conflict. For months, intelligence services have warned that Russia's assault on Ukraine would be backed by cyberattacks, including repeats of infrastructure attacks that made businesses invest more in their infrastructure security.
Don't miss a thing!
Sign up for a daily update delivered to your inbox
Sponsored Financial Content