XRP News: Ripple's Tightrope: SEC Appeal Decision and FTX Market Tremors
Published

: Sep 12, 2023, 02:28 UTC
•
5
min read
As the SEC-Ripple lawsuit shadows the market, investors anticipate a crucial appeal ruling that may reshape XRP's future
Key Insights:
XRP saw a significant dip, marking its first below $0.48 post the Programmatic Sales ruling.
FTX's potential $200 million crypto sell-off on Sep 13 may destabilize the market.
SEC Chair Gary Gensler faces scrutiny amidst FTX collapse and Grayscale, Ripple losses.
Monday's Overview of XRP
XRP slid by 4.65% on Monday, ending the day at $0.4741, which marked its first close below $0.48 since the Programmatic Sales ruling.
FTX Asset Sell-Off Threatens Market Stability
Investors responded to the latest news from the FTX saga. Reports of FTX preparing to sell $200 million in cryptos on September 13 impacted buyer appetite. Widely followed Fomocap shared FTX crypto holdings as of January 17, saying, "sale is coming."
According to the breakdown of crypto holdings, FTX holds at least $685 million solana (SOL), $268 million bitcoin (BTC), and $29 million XRP.
An increased flow of XRP to exchanges for sale would increase supply, adversely impacting price levels.
SEC v Ripple Uncertainty Remains a Headwind
The SEC v Ripple case took a backseat today with no updates to consider. However, XRP underperformed relative to the broader market. Uncertainty toward the outcome of the SEC motion for interlocutory appeal weighed on buyer appetite. A ruling in favor of the SEC would adversely affect XRP.
Investors await a Judge Torres ruling on the SEC motion. Crypto investors may feel increased angst if Judge Torres grants the SEC motion. An interlocutory appeal would leave XRP in limbo for another year and likely extend the SEC v Ripple case beyond 2024.
CryptoLaw founder and Amicus Curiae attorney John E. Deaton has been actively involved in the ongoing SEC v Ripple case. Deaton has also closely followed the FTX saga.
John E. Deaton Reflects on SBF v Brad Garlinghouse
While FTX grabbed the news headlines, CryptoLaw founder and Amicus Curiae attorney John E. Deaton reflected on the current market dynamics, saying,
"It is sad and ironic that Sam Bankman-Fried was heralded as Crypto's Savior, while some in the industry, including customers and proponents of Fortress, like Cory Klippsten, accused Ripple and Brad Garlinghouse of being the bad guys, despite a 2.5-year extensive SEC investigation that found not a single chargeable count of fraud or misrepresentation."
Deaton went on to say,
"SBF got multiple private meetings with Gary Gensler and the SEC, and was rumored to be close to cutting some sort of short-form deal with Gensler. SBF now sits in jail, awaiting trial, after stealing billions from innocent investors. He turned out not to be Crypto's savior but instead, Crypto's Bernie Madoff."
Deaton concluded,
"Of course, Ripple and Garlinghouse got sued and it cost them $200 million in legal fees. And now, it's Ripple who has made customers of Fortress whole. I wonder what Garlinghouse could've done with that $200M, if not spent defending the lawsuit?"
Coinbase is another SEC target, with the SEC v Coinbase case ongoing since June 2023.
SEC v Coinbase Hangs in the Balance
On Monday, there were no SEC v Coinbase (COIN) case-related updates for investors to consider. The lack of news left investors in limbo. A Judge Failla ruling on the Coinbase motion to dismiss (MTD) remains pending. The SEC charged Coinbase for allegedly operating as an unregistered crypto broker, exchange, and clearing agency.
While Coinbase battles it out with the SEC on its home turf, Coinbase progresses with expansion plans beyond US borders.
SEC Chair Gary Gensler in the Spotlight
Investors await pending Court rulings in the SEC v Coinbase and SEC v Ripple cases. Court rulings would materially impact XRP and the broader market.
However, later today, SEC Chair Gary Gensler gives testimony at a House Committee on Banking and Urban Affairs hearing on the oversight of the US Securities and Exchange Commission.
The collapse of FTX, losses to Grayscale and Ripple, and the pending ruling on the Coinbase MTD puts the SEC Chair in a precarious position.
XRP Price Action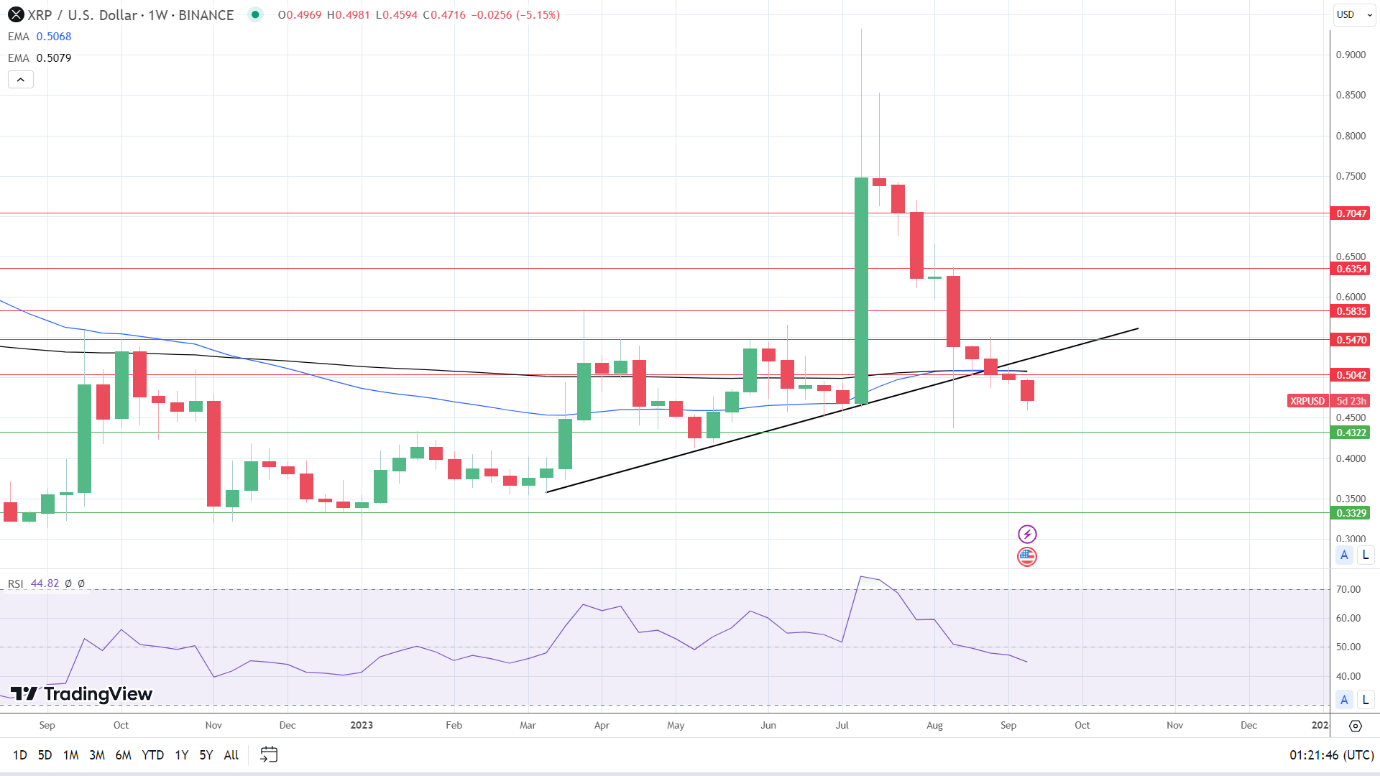 XRPUSD 120923 Weekly Chart
Daily Chart
XRP sat above $0.45 and the $0.4322 support levels. However, XRP remained below the trend line and the 50-day and 200-day EMAs, sending bearish price signals.
Investor uncertainty toward the outcome of the SEC motion for interlocutory appeal remains a headwind. However, US lawmaker scrutiny of SEC Chair Gary Gensler and SEC v Coinbase-related news also needs consideration.
A break above the $0.5042 resistance level would bring the trend line and 200-day EMA into play. Favorable Court rulings would drive buyer appetite. However, we expect selling pressure at $0.5220, with the 200-day EMA confluent with the trend line.
Adverse crypto news would leave XRP under pressure. If XRP falls to $0.45, the next support level to watch is $0.4322.
The 26.71 14-Daily RSI reading indicates XRP in oversold territory. However, Ripple or Coinbase case-related news would leave XRP at risk of heavier losses.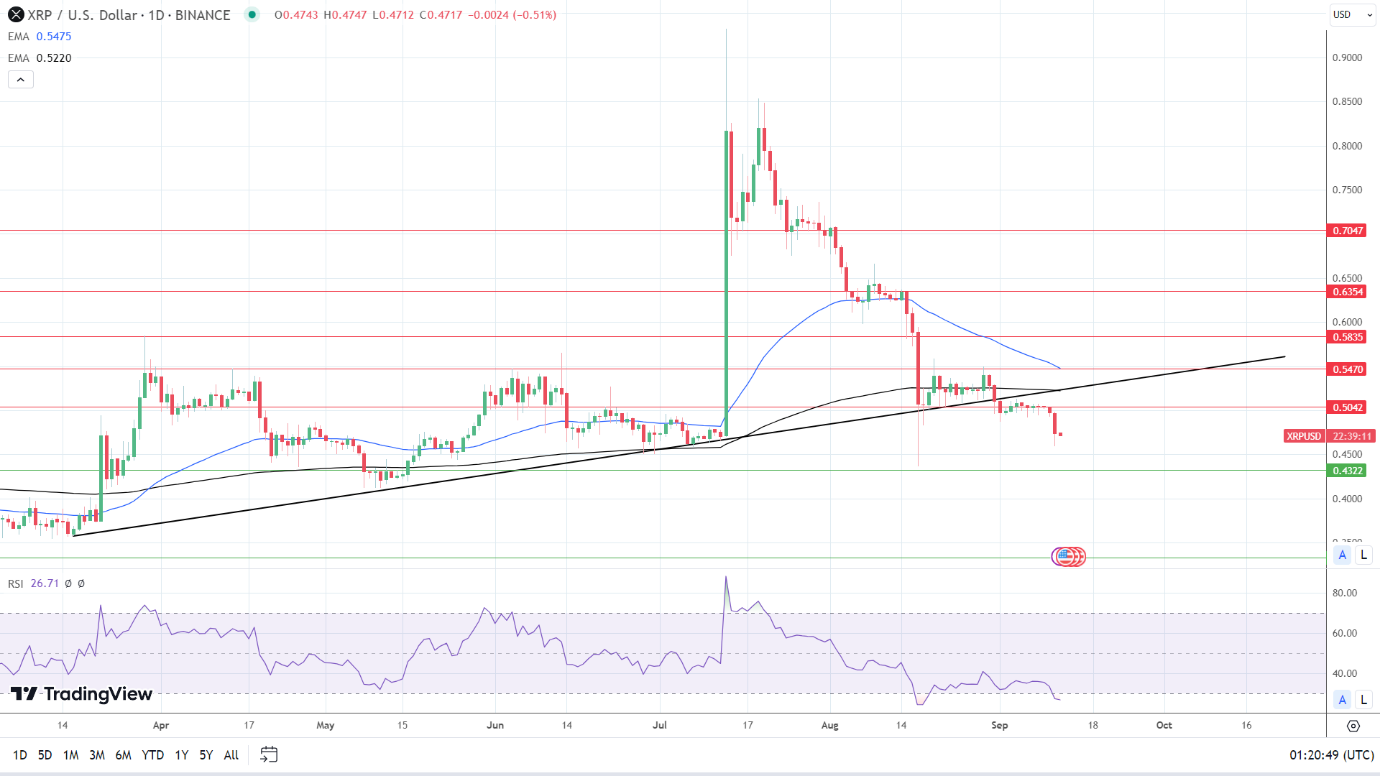 XRPUSD 120923 Daily Chart
4-Hourly Chart
XRP remains below the 50-day and 200-day EMA, reaffirming the bearish price signals. Despite the Monday sell-off, XRP avoided sub-$0.45. However, negative sentiment toward the FTX asset sale and uncertainty toward the US motion to appeal will bring the $0.4322 support level into play.
A break above the 50-day EMA would give the bulls a run at the $0.5042 resistance level. XRP would need positive updates from the ongoing Coinbase and Ripple cases to support a breakout.
The 14-4H RSI 27.52 reading shows XRP is in oversold territory.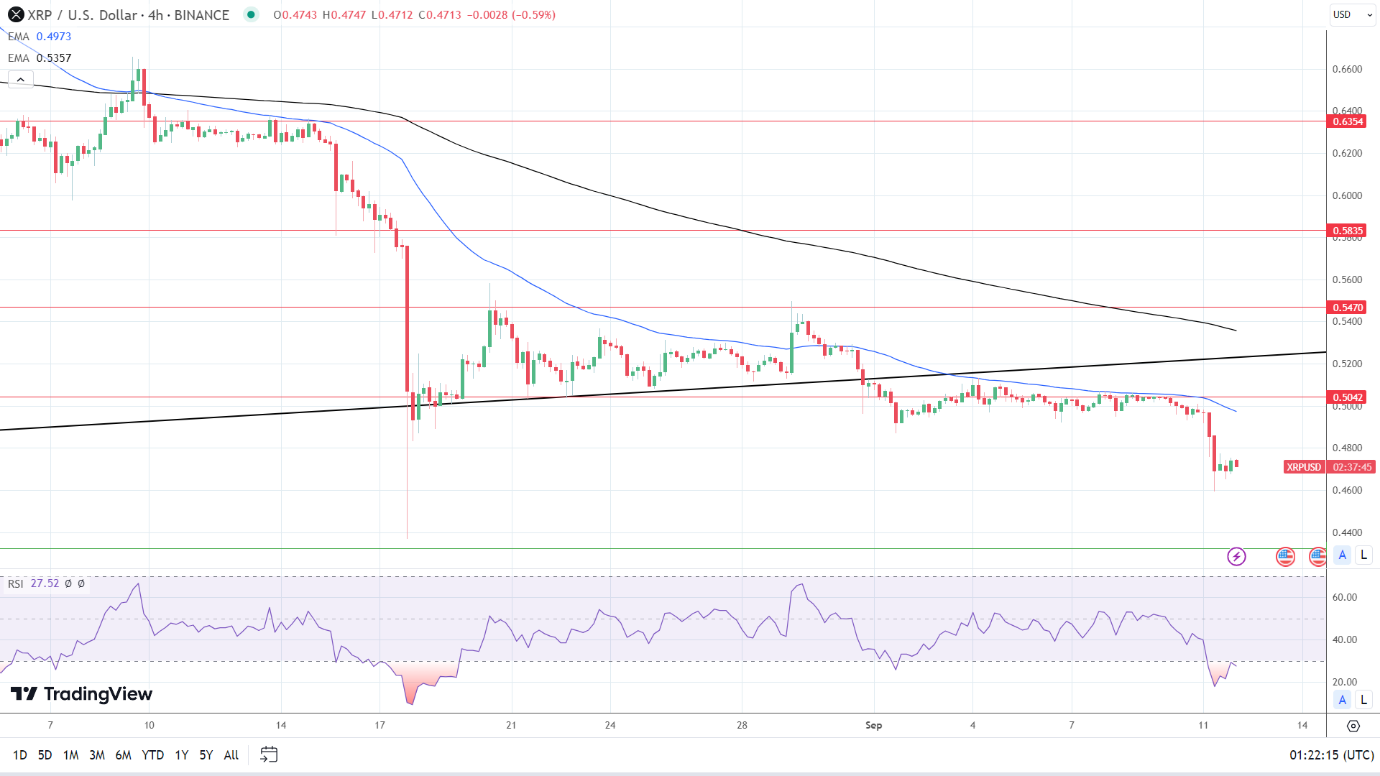 XRPUSD 120923 4-Hourly Chart
Don't miss a thing!
Sign up for a daily update delivered to your inbox
Sponsored Financial Content