5 Things to Know in Crypto Today: ETH Merge Sinks the Market
Published

: Sep 15, 2022, 23:47 UTC
•
3
min read
It is a bearish Thursday session for the crypto market, with the Ethereum Merge and other bearish news sending the broader market into the red.
Key Insights:
The heavily anticipated Ethereum (ETH) Merge took place today, with no reports of any immediate hiccups
Despite the crypto event of the year, investors are bearish, with the crypto market cap down by $41.8 billion to $922 billion.
However, Celsius (CEL) was in breakout mode on news of restructuring plans before succumbing to crypto market forces.
The Ethereum (ETH) Merge Took Place Seamlessly
On Thursday, the Ethereum (ETH) Merge took place, with Ethereum seamlessly moving to a Proof-of-Stake (PoS) protocol.
Market anticipation of the crypto event of the year saw ETH return to $2,000 in August before settling at a pre-Merge $1,650.
However, investors jumped ship post-Merge, with ETH down 9.5% to $1,484.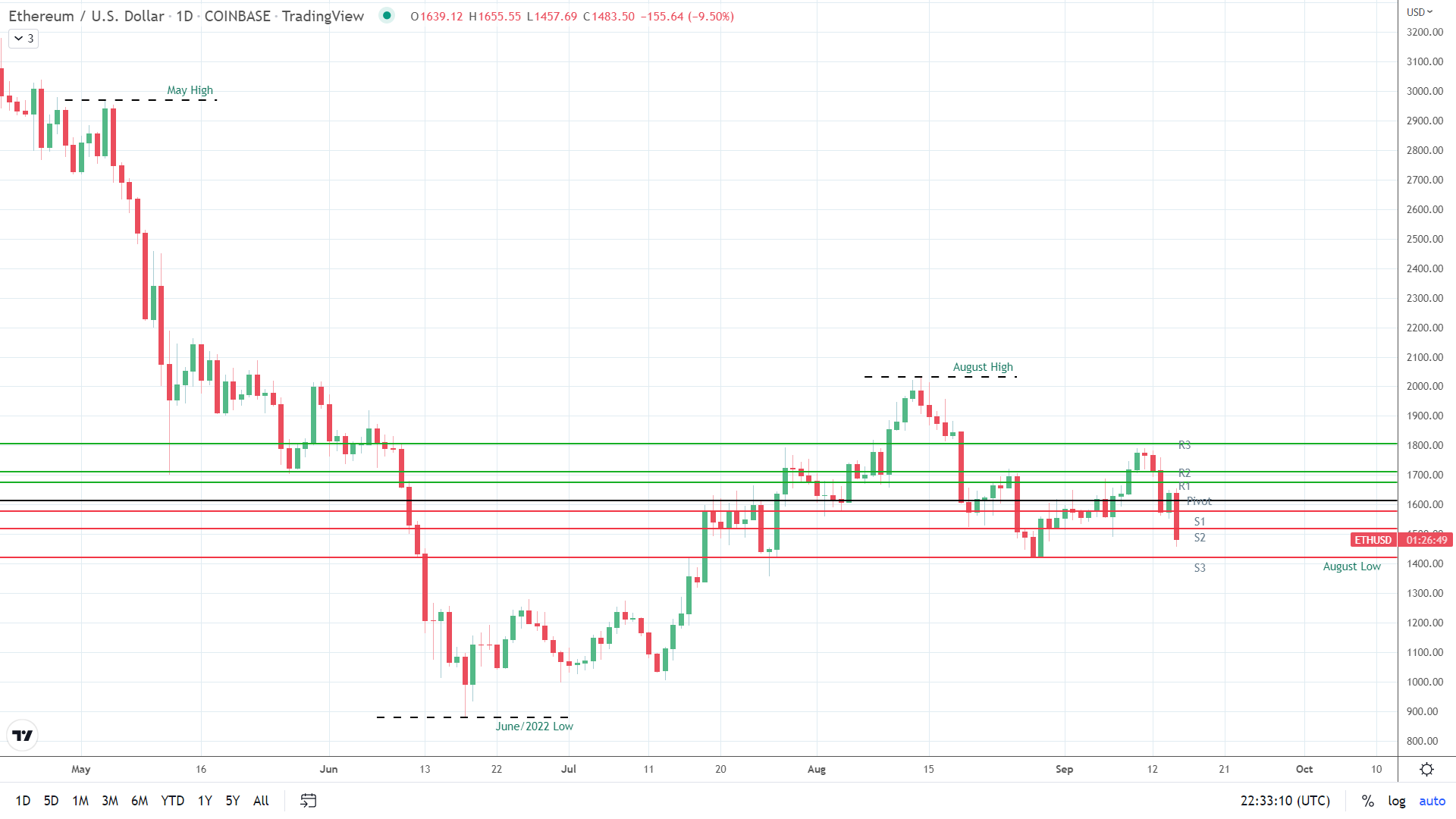 ETHUSD 150922 Daily Chart
Other Merge-linked coins were also deep in negative territory. Ravencoin (RVN) was down 21.8%, with ethereum classic (ETC) down 8.31%. Things were not much better for Lido DAO (LDO), which was down 7.20% with 60 minutes of the Thursday session remaining.
The post-Merge sell-off left the total crypto market cap down $41.8 billion to $922.13 billion.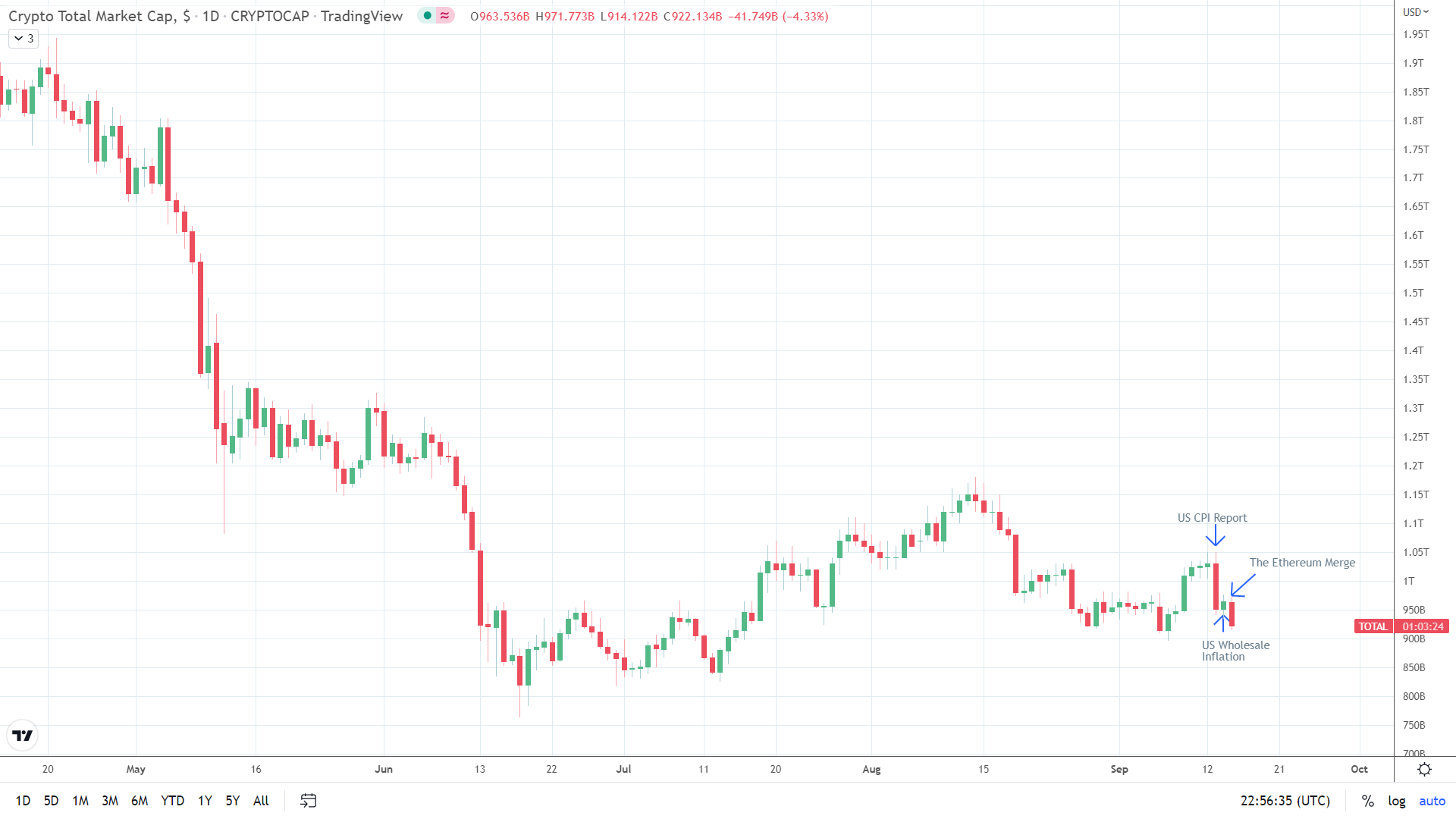 Crypto Market Cap Daily Chart 150922
Celsius Plans a Business Resuscitation
After freezing withdrawals and filing for bankruptcy in July, Celsius has been in restructuring mode. Since the filing, Celsius received Court permission to generate revenue via crypto mining facilities to support withdrawal demands.
The latest news is a plan to shift from lender to crypto custodian. Celsius plans to introduce a fee structure to drive revenue streams from different types of transactions.
Market reaction to the news was bullish, with Celsius (CEL) rallying 35.8% to a Thursday and September high of $2.50 before falling into the red.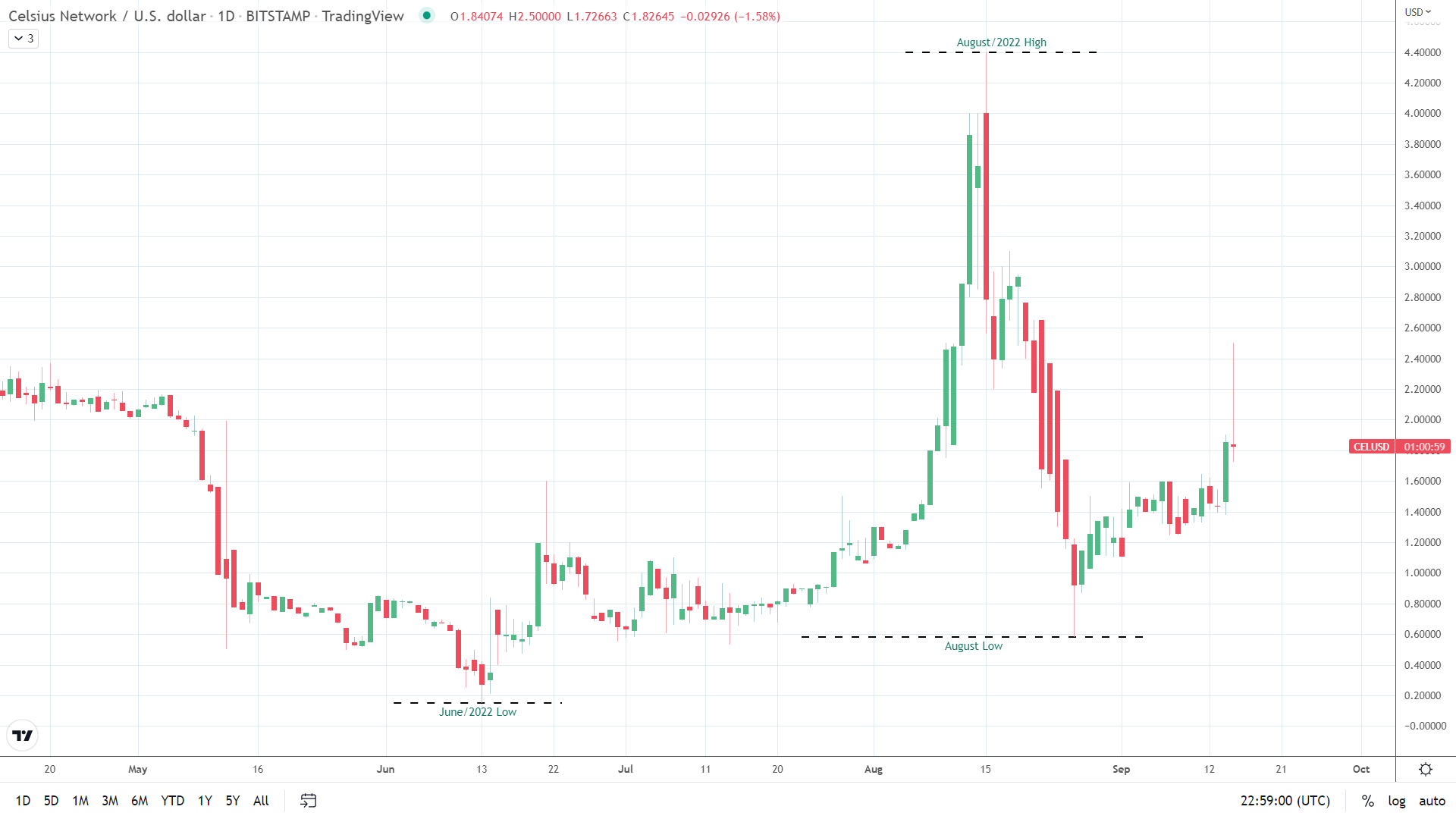 CELUSD 150922 Daily Chart
South Korea Issue Terra Labs Founder Arrest Warrant
This week, news hit the wires of South Korea issuing a warrant for the arrest of Terra Labs founder Do Kwon. Investors' reaction to the news was brutal, with LUNA (LUNA) and Terra Classic (LUNC) paying the price. In addition to the arrest warrant, there was news of the authorities applying to invalidate Do Kwon's passport.
In recent weeks, LUNA and LUNC had found strong support before a retrace from September highs.
Late in the Thursday session, LUNA and LUNC were down 15% and 12%, respectively.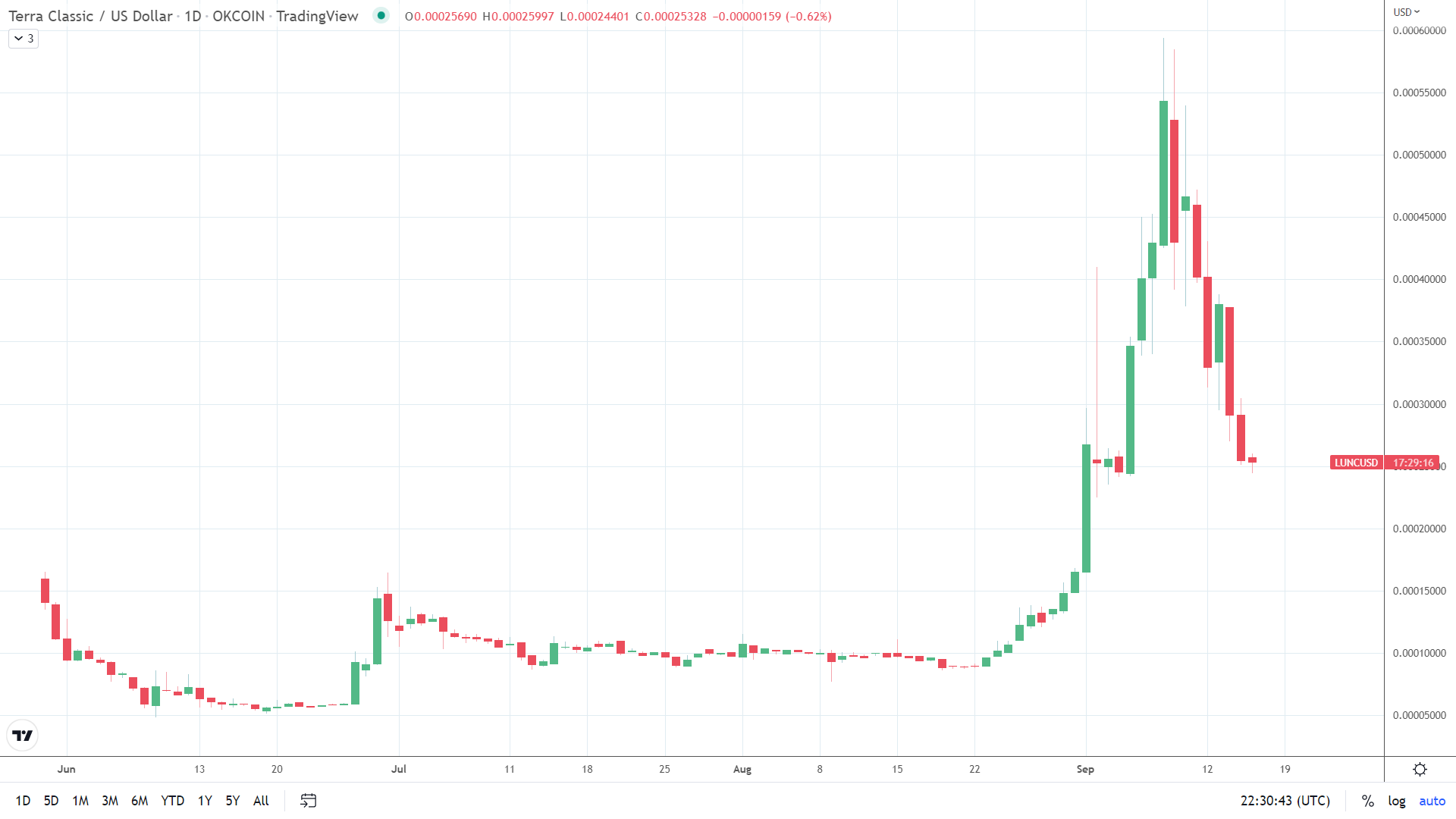 LUNC 150922 Daily Chart
Fed Fear Subsides Following US Wholesale Inflation Figures for August
Following Tuesday's US CPI report, market angst over a percentage point Fed rate hike eased ahead of the Friday session.
Softer US wholesale inflation figures and disappointing Philly Fed Manufacturing PMI and retail sales figures appear to have shut the door on a more hawkish move.
The shift in sentiment provided pre-Merge crypto market support.
Currently, the split between a 75-basis point and percentage point rate hike is 80% to 20% in favor of a 75-basis point hike. Ahead of Thursday's retail sales and Philly Fed numbers, the split had stood at 75% to 25% in favor of a 75% basis point hike.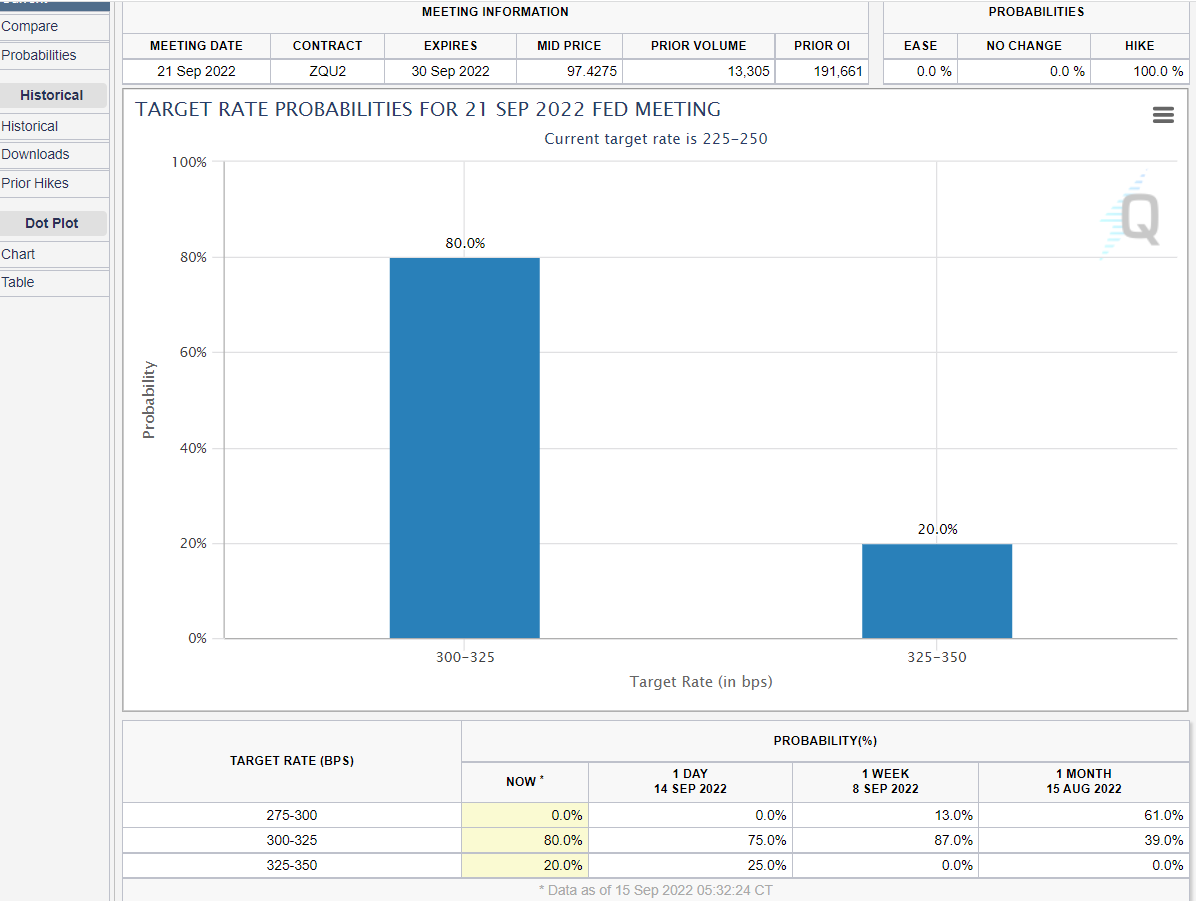 FED Rate Hike Bets 150922
China and Vietnam Show Asia's Crypto Adoption Footprint
This week, Chainalysis released its latest crypto adoption rankings, and China appeared in the top ten, despite the government crackdown on cryptos.
Vietnam ranked first, the US fifth, and China tenth.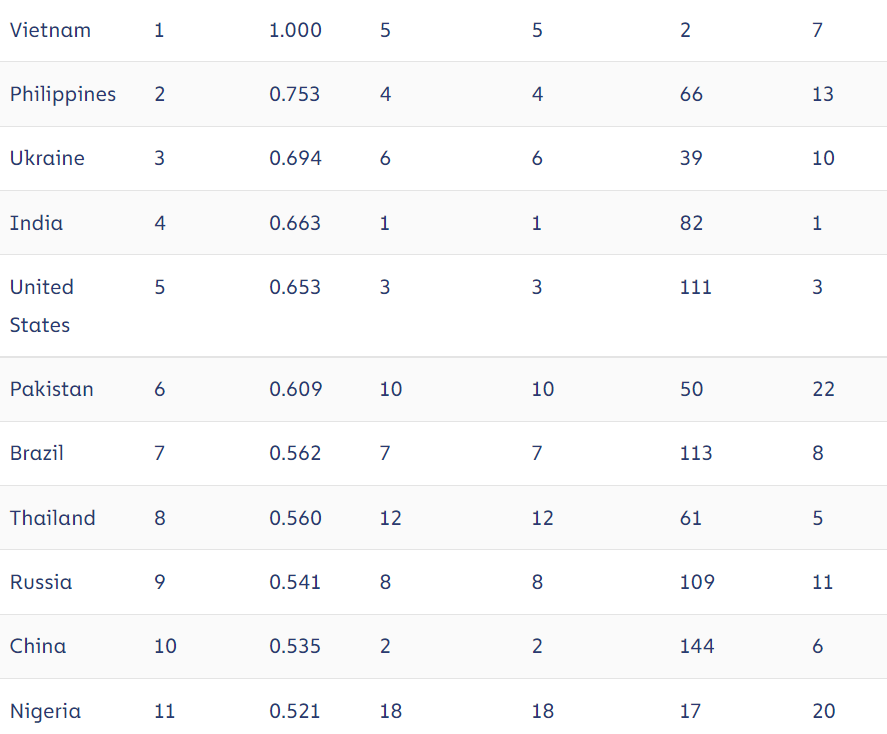 Chainalysis rankings 160922
According to the September report, global adoption plateaued in the last year after steadily rising since 2019.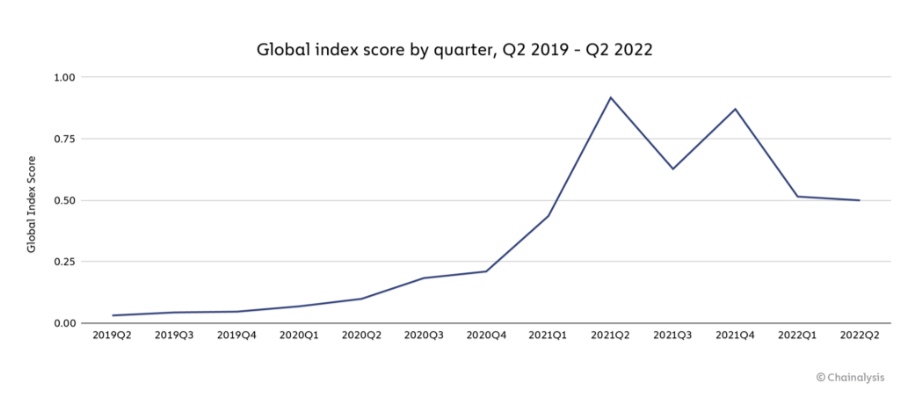 Global Index Score Quarterly
The movements in the Global Index score reflected the impact of the crypto winter on adoption rates. Adoption rates may become another headwind for the crypto market.
Don't miss a thing!
Sign up for a daily update delivered to your inbox
Sponsored Financial Content