After SundaeSwap, Cardano Prepares for Next DEX's Launch This Month
Updated

: Feb 18, 2022, 20:25 UTC
•
2
min read
In a series of tweets, Cardano's development team highlighted the project released this month, while also mentioning an upcoming dApp.
Input Output Hong Kong (IOHK), the crypto company behind Cardano, mentioned multiple smart contract protocols today while highlighting the network's rapid growth.
Projects ranging from wallets to multiple DEXs as well as lending and borrowing protocol have witnessed consistent development this month.
DeFi on Cardano
The project which grabbed eyeballs was OccamX, a decentralized exchange (DEX) that has been prepared for a launch this month.
Along with the DEX, a native token called OCX will also be launched which is going to serve as the incentive unit powering in-ecosystem agent interaction.
(1/2)
🗣️We have BIG news!🗣️

🚀The #OccamX DEX is set to launch this month in partnership with @Milkomeda_com!🚀

Make sure to read the latest update to discover more about the #DEX, $OCX tokens and their distribution ➡️https://t.co/18aHkDN3bk pic.twitter.com/Mhx8OuOUOz

— OccamX (@occamDEX) February 4, 2022
However, of the 100 million OCX in circulation only 30% will be released to the community with 50% set aside for future use, and the remaining 20% is planned to remain with the Occam team.
Apart from OccamX, Cardano also witnessed the launch of the MADAX Metaverse on Cardano.
A new wallet called Flint launched its website as well as released its latest version just today and another wallet Yoroi also enabled their wallet dApp connector abilities to integrate it with other Cardano dApps.
Cardano's first-ever stablecoin Djed, issued by Coti partnered with a decentralized, cross-chain lending and borrowing protocol called Paribus. In doing so Coti ensures Djed integration into the dApp's collateral pool.
Finally another AMM – DEX built on the Cardano network called the DOEX announced that they were getting closer to launching their testnet within a few days.
The growth of DEXes on the blockchain will certainly serve as healthy competition to the blockchain's most successful DEX SundaeSwap. Since its launch last month, the protocol has managed to rise by 185% currently holding $124.5 million in total value.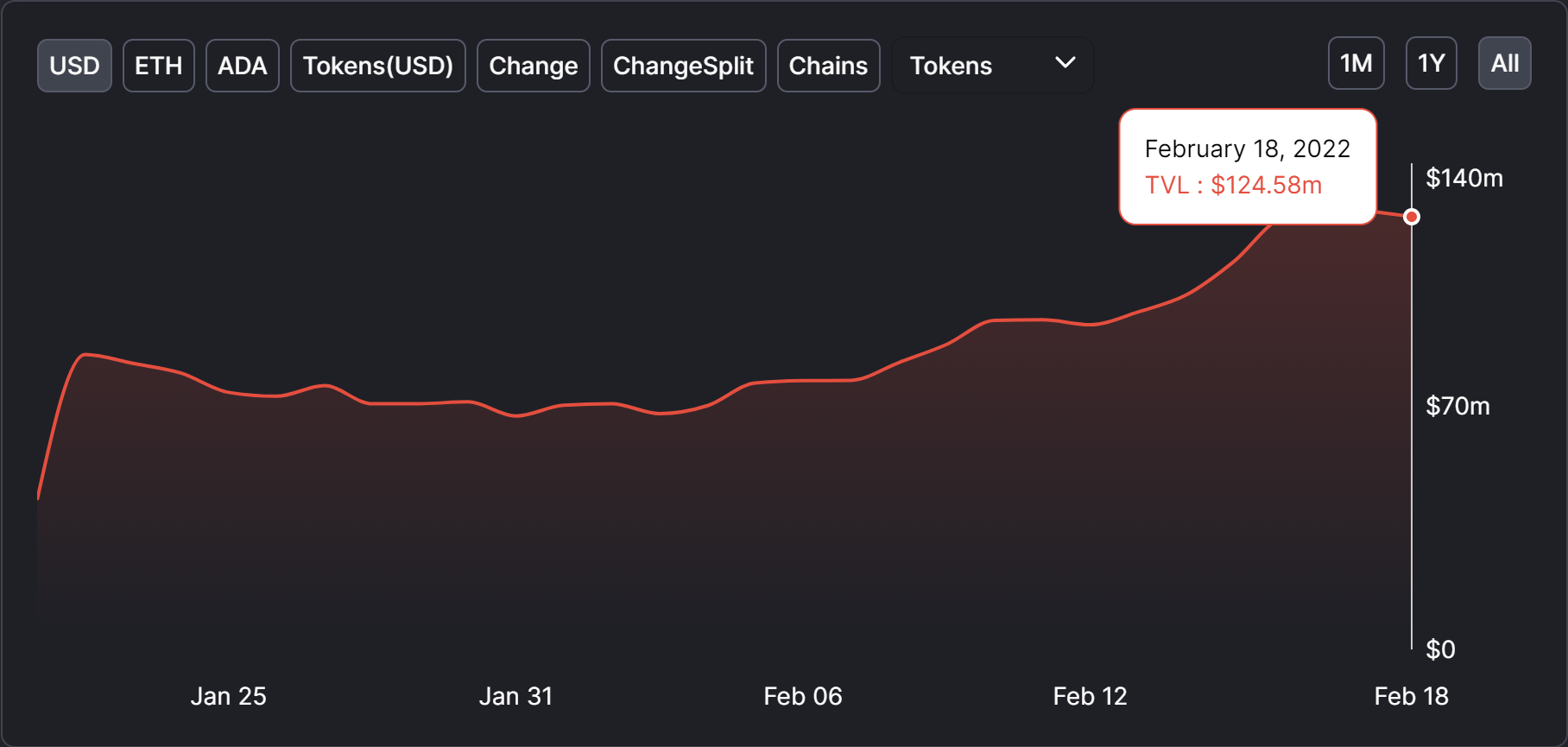 SundaeSwap's TVL has risen by 185% in a month to touch $124.58 million | Source: DeFi Llama
Cardano Looks Onward
Although the creator of Cardano Charles Hoskinson had nothing to say about the myriad of developments, his ideals certainly sit in line with the direction the development team has taken.
Just today the Cardano Foundation onboarded the current CEO of SBI Digital Asset Holdings, Fernando Luis Vázquez Cao to its Board of Directors.
Fernando is set to help and guide the team towards their goal of de-risking decentralization for the regulators and organizations to provide opportunities for those who plan at bringing positive global impact.
Don't miss a thing!
Sign up for a daily update delivered to your inbox
Sponsored Financial Content