Five Things to Know in Crypto This Week: SBF and XRP in the News for Different Reasons
Published

: Nov 4, 2023, 01:08 UTC
•
5
min read
Bitcoin spot-ETFs, XRP and Ripple, the WSJ article, and the SEC were in the spotlight. The Sam Bankman-Fried verdict got the Friday headlines, however.
Key Insights:
BTC-spot ETFs remained a focal point, with more optimistic projections pointing to a November approval.
XRP and Ripple dominated the global crypto market news.
The jury deliberated for four hours and found Sam Bankman-Fried guilty on all counts.
BTC-Spot ETF Expectations Keep BTC Aloft
BTC-spot ETF-related news continued to support bets on the SEC approving a spot ETF. There was evidence of progress, with more firms filing amendments. The filings are likely as a result of discussions with the SEC.
VanEck filed an amendment for the VanEck Bitcoin Trust ETF, with plans to use BTC to seed the Fund rather than fiat. Valkyrie also filed an amendment, passing the baton to the SEC to progress with the review process.
Optimism toward an SEC approval was apparent within the crypto community. Valkyrie Funds co-founder and Chief Investment Officer Steven McClurg spoke to ETF.com, saying,
"A late November approval likely means a February launch. Before anything else happens, we get a second round of comments, and I believe we'll probably get those comments in the next one to three weeks."
Bitwise Asset Management Chief Investment Officer Matt Hougan was more cautiously optimistic, reportedly saying,
"I would say that market manipulation is still a potential stumbling block even though we have the GBTC lawsuit and you're seeing a lot of progress. Custody isn't necessarily a wrap… so there's still a lot of work to do."
Amid the market optimism, Bloomberg Intelligence ETF Analyst James Seyffart noted the lack of Grayscale noise, saying,
"[…] Really thought we'd have gotten a better idea of the timelines or next steps from either the SEC or Grayscale regarding GBTC. Wasn't sure how quickly it'd come but really thought we'd get some information by the end of this week (today). Tick tock?"
Monday through Friday, BTC was up a modest 0.26% despite hitting a new 2023 high of $36,024 on Thursday.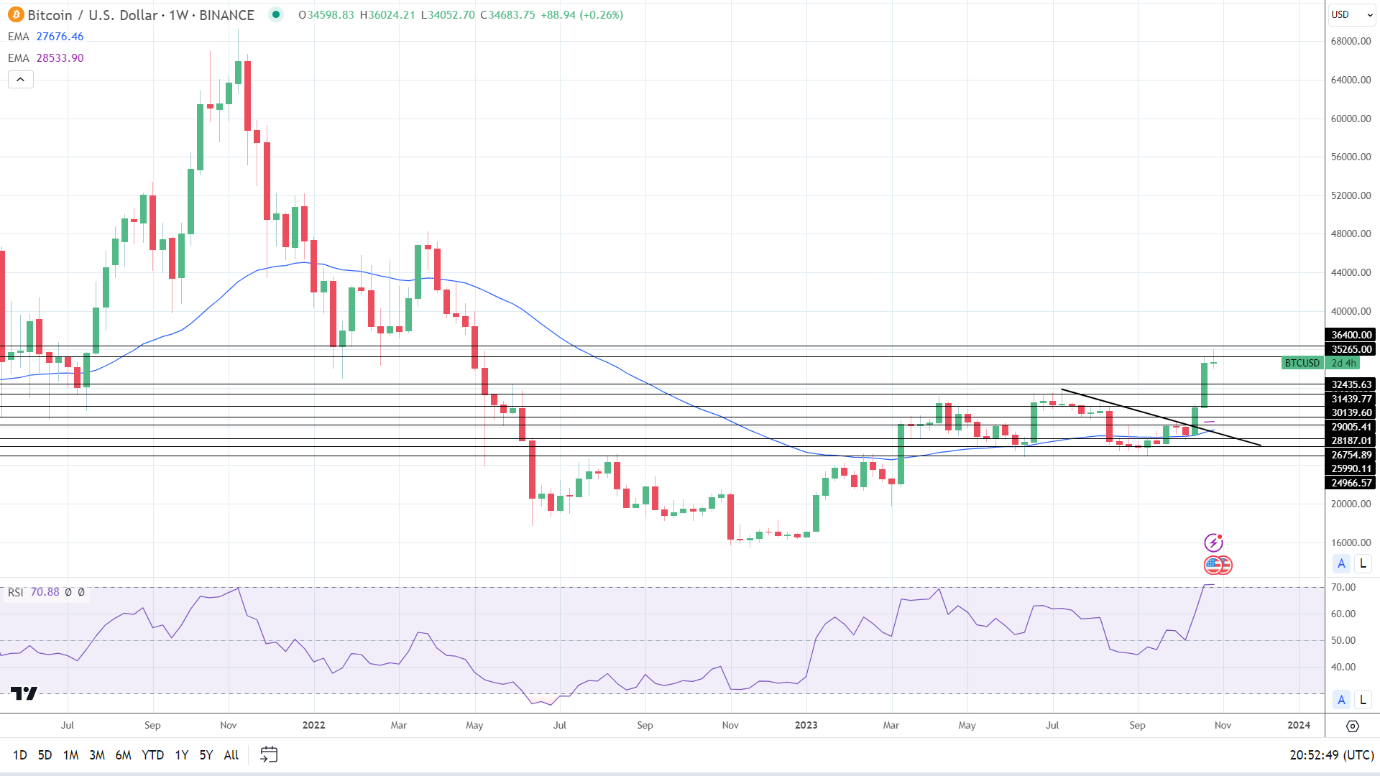 BTCUSD Weekly Chart 041123
SEC Takes Another Loss in the Courts
In recent weeks, Ripple Chief Legal Officer Stuart Alderoty has been keeping a close eye on the SEC. On Friday, Alderoty highlighted another SEC loss in the courts, saying,
"Another loss this week for the SEC – the streak continues. The 2d Circuit in SEC v Govil held that the SEC can't ask for a crippling disgorgement award w/o first proving that 'investors' suffered actual financial harm. In other words, no harm, no foul."
Earlier in the week, Alderoty reacted to SEC Chair Gary Gensler's Halloween messages targeting the crypto industry, saying,
"While Mr. Gensler is making bad Halloween jokes on X, his agency is being shamed for ignoring the law […]."
It was a bad week for the SEC, with a second US court accusing the SEC of acting arbitrarily and capriciously.
There was also a US Government Accountability Office (GAO) report alleging that the SEC broke the law in targeting cryptos.
Behind the scenes, the SEC and Ripple may be working toward a settlement. Judge Analisa Torres gave the two sides until November 9 to propose a briefing schedule for the remaining charges in the SEC v Ripple case.
Ripple and XRP Take the Global Stage
Ripple and XRP continued to grab the headlines this week. On Thursday, the Dubai Financial Services Authority (DFSA) approved XRP under its virtual assets regime. The approval means licensed firms in the Dubai International Financial Centre (DIFC) can use XRP in their virtual assets services.
XRP became only the fourth crypto to receive approval, joining BTC, ETH, and LTC.
The announcement coincided with Ripple announcing a deal with the National Bank of Georgia (NBG). Ripple will partner with the NBG on a pilot central bank digital currency project (CBDC) pilot project. The project, called Digital Lari, will use the Ripple CBDC platform.
This week, Monday through Friday, XRP was up 10.38% to $0.6138.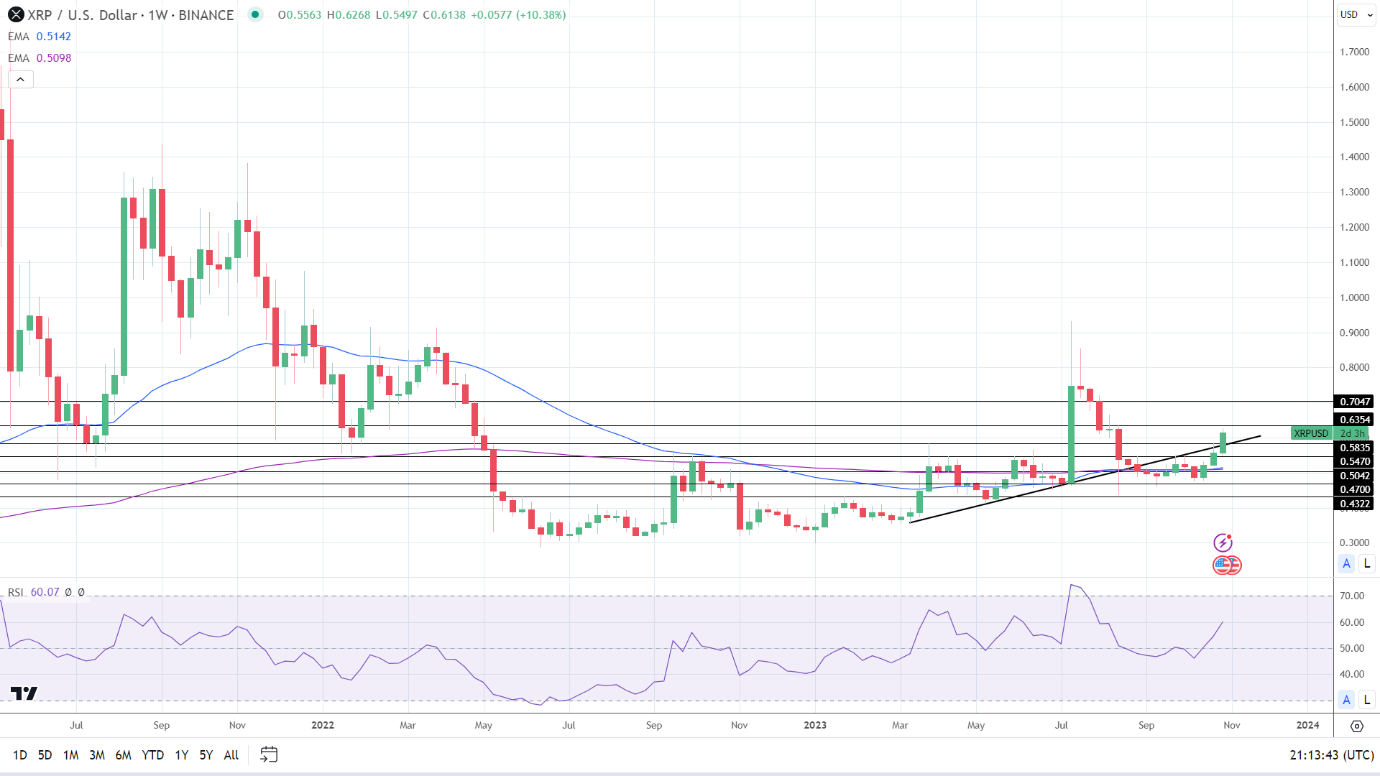 XRPUSD Weekly Chart 041123
Sam Bankman-Fried Found Guilty on All Counts
On Thursday, November 2, 2023, a jury of his peers found Sam Bankman-Fried (SBF) guilty on all counts. The jury deliberated for only four hours before finding the former FTX CEO guilty on seven charges of conspiracy, money laundering, securities fraud, and wire fraud.
The prosecution and the defense must notify the court by February 1 if the second SBF trial will proceed. SBF could go to trial in March 2024. Charges include foreign bribery, allegedly paying a $40 million bribe to Chinese officials. There are also conspiracy charges relating to illegal political donations.
Sentencing for the first trial will be on March 28, 2024, before which SBF will likely appeal the verdicts.
CryptoLaw US founder and Amicus Curiae attorney John E. Deaton shared his views on SBF verdicts, saying,
"Call me hard or insensitive or anything else you want, but I could NEVE feel sad for Sam or his parents under these circumstances. He didn't take responsibility, own his actions and show remorse. He took the stand and lied through his teeth and even complained about being bullied by the government."
Deaton added,
"The only thing sad is that his parents, who owned luxury real estate in their names, purchased with other people's money, have not yet been indicted."
SBF faced the full force of the law, and as a result, he could potentially face a prison sentence of over 100 years.
WSJ Article Remained a Talking Point
The WSJ Article about illicit finance and Hamas raising millions of dollars through crypto remained a hot topic.
Senator Cynthia Lummis spoke about the WSJ claims. Notably, neither Binance nor Tether are off the hook. Senator Lummis called for the DOJ to finish its investigation and consider criminal charges. The senator had this to say about linking crypto to illicit financing,
"An inaccurate report last week claimed Hamas raised nearly $100 million via crypto assets. In reality, it was less than $500,000. This encapsulated the misconception that crypto is a tool for illicit finance when it accounts for less than 1% of global illicit finance activity."
The senator shared statistics on illicit financing, which put illicit financing from crypto at $20 billion, vs. $2.9 trillion in total illicit financing.
Don't miss a thing!
Sign up for a daily update delivered to your inbox
Sponsored Financial Content