Traditional Chip Makers Struggle as GPU Manufacturers Thrive in AI Boom
Updated

: May 27, 2023, 19:43 UTC
•
3
min read
Intel's struggles raise concerns about competitiveness in AI space, while GPU manufacturers like Nvidia and Marvell reap rewards amid stock declines.
Highlights
Recent market trends highlight contrasting outcomes for traditional chip makers and GPU manufacturers.
Nvidia and Marvell thrive while Intel faces setbacks in the face of growing AI demand.
GPU manufacturers benefit from the expanding AI market, while traditional chip firms face challenges.
AI Boom Drives GPU Stocks
The surging demand for AI has brought the stock market's recent performance into focus, revealing the diverging paths of traditional chip makers and GPU manufacturers and highlighting the shifting fortunes within these segments. With the accelerated adoption of AI and the crucial role of GPUs in powering AI platforms, investor attention and potential profitability have shifted towards GPU manufacturers. This redirection underscores the need for companies in the semiconductor industry to adapt to the evolving landscape, ensuring competitiveness and capitalizing on the expanding AI market.
GPU Stocks Nvidia and Marvell Dominate
Notably, companies such as Nvidia and Marvell, specializing in GPU technologies, have experienced significant success, while Intel has faced setbacks. This contrast is evident in the performance of key indices, with the Nasdaq Composite recording a 2.5% weekly gain, driven by the triumphs of Nvidia and Marvell, while the Dow Jones Industrial Average struggled, enduring a 1% loss influenced by Intel's challenges.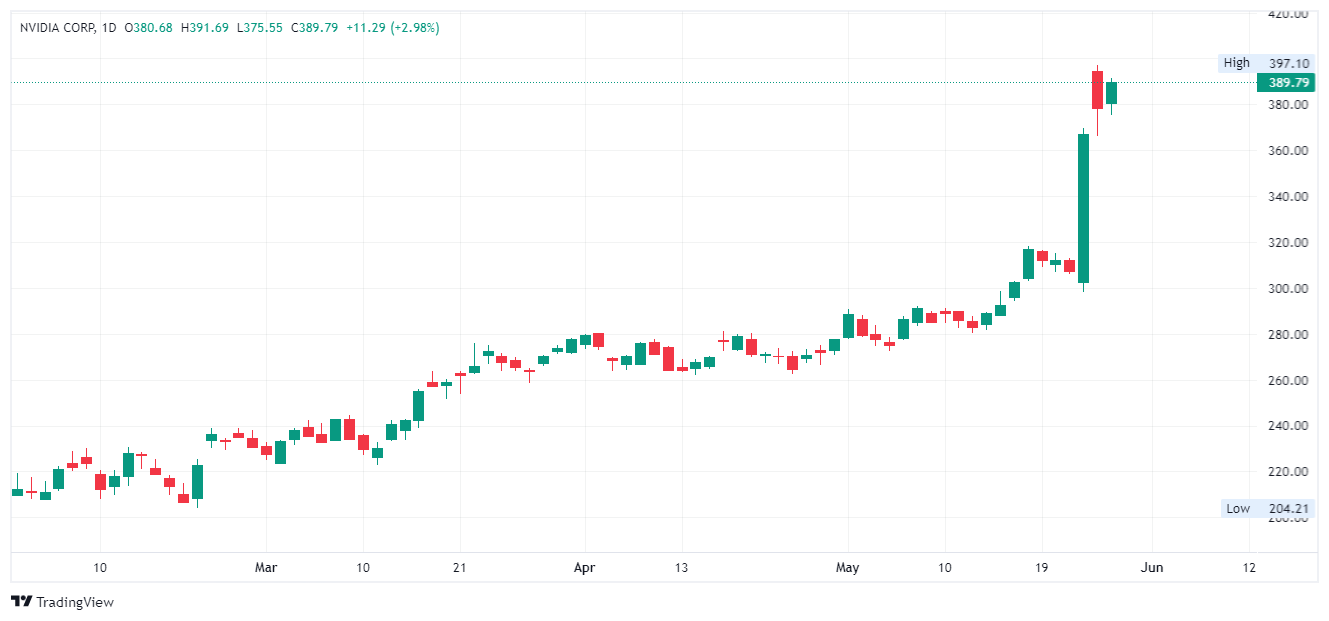 Daily NVIDIA Corp
Nvidia Surges
Nvidia, a leading GPU manufacturer, has experienced remarkable success in the stock market with a recent 24% surge. Approaching a market cap of $1 trillion, Nvidia stands as one of the best-performing companies on the Nasdaq. Its specialization in discrete graphics processing units, crucial components for AI applications, has been instrumental in its growth. Furthermore, Nvidia's positive performance has had a ripple effect on other GPU manufacturers. On Friday, for example, Advanced Micro Devices (AMD), enjoyed an 11% gain.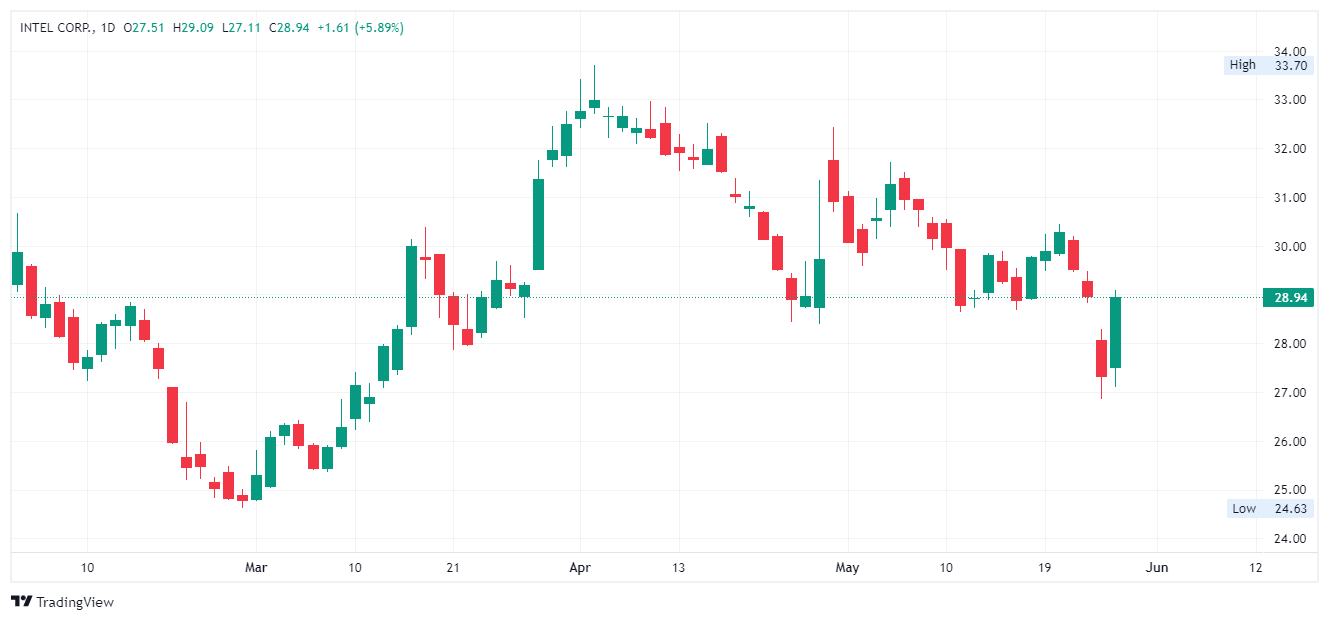 Daily Intel Corp.
Intel Struggles
In contrast, Intel, a prominent traditional chip maker, has faced challenges in the stock market. Intel's shares have declined by 7.1% and the company has been among the worst performers in the Dow Jones Industrial Average and S&P 500. Investors are expressing concerns over Intel's product development pace compared to competitors like Nvidia. These concerns have contributed to a three-day decline, raising questions about Intel's ability to remain competitive in the AI space.
GPU Manufacturers Thrive Amid AI Demand
The demand for AI has provided significant advantages for GPU manufacturers. Companies like Nvidia and Marvell, with their exposure to cloud computing and AI applications, have reaped the rewards. Marvell, in partnership with tech giants such as Google, Meta, and Microsoft, witnessed a 7.6% rise in stock. Similarly, Broadcom experienced gains, with shares increasing by 7.25%, as they develop technologies to support AI supercomputers.
Traditional Chip Stocks Dip, GPU Manufacturers Shine
Conversely, conventional chip firms faced a dip in stock prices. Intel's shares declined throughout the week, and Qualcomm, a mobile chipset manufacturer, initially slipped before recovering on Friday. This divergence suggests a shift in investor focus away from traditional chips towards GPU manufacturers. GPUs serve as the "brains" behind AI technologies, playing a crucial role in driving AI platforms like OpenAI's ChatGPT and Google's Bard.
The shift in market sentiment indicates a potential inversion of the historical dominance of CPUs over GPUs. As AI applications increasingly rely on GPU-intensive processes, such as large-language models, Nvidia CEO Jensen Huang predicts a future where fewer CPUs are connected to millions of GPUs. This new paradigm favors GPU manufacturers and poses challenges for traditional chip makers.
AI Demand Shifts Fortunes, Spurs Semiconductor Industry Adaptation
In conclusion, recent market trends clearly demonstrate the diverging fortunes of traditional chip makers and GPU manufacturers in the face of rising demand for AI. Nvidia and Marvell's specialization in GPU technologies has propelled their success, while Intel has faced setbacks. It is important for investors and industry players to recognize the shifting landscape and adapt to the evolving semiconductor industry to remain competitive. As the demand for AI continues to surge, the crucial role of GPUs in powering AI platforms is becoming increasingly evident. This opinion article emphasizes the need for companies to adjust their strategies and capitalize on the expanding AI market.
Don't miss a thing!
Sign up for a daily update delivered to your inbox
Sponsored Financial Content