Bitcoin.co.id or otherwise known as Bitcoin Indonesia is an Indonesian cryptocurrency exchange that is based in Bali. The exchange, founded in 2013, is one of the top cryptocurrency exchanges around the world with more than 500,000 registered users. Although their daily turnover of half billion rupiahs might not be overly impressive, this trading volume has earned Bitcoin.co.id the distinction of being the largest cryptocurrency exchange in Indonesia. The exchange head office is located in Bandung, Bali at Jl. Nakula No.88b, Legian, Kuta, Kabupaten Badung, Bali. However, the exchange also maintains several other offices around the country.
Contents
With Bitcoin.co.id, there are 2 ways which you can acquire Bitcoin. The first method is through the exchange 'Quick Buy' feature. The second method is the spot market.
Quick Buy Feature
The Quick Purchase feature is not a trading feature that is often found on most cryptocurrency exchanges. With this feature, all that you have to do to start buying and selling Bitcoin is simply to log into your account and chose the "Buy/Sell Bitcoin Instantly" option. Once you have selected this option, you will be directed straight to the order book page. As the exchange is focused on the Indonesian market, prices are quoted in Indonesian Rupiah instead of the U.S dollar. The prices quoted are also slightly higher by 3% to 10% than what other leading exchanges are quoted. It should be noted that there is a minimum purchase requirement of 50,000 Rupiah for each transaction.
Spot Market Trading
For individual investors who prefer to acquire Bitcoin by trading, Bitcoin.co.id exchange also offers the ability to trade on the spot market with their trading platform. To access the trading platform, simply select the "Spot Market" tab that can be found on the left side of your account page. On the platform, you have a selection of cryptocurrencies that you can trade with such the ones listed below:
BCH
BTC
BTG
DASH
DOGE
ETC
ETH
LTC
NXT
WAVE
XRP
Margin trading is also available for those who wish to trade on margin. The current leverage ratio offered by the exchange is 1:1.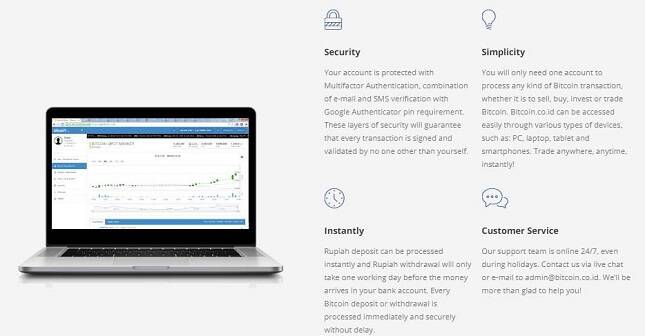 Deposit and Withdrawal Options
At Bitcoin.co.id you can fund your trading account either through Bitcoin or with Indonesian Rupiah.
Bitcoin transfer – Comparatively, funding your account with Bitcoin is easier and cheaper. All that is required is to generate a wallet address or scan the QR code to transfer from your personal wallet.
Bank Wire Transfer – For Indonesian residents, you can also fund your account through bank wire transfer. As long as the wire transfer is in Indonesian Rupiah, it is free of charge.
EasyPay Transfer – For international account holders, Bitcoin.co.id also offers the option of funding your account through EasyPay.
Fees and Charges
The transaction fee model that Bitcoin.co.id has adopted is the Maker/Taker pricing model. This pricing model is the most widely adopted pricing model as it encourages liquidity on the exchange. The good thing about Bitcoin.co.id is the fact that the Maker fee is now 0%. As for the Taker fee, the exchange charges a maximum fee of 0.3% for each transaction. The following table below shows the applicable take fee for the various cryptocurrency pairs:
| | |
| --- | --- |
| Currency | Taker Fee |
| BTC/IDR | 0.3% |
| BCH/IDR | 0.3% |
| BTG/IDR | 0.3% |
| DASH/BTC | 0% |
| DOGE/BTC | 0% |
| ETH/BTC | 0.3% |
| ETH/IDR | 0.3% |
| LTC/BTC | 0% |
| NXT/BTC | 0% |
| XRP/BTC | 0% |
| XLM/BTC | 0% |
Privacy and Security
Unverified accounts at Bitcoin.co.id are not subjected to KYC policies. However, there are limits placed on these accounts, such as transacting only with cryptocurrencies a daily withdrawal limit of 1 BTC. With verification, these limits are removed and you will also be able to transact with fiat currencies as well.
As for the security at Bitcoin.co.id, the exchange use both hot and cold wallet storage. On the client side, Bitcoin.co.id offers 2-factor authentication and SMS authorization. It should be noted that with SMS authorizations, you will be charged a fee of 0.0001 per SMS verification pin.
Customer Support
The Customer support service at Bitcoin.co.id is accessible by email or live chat. Apart from these methods of communication with the support team, the exchange has also provided a fairly comprehensive FAQ where you can refer to for any questions which you might have. It should be noted that the support services are only available from 9 am to 5 pm (+8 GMT) from Monday to Friday and from 9 am to 2 pm (+8 GMT) Saturday.
Pros and Cons
Pros
Hassle free account opening process
Permit trading with unverified account
Support Fiat currencies deposits
Cons
Primary Market is Indonesian Market
Prices are higher than most exchanges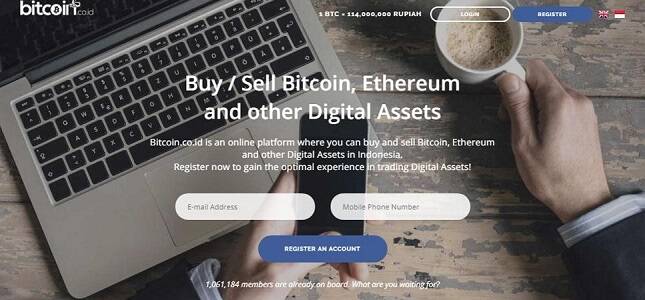 FAQ
What are the trading fees at Bitcoin.co.id?
Bitcoin.co.id does not charge any Maker fee. Traders, however, are subjected to a maximum Taker fee of 0.3%.
How can I create an account at Bitcoin.co.id?
First, go to the registration page and fill in the details such as your name, email, user ID, password and telephone number. You will be asked to provide 2 phone numbers for security measures. Take note that in order to deal with fiat currencies, you will be required to verify your account.
Is it possible to open several accounts at Bitcoin.co.id?
Yes, it is possible to open several accounts with the same account information except for the user ID.
Is it possible to use my VIP's Bitcoin address as my Bitcoin wallet?
Yes. The Bitcoin address is specifically generated for your use and can be utilized several times. It functions like your temporary wallet.
Conclusion
Bitcoin.co.id offers a straightforward method for trading Bitcoin with IDR. The fact that it also allows you to trade anonymously since the unverified account is not subjected to KYC policies. Nevertheless, these come at a cost, as you have to pay higher fees in terms of fund transfers and trading fees.
bitcoin.co.id
User Reviews
Payment Method
Deposit Options
Cryptocurrency
Withdrawal Options
bitcoin
Company Information
| Exchange Details | Info |
| --- | --- |
| Headquarters Country | Indonesia |
| Foundation Year | 2013 |
| Type | change |
| Trading Allowed | Yes |
Trade With A Regulated Broker