Coins Available

Accepted Countries

Payment Methods
Coinmate is a leading cryptocurrency exchange that was founded in 2014. The exchange is registered in London but focuses its business operations on the Eastern Europe sector. It is considered to fall within the top 10 euro dominated exchanges, with a daily turnover of $818,957. The brainchild of 2 economic graduates from Prague, Coinmate has established itself as the ideal cryptocurrency exchange for investors who are looking to invest in Bitcoin with euros. The exchange offers its clients a low cost and hassles free way to acquire Bitcoin.
Contents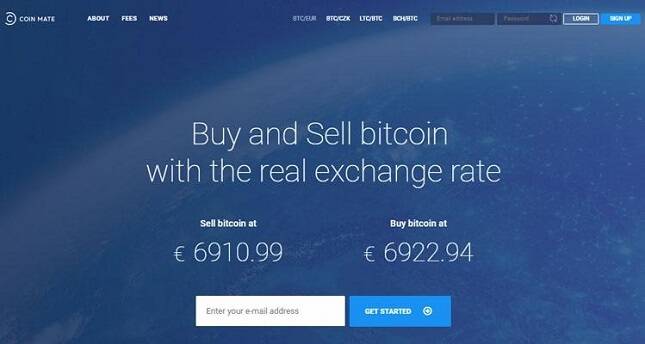 In terms of the trading platform, Coinmate offers its customers a proprietary web-based platform. The platform comes with 2 interfaces, a "Quick Buy/Sell" mode and an advanced trading mode. The former interface is basically a market order page that depicts the best available price from the order book. All you have to do is to enter the amount to trade and click "confirm" to have the transaction executed. No doubt, this simplified trading interface was designed to accommodate those who are new to cryptocurrency trading.
Apart from the simplified trading interface, Coinmate also offers a more advanced trading platform for those who have more experience trading cryptocurrencies or wish to trade them more professionally. The advanced trading interface comes with an expanded trading chart and supports limit orders and market orders.
While there is no dedicated mobile app for the trading platforms provided by Coinmate, the website has already been designed and optimized to accommodate the small screens of smartphones and other mobile devices. In other words, the website is also mobile friendly.
On the Coinmate trading platform, you can trade with 4 different cryptocurrency pairs:
BTC/EUR
BTC/CZK
LTC/BTC
BCH/BTC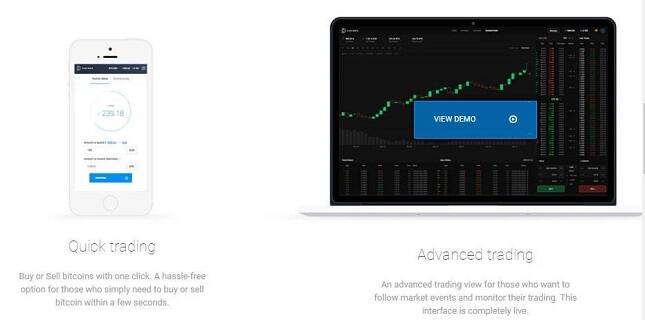 Deposit and Withdrawal Options
At Coinmate, you have several ways to fund your account. However, the methods that are available to you will depend on your account verification levels. The first level of verification is for the basic account. Opening a basic account merely requires you to provide an email address and a password. However before you can begin trading, you also need to provide your name, date of birth and telephone number. With the basic account, your choices of depositing funds are OkCoin, MoneyPolo, Vouchers. For verified and VIP accounts, the options for depositing funds include OkCoin, MoneyPolo, Vouchers, SEPA, Sofort and standard wires. While there are generally no restrictions on who can sign up with Coinmate, the cryptocurrency exchange currently does not accept customers from the U.S.

Fees and Charges
There are basically 3 types of accounts at Coinmate, basic account, verified account, and VIP account. With the basic account, the daily withdrawal limit is €1,000/5,000. For the verified account, the limit is higher at €5,000/20,000. The highest limit is reserved for the VIP account which is €12,500/100,000. However, with the VIP account, the limit can still be adjusted higher upon request.
As for the trading fees at CoinMate, the exchange uses the Maker/Taker model in order to boost liquidity on the exchange. The maker's fee is 0.05% whereas the taker's fee is 0.35%. For deposits and withdrawals, the following fees are applicable:
| | | |
| --- | --- | --- |
| Methods | Deposit | Withdrawal |
| Domestic Czech | 0 | €1 |
| Domestic Poland | 0 | €1 |
| Moneypolo | €1 | 0.5% (min €1) |
| OK pay | 0.5% | 1.5% (min €1) |
| SEPA | €1 | €1 |
| Sofort | 1.5% (min €2) | N/A |
| Voucher | 0 | 0.1% |
Privacy and Security
Coinmate has 3 levels of verifications, for the basic account, the verified account, and the VIP account.
For the basic account, you are required to provide the following information:
Name
Date of Birth
Telephone Number
With the verified account level, you need to provide the following additional information to Coinmate:
Government-issued photo ID
Utility Bills or Bank statements which indicate your residential address
While most exchanges merely require you to submit a scanned copy of these documents, Coinmate takes it a step further by requiring you to make a video call showing you taking a snapshot of the various documents. For companies, the articles of incorporation and business account need to be provided. The VIP account level requires the same information as for the verified account except that you need to fill in an additional questionnaire.
For security on the exchange side, 95% of the funds are kept in cold storage. In addition, the clients' passwords are encrypted before they are stored on the exchange servers. Other security measures included firewalls, SSL and Cloudflare. On the client's side, Coinmate provides 2-factor authentication security for them. Withdrawals transactions also require email confirmation before they are executed.
Customer Support
Customer support at Coinmate is only available through email. The response is reasonably quick with a few hours lead time.
Pros and Cons
Pros
High liquidity for euro dominated trades
Low Fees
Service is open worldwide (except the U.S)
Support SEPA
Cons
Limited choices of cryptocurrencies
Only 2FA security on the client's side
FAQ
Do I need to verify my account in order to use SEPA?
Yes. To comply with AML regulation and KYC protocols, verification of identity and address is required.
What is the withdrawal limit for the basic account?
For the basic account, the daily deposit and withdrawal limit is €1,000/5,000.
Does Coinmate accept clients from the U.S?
No. Coinmate does not accept clients from the U.S due to the restrictions from the U.S financial regulatory authorities.
What cryptocurrency pairs can I trade on Coinmate?
At present, Coinmate only supports trading for BCH/BTC, BTC/CZK, BTC/EUR and LTC/BTC.
Conclusion
On the whole, if you are a European based trader, then Coinmate is well suited to meet your cryptocurrency trading needs. The exchange offers low trading and funds transfer fees with high liquidity for the euro trades. However, on the negative side, the choices of cryptocurrencies offered are rather limited with just a handful of crypto pairs. In addition, the security doesn't seem to be overly tight with only 2FA authentication security offered to the clients. Nevertheless, Coinmate is ideal for beginner cryptocurrency investors as their trading platform is extremely easy to use.
COIN MATE
Features
Coins Available
Bitcoin

Litecoin

Bitcoin Cash
Accepted Countries
Austria

Belgium

Czech Republic

France

Italy

Netherlands

Slovakia

Poland

Spain

Switzerland

Australia

Cameroon

Chad

Canada

Denmark

Greece

Haiti

Iceland

Libya

Mexico

Nepal

Belize

Romania

Cape Verde

Senegal

Sri Lanka

United Kingdom

Eritrea

Gambia

Indonesia

Lebanon

Angola

Malta

Bahamas

Benin

Chile

Ghana

Gibraltar

Grenada

Serbia

Guinea-Bissau

Tonga

Kenya

Finland

Namibia

Oman

Jamaica

Palau

Solomon Islands

Kyrgyzstan

Tunisia

Montenegro

Peru

Sweden

Trinidad and Tobago

Yemen

Bahrain

Belarus

Bulgaria

Colombia

Cuba

Cyprus

Algeria

Burkina Faso

Cambodia

Kuwait

Russian Federation

Saint Lucia

South Sudan

Tanzania

Turkey

Virgin Islands, British

Japan

South Korea

Malawi

Maldives

Botswana

Qatar

Saint Kitts and Nevis

Saint Vincent and the Grenadines

Slovenia

Sudan

Taiwan

Tuvalu

Vatican City

Uruguay

Malaysia

Moldova

Nauru

Papua New Guinea

Zambia

Andorra

Bolivia

Afghanistan

Congo

Cote d'Ivoire

Laos

Mauritania

Dominican Republic

Egypt

Gabon

Morocco

Uganda

Nigeria

Swaziland

Vietnam

Barbados

Bosnia and Herzegovina

Djibouti

Equatorial Guinea

Comoros

Estonia

Fiji

Ethiopia

Mali

Hong Kong

Ireland

Philippines

Macedonia

Madagascar

Sierra Leone

Vanuatu

Panama

Portugal

Samoa

Saudi Arabia

Timor-Leste

Albania

Burundi

Guinea

Iran

Armenia

Bangladesh

Lithuania

Bhutan

Mongolia

Cayman Islands

Myanmar

Niger

Rwanda

Thailand

United Arab Emirates

Ecuador

Germany

India

Liberia

Liechtenstein

Luxembourg

Marshall Islands

Monaco

Mozambique

New Zealand

Pakistan

Togo

Uzbekistan

Venezuela

Zimbabwe

Antigua and Barbuda

Argentina

Guyana

Kazakhstan

Lesotho

Norway

Paraguay

San Marino

Suriname

Central African Republic

Tajikistan

Guatemala

Honduras

Iraq

Mauritius

Nicaragua

Singapore

Somalia

Azerbaijan

Brazil

Brunei

Costa Rica

China

El Salvador

Georgia

Hungary

Israel

Jordan

Latvia

Micronesia

Seychelles

South Africa

Turkmenistan

Ukraine

Isle of Man

Kosovo
Payment Method
Deposit Options
Wire Transfer, Cash
Withdrawal Options
Wire Transfer, Cash
Company Information
| Exchange Details | Info |
| --- | --- |
| Headquarters Country | United Kingdom |
| Foundation Year | 2014 |
| Type | exchange |
| Trading Allowed | Yes |
Trade With A Regulated Broker