Analyzing Natural Gas Trends: Rally, Resistance, and Potential Retreat
Published

: Aug 31, 2023, 20:32 UTC
•
2
min read
Natural gas trend stays bullish despite resistance at 2.865, with potential short-term pullback ahead.
Natural Gas Forecast Video for 01.09.23 by Bruce Powers
Natural gas triggered a bullish trend continuation today as it rallied above this week's high of 2.81. Subsequently, resistance was found at the day's high of 2.865, leading to an intraday pullback to below yesterday's high. This is not a sign of short-term strength. In addition, natural gas is on track to close weak today, below the halfway point of the day's range, which is at 2.787. It remains to be seen whether it will do so or not but is looking like it at the time of this writing.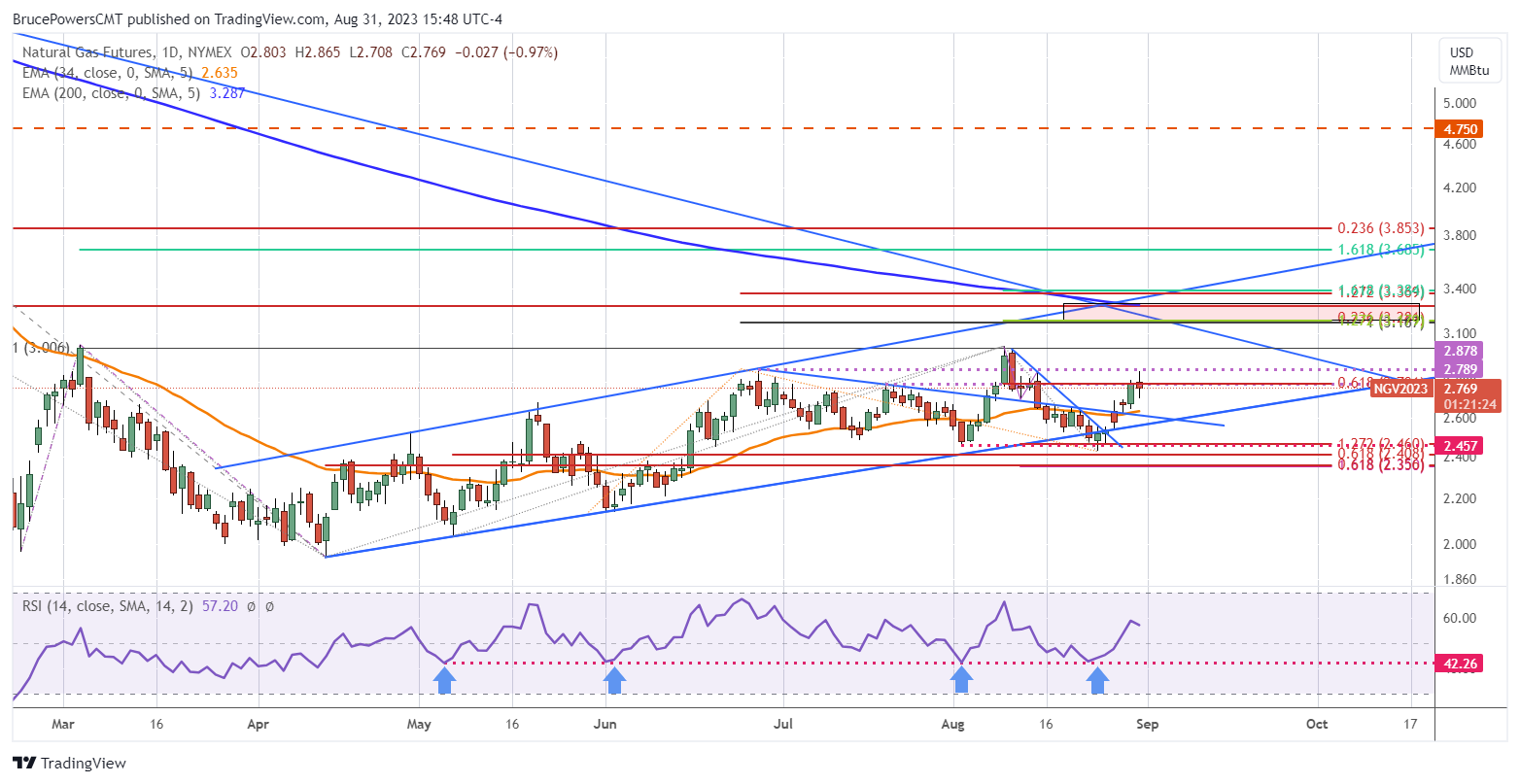 Resistance Encountered Once Reaching Target Zone
Today's advance reached the lower end of the price range mentioned earlier in the week from 2.86 to 2.88 consisting of an internal swing high from mid-August and an earlier peak in late-June, respectively. Given today's price action it would not be surprising to see a short-term pullback in natural gas as it takes a rest before continuing, if it is to do so. Key support is around the 34-Day EMA, now at 2.635, as well as the two trendlines nearby. The lowest potential support area from the lines is where they cross around 2.59.
Previous Rallies Ranged from 22.8% to 34.6%, Pointing to More Upside
Since the April trend low of 1.95 was hit in April natural gas has had four prior rallies from 22.8% to 34.6%. The current advance was up as much as 18.1% at today's high. It would match the advance from the lowest performing rally of 22.8% around 2.97/2.98. This seems to increase the chances for an eventual continuation for the current advance, at least to that price area before a longer retracement or consolidation sets in.
Signs of Strength
There are a couple things we will be watching for signs of strength. First, today's close. One aspect is noted above. There is also the possibility that natural gas may end this week with a new bullish sign. It could close the week at its highest weekly closing price in nine weeks and possibly 10 weeks. The nine-week closing high is 2.77 and the 10-week closing high is 2.798.
For a look at all of today's economic events, check out our economic calendar.
Don't miss a thing!
Sign up for a daily update delivered to your inbox
Sponsored Financial Content