AUD/USD and NZD/USD Fundamental Daily Forecast – Longer-Term Outlook Bearish Despite Consolidation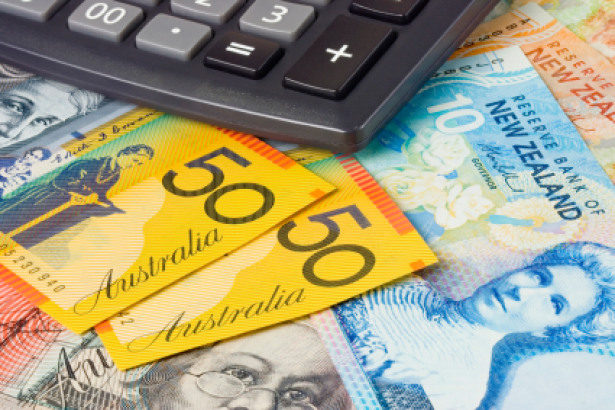 An overall weaker U.S. Dollar is helping to boost the Australian and New Zealand Dollars on Tuesday. The move isn't being fueled by one particular event so we're going to chalk this up to position-squaring ahead of this week's Fed minutes on Wednesday, Thursday's producer price data and Friday's consumer inflation and retail sales reports.
At 0923 GMT, the AUD/USD is trading .7781, up 0.0029 or +0.37% and the NZD/USD is at .7071, up 0.0008 or +0.12%.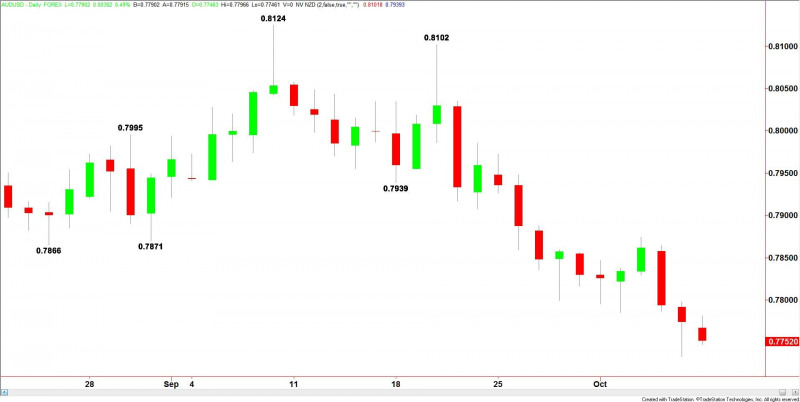 The U.S. was on bank holiday on Monday. Early Tuesday, the Australian NAB Business Confidence report came in at 7. Reserve Bank of Australia Assistant Governor Guy Debelle gave a speech but offered no comments on monetary policy or economic growth, instead, choosing to speak on the FX global code of conduct.
According to the National Australia Bank, Australian business conditions remained strong in September, with business confidence inching higher, but significant concerns continue to hang over consumer spending with firms not passing on wage increases, and household debt burdens hurting consumer demand.
The NAB's monthly business conditions index held steady at a strong net balance of +14 points in September, nearly three times its historic average.
The NAB's Business Confidence Index rose to a net balance of +7 in September, up from +5 in August.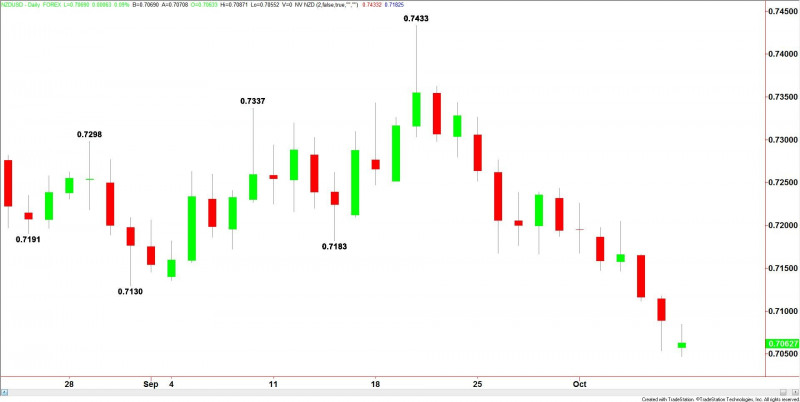 Although the NZD/USD is trading higher, the New Zealand Dollar is likely to continue to be pushed lower by election uncertainty. Traders still aren't sure who is going to control the government. This, coupled with stronger economic prospects in the United States, has helped drive the kiwi down more than 5 percent since September 20.
According to Westpac, the final result of the election, announced last Saturday, meant the outcome "remains inconclusive". This is likely to limit gains in the Forex pair and could continue to weigh on the market.
Although the Forex pairs are showing signs of consolidation, the outlook for the longer-term trend remains bearish. Rising U.S. Treasury yields and a firmer U.S. Dollar should press the Australian and New Zealand Dollars lower over the near-term.