Bitcoin is The New Gold. Here is Why!
Published

: Nov 30, 2020, 15:19 UTC
•
3
min read
Bitcoin and other major cryptocurrencies experienced a strong downtrend on November 25. This major correction mainly associated with Black Friday sales incurred withdrawals and exchanges into cash as crypto is not yet fully acceptable at the largest retail stores.
There were two major news stories on November 27, both shaking the market, one of which was President Trump's statement on vaccine deliveries which supposedly should start this week, the other was the assassination of the Iranian nuclear scientist. While one of the market's sentiment indicators – the Volatility Index was dropping sharply last week, it's today at 22.0 adding 5% to the index value.
Despite the growing Volatility, Gold continued downwards, same as Silver, whilst Bitcoin and Ethereum's uptrend. It looks as if the digital Gold nowadays has a greater value than the traditional safe-haven asset. With all those analyst's statements on Bitcoin price, Central Banks' bombshell Digital Currency researches, the value of traditional assets is shading.
Bitcoin price was correlated to other assets so many times, it makes no sense now, hence we will review each asset separately.
Gold on a Daily chart signifies a possible end of the correction as it reaches 0.5 Fibonacci level and tests an important support at $1764.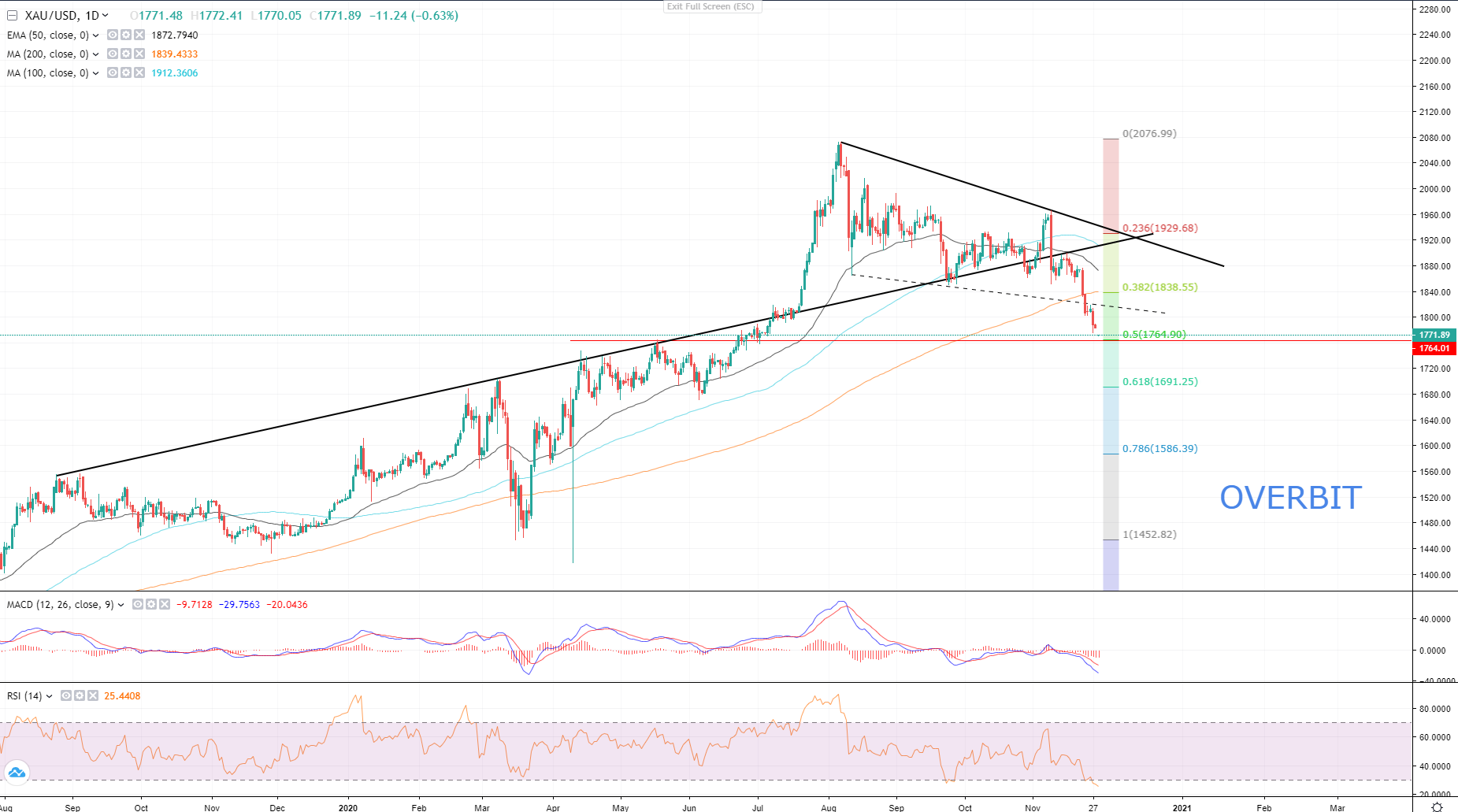 Gold price on Overbit
As seen on the chart above, Gold still looks weak as it remains below dynamic supports and below moving averages. On a 4-Hour chart however, it's clearly visible that Gold has tested the support of $1764 several times and remains above that level.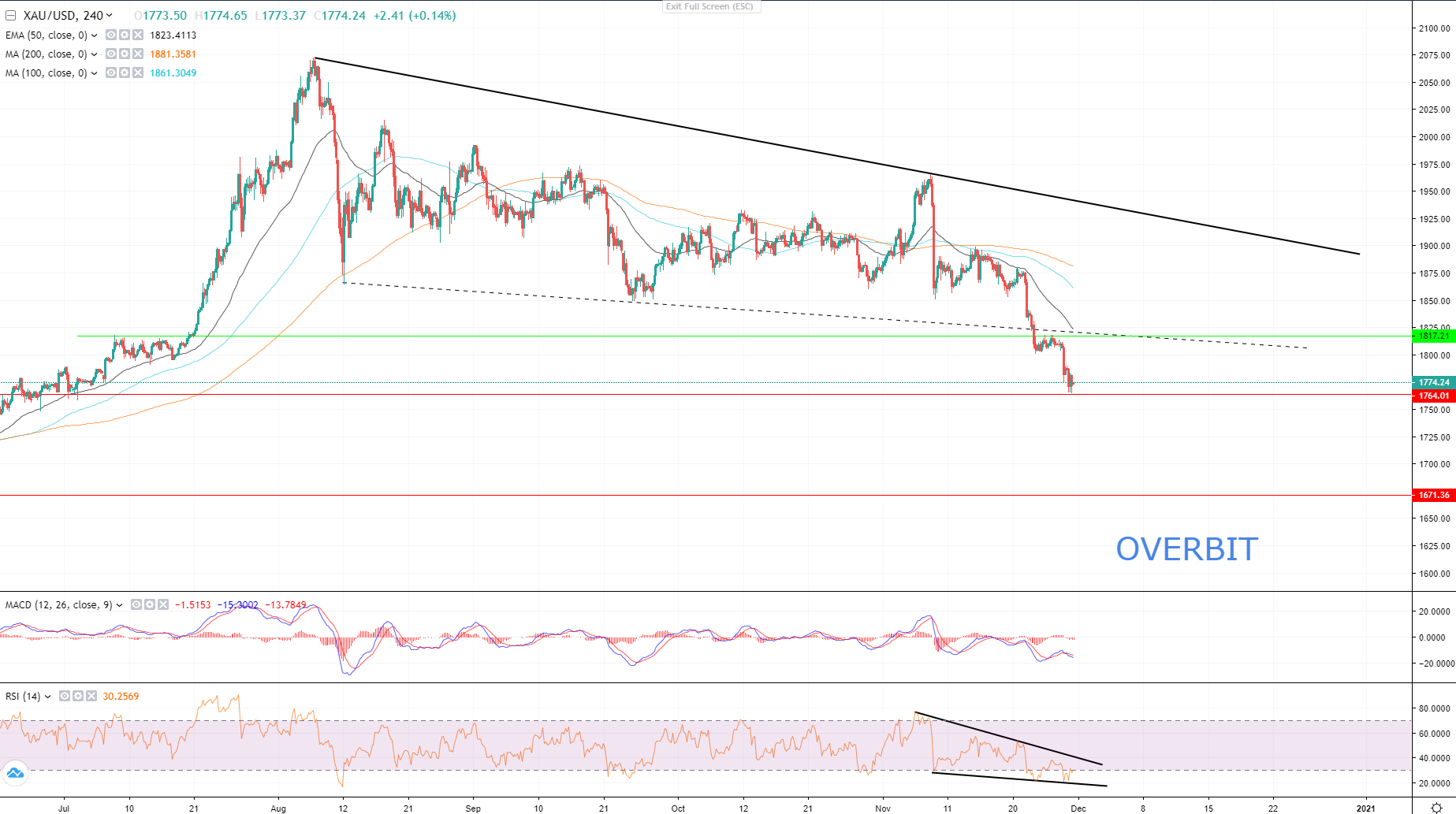 Gold price on Overbit
The RSI is highly divergent and has formed an ending diagonal pattern, Gold has tested the November 24th 21.640 oversold level on RSI today and has formed a double bottom pattern on RSI, let's see if these price chart patterns on RSI play out well for XAU/USD. If the support withholds, the precious metal will most likely test the $1817 level, which holds both dynamic and static resistances and EMA50.
Bitcoin on other hands looks better than its traditional namesake. By the time writing of this article Bitcoin price on Overbit is $19252 and is growing rapidly. With such pace BTC/USD will soon establish a new YTD high and will hit the long-awaited $20K sooner today.
The daily BTC chart outlines an important resistance of May this year which was tested by the asset as a support and remains above it.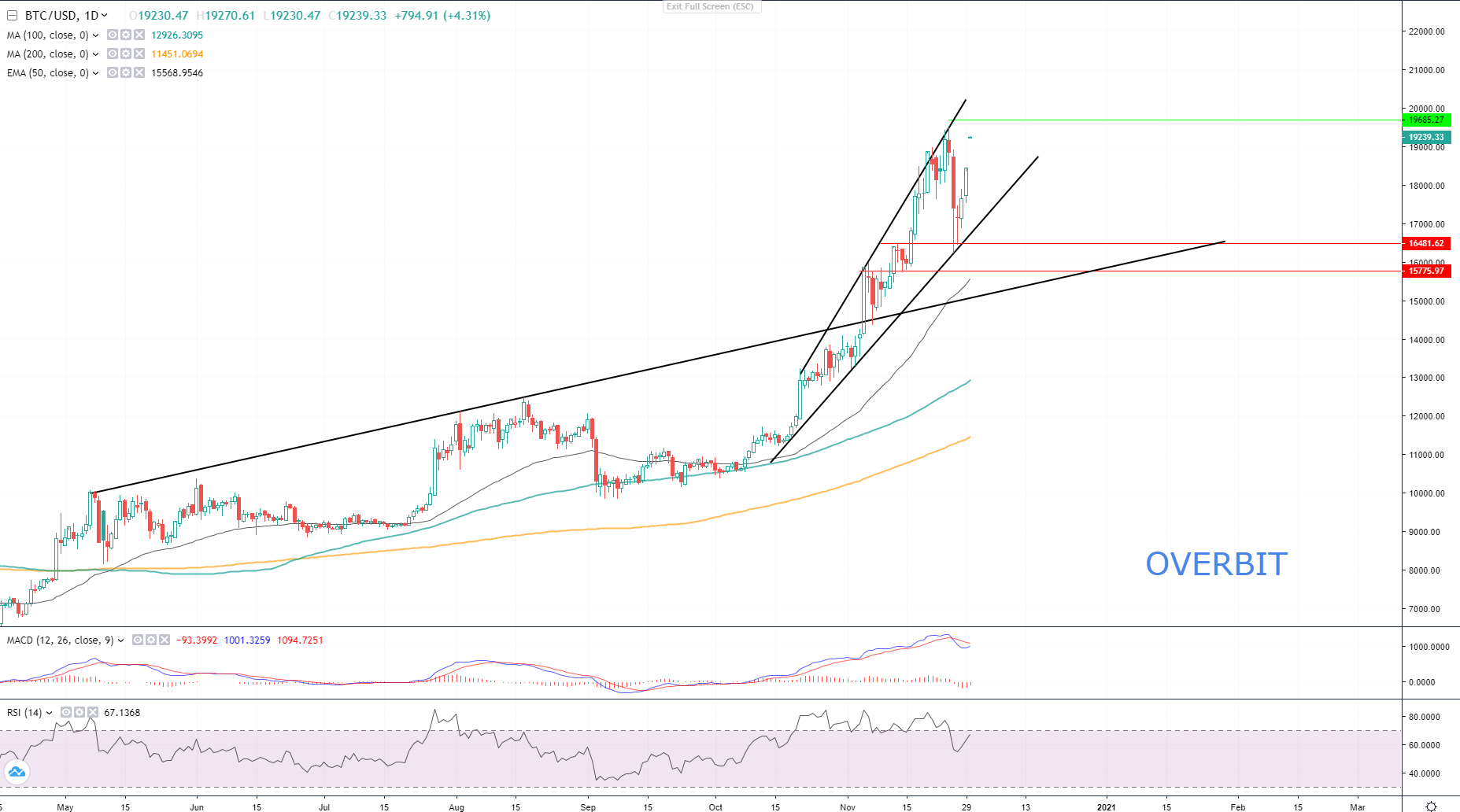 Bitcoin price on Overbit
On a 4-Hour chart it is clearly visible that Bitcoins last downtrend was a correction to test the dynamic support of the uptrend channel and continue the growth. The hike is also slightly backed by the weak US Dollar, which today lost 0.27% and is now at 91.450, below the monthly support of 92.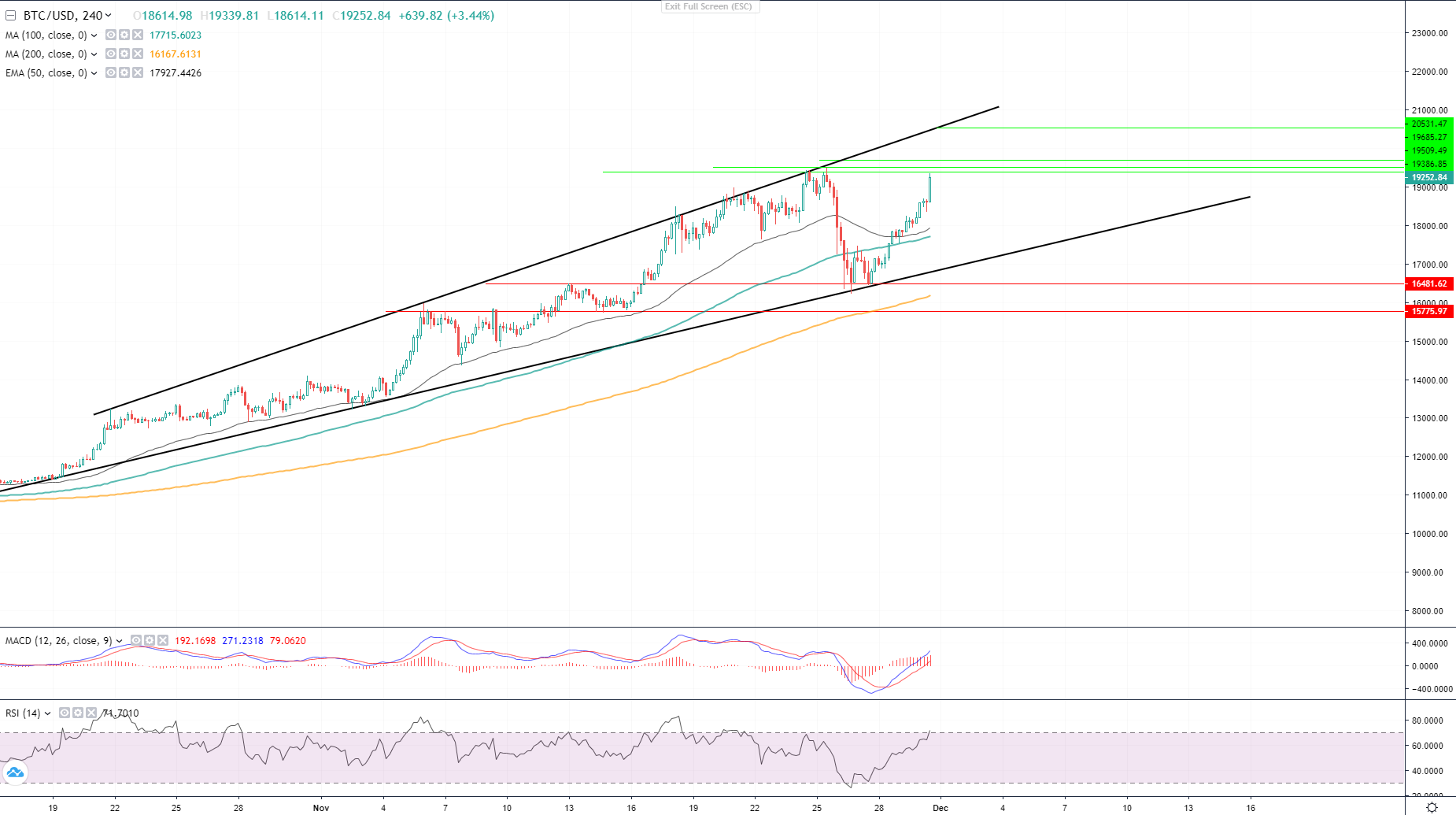 Bitcoin price on Overbit
While RSI indicates that the price is close to being overbought, Bitcoin traders and investors with such an urge for ATH and 20K won't stop until BTC/USD reaches the target. There are strong resistances to watch for, the main would be the upper threshold of the channel and of course the $20K, though I believe that Bitcoin will close above $20K, probably at $20 430 – $20 500 levels.
Don't miss a thing!
Sign up for a daily update delivered to your inbox
Sponsored Financial Content