Crypto News: Binance in Hot Water with the SEC and May Be the Courts
Published

: Sep 16, 2023, 04:37 UTC
•
4
min read
BTC shines in a turbulent week, even as the SEC deepens its probe into Binance's financial practices and disclosure.
Key Insights:
SEC pressures Binance to meet disclosure requirements, highlighting lapses in financial transparency.
Binance CEO CZ addresses management shake-ups amid speculations and the changing crypto climate.
Crypto market bounces back, with BTC leading, signaling investor resilience despite SEC tensions.
SEC v Binance Activity Gathers Momentum
On Thursday, the SEC filed a motion to force the defendants to meet disclosure requirements and oppose the BAM motion for a protective order (PO). The filing outlined areas where the defendants have not been forthcoming with information and access, including providing accounting documents and other financial information.
The defendants include Binance Holdings Limited, BAM Trading Services Inc., BAM Management US Holdings Inc., and Chang Peng Zhao.
The SEC stated,
"More than two months later and despite repeated good faith attempts by the SEC to reach further compromise with BAM, the SEC finds itself essentially where it was when it first sought relief from the Court. BAM continues to refuse, even in light of the Consent Order, to provide anything beyond extremely limited information to ensure that BAM's Customer Assets are not at the mercy of Defendants Binance Holdings Limited (Binance) and Changpeng Zhao, two persons who view themselves outside the reach of the Court."
In addition to asking the court to compel the defendants to meet the discovery requirements, the SEC asked the court to deny the BAM PO motion and permit the SEC to depose BAM's CEO, CFO, and other witnesses the SEC listed for deposition.
On Friday, the court granted an SEC motion to unseal documents filed under seal last month.
Binance CEO CZ Responds to the Latest Fear, Uncertainty, and Doubt (FUD) News
While Binance CEO CZ has not commented on the ongoing SEC case, CZ did respond to the recent news of management-level departures. CZ had this to say about the Brian Shroder departure,
"There has been some speculation regarding recent management changes at Binance US. Brian Shroder is taking a deserved break after accomplishing what he set out to do when he joined two years ago. Under his leadership, Binance.US raised capital, improved product, and service offerings, solidified internal processes, and gained significant market share."
CZ added,
"The crypto market is in a different place now than it was two years ago, with a rapidly evolving and increasingly hostile regulatory environment. Norman Reed – former SEC, New York Fed, Ripple, and DTCC executive – is the right person to lead Binance US in this market. Ignore FUD. Keep Building."
Crypto Investors Show Resilience Amidst an SEC Backlash
The crypto market aims to end a four-week losing streak unless an adverse crypto event causes a weekend sell-off. This week, the total crypto market cap is up 2.54% to $1.042 trillion.
BTC is outperforming the broader market is up 3.03% for the current week, while ETH is up by 1.62%.
Technical Analysis
Bitcoin Analysis
The $26,755 resistance level continues to reject a BTC move toward the 200-day and 50-day EMAs. However, a BTC break above the $26,755 resistance level would support a BTC move to the 200-day and 50-day EMAs.
BTC will likely face increased selling pressure at the 200-day EMA, with the 50-day EMA converging on the 200-day EMA.
A bearish cross of the 50-day EMA through the 200-day EMA would send BTC toward the $25,506 support level.
News and updates related to BTC-spot ETFs and the ongoing SEC cases against Ripple and Coinbase (COIN) are likely to influence investor sentiment.
The 14-Daily RSI reading of 52.28 signals a BTC move to the 200-day EMA before entering overbought territory.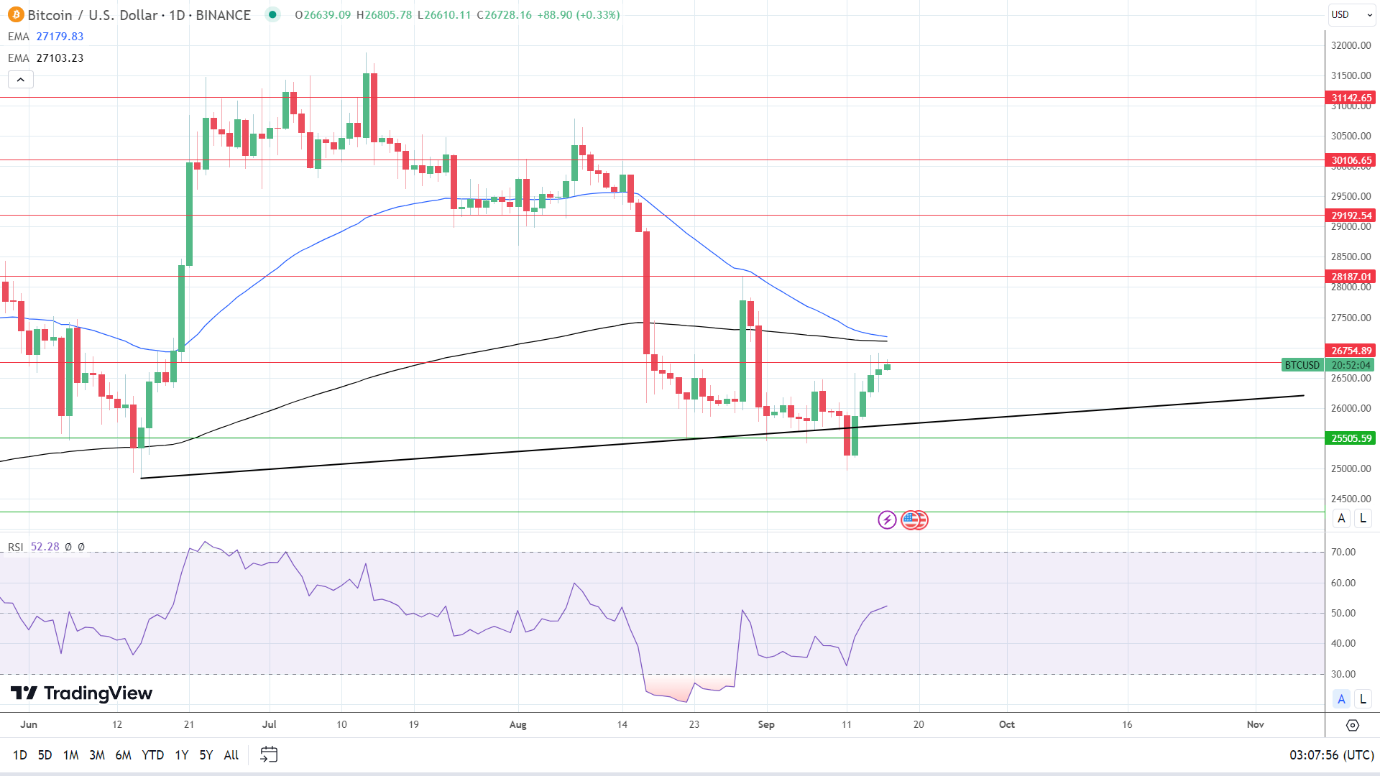 BTCUSD 160923 Daily Chart
Ethereum Analysis
ETH continued to hold above the $1,626 resistance level. However, ETH remained below the 50-day and 200-day EMAs, sending bearish price signals. An ETH breakout from $1,650 would support an ETH run toward the 50-day EMA.
SEC-related activity and ETH-spot ETF-related chatter would provide direction. However, investors should also monitor SEC v Coinbase and Ripple case-related chatter. SEC Chair Gary Gensler included ETH in the SEC securities basket earlier, leaving ETH exposed to SEC activity.
Earlier this year, SEC Chair Gary Gensler made a sweeping statement, stating all cryptos, except BTC, are securities.
An ETH break below the $1,626 support level would support an ETH move to sub-$1,600.
The 14-Daily RSI reading of 48.41 signals an ETH decline to $1,600 before entering oversold territory.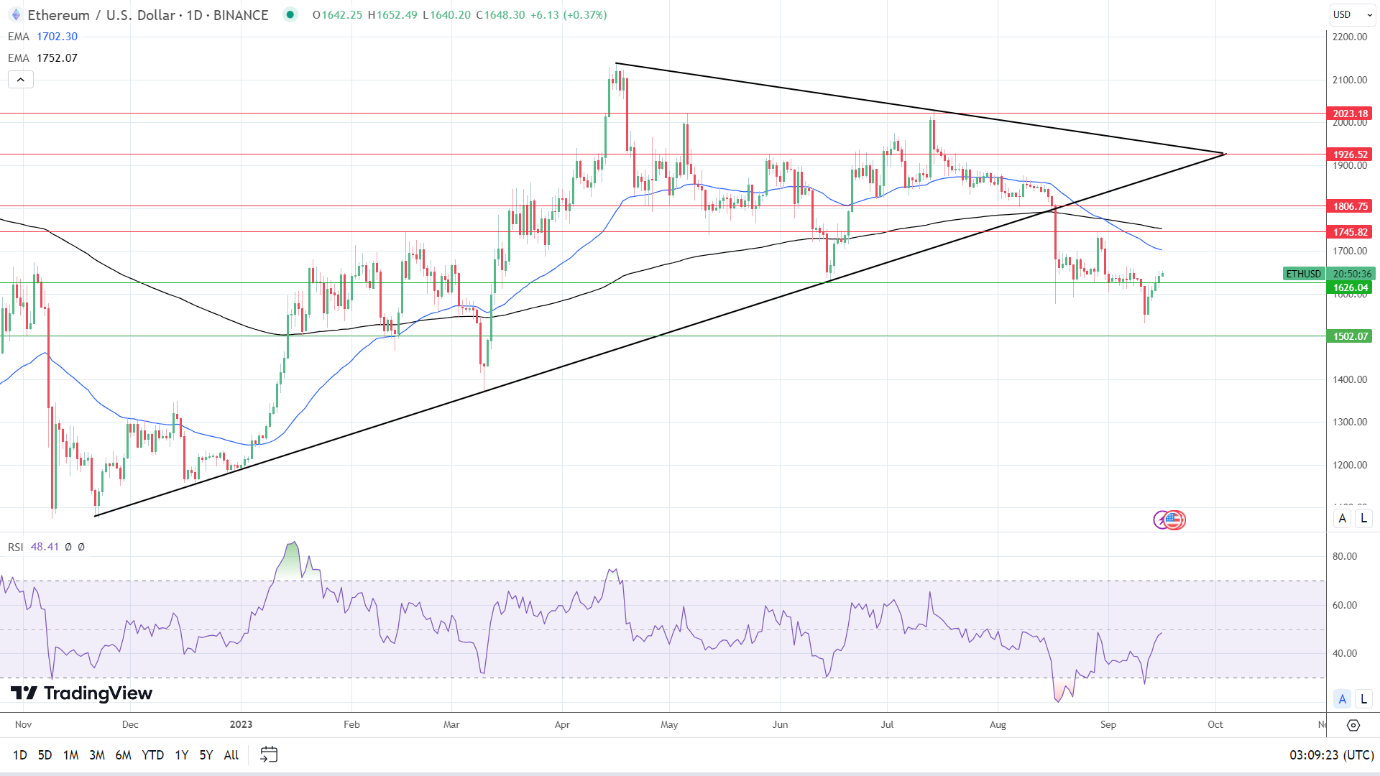 ETHUSD 160923 Daily Chart
Don't miss a thing!
Sign up for a daily update delivered to your inbox
Sponsored Financial Content