Crypto News: Planned FTX Crypto Asset Sale Spooks Investors
Published

: Sep 12, 2023, 03:35 UTC
•
3
min read
As FTX signals a $200M crypto sale, BTC holdings garner intense scrutiny; potential market implications loom
Key Insights:
FTX's decision to sell $200 million in crypto assets unsettles the investor community.
A class-action lawsuit against Tether and Bitfinex could redefine USDT reserves' transparency.
Judge Failla oversees Tether and Coinbase cases.
Monday Crypto Market Overview: FTX, Ripple, and Coinbase in Focus
FTX Asset Sale Plans Spook Investors: On Monday, investors reacted to news of FTX planning a $200 million crypto asset sale. According to the latest available FTX crypto holdings, FTX held $685 million in solana (SOL), $268 million in bitcoin (BTC), and $90 million in ethereum (ETH) as of January 17. A surge in cryptos to exchanges could flood the market, leading to an increase in supply and a subsequent fall in price.
Tron Founder Justin Sun Eyes FTX Asset Sales: Tron (TRX) founder Justin Sun called on the crypto community to limit the impact of the FTX asset sale, saying, "Contemplating an offer for FTX's holding tokens and assets to reduce their selling impact on the crypto community. Let's unite to bolster our ecosystem!"
Class Action Lawsuits Enter the Stablecoin Domain: Tether and Bitfinex Chief Technology Officer Paolo Ardoino testifies in Court this week. Jason Leibowitz, the co-founder of LeboBTC filed a class-action suit, alleging bank fraud, money laundering, and other charges. Significantly for the broader crypto market, the class action suit also questions Tether (USDT) reserves. Judge Failla, who presides over the Tether and Bitfinex case, also presides over the SEC v Coinbase (COIN) case.
Technical Analysis
Bitcoin Analysis
The Monday sell-off left BTC below the trend line and the $25,506 resistance level (previously a support level).
Market angst over the upcoming FTX asset sale sent BTC briefly to sub-$25,000. Uncertainty toward the outcome of the SEC cases against Ripple and Coinbase and the future of the BTC-Spot ETF market remained headwinds.
A BTC break above the $25,506 resistance level would bring the trend line into view. However, BTC would need favorable updates on the FTX asset sale or SEC cases to break above the trend line.
Failure to move through the $25,506 resistance level leaves sub-$25,000 and the $24,290 support level in view. Adverse crypto news could see BTC test the $24,290 support level before any recovery.
The 14-Daily RSI reading of 33.51 shows BTC can fall to sub-$25,000 before entering oversold territory.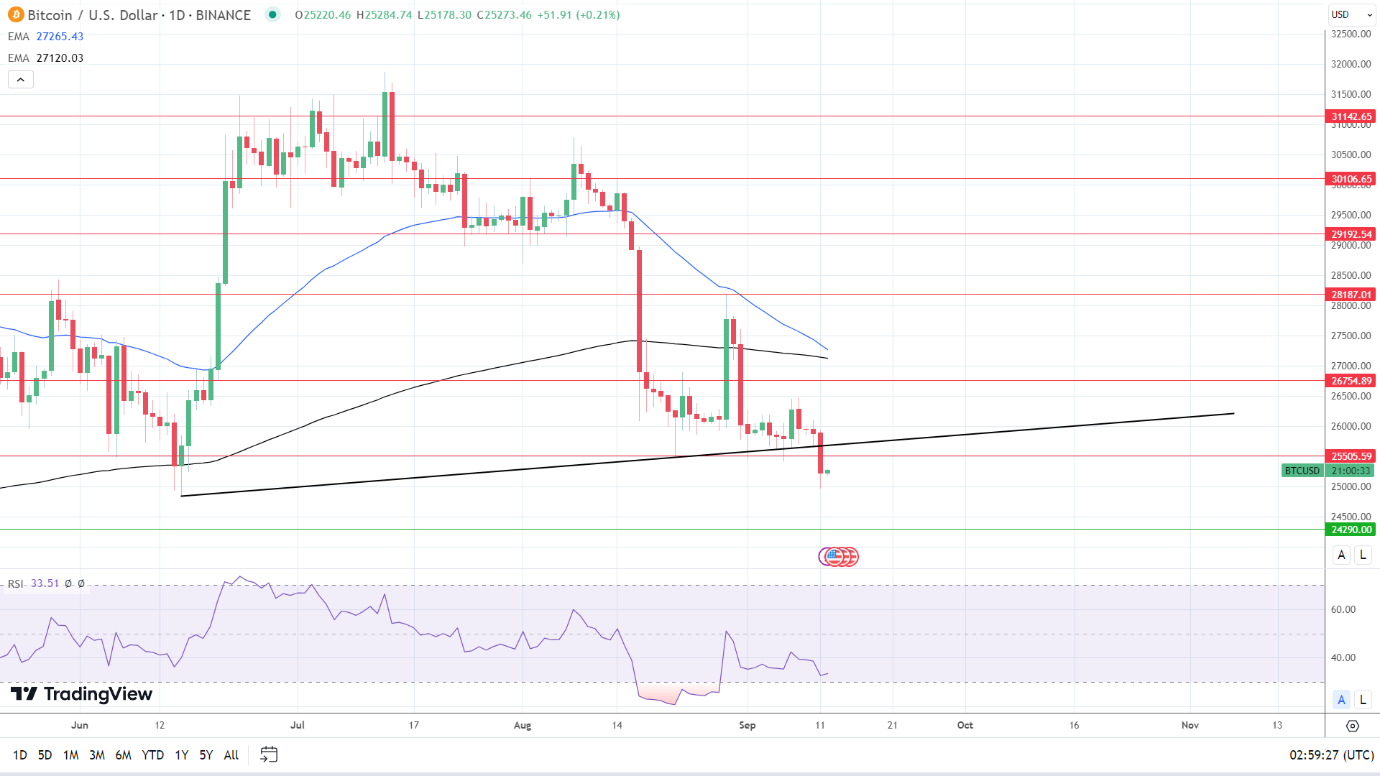 BTCUSD 120923 Daily Chart
Ethereum Analysis
ETH remained below the $1,626 resistance level, with ETH facing selling pressure at $1,600. A move through $1,600 would support a break above the $1,626 resistance level to target $1,650. However, ETH would need favorable ETH-Spot ETF news and crypto community appetite to acquire FTX assets to test the $1,626 resistance level.
Failure to break above the $1,626 resistance level leaves the $1,502 support level in view.
The 14-Daily RSI reading of 27.88 shows ETH sitting in oversold territory.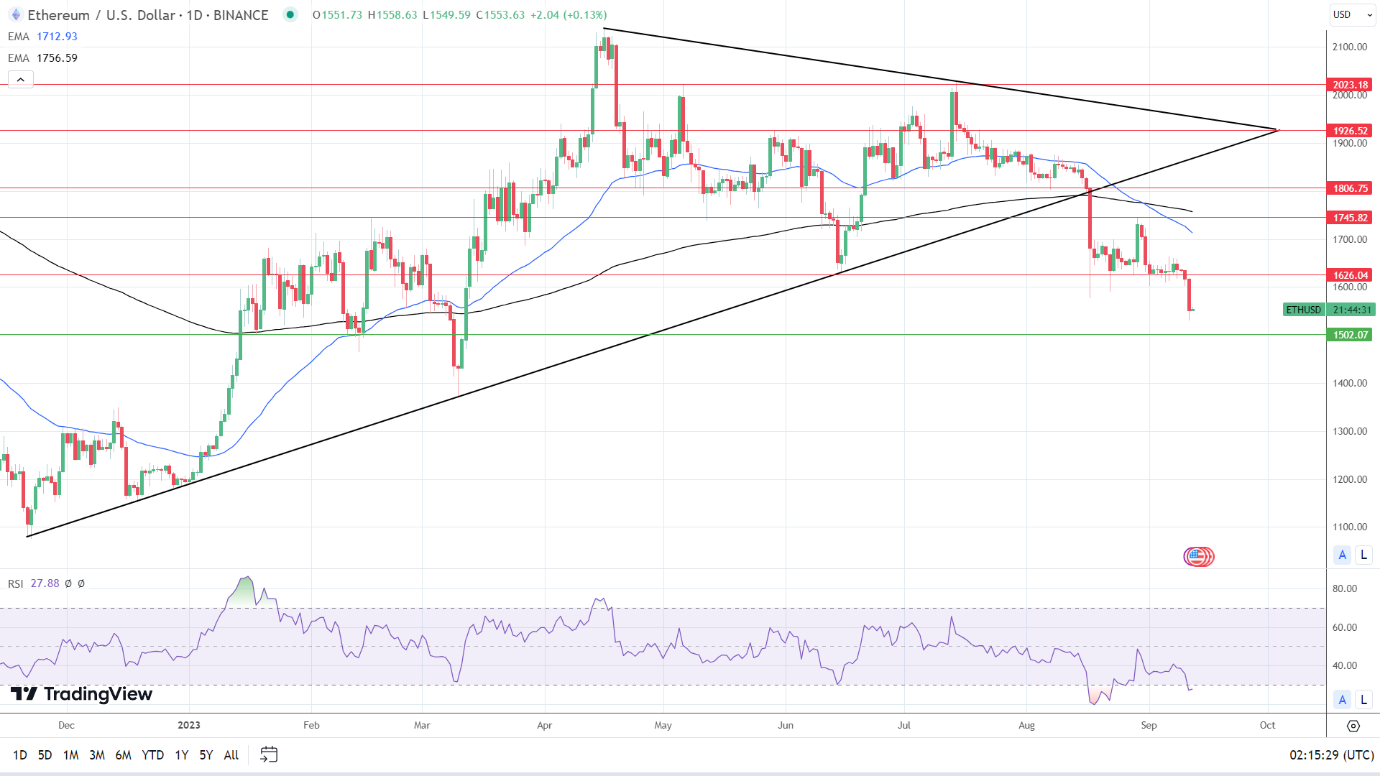 ETHUSD 120923 Daily Chart
Don't miss a thing!
Sign up for a daily update delivered to your inbox
Sponsored Financial Content