DAX Index, FTSE 100, STOXX 600: Equities Higher as Investors Await Euro Zone Inflation Data
Updated

: Sep 29, 2023, 09:20 UTC
•
2
min read
During a volatile quarter, the DAX Index grapples with fluctuating European indicators as the Eurozone's inflation story emerges.
Highlights
European stocks surge, led by luxury and tech performances this Friday.
Analysts keenly watch Eurozone inflation, eyeing potential ECB policy shifts.
UK's post-pandemic recovery impressively outpaces European giants Germany and France.
European Markets Respond to Inflation and Sectoral Shifts
European equities experienced a boost this Friday, buoyed by strong performances in the luxury and tech sectors. The close of a tumultuous quarter has seen investors keenly eyeing critical economic data, notably from Germany and France. Despite the gains, the STOXX 600 is on track to shed nearly 2% this quarter, and Germany's DAX faces a sharper decline.
Central to this quarter's narrative are Germany's lackluster retail figures for August, impacted by mounting inflation. Contrasting this, France's inflation pressures eased unexpectedly in September. As the day progressed, market analysts keenly await the Eurozone's inflation data, which could further illuminate the ECB's future strategy.
In the corporate arena, luxury giants like LVMH and Richemont registered significant gains, propelling early trading. Furthermore, Adidas' stock performance, encouraged by Nike's robust earnings report, painted an optimistic picture. The tech sector, having grappled with concerns over prolonged high-interest rates, witnessed a rebound, offering a silver lining to its quarterly narrative.
Across the Channel, the UK basked in positive sentiment. Friday's economic data revision underscored Britain's commendable post-pandemic recovery, outpacing European mainstays Germany and France. With sectors such as consumer staples leading the rally, and strategic corporate moves like those from Aston Martin and Severn Trent shaping market sentiment, the UK's resilience seems to shine in an otherwise mixed European scenario.
DAX Index Technical Analysis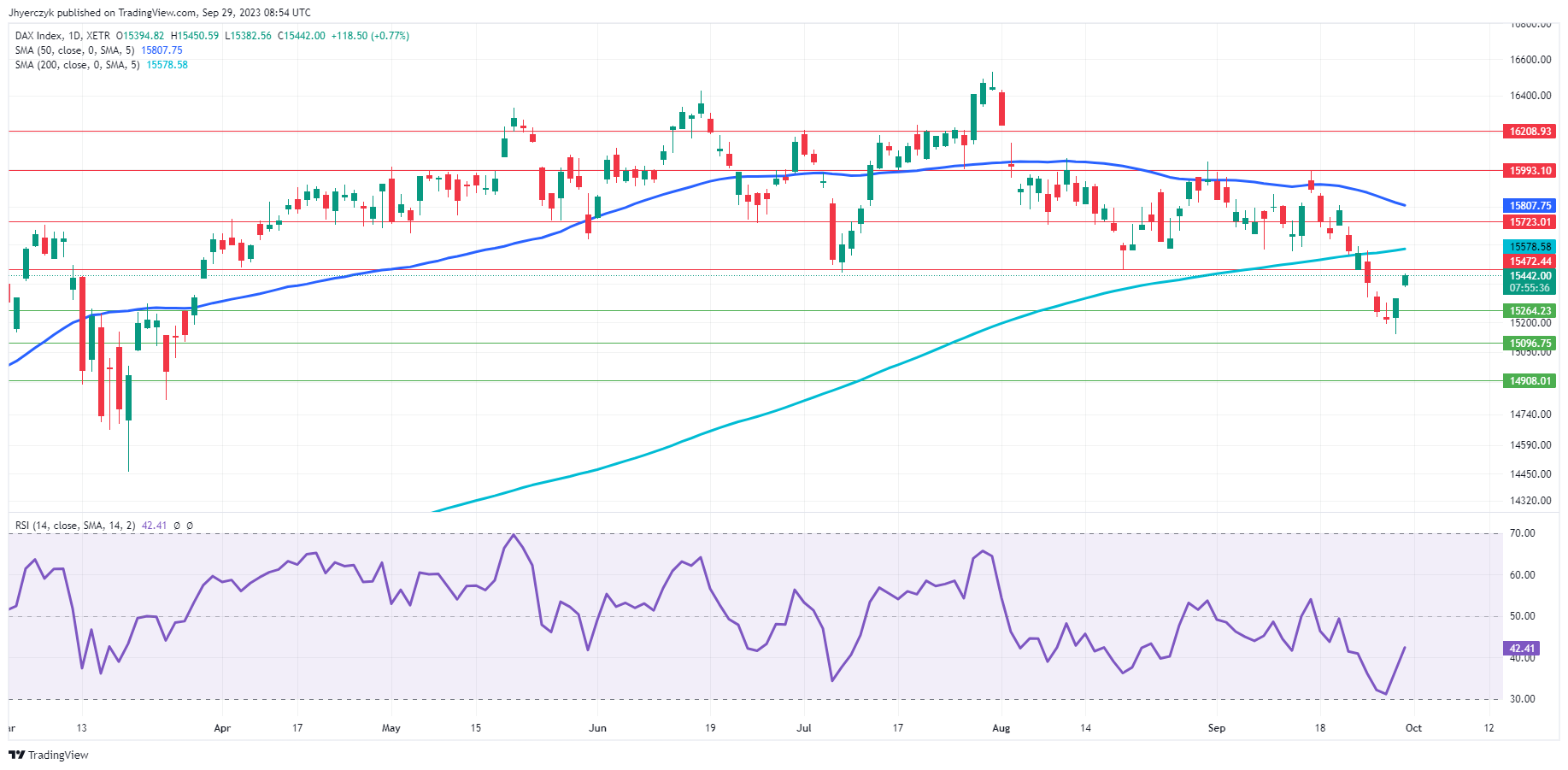 Daily DAX Index
The DAX Index, presently priced at 15443.60, sits below both the 50-Day and 200-Day moving averages, positioned at 15807.70 and 15578.58 respectively, indicating a bearish short-term sentiment.
The 14-Day RSI stands at 42.28, suggesting a weakened momentum but not yet in oversold territory. In terms of support and resistance levels, the DAX is currently nestled between minor support at 15264.23 and minor resistance at 15472.44.
Given these technical observations, the DAX Index portrays a short-term bearish sentiment, as it remains constricted below pivotal moving averages.
FTSE 100 Technical Analysis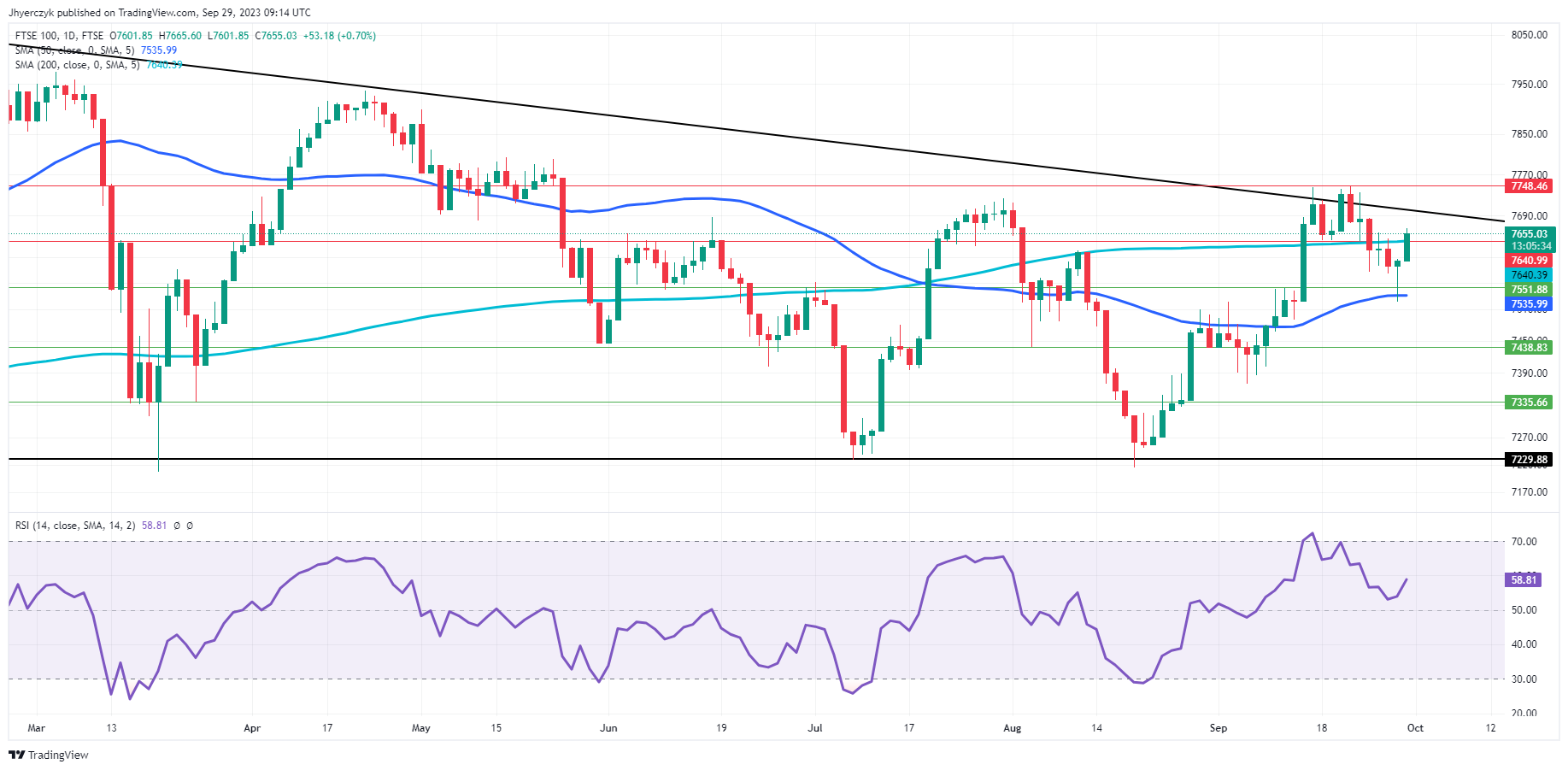 Daily FTSE 100
In the latest assessment of the FTSE 100, the index currently stands slightly above its 50-Day moving average of 7535.99 and is just shy of the 200-Day moving average, positioned at 7640.39.
The 14-Day RSI, clocking in at 58.75, indicates moderately strengthened momentum but hasn't yet ventured into overbought territory.
While there's no explicit trend line support mentioned, the FTSE 100 is nudging close to the trend line resistance of 7703.55. Navigating between minor and main resistance levels, the index portrays a bullish tilt. Given these technical readings and its proximity to key resistances, the market sentiment leans bullish for the FTSE 100 in the short term.
Don't miss a thing!
Sign up for a daily update delivered to your inbox
Sponsored Financial Content