E-mini NASDAQ-100 Index (NQ) Futures Technical Analysis – May 31, 2019 Forecast
If today's early downside momentum continues then look for a test of a downtrending Gann angle at 7079.50. Crossing to the weak side of this angle will put the index in a bearish position. This could lead to a quick test of the Fibonacci level at .7035.00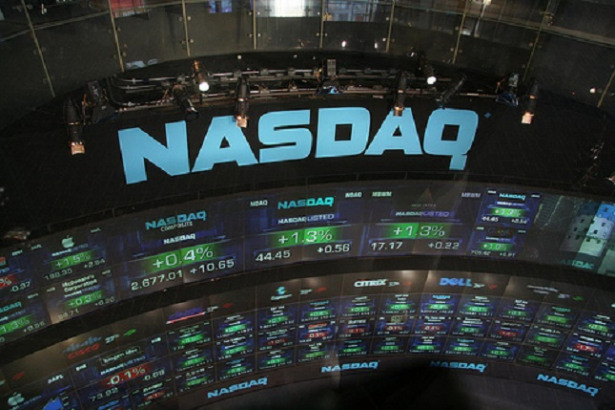 June E-mini NASDAQ-100 Index futures are trading lower shortly before the cash market open. Another jump in Treasury yields is raising concerns about a U.S. economic slowdown, putting pressure on demand for equities.
On Thursday, the U.S. Commerce department showed a dip in inflation during the first quarter due to slower-than-expected consumer spending. This means that low inflation is more than "transitory" like the Fed has been claiming. If today's Core PCE Price Index report comes in weaker than expected then this will signal a Fed rate cut later in the year.
The catalyst behind the weakness today is President Trump's vow to place a tariff on imports from Mexico. This is encouraging investors to sell higher risk assets.
At 11:57 GMT, June E-mini NASDAQ-100 Index futures are trading 7156.75, down 98.50 or -1.35%.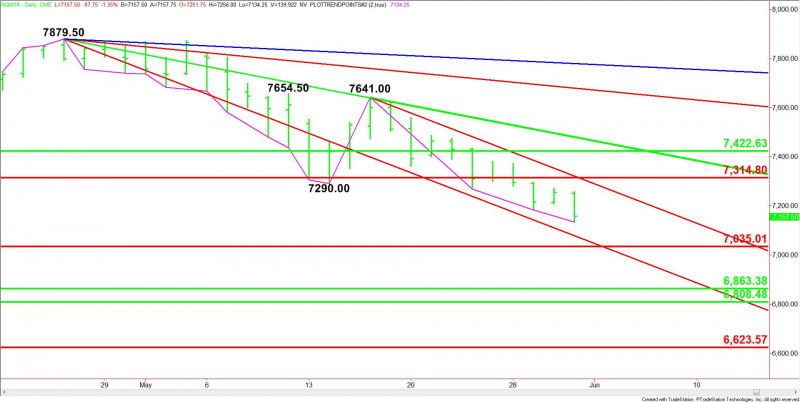 Daily Technical Analysis
The main trend is down according to daily swing chart. The main trend will change to up on a move through 7641.00. However, this is highly unlikely. The market is down 10 sessions from this main top so watch for a potential closing price reversal bottom.
On the upside, the resistance is a retracement zone at 7314.75 to 7422.75.
On the downside, the first target is a major Fibonacci level at 7035.00. If this level fails, the next support targets are a pair of 50% levels at 6863.25 and 6808.50.
Daily Technical Forecast
Bearish Scenario
If today's early downside momentum continues then look for a test of a downtrending Gann angle at 7079.50. Crossing to the weak side of this angle will put the index in a bearish position. This could lead to a quick test of the Fibonacci level at .7035.00
If 7035.00 fails then look for an acceleration to the downside with the 50% level at 6863.25 the next major downside target.
Bullish Scenario
A reversal to the upside will signal the return of buyers. The first targets are a Fibonacci level at 7314.75 and a downtrending Gann angle at 7321.00. This angle is a potential trigger point for an acceleration to the upside with the next targets a 50% level at 7422.75 and a pair of downtrending Gann angles at 7479.50 and 7481.00.