Gold Price Forecast: Firm Ahead of Fed Decision, Rate Pause Speculation
Updated

: Jul 26, 2023, 07:25 UTC
•
2
min read
Comex gold prices are higher amid thin trading conditions on Wednesday, although traders remained cautious ahead of the Fed's policy decision.
Highlights
Comex gold prices rise; traders cautious before Fed's decision.
Fed Rate Hike Expected; Rate Hike Pause is Wildcard.
Dollar and Treasury yields weigh on gold.
Overview
Comex gold prices are edging higher on Wednesday, although traders remained cautious ahead of the U.S. Federal Reserve's policy decision. The price action indicated some traders taking advantage of thin trading conditions. Broader markets anticipate an extended rate pause, but there's a possibility that Fed officials could leave room for one more hike in September or November.
Dollar and Yields Impact Gold
The sensitivity of gold to rising interest rates was evident, with the potential for increased opportunity costs of holding non-yielding bullion. Despite this, the precious metal may still maintain its upward trend, considering the final phase of the Fed's tightening cycle.
The dollar and U.S. Treasury yields remained near their two-week highs, weighing down on gold, which lacks interest-bearing returns. Additionally, traders are closely monitoring policy guidance from the European Central Bank and eagerly awaiting second-quarter U.S. GDP data due on Thursday.
Dovish Fed Signal May Already Be Priced
Gold prices may already have priced in a dovish Federal Reserve stance, which typically supports them and drives them higher. However, since this expectation is widespread, some profit-taking could occur. A decisive announcement of a prolonged pause into the end of the year could potentially lead to a significant rally in prices.
On the other hand, a hawkish stance or failure by the Fed to indicate a rate hike pause may trigger a sell-off in gold prices.
Short-Term Outlook: Cautious Fed Dependent Trade
In conclusion, Comex gold prices saw a boost amid cautious trading conditions ahead of the Federal Reserve's decision. While the market expects an extended rate pause, the possibility of additional hikes exists. Gold's reaction to the Fed's announcement will be crucial. A dovish stance is likely to support prices, and a hawkish outlook potentially leading to a sell-off. Traders are closely monitoring economic data and central bank guidance to navigate the gold market's short-term outlook.
Technical Analysis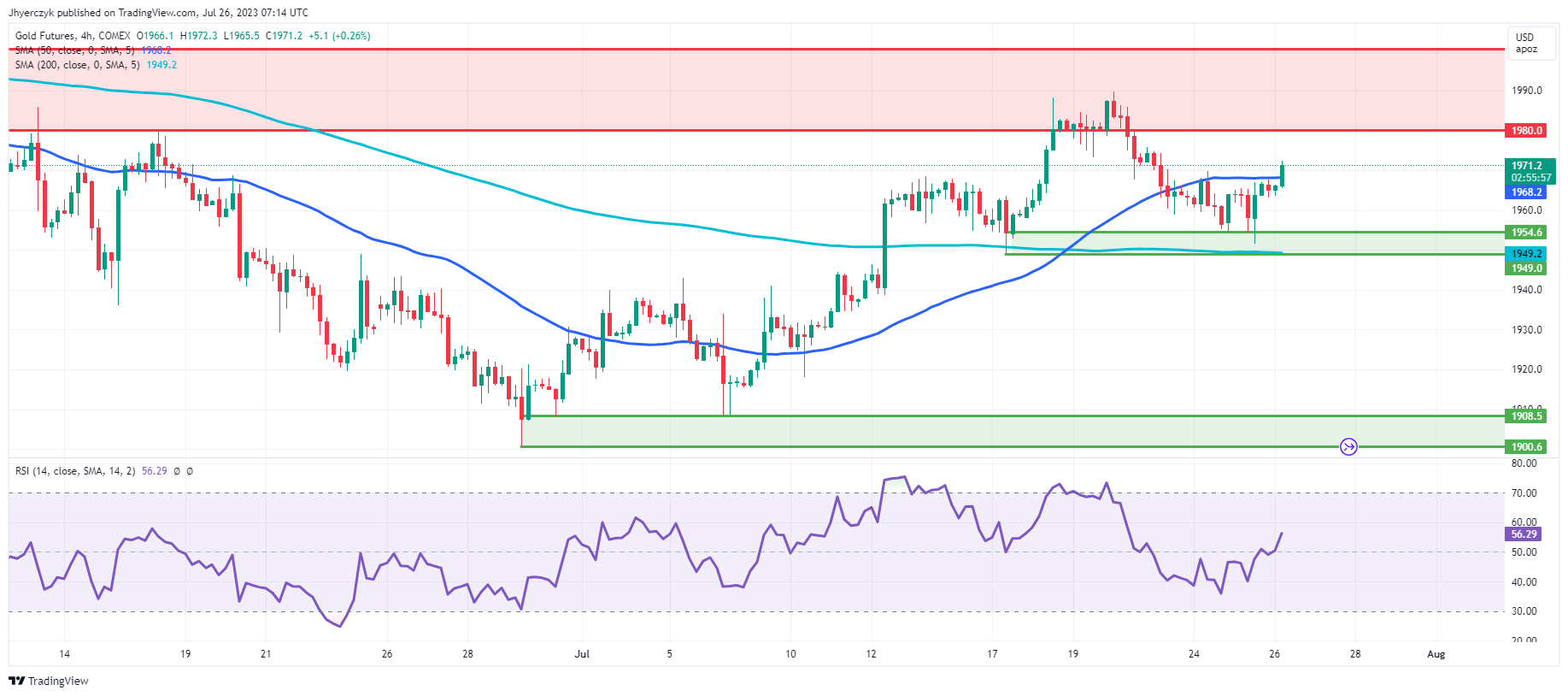 4-Hour Gold
Comex Gold is exhibiting a bullish tone as the current 4-hour price rose to 1971.90, surpassing the previous 4-hour close at 1966.10. The price trading above both the 200-4H and 50-4H moving averages indicates an upward trend in the medium term, bolstering the positive sentiment. Additionally, the 14-4H RSI reading of 56.99, above the neutral level of 50, signified relatively stronger momentum.
The main support is identified at 1949.00 to 1954.60, while the main resistance area at 1980.00 to 2000.50, remains within striking distance. Overall, the analysis suggests a bullish outlook for Comex Gold, but continued monitoring of the relationship between the RSI and resistance area is advised.
Don't miss a thing!
Sign up for a daily update delivered to your inbox
Sponsored Financial Content