NASDAQ 100, Dow Jones, S&P 500: Apple's Influence, Bank Regulations to Shape Early Market Sentiment
Updated

: Jun 6, 2023, 08:39 UTC
•
3
min read
Apple's announcements shape sentiment, while bank stocks decline amid regulatory capital requirement hikes, highlighting industry challenges.
Highlights
U.S. stock index futures trade mixed after Wall Street losses.
Apple's conference announcements impact overall market sentiment.
Potential increase in capital requirements affects bank stocks.
Overview
Major U.S. stock index futures contracts are trading mixed early Tuesday, reflecting a slight reversal from last week's gains. Wall Street experienced a losing session yesterday, with the Dow closing down approximately 0.6%, while the S&P 500 and Nasdaq Composite both saw losses of around 0.2% and 0.1% respectively. These market movements prompt investors to analyze the overall impact of these losses.
At 08:00 GMT, Dow futures are trading 33610.00, down 9.00 or -0.03%. S&P 500 futures are at 4280.50, down 0.50 or -0.01% and Nasdaq Composite futures are trading 14592.50, up 3.75 or +0.03%.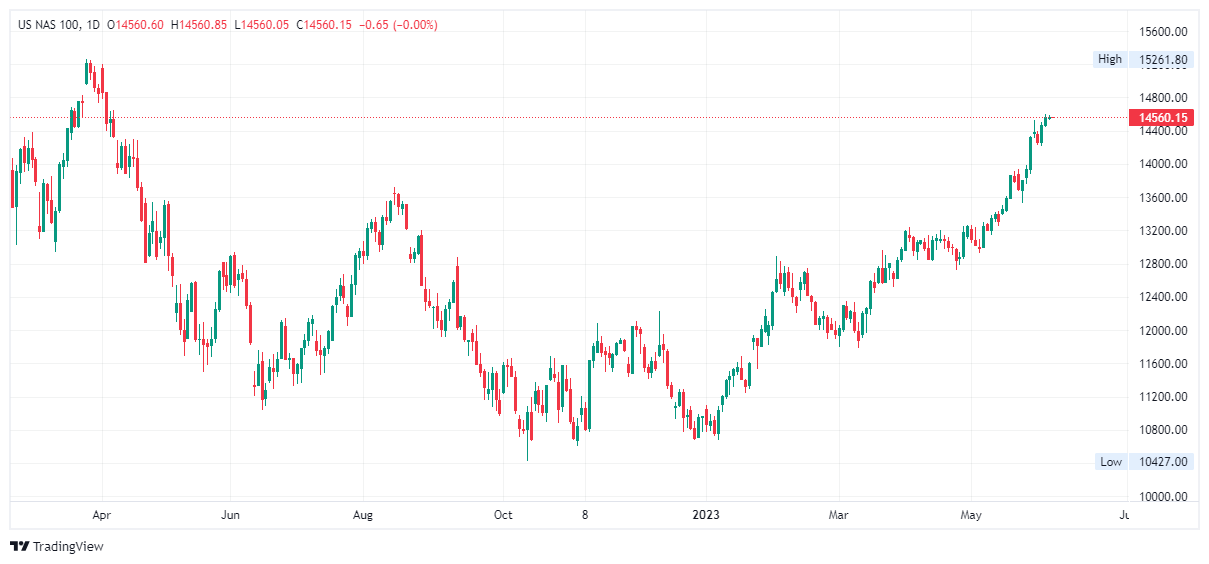 Daily Nasdaq Composite
Tech Giants React to Apple's Reversal
Monday's downturn was notably influenced by Apple, whose shares briefly reached all-time highs before closing about 0.8% lower. At its annual Worldwide Developer Conference, the tech giant unveiled its highly anticipated virtual reality headset and new software. Although Apple's stock did recover slightly after hours, the conference had a negative effect on other tech companies, including Intel, which experienced a more than 4% drop following Apple's announcement of a new chip.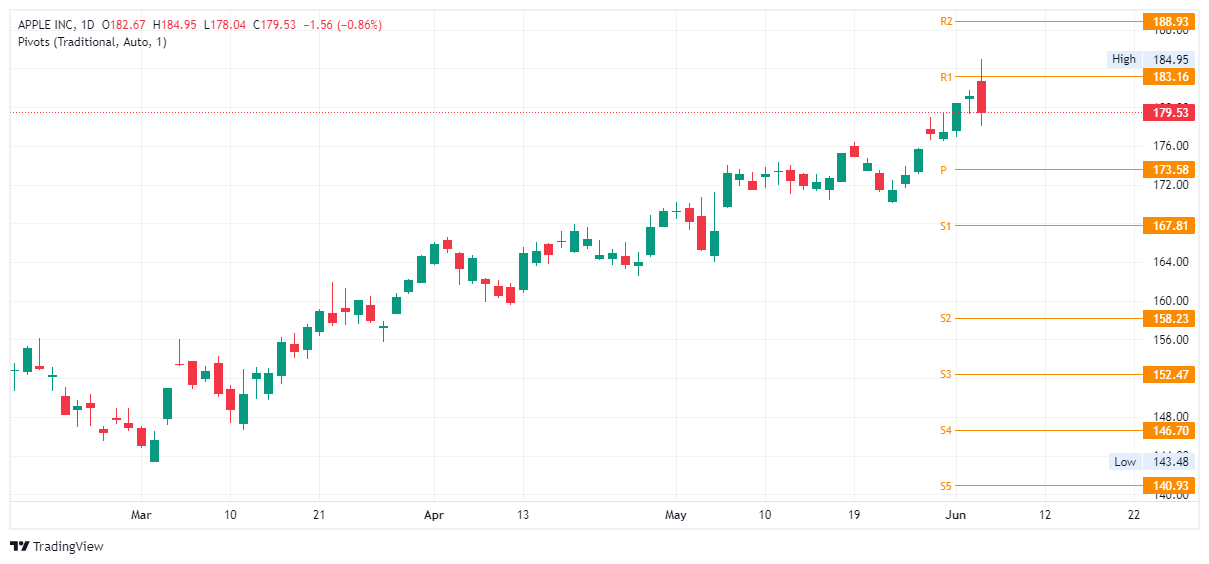 Daily Apple Inc
Apple's Transition Impacts Intel
Given Apple's massive market capitalization, its actions hold significant influence over broader indices. This was evident in yesterday's market performance, as the company's moves affected overall sentiment. Taiwan Semiconductor Manufacturing Co's (TSMC) shares, for example, saw a slight climb after Apple's announcement that the new Mac Pro will utilize Apple silicon. This means that the entire Apple computer lineup will now feature the company's own processors. The impact of this transition is significant as it suggests that no Apple computers released after 2020 will use Intel chips. Consequently, Intel shares suffered as a result of the news.
Apple's High-Price Headset Challenge
The launch of Apple's Vision Pro mixed-reality headset has also garnered attention on Wall Street. D.A. Davidson has downgraded shares of the tech giant to neutral from buy. He cites Apple's $3,499 headset as a challenge due to its high price. Analyst Tom Forte notes Apple's $3 trillion market cap can influence the broader indices.
Bank Stocks Decline Amidst Capital Requirement Concerns
Apart from the tech sector, bank stocks faced a decline as news emerged that regulators are considering increasing capital requirements for large banks. This development weighed on the industry, resulting in losses for Goldman Sachs, Bank of America, Morgan Stanley, and JPMorgan, ranging from 0.6% to nearly 1%. The SPDR S&P Bank ETF also dropped around 2.2%. These events shed light on the challenges faced by financial institutions and their potential impact on the overall market.
Eager Anticipation for Latest Earnings
Today, with no significant economic data scheduled, investors will closely monitor the latest earnings reports that are expected to be released. Among them, Stitch Fix, an online personal styling service, will report after the bell. Market participants eagerly await these reports, seeking insights into the performance and outlook of various sectors, as they may shape future market trends.
Pre-Market Trade Points Toward Early Bearish Sentiment
In summary, major U.S. stock index futures are trading mixed today following a session of losses on Wall Street. Apple's conference announcements and the potential increase in capital requirements for banks contribute to the current market sentiment. As investors await the last earnings reports of the season, they will continue to assess the implications of recent developments on the broader market.
Taking all these factors into account, the forecast for the early trade on Tuesday leans toward a bearish sentiment. The cautious market sentiment, negative impact from Apple's announcements, and the challenges faced by the financial sector suggest a potential continuation of the previous session's losses in the early trade.
Don't miss a thing!
Sign up for a daily update delivered to your inbox
Sponsored Financial Content