NASDAQ 100, Dow Jones, S&P 500: Traders Await Debt-Ceiling Talks, Fed Meeting Minutes
Updated

: May 24, 2023, 08:58 UTC
•
3
min read
The risk of a U.S. debt default, Fed meeting minutes and earnings reports, influence Nasdaq investors' market outlook.
Highlights
Stock futures show positive trend, debt-ceiling negotiations and Fed meeting minutes impact.
U.S. debt default risk and its potential consequences add market uncertainty.
American Eagle Outfitters and Nvidia to report earnings today.
Overview
U.S. stock index futures are showing a positive trend on Wednesday morning, with the Dow Jones Industrial Average futures rising by 46 points (0.14% increase), S&P 500 futures experiencing a slight uptick of 0.16%, and Nasdaq 100 futures seeing a gain of 0.15%.
Traders are closely monitoring the ongoing debt-ceiling negotiations. And they are eagerly awaiting the release of the Federal Reserve's May meeting minutes for insights into future monetary policy decisions.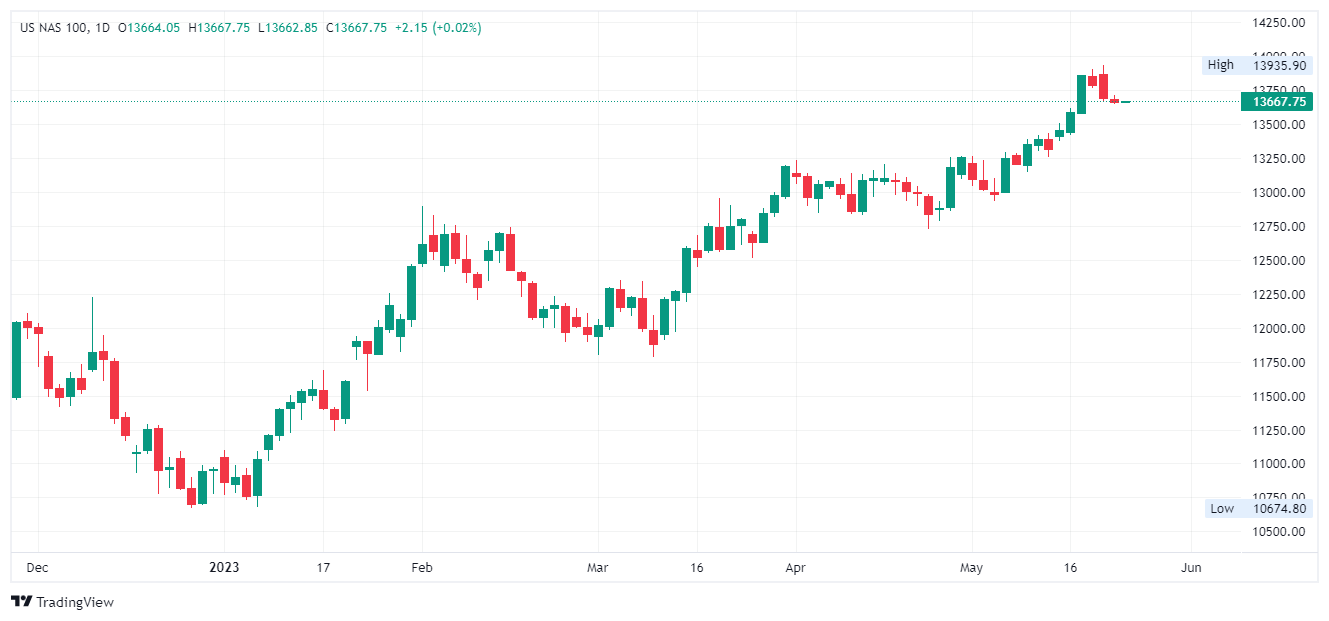 Daily NASDAQ 100
Pre-Market Performances
In extended trading, Palo Alto Networks is experiencing a 3.5% increase in shares due to strong fiscal third-quarter earnings, while Agilent Technologies is seeing a decline of over 6% despite surpassing expectations in the fiscal second quarter.
Intuit is facing a decrease of over 5% in share price despite beating earnings estimates for the fiscal third quarter. Toll Brothers, on the other hand, is enjoying a positive market response with shares gaining more than 3% due to better-than-expected earnings and revenue in the fiscal second quarter.
VF Corp. observes a 2% surge in share value during extended trading with solid adjusted earnings and revenue in its fiscal fourth quarter.
Investor Concerns Grow Amid Stalled Debt Limit Talks
During regular trading on Tuesday, the S&P 500, Nasdaq Composite, and Dow Jones Industrial Average all experienced declines. Investor concerns grew over the lack of progress in U.S. debt limit talks, leading to a sharp decrease in Wall Street stocks and a rise in short-term Treasury yields.
Negotiations on the debt ceiling between President Joe Biden's administration and congressional Republicans have shown minimal advancement, increasing the risk of a default as the deadline to raise the government's borrowing limit approaches.
Surging Treasury Yields Warn of U.S. Debt Default Risk
Yields on one-month Treasury bills have surged to a record high of 5.888%, and Treasury Secretary Janet Yellen has warned about the high probability of a default in early June.
The market has not fully considered the potential occurrence of a U.S. debt default. This could have significant repercussions on economic growth and compromise fiscal spending.
Even if an agreement is reached to raise the debt ceiling, there is a possibility of disrupting the broader capital markets due to substantial debt issuance by the Treasury.
This reduction in liquidity has shown a correlation with the performance of the S&P 500 and overall stock market, creating uncertainty and a lack of favorable trade-offs.
Fed Presidents Warn of Rate Hikes
In addition, regional Fed Presidents James Bullard and Neel Kashkari have indicated that the U.S. central bank may need to continue raising rates if inflation remains high.
Overall, the stock market is influenced by ongoing debt-ceiling negotiations, earnings reports, and the anticipation of the Federal Reserve's meeting minutes. The risk of a U.S. debt default and its potential consequences on economic growth and capital markets adds further uncertainty to the market environment.
Don't miss a thing!
Sign up for a daily update delivered to your inbox
Sponsored Financial Content