Natural Gas Forecast: US LNG Exports Rise as Gas Flows to Export Plants Increase
Updated

: Apr 4, 2023, 14:28 UTC
•
3
min read
US natural gas futures set up for short-covering rally amid stabilizing prices.
United States Natural Gas Fund
Highlights
Natural gas hovering just above 30-month low, set up forshort-covering rally
Record-high gas flows to LNG export plants
Different weather patterns across US regions affect natural gas demand
Overview
Natural gas futures are inching higher on Tuesday, but still hovering just above a 30-month low. The price action the last three sessions suggests a short-term bottom may be forming. This could be laying the foundation of a strong short-covering rally.
At 10:57 GMT, May natural gas futures are trading $2.101, up 0.004 or +0.19%. On Monday, the United States Natural Gas Fund ETF settled at $6.70, down $0.24 or -3.46%.
Monday Recap: Prices Drop 5% on Milder Weather, Rising Output
US natural gas futures fell by 5% on Monday as a result of rising output and milder weather forecasts, which could decrease heating demand and allow utilities to inject gas into stockpiles.
This price drop happened despite the record-high amount of gas flowing to liquefied natural gas export plants in March.
The natural gas market has been increasingly volatile in recent weeks, with the front-month gaining or losing over 5% in 12 of the past 22 trading days.
Open interest in NYMEX gas futures and the front-month contract alone rose to the highest levels since 2020 and 2021, respectively.
Gas speculators cut their net short futures and options positions for the fifth consecutive week, according to the Commitments of Traders report from the U.S. Commodity Futures Trading Commission (CFTC).
US Regions Experience Different Weather Patterns: Warm in East, Chilly in West and Plains
The US is experiencing different weather patterns across its regions. The West & Plains will have chilly weather with rain and snow, while the eastern ½ of the US will experience mild to warm temperatures with highs of 50s to 80s, according to NatGasWeather.
Texas and the South will be very warm with highs of 80s to lower 90s. A brief stint of stronger national demand is expected due to weather systems over the Plains tracking eastward across the rest of the US late in the week with widespread lows of 10s to 30s.
The weather is projected to remain mostly warmer than normal throughout the Lower 48 states until April 18, except for a few days in early April when temperatures may be colder than normal.
U.S. LNG Exports Rise with Increased Gas Flows to Export Plants
Freeport LNG's export plant is receiving about 2.2 billion cubic feet per day (bcfd) of gas, which is more than the 2.1 bcfd that the plant can convert into liquefied natural gas (LNG) for export.
Gas flows to all seven big U.S. LNG export plants rose to 14.1 bcfd on average in April, up from a record 13.2 bcfd in March. In the U.S. Lower 48 states, average gas output increased to 100.1 bcfd so far in April, up from 98.7 bcfd in March, and just below the monthly record of 100.4 bcfd set in January 2023, according to data provider Refinitiv.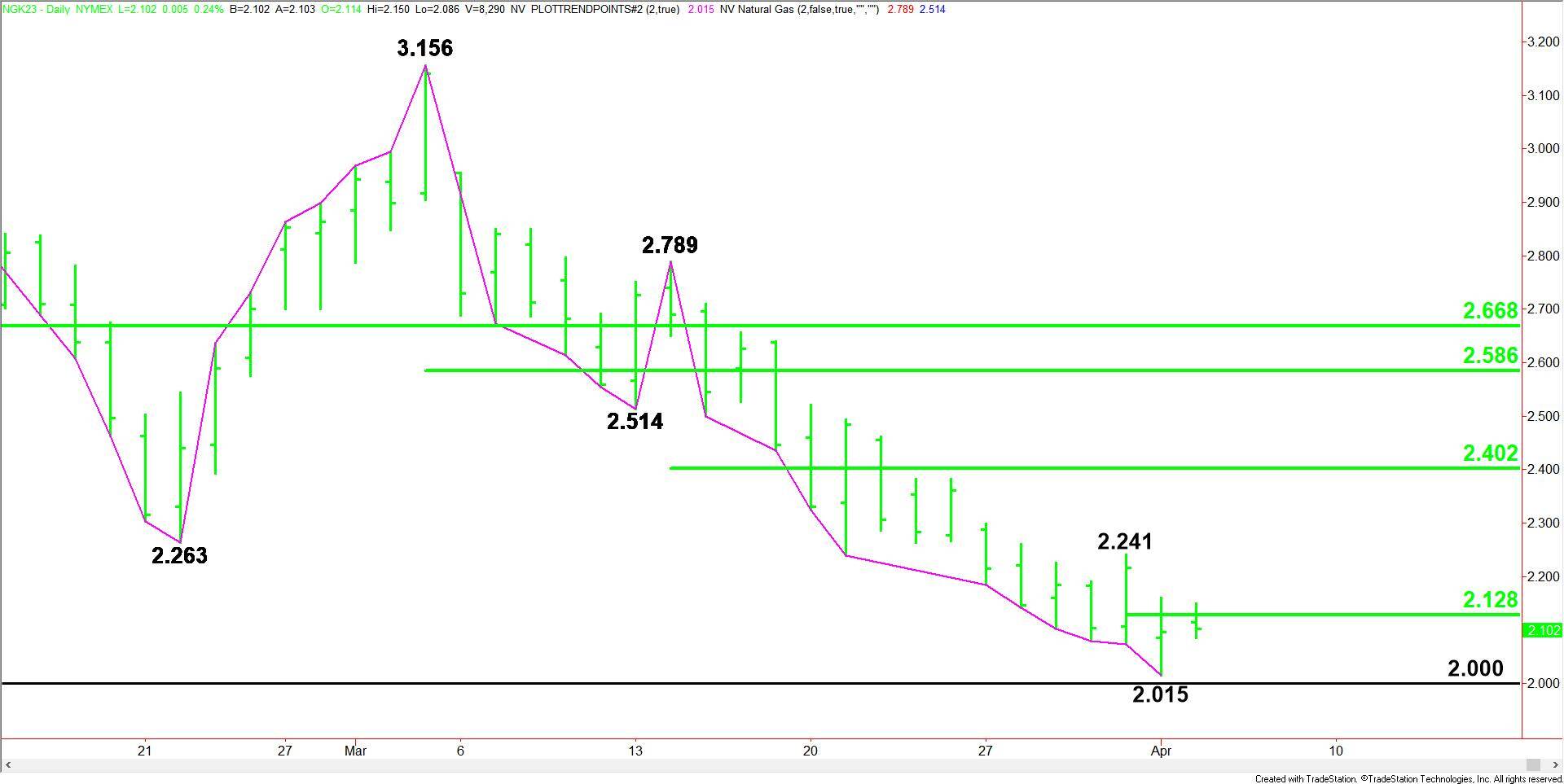 Daily May Natural Gas
Short-Term Outlook
Technically speaking, the main trend is down. The minor trend is also down, but a trade through $2.241 will change the minor trend to up. This will also shift the momentum. If this move creates enough upside momentum then look for the rally to possibly surge to $2.402 over the near-term.
Trader reaction to the minor pivot at $2.128 will likely determine the direction of the market on Tuesday.
Don't miss a thing!
Sign up for a daily update delivered to your inbox
Sponsored Financial Content